A recent study conducted by the Gaven Institute of Medical Research in the United States found that people have a high tendency to search for high-calorie and sweet foods when they experience high levels of stress.
Combined with the never-ending heat in Singapore, many Singaporeans often look for cold desserts such as ice-cream and gelato to beat the heat and de-stress. As the saying goes, stressed is desserts spelt backwards.
Amongst the many ice-cream parlours and gelaterias, DOPA is one of the more popular gelaterias in Singapore, with many food and lifestyle publications and reviews giving them high praise for their nut-based gelatos.
Leonard Ong, the founder of the gelateria, graduated with a degree in Materials Engineering from Nanyang Technological University (NTU). However, he soon realised that he did not want to pursue engineering as a career while working as an intern in a local engineering firm, where he found the office work to be mundane.
I chose to join [the] Food and Beverage (F&B) [industry] because I recognised that I've been a very hands-on person since young, and am better at craftwork like baking, drawing, and design & tech. Being hands-on and the opportunities to interact with people attracted me to join [the] F&B [industry].

– Leonard Ong, founder, DOPA
His interest in the industry landed him his first F&B-related job as an operations management executive at the now-defunct cafe On The Table, which was owned by the same people behind Lola's Cafe. He then worked in The Loft Cafe – which has since closed – and Lowercase Cafe, with each position lasting for one year.
In 2018, he decided to strike out on his own and invested S$150,000 into opening his first outlet, named DOPA DOPA, located at South Bridge Road.
According to Leonard, the name "DOPA" is derived from the word "dopamine", which is commonly known as the "feel-good" hormone responsible for inducing pleasure when released. "I wanted a space where people, regardless if they are staff or customers, are happy to be in," said Leonard.
They sold out on their first day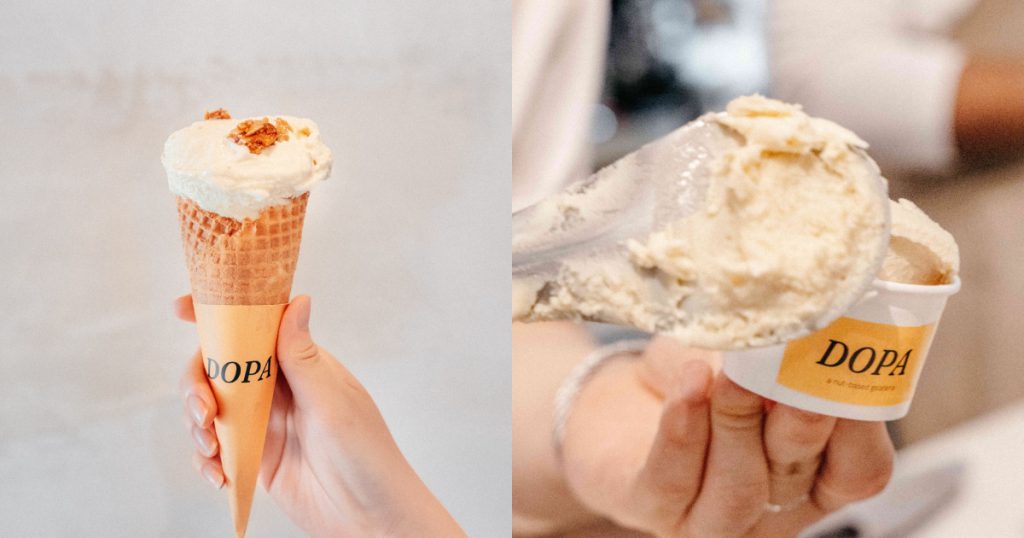 One might wonder, with so many local ice-cream parlours and gelaterias in Singapore such as Birds of Paradise and Udders, as well as stiff competition from big-name ice-cream brands like Ben & Jerry's, what sets DOPA apart and makes it special?
According to Leonard, all of DOPA's gelatos are made in-house with natural ingredients, and the recipe undergoes monthly changes to achieve the ideal flavours and textures. These gelatos are stored in Pozzeti display freezers, which are traditional gelato containers from Italy. Interestingly, the gelato warms up as the staff scoops it out of these containers, enhancing its flavours.
On the flip side, Leonard shared that by not using ingredients that are commonly supplied such as nut pastes, it made their Research and Development (R&D) process more challenging.
[We chose to] move away from common supplier ingredients like supplier nut paste and use our own pistachio paste for our signature roasted pistachio gelato, and figuring out the best texture for scooping using a spatula took a lot of time and exploration.

– Leonard Ong, founder, DOPA
The team first started experimenting by creating unique flavours that were not commonly found, such as their Green Tea Toasted Rice and Watermelon Mint sorbet. They also incorporated flavours that are familiar to Singaporeans, such as Coconut Pandan with Gula Melaka.
However, just like any experiment, there were unfortunately some bold flavours that did not make the cut.
"I have done Laksa, Chicken Rice and Chilli Crab gelato too. They went down the drain shortly after being churned out from the gelato machine," said Leonard.
Nonetheless, their commitment to unique flavours and growing social media presence managed to attract many patrons, leading them to sell out on their first day of business.
Took four years to breakeven, and COVID was a major obstacle
Working in the F&B industry in Singapore is never easy, and a common problem that F&B establishments face is the scarcity of manpower. Leonard shared that this has been an ongoing challenge since the inception of DOPA.
"Finding the right person [and] remunerating them well, while juggling costs is a constant challenge," said Leonard. He also emphasised the importance for businesses to be resilient – always be on the lookout for new talent and adapt to find a better balance.
The COVID-19 pandemic added another layer of complexity for Leonard. He mentioned that the pandemic was an extremely challenging period as he had to swiftly adapt to government policies and revise their operations. In response, DOPA began offering takeaways and deliveries of their gelatos by the pint, both in-store and online.
It was also through the pandemic that he realised that having a strong and dependable team is paramount to DOPA's survival. Leonard said he felt supported by his part-time employees, who played a significant role in helping the business push through difficult times.
"There were very slow months, but moving cautiously at a comfortable pace helps us sail through these periods," he shared.
He added that he re-invested a large amount of the profits into new inventories and minor renovations during the early stages of their operations to increase overall efficiency. Despite COVID-19 slowing down their growth, DOPA has managed to eventually break even after four years of operations.
Slow and steady wins the race
The F&B market in Singapore is extremely saturated, with many businesses opening and closing in the past few years. Leonard revealed that the secret ingredient to long-term sustainability is to constantly look out for new trends and ensure a positive environment for his employees.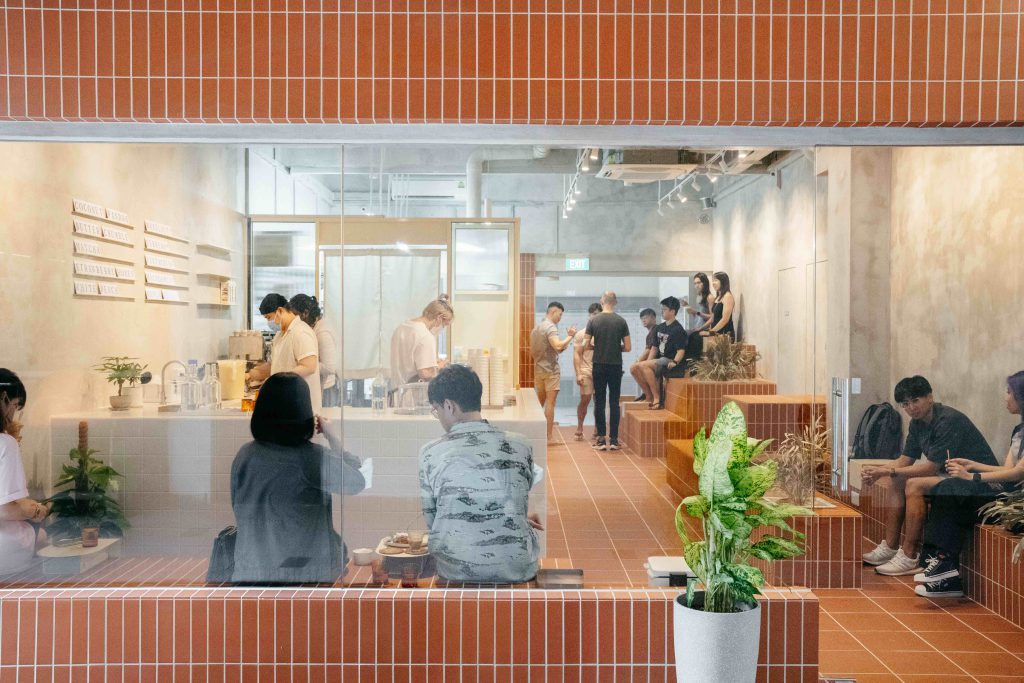 In September last year, DOPA opened its second outlet named "DOPA" at Tanjong Pagar Plaza – a milestone that Leonard is proud of achieving after five years of operations. However, Leonard shared that he has no plans for further expansion, as he will be focusing on building stronger teams and a solid foundation for the existing business.
Acknowledging the growth that DOPA has achieved since its inception, Leonard expressed a commitment to proceed cautiously during challenging times and taking well-calculated risks. This approach has helped DOPA earn a 20 per cent increase in revenue since 2022.
Looking ahead to the next five years, Leonard hopes that DOPA will become a brand renowned for its nut-based gelato and homemade nut paste. He stressed the importance of setting a sustainable pace that aligns with the comfort and capabilities of his team, rather than be fixated on specific numerical goals.
"With a strong team of good people, I believe we can push and cover longer distances," concluded Leonard.
Featured Image Credit: DOPA