In 2017, Edward Tirtanata and James Prananto embarked on a journey that would redefine the coffee industry in Indonesia. Their inspiration was rooted in a simple yet profound idea: affordability.
They recognised a dilemma among coffee lovers in the country, where the soaring prices at foreign coffee shop chains made the daily caffeine ritual a financial burden for many. On the other hand, sachet coffee, though budget-friendly, failed to capture the rich experience of freshly brewed coffee.
This observation led Edward and James to a pivotal decision – they would bridge this gap themselves. Their vision was clear: create a brand where affordability would coexist harmoniously with the uncompromised quality of coffee.
And thus, Kopi Kenangan — which translates to "coffee memories" in Bahasa Indonesia — was born. This name encapsulated the profound significance of coffee in our lives, evoking the nostalgia and warmth associated with the daily ritual of brewing and sipping.
James brought a wealth of experience in investment and marketing to the partnership. With over half a decade of expertise across various business segments, he was well-versed in the intricacies of business development and growth strategies.
Meanwhile, Edward began his career at Ernst & Young. His passion for business eventually led him to establish Lewis & Carroll, a premium tea house chain that swiftly rose to become one of Indonesia's largest.
His entrepreneurial path took a significant turn when he recognised the transformative impact of technology on the food and beverage (F&B) industry.
"We both decided to develop the company as a tech-enabled coffee chain right from its inception. Six years on, here we are taking our next step into Singapore with an eye on global expansion," said Edward.
A cup above the rest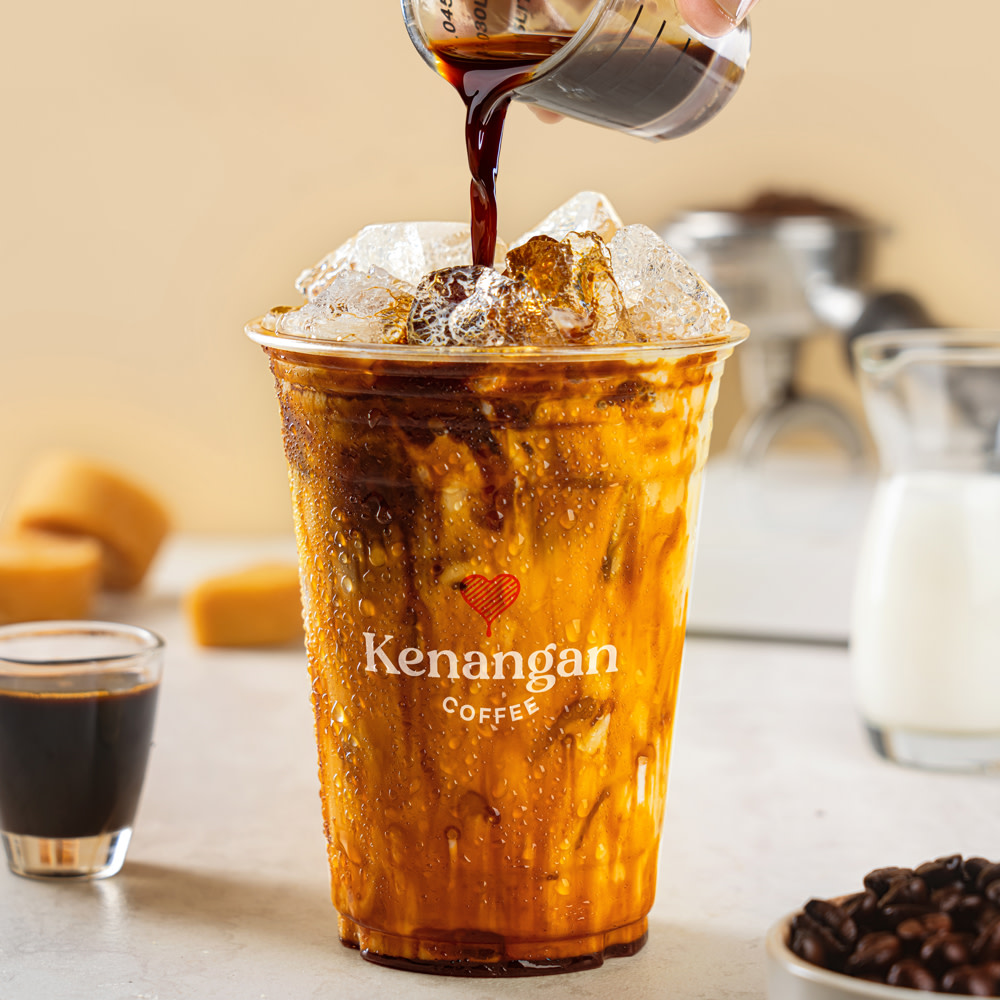 What truly sets Kopi Kenangan, or Kenangan Coffee as it's known internationally, apart from the myriad of coffee chains in the region is their unwavering commitment to delivering high-quality coffee that is accessible to everyone.
"We believe that great coffee should not be a luxury limited to a few," said James.
To bring this vision to life, Kenangan Coffee has meticulously crafted its products, drawing inspiration from the Asian flavours while catering to the global palate. This fusion of flavours, combined with the use of locally sourced ingredients, creates a distinctive coffee experience.
Our journey began with the intention to spread our passion for Indonesian coffee, celebrating the diverse and rich coffee culture of this nation. With this ambition at our core, we continue to stand out not just for our price accessibility and flavour, but also for our dedication to championing Indonesian coffee on the global stage.

– James Prananto, co-founder of Kenangan Coffee
In early 2022 — just five years since its inception — Kenangan Coffee managed to achieve the coveted "unicorn" status, becoming Southeast Asia's first new retail F&B unicorn.
Edward attributed this milestone to a combination of factors — their dedication to quality and affordability, tech-enabled innovation to optimise operations and enhance store productivity, as well as a customer-centric approach.
Furthermore, another remarkable aspect of Kenangan Coffee's journey is its ability to attract high-profile investors, including the likes of American rapper Jay-Z and American tennis athlete Serena Williams.
"We believe that attracting high-profile investors is not just about their celebrity status; it reflects the strong fundamentals in our business," said Edward.
He stressed that Kenangan Coffee's foundation of excellence in quality, operations, and customer experience was a magnet for investors.
Despite their rapid growth, the founders remain committed to continuous learning and improvement. Their unwavering dedication to meet and exceed customer expectations across all markets resonated with investors and instilled trust.
James added that their vision to take the Indonesian brand onto the international stage played a significant role in attracting investors.
Their passion for showcasing Indonesia's diverse coffee culture to the world and their understanding of the potential for a global coffee brand to appeal to distinctive markets through localised efforts struck a chord with their investor partners.
Going from local to global
"In Indonesia, Kenangan Coffee has expanded its footprint significantly, with a presence in 67 cities across the country," shared Edward.
However, its success is not limited to various regions within Indonesia. Its global expansion journey began in Kuala Lumpur, Malaysia, where they currently operate more than 20 cafes in the city.
Their ambitions didn't stop there. Kenangan Coffee made its debut in Singapore today, with the opening of its first outlet here at Raffles City Shopping Centre.
This will be followed by the launch of our second outlet in line with the reopening of Changi Airport Terminal 2 on September 27. Subsequently, we also have other exciting store launches in the pipeline and we will share further details closer to date.

– Edward Tirtanata, co-founder of Kenangan Coffee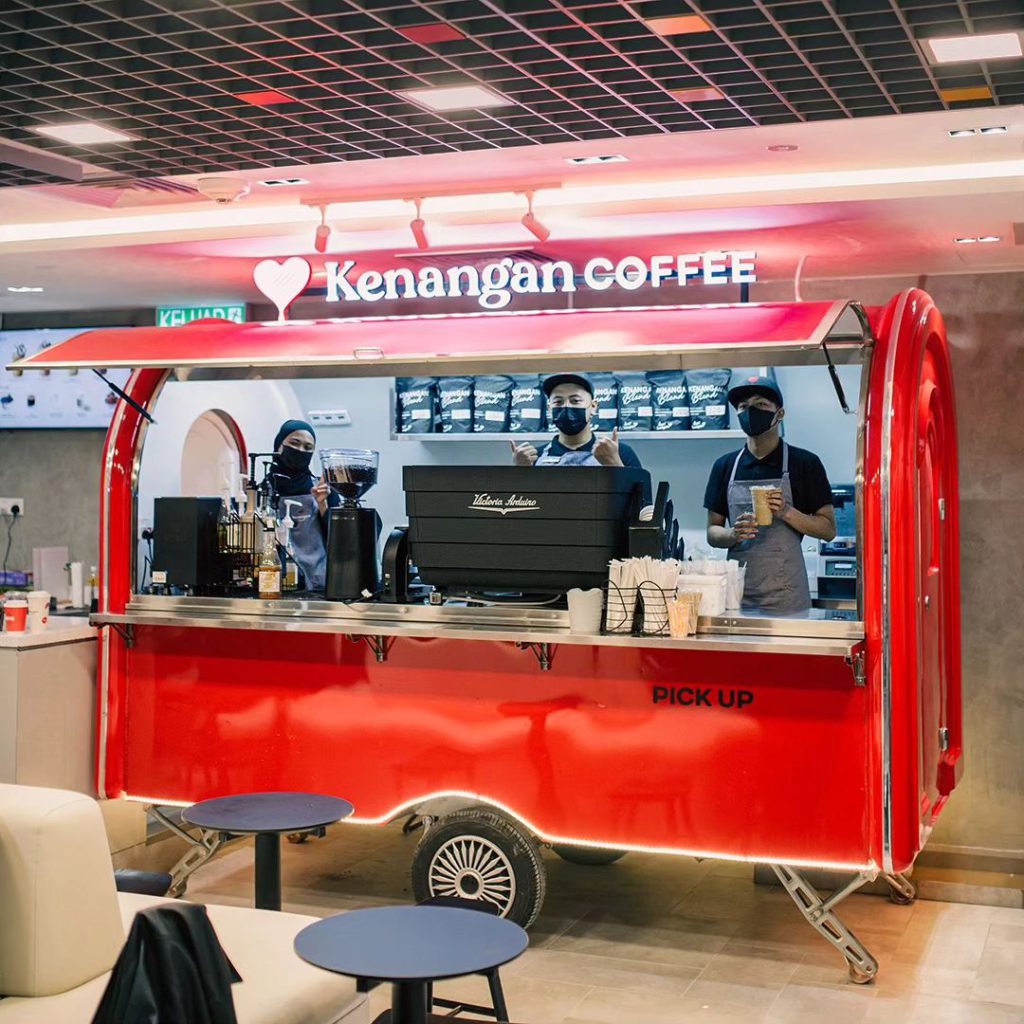 In total, Kenangan Coffee boasts a total of over 900 stores spread across the three countries.
Singapore, often referred to as the gateway to global markets, beckoned Kenangan Coffee with its undeniable allure as an F&B hub.
"From Michelin brand guides to international brands, Singapore attracts foodies from all around the world and it's a brilliant platform for Kenangan Coffee to showcase our unique blend of flavours to a diverse audience," explained James.
Furthermore, Singapore's multicultural society, enriched by people from various backgrounds and nationalities, provides an ideal testing ground for Kenangan Coffee's global appeal.
Standing out in a competitive coffee landscape
Singapore's robust local coffee culture aligns seamlessly with Kenangan Coffee's commitment to delivering exceptional coffee experiences.
However, Singapore's coffee scene is very competitive, with both local and international chains vying for customers' attention.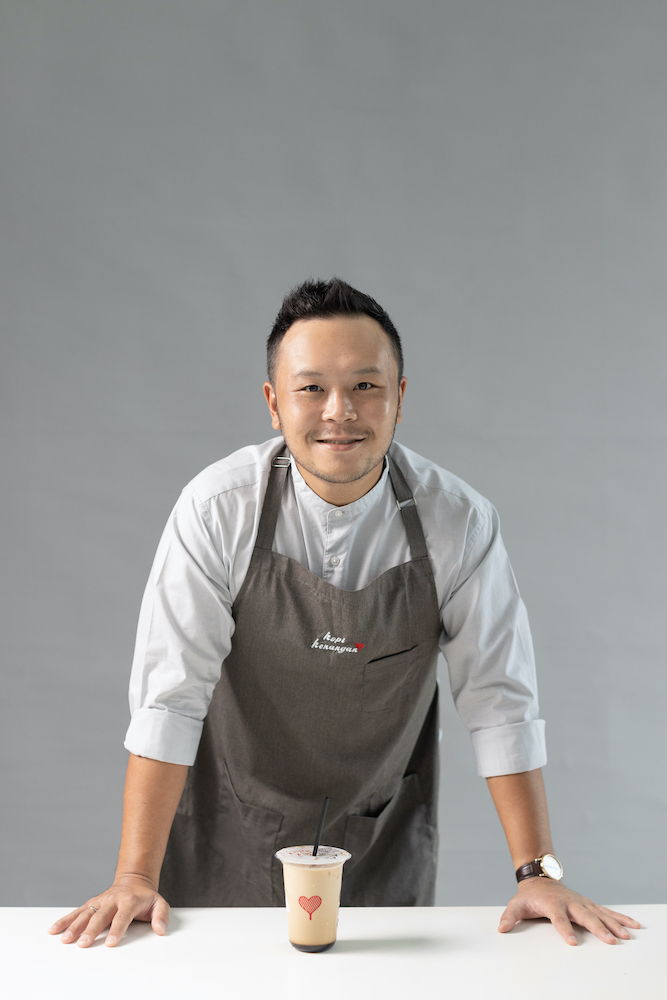 Amid this competitive backdrop, we believe that what truly matters is the quality of our coffee and the genuine satisfaction of our customers. What differentiates us is our unwavering focus on providing high-quality coffee made from top-tier raw ingredients and state-of-the-art coffee machines, all at an accessible price point. This combination of quality, convenience, and price accessibility is what sets Kenangan Coffee apart.

– Edward Tirtanata, co-founder of Kenangan Coffee
Its tech-enabled approach is another differentiator. The brand leverages technology to optimise store operations and increase customer convenience.
Their "grab-and-go business model", which allows customers to order through their app for pickup or delivery, is a prime example of this commitment to convenience.
The Kenangan Coffee app offers an omni-channel experience, engaging customers and providing access to exclusive membership deals, and loyalty point collection, while gathering valuable insights into their preferences.
However, the founders recognise that expanding into a new market comes with its share of challenges, and they anticipate them as opportunities for growth.
Edward emphasised the importance of adapting their coffee offerings to suit local tastes. Extensive research and trials with Singaporean customers helped customise recipes to align with the unique flavours and preferences of the Singaporean palate.
Brand awareness is another challenge, but Kenangan Coffee aims to create a strong brand presence and drive loyalty by offering an experience that connects with customers on a personal level.
James highlighted their "one cup, one customer" approach, which remained steadfast throughout the turbulent pandemic times, emphasising their commitment to delivering an exceptional coffee experience.
Affordability is at the core of its strategy
Kenangan Coffee's commitment to affordability is a cornerstone of its customer retention strategy.
Our pricing strategy is designed to be attractive without the constant need for special offers. We believe in offering fair and competitive prices that benefit both our customers and us.

– James Prananto, co-founder of Kenangan Coffee
Although Kenangan Coffee maintains attractive price points, they also know how to celebrate special occasions. For instance, to mark the launch of their Raffles City Shopping Centre store, they are offering a Buy-1-Free-1 promotion for a limited time, showcasing their commitment to providing value to their customers.
While Kenangan Coffee's Indonesian outlets offer coffee starting from 15,000 rupiah (S$1.30), they've ensured that their pricing in Singapore remains competitive.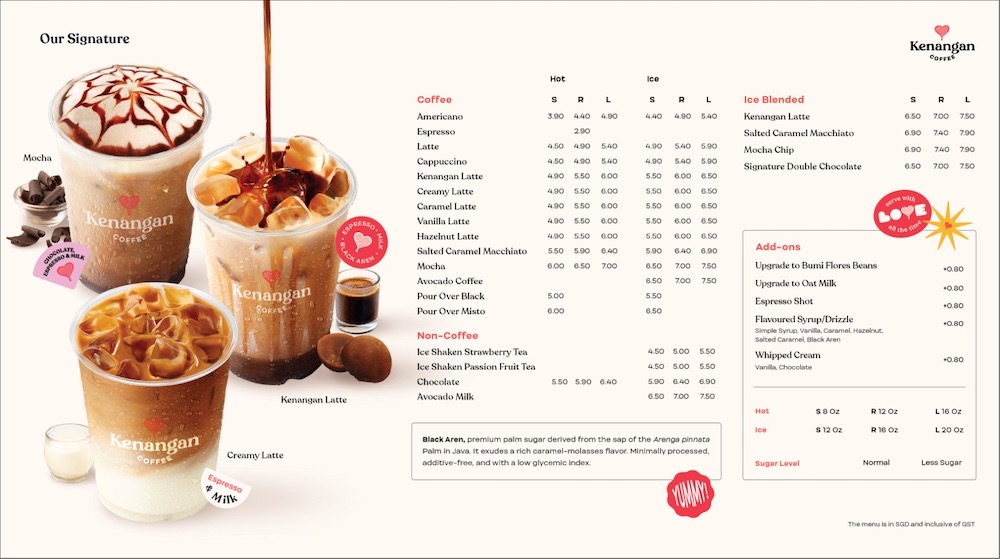 "In Singapore, our price per cup starts from S$3.90 onwards. Our signature drinks and brand favourites like Kenangan Latte, Creamy Latte, and Pour Over Black will be available from S$4.90," shared James.
This pricing demonstrates their commitment to making high-quality coffee accessible to a wider audience, while maintaining their reputation for offering value to their customers.
The backbone of Kenangan Coffee's commitment to quality is their dedication to sourcing the finest ingredients directly from the farmers themselves.
"We take a hands-on approach to sourcing our materials, particularly 'Gula Aren,' a key ingredient in our coffee. We work directly with farmers from Indonesia and handle the processing ourselves, rather than relying on suppliers," said Edward.
Kenangan Coffee's rigorous quality control ensures that every ingredient meets their exacting standards, resulting in a consistently exceptional product. They have even enlisted the expertise of Mikael Jasin, an accomplished figure in the coffee industry, as their Head of Coffee, to elevate their sourcing, production, and coffee enjoyment to new heights.
Furthermore, before opening their stores in Singapore, Kenangan Coffee established the Kenangan Academy to provide comprehensive training to their staff, ensuring that every cup of coffee lives up to their high standards.
Aims to be SEA's leading tech-enabled coffee brand
When asked about their long-term expansion plans, Edward shares a compelling vision for Kenangan Coffee.
He expresses the brand's ambition to be the "most-loved coffee brand in Southeast Asia" while harbouring dreams of global expansion.
In their quest to expand, the founders prioritise creating meaningful connections with customers in each new market. They understand that fostering these connections is crucial for preserving the essence and values that define Kenangan Coffee.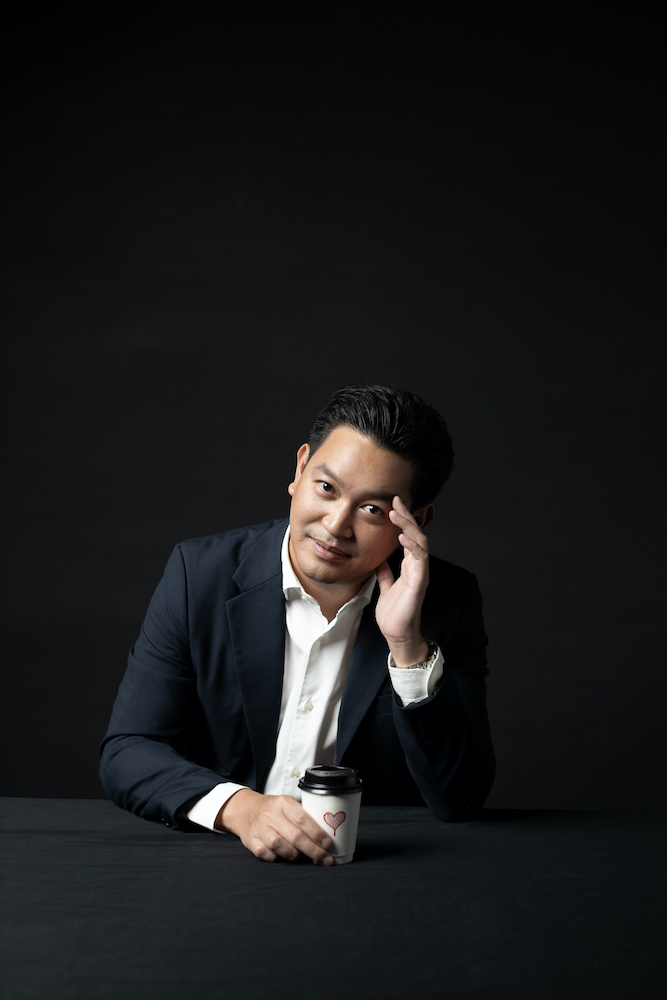 Meanwhile, James articulates the brand's broader goals and vision for the future. He speaks of Kenangan's aim to become the leading tech-enabled coffee brand in Southeast Asia by 2030, all while championing empathy and sustainability.
He also expresses his hope that the Kenangan brand will transcend the next five or 10 years to become a lasting legacy. This vision reflects the founders' dedication to building a brand that endures, not just as a name — but as a symbol of quality, accessibility, and community.
As Kenangan Coffee ventures into Singapore, it's clear to see that the founders bring with them a blend of quality, innovation, and a genuine passion for coffee. By staying true to their commitment to exceptional coffee experiences, they are poised to make their mark in the Lion City's bustling coffee scene.
For Singaporeans and global coffee enthusiasts alike, Kenangan Coffee promises a memorable sip of Indonesia's rich coffee heritage.
Featured Image Credit: Kopi Kenangan
---
Embark on your startup journey with MAS-regulated ANEXT Bank, one of Singapore's first digital banks for SMEs.
---