As the year draws to a close, more Singaporeans are eagerly mapping out their year-end travel adventures. In fact, half of the city-state's population intends to take more international trips than they did during the pandemic.
According to a recent survey, Singaporean travellers have ranked Japan, Thailand, Indonesia, South Korea, and the United States as their top five destinations. Notably, the influx of Singapore tourists heading to Japan is anticipated to double between September and December this year.
Whether your wanderlust leads you to explore the vibrant streets of Thailand, immerse yourself in the sights of Japan, or fulfill your K-drama dreams in Korea, YouTrip is presenting an irresistible offer – the chance to turn your dream vacation into a reality for just S$1.
Beyond Asia, the world unfolds with endless possibilities. Picture yourself wandering through the historic streets of Rome, indulging in delectable pasta and gelato. Explore the archaeological wonders of Machu Picchu in Peru, where ancient history meets stunning mountain vistas, or immerse yourself in the diverse landscapes and cultures of New Zealand, from the geothermal wonders of Rotorua to the breathtaking fjords of Milford Sound.
With YouTrip's remarkable offer, the world becomes your oyster and the dream destinations on your bucket list are now within reach.
We are thrilled to announce the return of YouTrip's spectacular campaign, "Destinations: Anywhere with S$1". From now till 31 October 2023, six of you can stand a chance to snag S$1 flight tickets to anywhere in the world.
What's the roadmap to victory though? You can start by following @YouTripSG on Instagram and make sure to show some love by giving their pinned post a like.
Then, share your most epic YouTrip travel experience and unveil your secrets to securing those unbeatable rates. You can do this on Instagram, Facebook, or TikTok through a Story, Post, or Reel – but be sure to set your profile to public so that YouTrip can spot your entry.
Lastly, don't forget to tag them @YouTripSG and use the hashtag #YTDestinations to ensure your entry is counted.
Additionally, you can secure a bonus chance at winning when you comment on YouTrip's pinned post with your dream travel destination and what you plan to splurge on with YouTrip.
If history is any indication, we anticipate fierce competition for these coveted prizes, so fastest fingers first! Remember to also mark your calendars, because YouTrip will unveil the six lucky winners by November 30.
YouTrip provides the best foreign exchange rates
YouTrip's S$1 flight giveaway perfectly aligns with its mission of making travel more affordable and convenient.
There couldn't be a more opportune moment to launch this giveaway than now, given that travel costs have increased by around 30 to 40 per cent since the onset of the pandemic, leaving many Singaporeans with pent-up wanderlust.
Furthermore, YouTrip makes the perfect travel companion, offering seamless overseas payments and the best foreign exchange rates, which can come in handy for Singaporeans as 44 per cent of them plan to dip into their savings to fund leisure travel this year.
Users get to make both in-store and online purchases with the best rates, as compared to other payment options, in 150+ countries across the globe without incurring any transaction fees and hidden charges through its multi-currency card.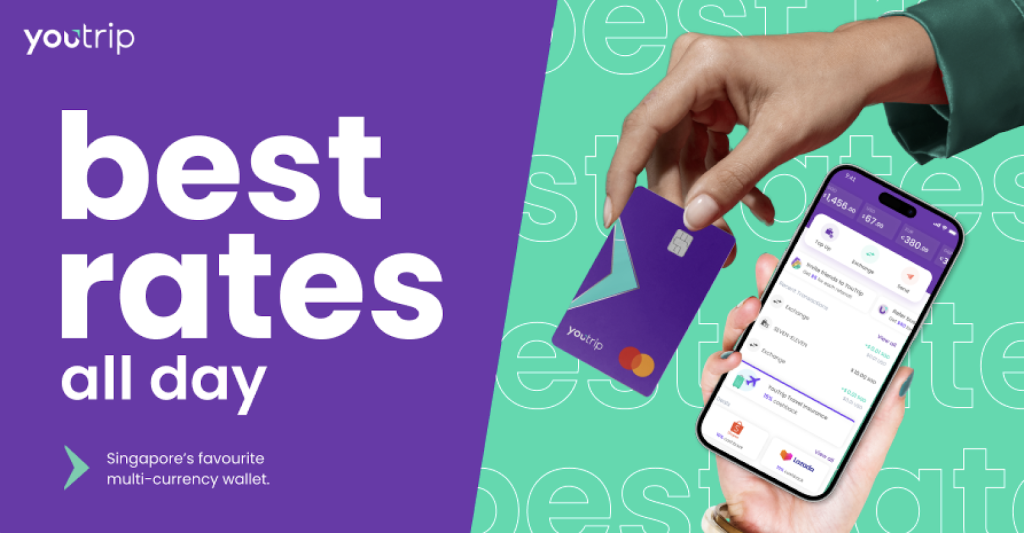 Moreover, the YouTrip app also essentially serves as a mobile money changer, allowing its users to exchange 10 major currencies – SGD, USD, EUR, GBP, JPY, HKD, AUD, NZD, CHF, and SEK.
This means that you can lock down the most competitive rates before they fluctuate at any given time via your smartphone, eliminating the need to rush to a physical money changer before your trip.
This not only saves valuable time but also provides significant savings, making your travel experience even more hassle-free and enjoyable.
Save while you travel with zero ATM fees
The value provided by YouTrip extends even further with its recent rebranding to "YouTrip 2.0", which introduced a slew of new features that provide even more convenience and savings to travellers.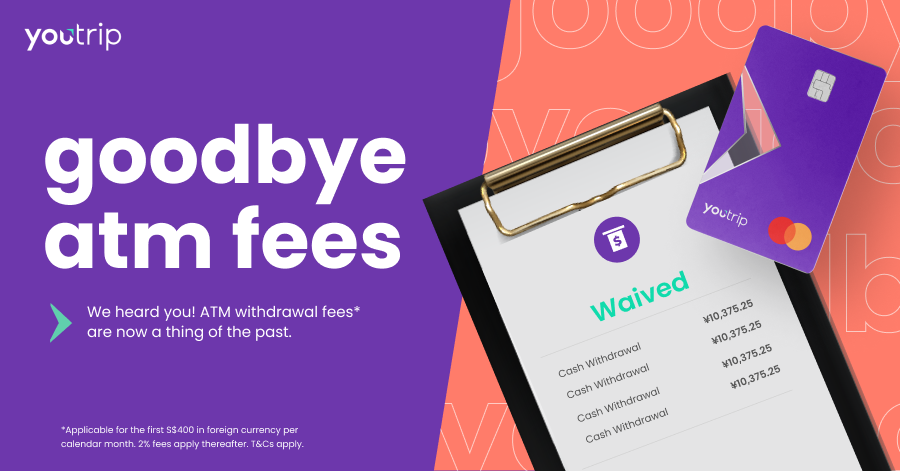 One standout feature of the brand refresh is the elimination of ATM withdrawal fees for withdrawals up to S$400 in foreign currencies each month. While a two per cent fee will be imposed on the amount withdrawn once you surpass the S$400 threshold, this threshold surpasses what other multi-currency cards typically offer.
For comparison, multi-currency wallets like Revolut and Wise limit fee-free withdrawals to a maximum of S$350 in foreign currencies per month, making YouTrip an attractive option for cost-conscious travellers.
Furthermore, YouTrip's daily withdrawal limit, which is capped at S$5,000, provides its users with added flexibility when accessing their funds abroad, given that it is the highest daily withdrawal limit amongst all available multi-currency cards in Singapore.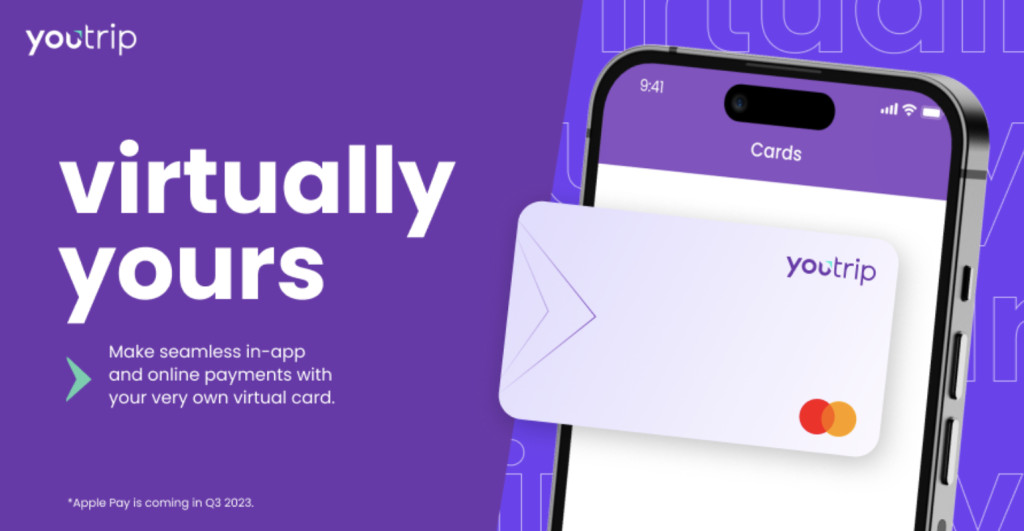 Alongside these perks, YouTrip has also introduced a virtual card that enables users to spend immediately upon their successful registration on the YouTrip app. The virtual card, which is completely free of charge, allows users to enjoy the best rates for all online payments without having to wait for the arrival of their physical card.
Both the virtual and physical cards offered by YouTrip are compatible with Apple Pay, allowing users to make payments in over 80 countries worldwide through their Apple devices including iPhones, iPads, and Apple Watches – all it takes is just a few quick taps.
Thanks to YouTrip's integration with Apple Pay, you'll no longer have to bring your wallet around and spend time rummaging through it to make payments. And if you're an Android user, don't fret – YouTrip plans to make its cards compatible with Google Pay too by the end of this year.
Sign up for YouTrip to participate in the giveaway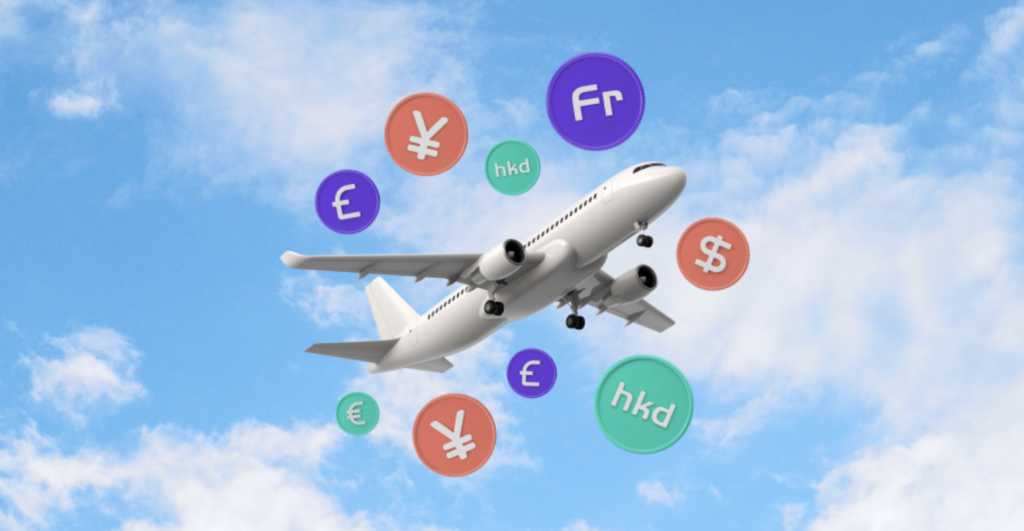 Undoubtedly, YouTrip provides users with unmatched convenience, savings, and the best rates in the market for all their travel adventures.
Thanks to YouTrip's ongoing giveaway, you can look forward to even greater savings on your upcoming travels.
For those who are not yet YouTrip users, the good news is that the sign-up process for the multi-currency card is remarkably simple. Simply download the YouTrip app and complete the registration using MyInfo, or manually submit your documents – the whole process only takes less than three minutes.
Sign up for a YouTrip account here to participate in the giveaway and score the chance to explore your dream destination for just S$1.
In conjunction with YouTrip's giveaway, we'd like to extend an additional opportunity for our readers to win a mystery box of travel essentials. All you need to do is comment on our Facebook post with your memorable YouTrip travel experience and we will pick the most creative/best answers. It's that easy, so let's seize every opportunity to make our travel dreams come true!
This article was written in collaboration with YouTrip.
Featured Image Credit: YouTrip