When Ghauthaman Ramanan (or Ghau, for short)'s grandfather moved from India to Singapore after World War II, little did he know that his family was about to dominate the local F&B scene with a prata empire.
His grandfather's first venture initially focused on the broader Indian cuisine, serving dishes like idli and dosa.
It was in that humble setting that Ghau's father and his other family members acquired the art of making prata. In 1993, they launched Casuarina Curry, followed by Spring Leaf Prata Place in 2006 and many more well-known Indian restaurants across Singapore in the years that followed, including Gandhi Restaurant and Kamala Restaurant in Little India.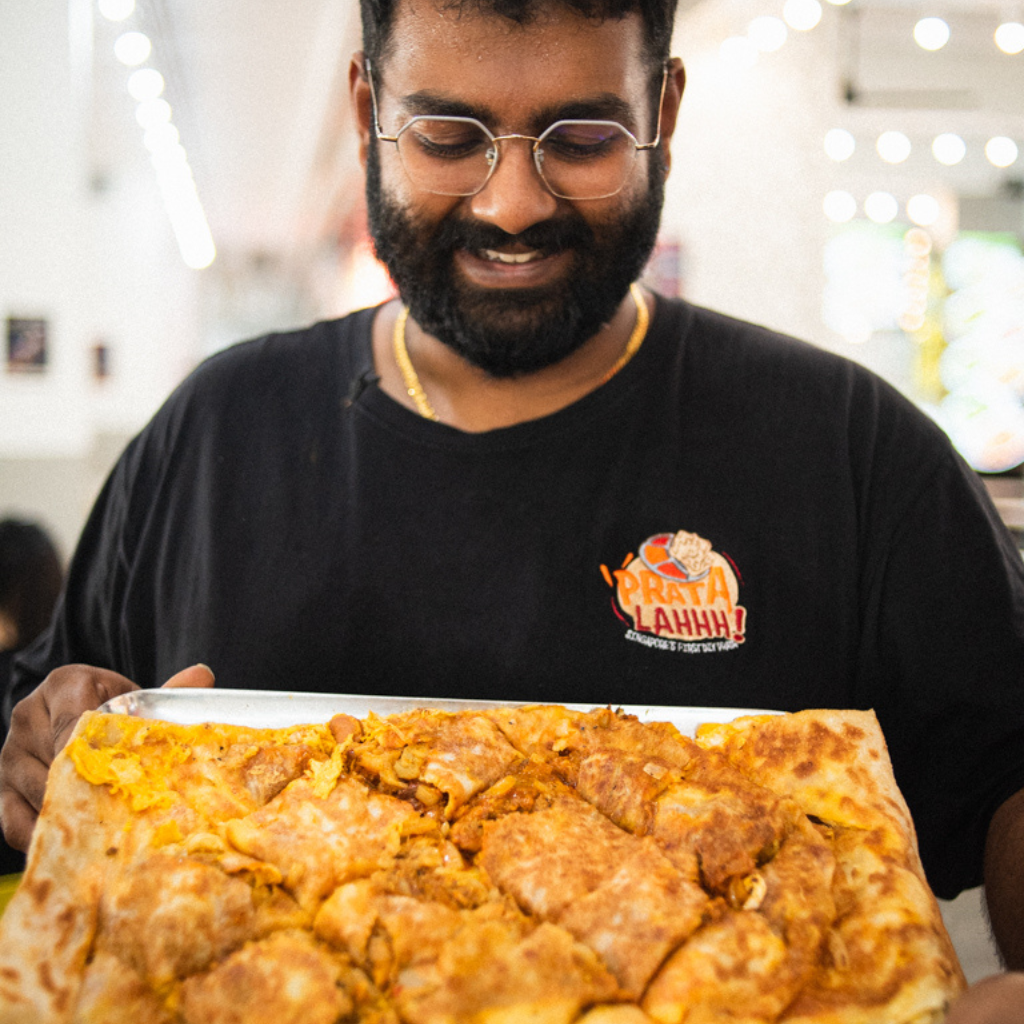 Today, 30-year-old Ghau is upholding his family's F&B legacy with his own prata stall in Hougang, Prata Lahhh!, Singapore's first DIY prata concept.
Singapore's first DIY prata concept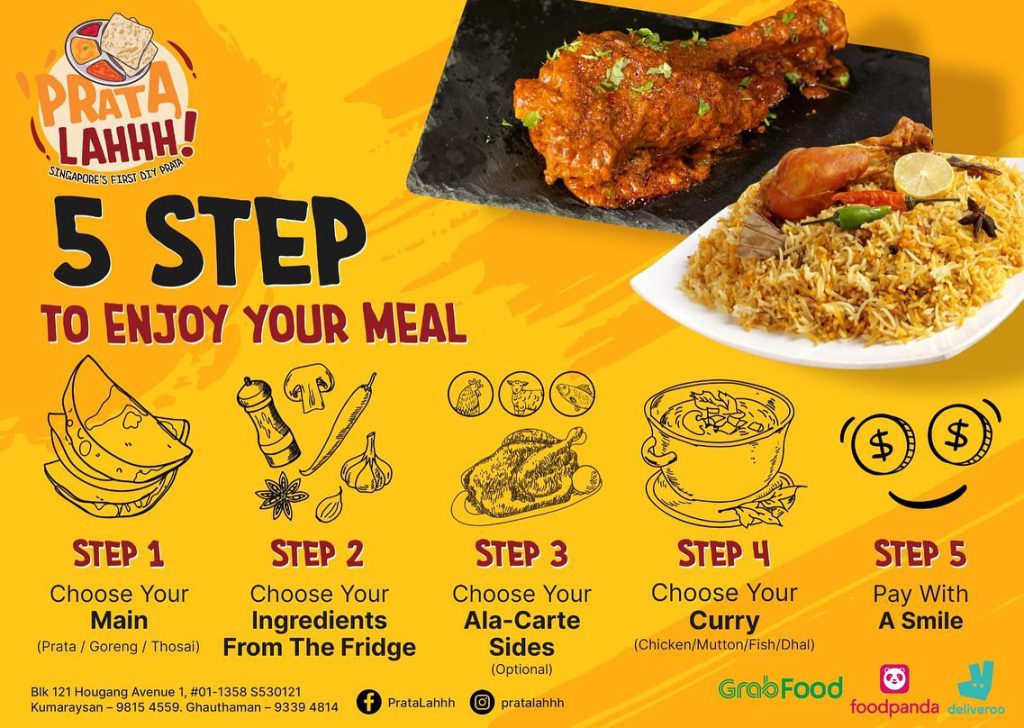 At Prata Lahhh!, you can customise your own unique prata dish by choosing your filling(s) of choice from an array of 20 different ingredients, ranging from eggs, mushrooms and mutton, to more premium offerings such as crab meat and prawns.
You can then pair your creation with either dhal or chicken, mutton, or fish curry, and enjoy savouring your masterpiece.
And if you're in the mood for something sweet, you can satisfy your sweet tooth by creating a dessert prata with delectable fillings such as banana, condensed milk, and honey, and finish it off with a drizzle of chocolate syrup. If you're feeling adventurous, why not blend both the sweet and savoury options?
We once had a customer order these ingredients in a prata — egg, chicken keema, and ghee, with chocolate sauce on top — and it tasted not bad, to be honest. After dipping it in curry, it tasted both sweet and savoury at the same time, sort of like ice cream and waffles.

– Ghauthaman Ramanan, founder of Prata Lahhh!
Aside from pratas, the restaurant also lets you customise your thosai and goreng dishes, or even opt for a prata goreng.
Besides these customisable options, the restaurant also offers a regular menu where you can order a range of classic dishes, including egg prata and onion prata, as well as special dishes such as the eggs benedict prata.
He fell into debt while running a Casuarina Curry franchise
Prior to venturing into the F&B industry, Ghau shared that he initially decided to explore other career paths. He ended up taking up various sales roles after completing his National Service for two years, but decided to call it quits as he realised his passions lay in F&B instead.
"I did sales for two years — I did door-to-door sales, I did road shows, and even B2B sales. But then, food is something that I have been doing since young, and I think that it is something close to my heart," he recounted.
From wiping down tables and washing plates to manning the cashier and being involved in the businesses' management teams, Ghau has actively helped his family run their restaurants since he was 14.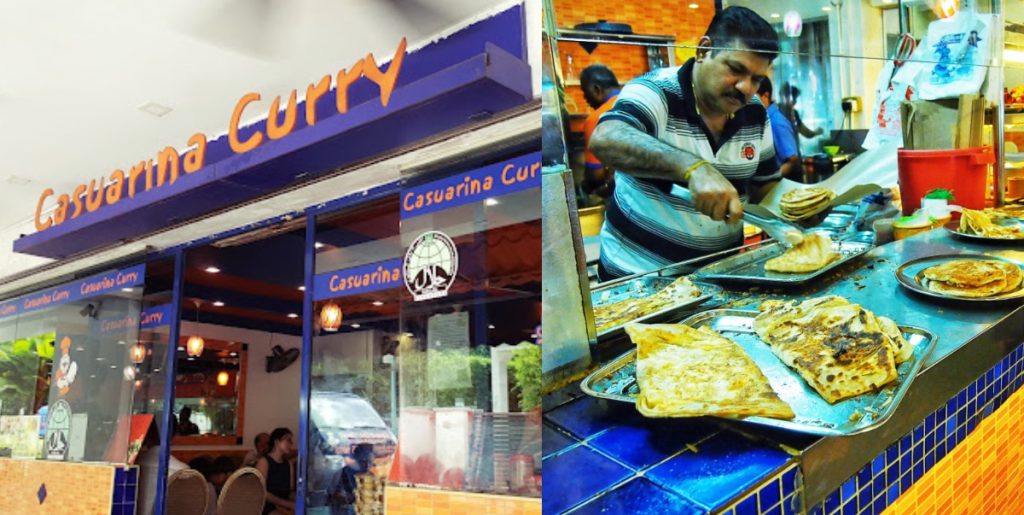 Leveraging his experience in the F&B field, he first decided to run a Casuarina Curry franchise together with his cousin, Kumaraysan Manickam (or Kumar, for short).
Unfortunately, the venture faced significant challenges along the way. For one, the franchise was not located in an ideal place to generate sufficient cash flow.
"We struggled a lot, location-wise. The [franchise] was at a place where there were a lot of one-room, two-room flats, so spending power was a bit of a difficulty for them, which I totally understand. It was my bad for not researching the area thoroughly prior to launching the franchise."
On top of this, a shortage of manpower also added to the business's challenges, causing Ghau and Kumar to fall into debt and the eventual closure of the franchise.
He invested S$40,000 to start up Prata Lahhh!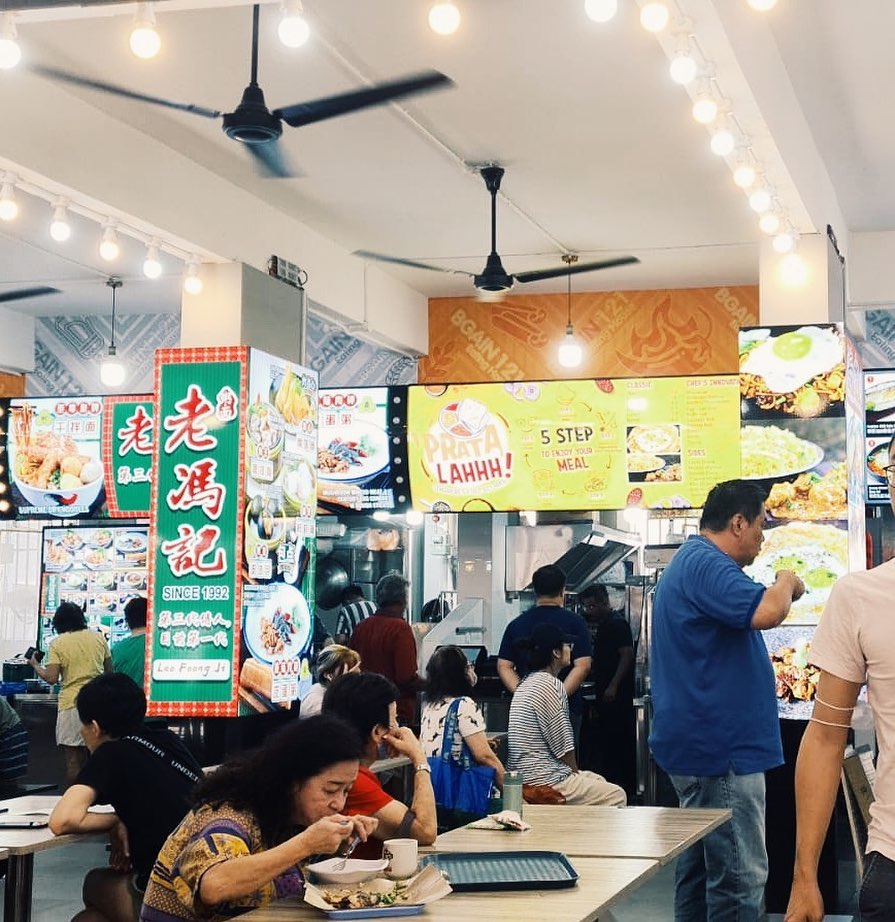 Determined to break out of the challenges they faced, the duo decided to invest another S$40,000 to start up their own concept, Prata Lahhh!, in December 2022, rather than expanding their family's restaurant chains.
We needed a different idea, a different concept, and of course, a different location, if we wanted to succeed in the F&B industry. Singapore is a very small country, so how many more outlets [of the restaurant chains] can we open?

If I go into the family business and open another 10 more outlets, I'll pretty much have the whole of Singapore covered with Casuarina Curry and Spring Leaf Prata Place.

– Ghauthaman Ramanan, founder of Prata Lahhh!
To their pleasant surprise, the concept took off successfully, especially among young Singaporeans in their 20s and 30s. The stall also received plenty of attention across various social media channels including TikTok, which contributed greatly towards its growth.
While Kumar has left the business due to family commitments, Ghau also attributes the success of his business to his family, who have been there to support him every step of the way.
"Throughout the whole journey [from starting up the Casuarina Curry franchise to Prata Lahhh!'s launch] and until today, they have always helped out with ideas and concepts — they've always given me advice and I think without them, it would have definitely been very difficult to be honest," he shared.
According to Ghau, the business now serves an average of 200 customers on weekdays, and about 400 on weekends.
Becoming the "world's next McDonald's"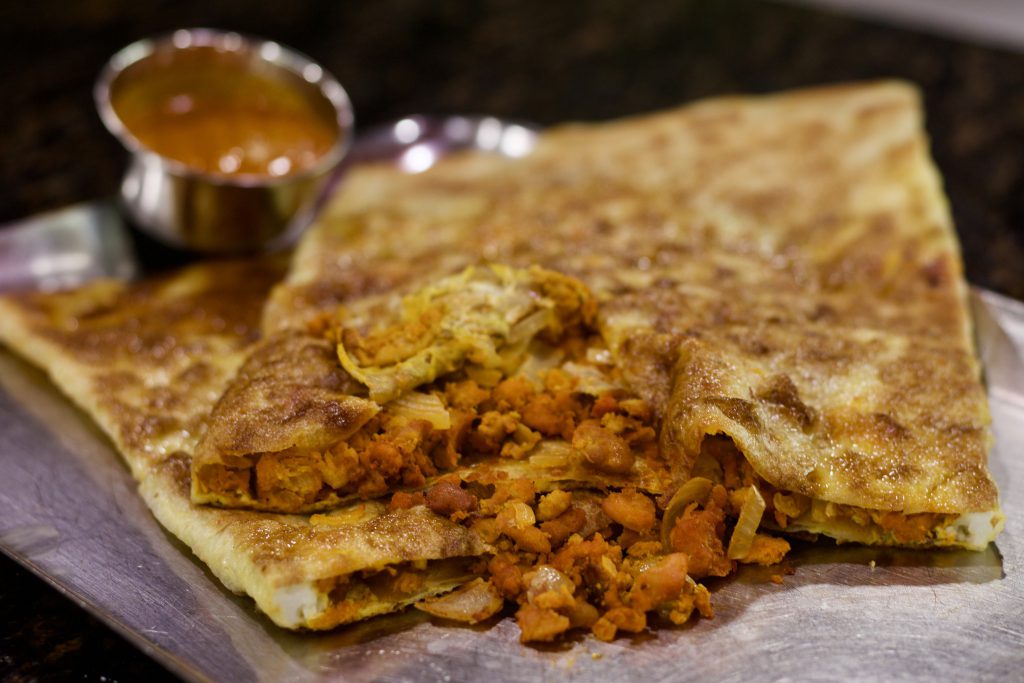 Although it has just been slightly short of a year since Ghau kickstarted Prata Lahhh's operations, the 30-year-old views Singapore's F&B scene as a stepping stone for him to elevate the business to global heights.
And his ultimate goal? To position Prata Lahhh! as the "world's next McDonald's".
To turn his dreams into reality, Ghau has forged a partnership with SG Food Court, a homegrown coffee shop set to debut in Singapore in early November. SG Food Court has plans to establish three food courts in Singapore before expanding to international locations such as Dubai and Malaysia.
Through this partnership, Prata Lahhh! is poised to extend its presence into these international markets as well.
If not in my generation, maybe my future generations can turn Prata Lahhh! into the next McDonald's — and that would definitely be something to be proud of.

If we one day have the chance to expand to France, I think it would be cool to be able to serve pratas with French ingredients, meat and cheese — and who knows, we could even have wine pairings.

– Ghauthaman Ramanan, founder of Prata Lahhh!
---
Embark on your startup journey with MAS-regulated ANEXT Bank, one of Singapore's first digital banks for SMEs.
---
Featured Image Credit: Zachary Tang via HungryGoWhere / @the_xw via instagram