They say that hard work always pays off, no matter where you start, and Sham Adam, the founder of Be Salon, is one prime example.
Born and raised in the suburbs of Malaysia, Sham developed an interest in hairstyling during secondary school when he was fascinated by the avant-garde hairstyles worn by Japanese anime characters and Japanese-pop (J-pop) celebrities. This lit a spark in him, leading him to experiment with his friends' hair as well as his own.
"I even went to a salon back then and asked the stylists how to straighten my hair. They told me, 'Oh, you just have to apply some straightening cream'. I literally went to Watsons to buy [the straightening cream] and did it all myself. The result was horrible," he recounted in an interview with Vulcan Post.
He worked in various hair salons before starting his own
With the encouragement of his mother and due to the lack of opportunities in Malaysia, Sham came to Singapore at the age of 17, where he worked several odd jobs for two to three months before officially pursuing hairstyling.
He decided to enrol in a hairstyling course offered by Kimage School, where he diligently practised and honed his hairstyling techniques after lessons. After graduating with a certificate recognised by the Institute of Technical Education (ITE), Sham joined Kimage as a junior stylist at the age 20.
He continued to climb the ranks and eventually became Master Stylist at Kimage after 11 years. However, he decided to leave the salon, expressing his desire to explore new opportunities and step out of his comfort zone. Subsequently, Sham joined Salon Vim, an experience he described as "eye-opening".
He explained that during that period, more businesses were recognising the importance of building a presence on social media. Sham had to step up and he played a pivotal role in assisting Salon Vim with its marketing and training initiatives while continuing to serve clients. However, after five years, he made the decision to part ways with Salon Vim, citing a shift in the salon's culture.
In 2017, he decided to take a leap of faith and invested S$300,000 to start his own hair salon called Be Salon. He managed to build a capable team of hairstylists who shared his vision and values, and with steadfast support from his loyal clientele, Be Salon successfully achieved profitability within just two years of operation.
Challenges as a new business owner, worsened by COVID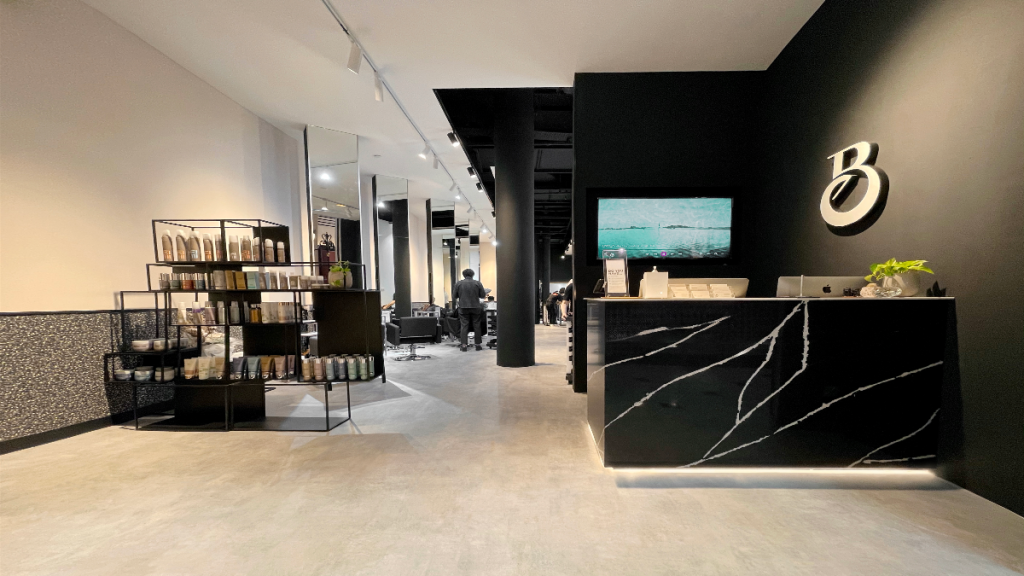 Running his own salon brought forth a series of new challenges for Sham, including grappling with renovation setbacks and managing costs.
One of the key steps that Sham took to build a solid foundation for Be Salon was assembling a capable team of hairstylists. To keep his staff motivated, Sham has dedicated 10 to 15 per cent of the company's total profit for bonuses, a practice he has maintained even during the COVID-19 pandemic.
To strengthen his relationship with his hairstylists, Sham made sure to have one-on-one conversations with them, enabling him to gain a better understanding of their needs, as well as their strengths and weaknesses.
On a technical front, Sham also shares his knowledge with his hairstylists and sends them for courses to enhance their skills. This investment paid off, with Be Salon's revenue soaring fourfold to S$2 million.
However, Be Salon's growth abruptly hit a roadblock when the COVID-19 pandemic emerged, forcing Sham into survival mode. As some of his hairstylists were also from Malaysia, Sham said that some of them chose to resign and return to their families and loved ones, while others briefly relocated to Malaysia before returning.
He added that the implementation of social distancing measures and ever-changing restrictions severely curtailed the range of services offered by hair salons, and Be Salon was no exception.
"I still remember that we could only serve our clients within one hour, which meant we couldn't do any chemical services, which [caused] a huge decline in our revenue," shared Sham.
Despite the sudden loss of revenue, Be Salon managed to maintain annual profits during the pandemic, thanks to the government's support schemes and Sham's tenacity.
Defying stereotypes and setting new standards
Finding new talent was another significant challenge for Sham. He recalled that when he posted a job opening, he received only two applicants.
"No one wants to jump ship, no one wants to explore new opportunities because everyone is [content] where they are. They're not sure about the future, given the many uncertainties, [including the possibility of another] pandemic," lamented Sham.
He also shared that there is a prevailing misconception about hairstyling, with some people undervaluing it due to preconceived notions of it being a low-paying job.
If you don't do well in school, you need to study skills. I also think that our society's build-up is based on finance, and we have this perception that we must have a degree in order to be considered as a professional.

People may look [down on] hairdressers – not knowing what they've been through, the many years of training [they have to undergo], and how many years they've struggled to progress from a junior to senior [stylist].

– Sham Adam, founder of Be Salon
While he acknowledged that the starting pay for hairstylists was extremely low in the past, he also believes that over time, with the help of social media, more people have grown to respect hairstylists and the work that they do.
That said, Sham sees room for further development in the hair industry in Singapore. A change that he hopes to see is more polytechnic and ITE students taking an interest in hairstyling and recognising its potential as a career path. He also expressed a desire to collaborate with government organisations to establish a degree program in hairstyling.
"Not everyone in the same classroom [is] good at things like finance, or accounting, or science. I will say that in any given classroom, there will be some students who want to become artists as well," said Sham.
Among the other changes he hopes for is a clearer path for hairstylists and exposure to the vast possibilities that defy expectations, such as the potential to earn five-figure salaries – a milestone that Sham had already achieved before starting Be Salon.
They may not initially see the results or believe they can actually achieve that level, but you don't need to become a boss to be able to actually earn [a substantial] salary. As long as you work hard enough and believe in your company's system, you will definitely get there.

– Sham Adam, founder of Be Salon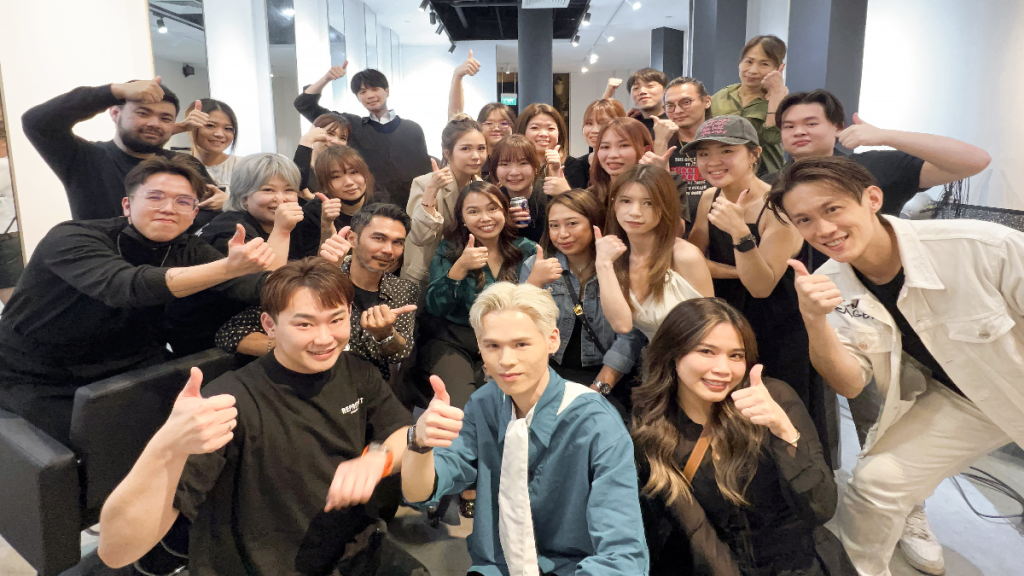 When asked about his hiring criteria, Sham emphasised the importance of having a willingness to learn new skills and adapt to customer requests is paramount. He believes that being able to work well with others and possessing a strong work ethic are also essential qualities.
Be Salon maintains rigorous quality benchmarks by exclusively hiring hairstylists who possess a minimum of a decade of professional experience. These veterans are designated as directors, associate directors, and leading stylists within its diverse team, which includes hairstylists from different nationalities, including Koreans and Taiwanese.
Having a customer-centric approach is key
According to Sham, Be Salon prides itself on a client-centric approach, where understanding the customers' needs is fundamental before designing a hairstyle.
"We want to get to know the customer as an individual, their lifestyle, and what kind of personality they have. [We also consider] whether their hairstyle will [complement] their career as well," said Sham.
The consultation process is a two-way street. Customers typically consult with a hairstylist to exchange ideas for a new hairstyle that suits their lifestyle.
Apart from customers providing picture references of their ideal hairstyles, the stylists also offer their own suggestions regarding hair colour and cut, ensuring that customers make the most informed choices before settling on a new look.
During my recent visit to Be Salon's newest outlet, I had the opportunity to experience their customer-centric approach firsthand. From the moment I settled into my chair, I was offered a list of complimentary beverage options and received an indulgent head massage during my hair wash.
As someone who was colouring my hair for the first time, I naturally had some apprehensions about the potential damage from the bleaching process. However, my hairstylist, Grace, and Chester, one of Be Salon's directors, quickly put my concerns to rest. They offered valuable suggestions for a hairstyle that minimises the need for excessive bleaching and complements my natural hair.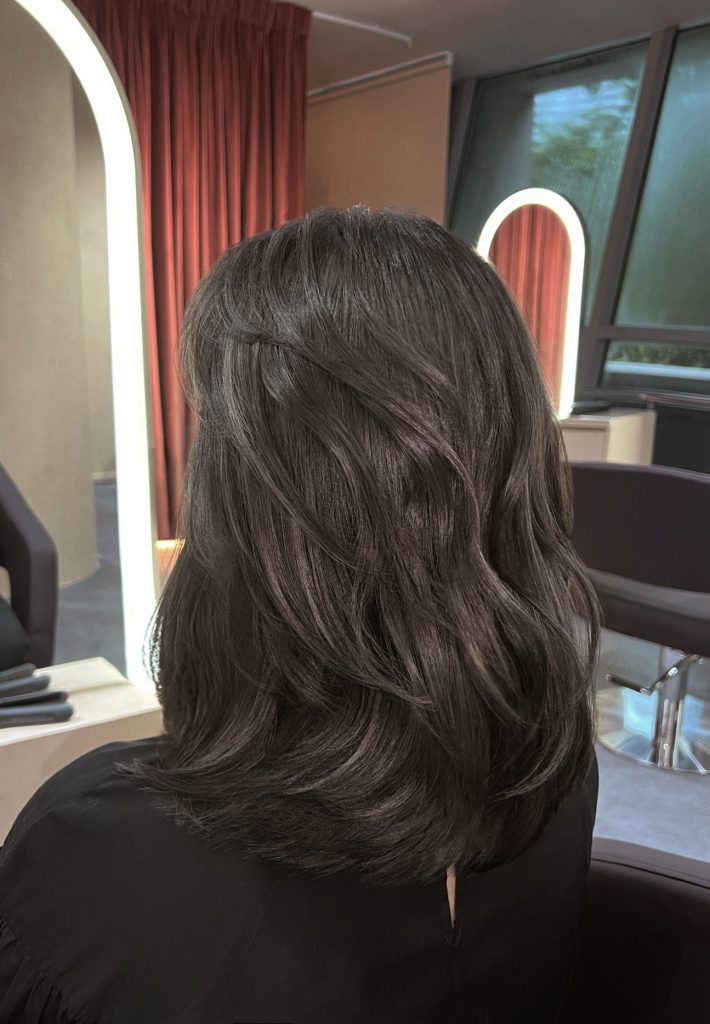 Initially, I had my heart set on going for a red hue, but Grace recommended ash blue-grey highlights instead. She explained that it would last longer and requires less maintenance, which ultimately convinced me to choose that option. In the end, only about 20 per cent of my hair needed to be bleached, significantly reducing the damage on my hair.
Be Salon prides itself on providing meticulous haircuts and creative colouring for their customers. They are also best known for their Airy Wave perm and having a wide range of anti-frizz treatments that caters for different hair types.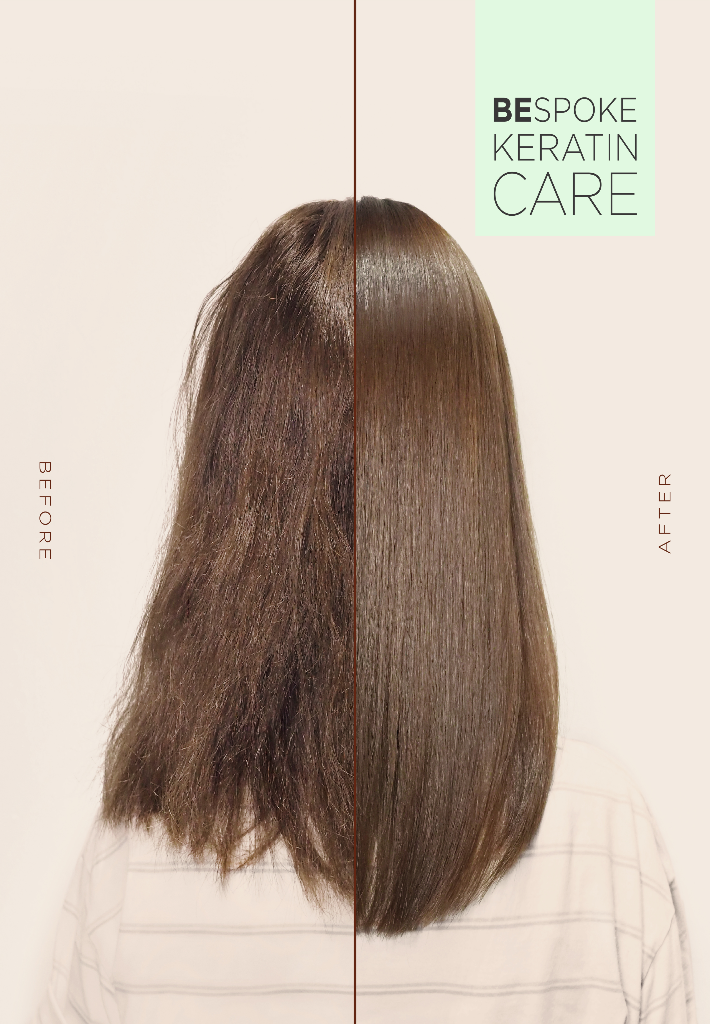 In particular, its BEspoke Keratin Care is crafted based on customers' feedback. Sham shared that some customers previously struggled with hair treatments that couldn't withstand Singapore's humid weather, leaving their hair frizzy and hard to tame.
Recognising that not everyone can go for chemical treatments, Be Salon conducted extensive trials, experimenting with different brands of Keratin. The BEspoke Keratin Care treatment is tailored to each customer's unique hair health and needs, and it has been well-received by many Be Salon customers.
Moreover, a guiding principle Sham often imparts to his stylists is to always create hairstyles unique to the customer, and one that they can easily maintain at home.
When a client comes into the shop, they expect a change, so I often tell my staff not to repeat the same styles. [Our goal is to] make sure customers walk out with a smile on their face, and with a new hairstyle that they can maintain [themselves] at home.

We can do a very avant-garde style for the customer, but the question is whether the customer can replicate it at home? So we pretty much focus on [practical] hairstyles that they can maintain on their own.

– Sham Adam, founder of Be Salon
To date, Be Salon has served at least 1,000 customers each month, including notable clients such as Formula One (F1) racers Lando Norris and Oscar Piastri, as well as Singaporean rapper Shigga Shay, among many others.
Wants to open more salons to promote senior staffs into partners
From its first outlet at Millenia Walk, Be Salon has expanded and recently opened its second outlet at Wheelock Place, in the heart of Orchard Road.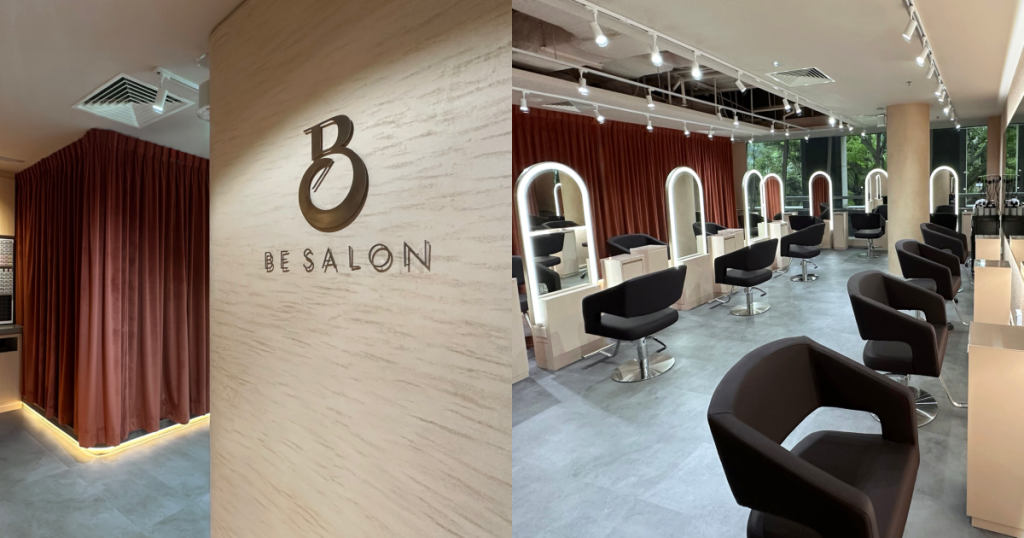 Sham revealed that he initiated his expansion plans right after COVID. During this period, he received multiple offers from various shopping malls in town to open his second outlet. Ultimately, he decided on Wheelock due to its accessible location to the majority of his customers, many of whom are part of the working class.
Sham also harbours ambitions to open more outlets in the future, as he believes that it provides opportunities for his senior staff to assume more responsibilities.
I see this [as] the only way to have a career progression for them. When I have a new outlet, I can actually promote my junior [stylists] to become senior stylists, [and] senior stylists to become directors.

– Sham Adam, founder of Be Salon
In addition, he has set a revenue target of S$5 million for both of his outlets for this year, along with a five-year target of S$10 million.
Sham's future vision for Be Salon is clear: continued growth, setting new industry standards, and nurturing talent. As he looks ahead, he remains confident that the advent of artificial intelligence (AI) will not replace the human touch and creativity that hairstylists bring to their craft.
In a world where hairdressing is evolving, Be Salon continues to redefine standards and inspire a new generation of hairstylists to dream big and work diligently towards their own success stories.
Sham's own journey reminds us that passion, hard work and resilience can take you from humble beginnings to great heights, and Be Salon is living proof of that remarkable journey.
This article was written in collaboration with Be Salon.
Featured Image Credit: Be Salon