[Written in partnership with Focus Point, but the editorial team had full control over the content.]
Survey findings have shown that 67% of Malaysians have not gone for an eye screening for over a year.
I'll admit I'm in that statistic, and if you're like me, take this as your sign to update your eyeglasses prescription and find out if you're at risk of any other eye health complications.
That and more can be done for free at the World Sight Day 2023 event hosted by Focus Point Vision Care Group Sdn Bhd (Focus Point).
It's a week-long roadshow happening at Centre Court, Ground Floor, Mid Valley Megamall, that began on October 9 and will conclude on October 15, 2023.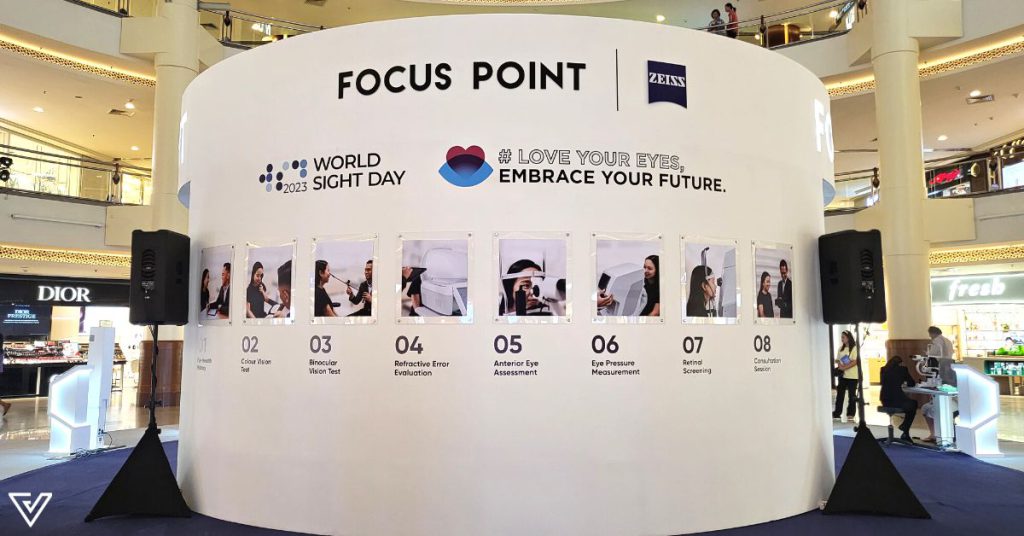 With the theme "Love Your Eyes, Embrace Your Future", the event features a variety of eye health-related activities to encourage individuals to take better care of their sight.
In partnership with ZEISS Group, Focus Point is offering free comprehensive eye screening with advance screening equipment during the event. 
These screenings can help to detect cataracts, glaucoma, dry eyes, pterygium (a fleshy overgrowth of the conjunctiva, or the white of your eye), retinal conditions, refractive errors, contact lens related issues, and more.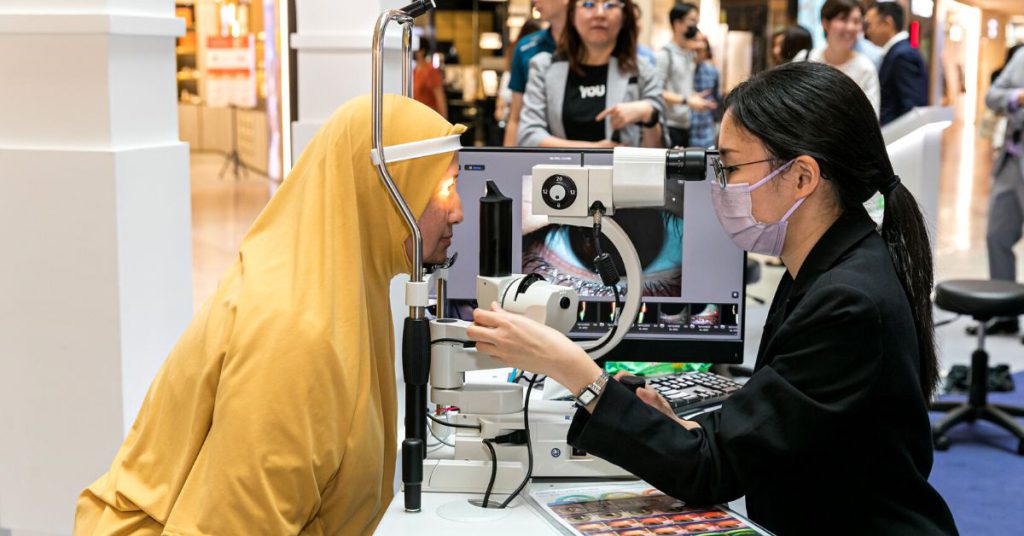 Focus Point also has a booth there utilising the Airdoc Artificial Intelligence Fundus Interpretation, technology that uses AI to detect more than 35 types of diseases such as diabetes, hypertension, and glaucoma with a reported accuracy of more than 95%.
Trying out the machine ourselves, one of our team members got photos of her eyeballs taken for analysis. The analysis looked at her eyes' blood vessels, nerves, and more, then gave her a robust report on her health risks. She learnt that she had a low risk of sudden death, and a low risk of getting a brain tumour, for example.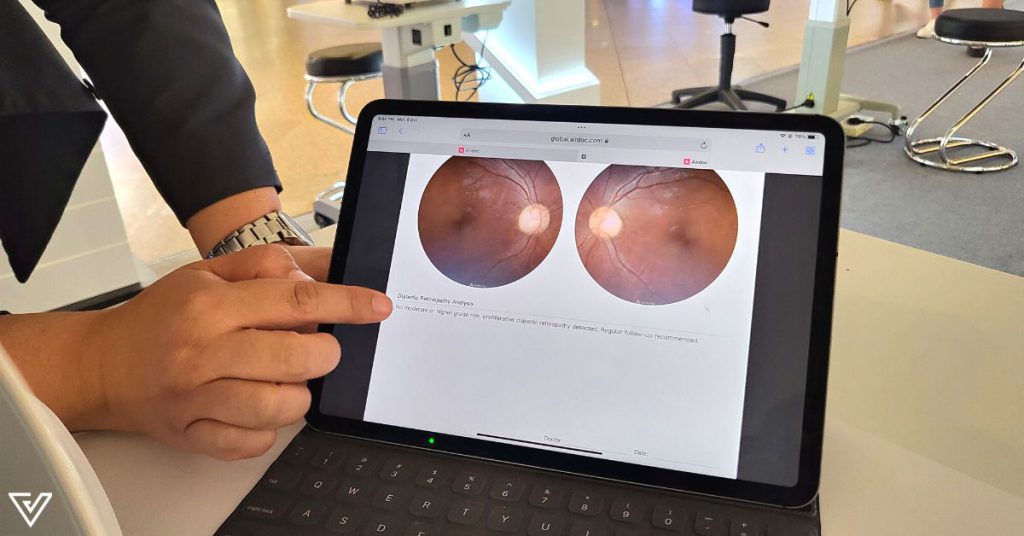 Following the screenings at each booth, you'll also get one-on-one consultation from Focus Point's registered optometrists who will be available on-site to address any questions or concerns.
Besides eye screenings, if you've been meaning to try contact lenses or find the right ones for you, this event will give you the answers.
There's a machine by Acuvue that allows you to virtually try on coloured contacts to see how you might look wearing them, before you commit to buying a pair.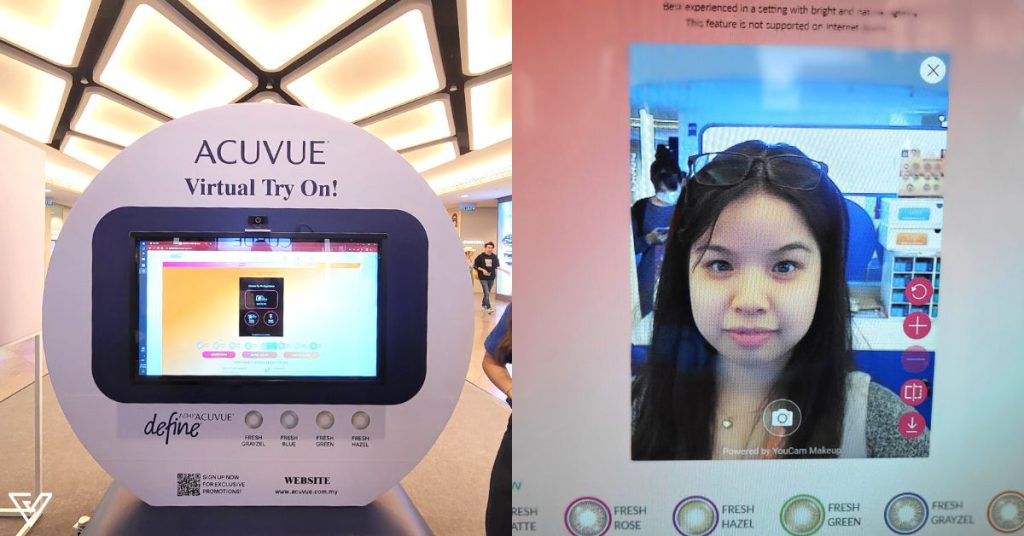 At the Alcon booth, you can learn how to put on contact lenses with proper guidance, and subject to availability, you could get your very own box of lenses to begin wearing.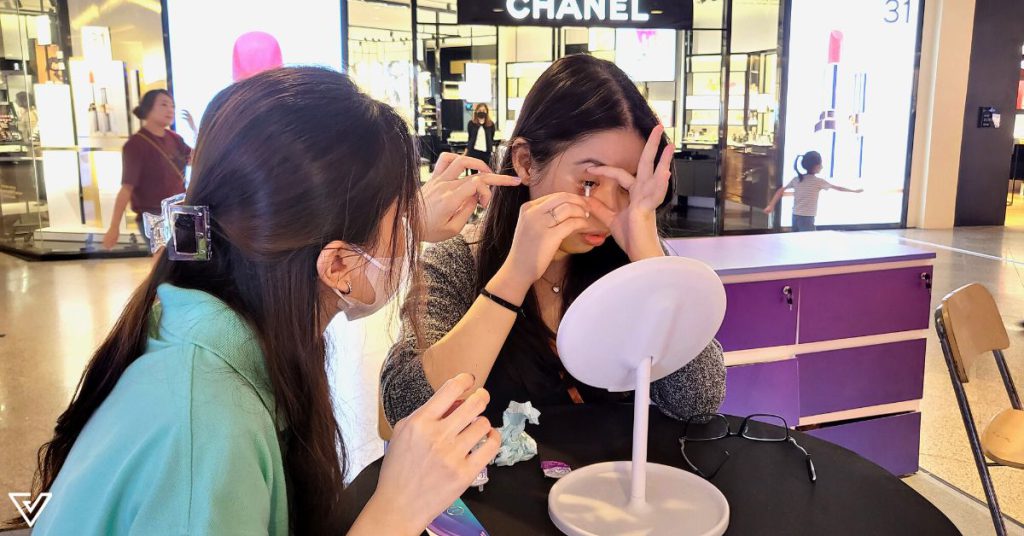 There's also the Myopia Excellence Centre booth which showcases ZEISS MyoCare, which are innovative Myopia Control lenses designed to slow down myopia progression for children.
Check out the ExcelView Eye Specialist Center booth to get a free assessment by specialists and learn about cataract and LASIK surgery.
"Focus Point commemorates World Sight Day campaign every year intending to advocate eye health and the importance of caring for our sight," Dato' Liaw Choon Liang, President and CEO of Focus Point said in a press release.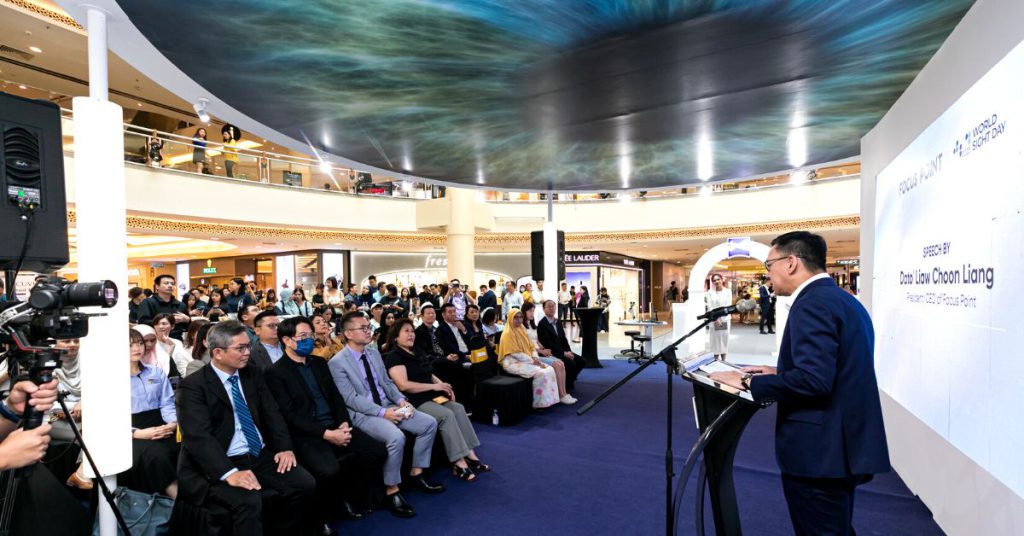 "Following our great effort of providing free comprehensive eye check through our World Sight Day awareness campaign for the past 11 years, we are grateful to have assisted more than 12,000 members of the public in getting their eyes checked."
For this year's event, Puan Nor Azizah bt Ismail, the Secretary for Malaysian Optical Council (MOC) of Ministry of Health Malaysia, officiated the launch, and various other stakeholders were in attendance too.
If you're a working adult right now reading this on your phone or laptop and have had eye strains, fatigue, double vision, and other eye problems, why not head to Mid Valley this weekend to learn how to improve your eye health?
Keep a lookout for the children and elderly in your life too, as they may have untreated eye issues. In kids, that could lead to lifelong visual impairment, and though some elderly may have no symptoms at first, glaucoma and other retinal diseases can be caught earlier with regular vision screening.
Learn more about Focus Point's event here.
Featured Image Credit: Vulcan Post (left) / Focus Point (right)