Indeed has just posted its latest figures on foreign interest in employment in Singapore, covering the past three years, from August 2020 to August 2023. Most of it, unsurprisingly, recorded after post-Covid reopening in 2021, which saw a jump of 55.4 per cent.
Most of the interested individuals hail from Malaysia (32 per cent), India (16 per cent), and the Philippines (7 per cent), suggesting demand for low to mid-tier jobs mostly, which isn't unexpected given the massive slowdown in construction and manufacturing during the pandemic years and a bounce-back that inevitably had to follow.
The range of professions they're browsing through is quite diverse, cutting across the entire spectrum of the economy, with administration (11 per cent) taking the top spot, followed by technology (7 per cent), management (5 per cent), sales (5 per cent), and manufacturing (5 per cent).
COMPASS makes navigation a bit harder
Sheer interest, however, doesn't reflect real-life employment trends, especially given the recent tightening of immigration laws by introduction of the Complementarity Assessment Framework or COMPASS eligibility scheme for Employment Pass applicants.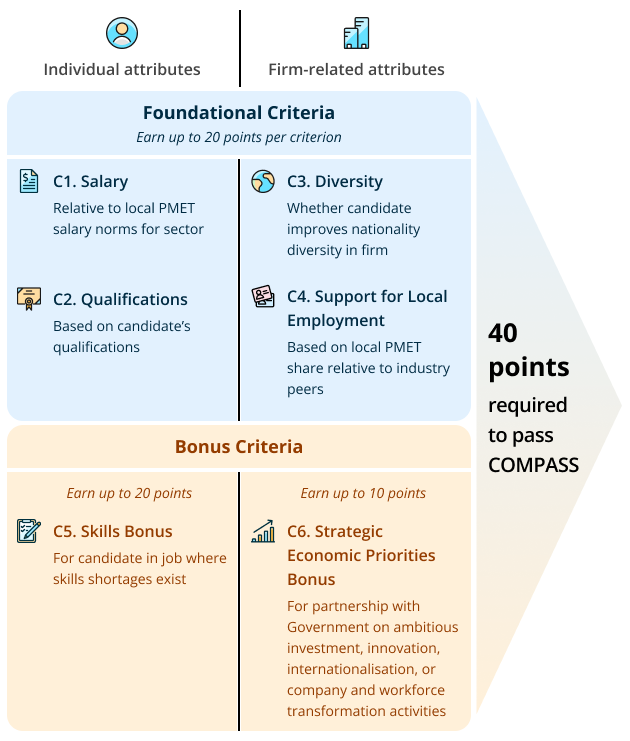 While it provides more information about the process than before — the Ministry of Manpower (MOM)'s application review process tended to be quite opaque and left at the discretion of the public officers — it has also raised the eligibility criteria in ways that may be confusing to applicants.
Before a candidate can be considered for an Employment Pass, they must acquire at least 40 points on the COMPASS, being rated on things they do and do not have control over.
Skills and educational qualifications remain important, but the context of employment is given higher status, with points awarded for salary offered versus local PMETs, diversity of the workplace, and the potential impact a hire may have on supporting local employment.
As you can see, there is little you can do yourself to improve your rating in these areas. Certain skills that may be in higher demand are, fortunately for the candidates, given additional points.
This surge in job seekers paints Singapore's enduring appeal as a global employment hub, offering a diverse range of opportunities for both local and international talents. Indeed's data suggests that Singapore's dynamic job market, coupled with its cosmopolitan culture, continues to attract individuals seeking new horizons and career growth.

– Callam Pickering, APAC Senior Economist at Indeed
Last month's numbers also highlight that Singapore has a greater concentration of jobs in management, tech, engineering and banking compared to Hong Kong, Japan, Malaysia and the Philippines. The larger share of jobs in these categories, compared to other Asian economies, reflects Singapore's status as a finance and tech hub.
"Singapore has always been a magnet for global talent due to its open economy and rich opportunities. The surge in job seekers from abroad is a testament to the city-state's resilience and its ability to provide a favourable environment for both local and foreign professionals," added Pickering.
Featured Image Credit: Suhaimi Abdullah/NurPhoto/Getty Images