Disclaimer: Unless otherwise stated, any opinions expressed below belong solely to the author.
The Ministry of Manpower (MOM) has just published its usual advance release of labour market data for the just-concluded third quarter. It's a set of the most important — and most current — figures about trends in local employment, as the full report is not due for another six weeks or so.
Limits of growth
Employment in the economy continues to grow, but its pace has slowed down to just 24,000 people added to the local employed population (excluding domestic workers) in the third quarter of 2023.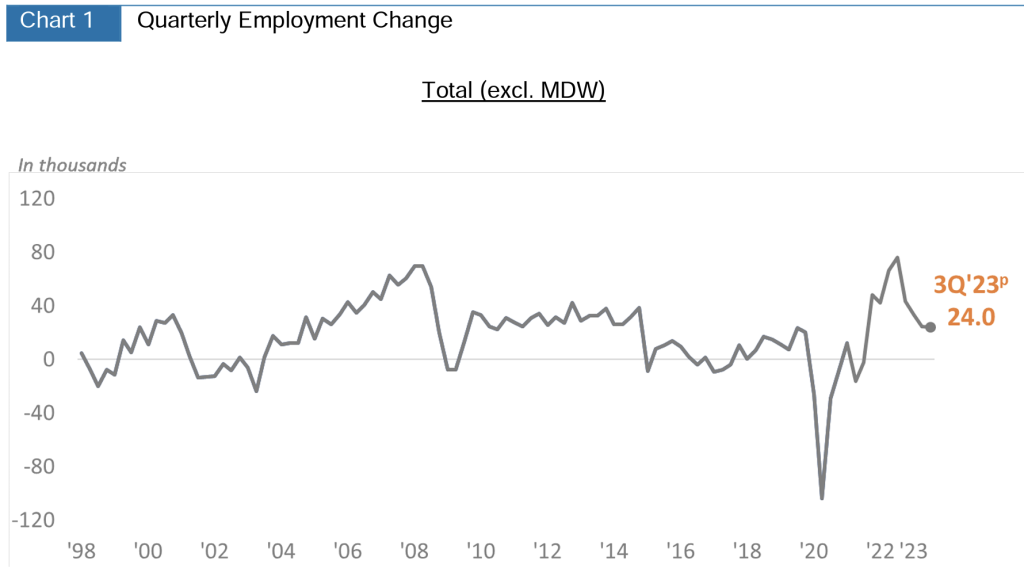 This is not yet a cause for alarm, given that the figures for previous periods were quite inflated following the ongoing post-Covid adjustments in the economy, with affected industries rapidly adding back staff they lost during the pandemic and also in response to rising arrivals to the city-state.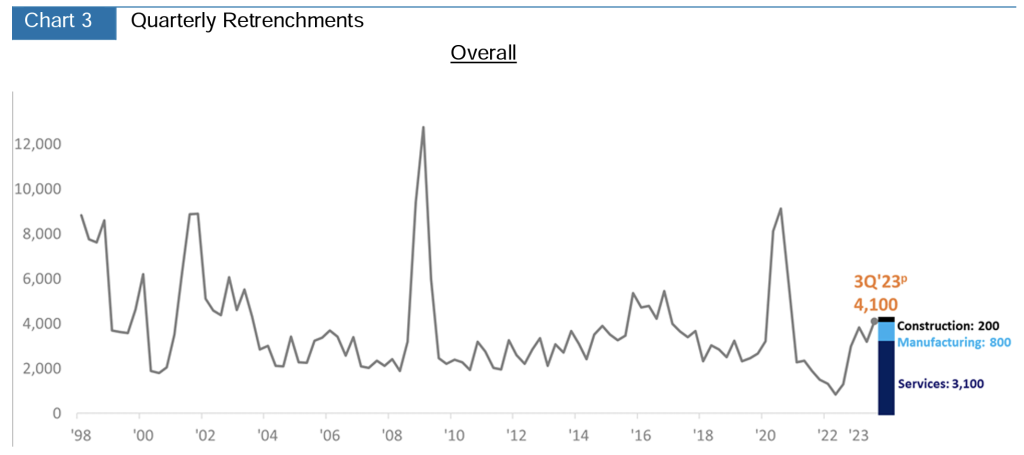 Retrenchments have climbed to 4,100, the highest this year but, again, not abnormally so. Similar quarterly figures were reported over many "normal" years in the previous two decades.
Covid recovery is complete
Unemployment statistics is where the slowdown in hiring becomes more apparent. The rates have reached their bottom mid-year and nudged back up a little bit between June and September.
Citizen unemployment returned to 3 per cent from 2.8. This is not a major jump and is well within rates that are considered healthy, normal, or even desirable in other economies in the world. Nevertheless, it's clear that the labour market has reached saturation and is not likely to add jobs at the same pace.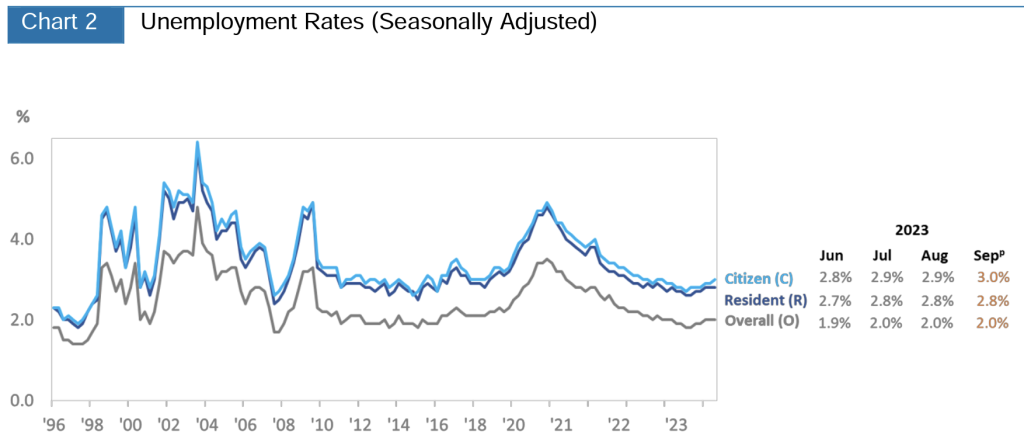 This suggests that the economy has returned to its pre-pandemic normal and it's only the current events that will be shaping employers' sentiments from now on.
And they are cautious to say the least.
While there are sectors in the economy where demand for talent remains high (e.g. technology), the averages for entire Singapore are less impressive.
Hiring expectations for the next three months have taken a huge 16 per cent dip over the past quarter, with barely over 40 per cent of companies expecting to bring new people onboard.
The sentiment that companies have become considerably more careful is reinforced by their reported intention to increase wages, which also fell to the lowest point since 2020, at just 18 per cent, fewer than one in five businesses expecting to boost employee pay by the end of the year.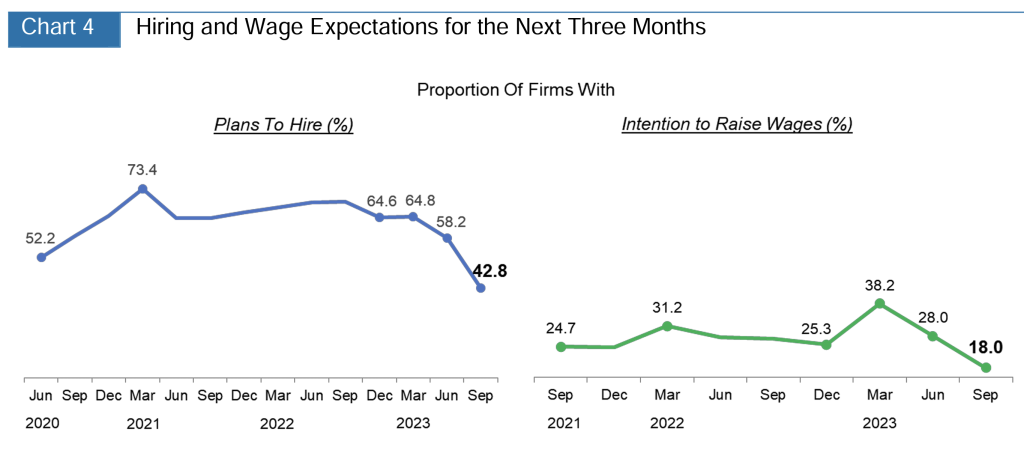 It is quite a contrast with nearly 40 per cent six months ago and lower than at any point in the last three years.
The latter, perhaps, is more telling, given the fact that recent surge in the need to improve pay was a consequence of galloping inflation. Now as it has largely subsided (at least in Singapore), the pressure to hand out raises is much lower, and yet, it has fallen below anything reported recently.
There is slowdown in manufacturing and wholesale trade. Exports have been falling for 12 months straight, GDP growth is projected to top out at just 1 per cent this year, while economic uncertainties in China cast a shadow over both regional, Asian economy, as well as the global one.
Ongoing wars — and now new ones — are not going to help boost optimism.
Predictions for 2024 have Singapore's GDP growing by up to 2.5 per cent — considerably higher than this year and rather healthily for a developed economy. But that's in the future and unexpectedly changing global situation may verify these figures downward.
Elevated tensions in the Middle East following Hamas' terrorist attack in Israel and planned invasion of the Gaza strip in response, are threatening to spill outside and draw other countries in the region into the fight. This may, yet again, affect the energy markets which barely recovered following the shock of Russian invasion on Ukraine last year.
A trade dependent economy such as Singapore is always very exposed to these geopolitical risks and uncertainty is what business hates the most. The lack of confidence discourages companies from hiring and sees them turn towards seeking savings over investment, which affects employment prospects and pay.
And it is what's going to define the fourth quarter of this year. The most we can hope for at this point is: no more surprises, please. We've had enough of those since 2020.
Featured image Credit: Shadow_of_light / depositphotos