After using the Oppo Find N3, switching over to the clamshell foldable, Oppo Find N3 Flip, was quite a big change. After all, I was going from a phone that featured an expansive 7.82-inch screen (diagonal, when unfolded) to one with a 3.26-inch cover display.
Clearly, each foldable has its own strength and thus provides a unique experience. So, here's my experience with the Oppo Find N3 Flip.
The design
Our review unit came in the beautiful Misty Pink colourway, complete with lavender metallic embellishments. The phone also comes in Sleek Black and Cream Gold.
In terms of size, the Find N3 Flip hasn't seemed to change much from its predecessor, the Find N2 Flip. Although slightly bigger and about 7 grams weightier, the actual display of both the cover screen and the main screen is the same.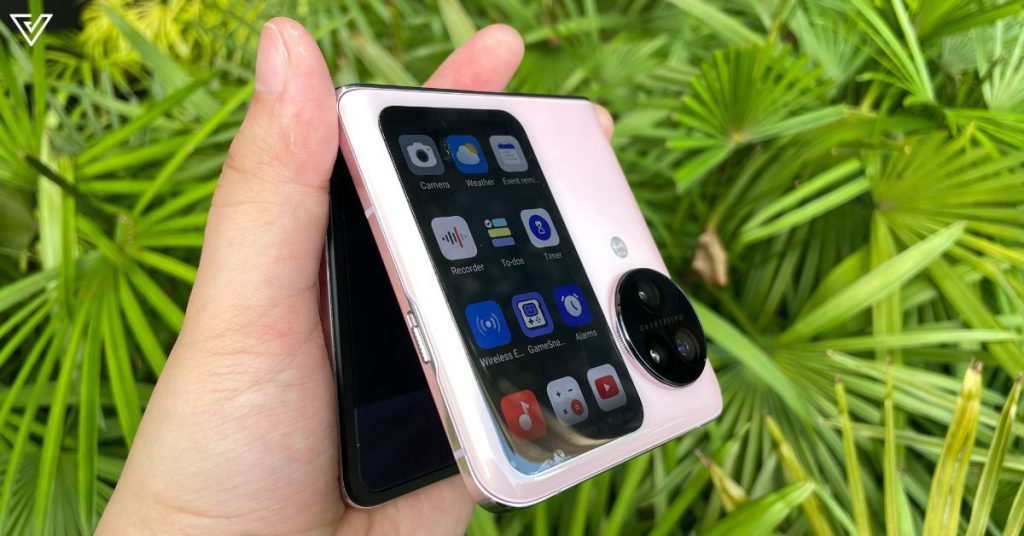 It does have a curvier body compared to the last phone, though, which helps provide a more comfortable grip.
Encircled by the Cosmos Ring design, the new camera array does look like it's a bit tight, pressing up against the cover screen and the edge of the phone.
Moving on to the hinges, you'll find aircraft-grade steel that has this swirly pattern to it that makes it look quite cool. The phone is said to be durable even after a million folds. Of course, I haven't been able to test that, but I will say it feels very secure and smooth.
Another thing to highlight about the Find N3 Flip is that it has an IPX4 splash resistance, which isn't the best, but is certainly better than the larger Oppo Find N3, which I couldn't find an IP rating for.
Vertical & versatile cover screen
Now, let's talk about the cover screen in earnest.
The AMOLED cover display provides a fairly nice viewing experience for what it is. It offers a typical 500 nits and 800 nits in the sunlight, which is decent, but nothing worth shouting about, especially when Oppo itself has released the Oppo Find X6 Pro, which boasts 2,500 nits.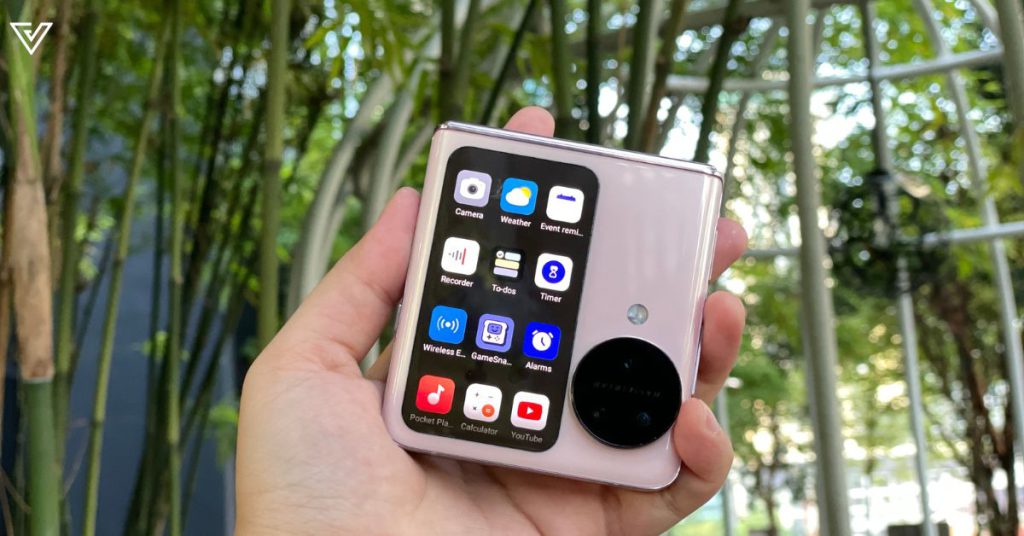 Like the main screen, it offers adaptive 120Hz refresh rate, supporting a low of 10Hz. This makes for a smooth performance and viewing experience.
The cover screen utilises the Corning Gorilla Glass Victus, dubbed the toughest Gorilla Glass yet, while the main screen inside uses SCHOTT UTG, which is often used in foldable displays due to its touted strength and versatility.
There's quite a number of supported apps for the cover screen, including the more practical ones such as the audio recorder, alarms, email, and messages. YouTube and TikTok are also supported. Some of these apps are labelled with a "Labs" icon, meaning they're still considered experimental.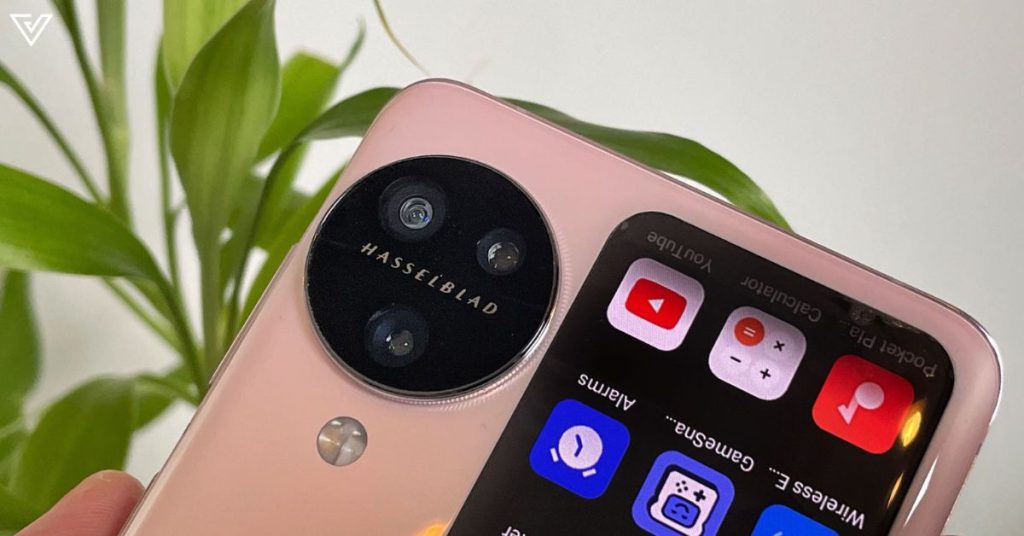 Other apps you can use on the cover screen include WhatsApp, Telegram, and Google Pay.
If you like mobile gaming, the cover screen also features an app called GameSnacks where you can play adorable little games like Comfy Farm, Fullspeed Racing, Gold Adventures, and more.
Of course, there are third-party apps you can download to transform the screen into more of a mini phone, but I find that the basic offerings are already pretty good.
Another highlighted cover screen function is the interactive pet wallpaper that honestly isn't that interactive. I thought it would be like a Tamagotchi thing where you can feed and pet the animals, but all I could do was cycle through videos of the animals. Does that really count as interactive?
A flippin' good camera
With a 50MP main camera, 32MP telephoto camera, and a 48MP ultra-wide-angle camera, the Oppo Find N3 Flip (like the Oppo Find N3) certainly wowed me with its specs.
This is especially true for this phone, considering that it's a clamshell foldable phone, which sometimes don't even feature a three-camera system.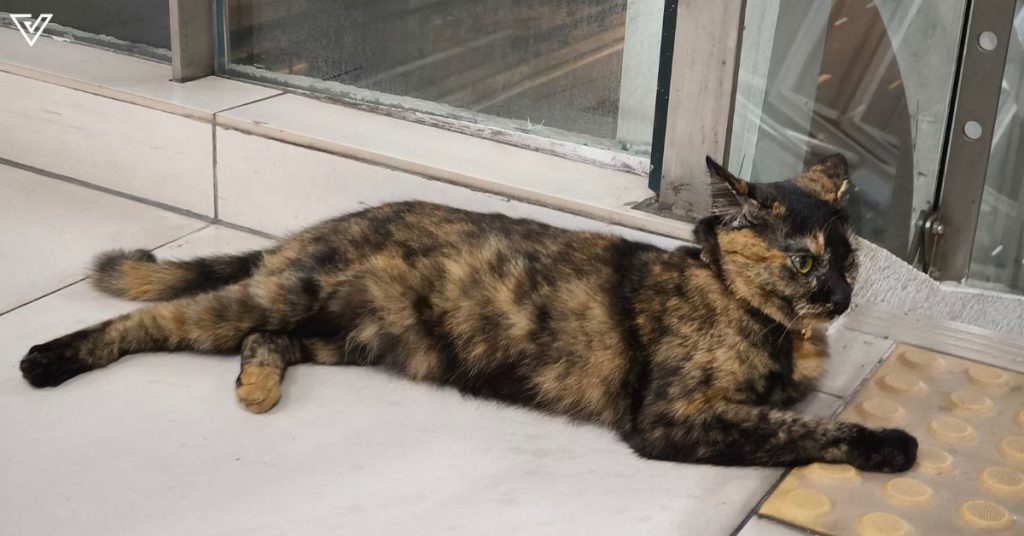 According to a press release found online, Oppo claims that this is the first flip foldable phone with a telephoto camera.
To my knowledge, this is true. The other flip foldable I know of with a three-camera setup is the Huawei P50 Pocket, which comprises a 40MP True-Chroma Camera, a 13MP Ultra-Wide Angle Camera, and a 32MP Ultra Spectrum Camera.
But is it actually a good camera?
I would say that it's a formidable camera, even as regular phones go. It's particularly good considering that it's a flip foldable, providing crisp images with vibrant colours.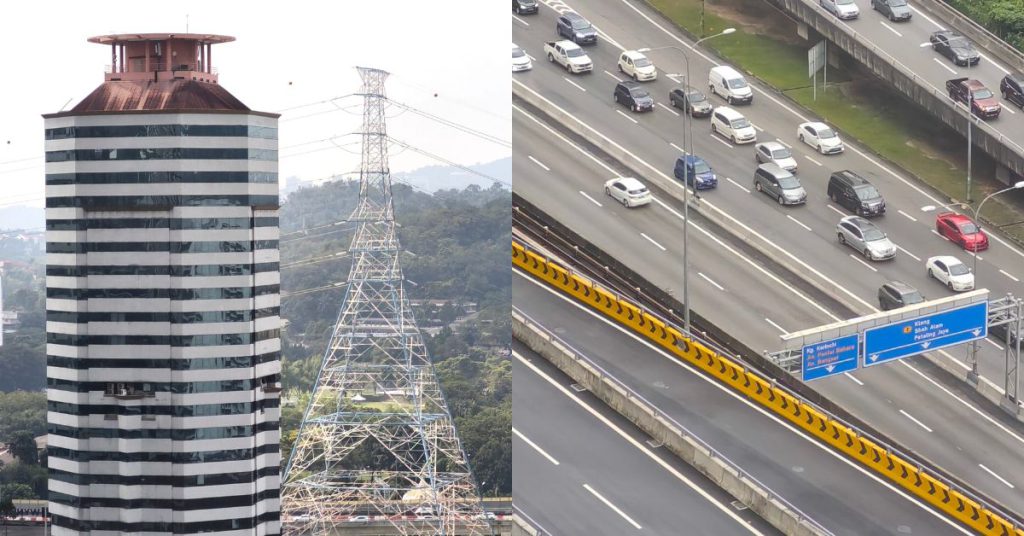 A downside is that images tend to veer on the blurry side, like with the Oppo Find N3, even after post-processing, and I promise my hands are usually pretty steady. It could be that the shutter speed is quite slow on these phones.
One of the best features of any flip foldable is that it can work as a tripod (monopod? Bipod?) on the go by just partly unfolding the phone.
Oppo calls this form the FlexForm Mode, and claims that the hinges can support between 45 to 120 degrees.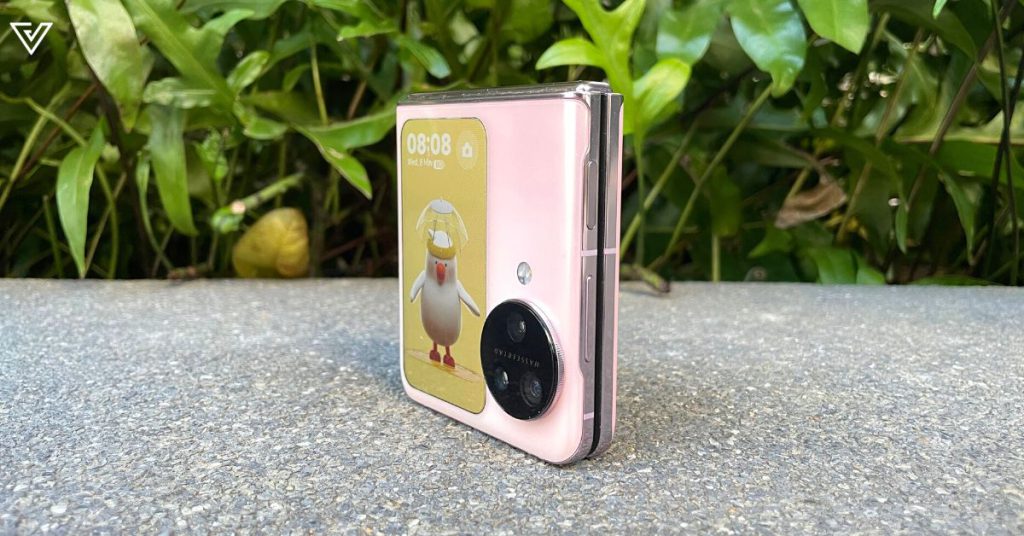 This is perfect for moments when you want to take pictures of yourself with no cameraperson or group shots with your friends.
Performance time
Under the hood, the Oppo Find N3 Flip is fitted with the MediaTek Dimensity 9200, a powerful and consistent octacore chipset in its own right, but reported to be beaten by the Snapdragon 8 Gen 2 (which is used in the Oppo Find N3) in benchmark tests.
But tests are tests, and in actual use, gaming on this phone is very smooth and quite comparable to my experience on the larger Oppo foldable, albeit on a smaller screen this time.
The verdict
From what we can see, the Oppo Find N3 Flip is one of the pricier flip foldables on the market currently at RM4,399 (given, there aren't that many clamshell foldables available, especially in Malaysia). But I believe you do get what you pay for.
The Oppo Find N3 Flip is a quality, premium, and portable phone with excellent cameras. With that in mind, I believe it makes for a good daily driver, even more so than its Find N3 counterpart.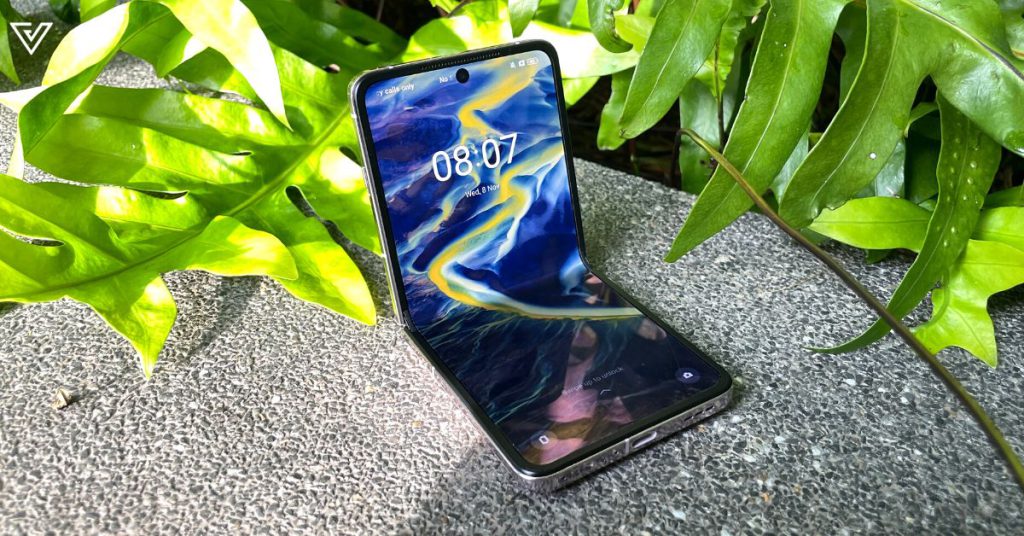 The 4,300mAh battery is also decent, promising a full day's worth of usage, and it supports super-fast charging that brings the phone to 50% in 23 minutes.
| Pros | Cons |
| --- | --- |
| Great camera performance | Not the brightest phone under strong natural light |
| Versatile cover screen that supports a variety of features | |
| IPX4 rating means it's at least splash resistant | |
Learn more about the Oppo Find N3 Flip here.
Read other gadget and product reviews we've written here.
VP Verdict is a series where we personally try and test out products, services, fads, and apps. Want to suggest something else for us to try? Leave a comment here or send the suggestion to our Facebook page.