Just 10 minutes away from the Subang Airport is a 50,000 sq ft warehouse that's home to an indoor electric karting centre.
Opened in January 2023, Evolt Karting (Evolt) is a new establishment with a professional racing driver and entrepreneur, Weiron Tan, behind the wheel.
A decorated racing driver, the 28-year-old first got into the sport when he was 13, which is supposedly late for most professionals.
Still, Weiron became the first Malaysian champion in the PLUS Yamaha SL Cup Championship at 15 years old. He's also gone on to compete in many other championships and has made a name for himself in the scene.
"Racing has always been my passion," Weiron expressed to Vulcan Post. "No matter what, I somehow can't seem to stray away from the industry."
The newly opened Evolt Karting appears to be proof of that.
Racing into entrepreneurship
Two years ago, Weiron started thinking about what would later develop into Evolt Karting. It was during the pandemic when travel restrictions were aplenty, so he had no racing competitions to attend.
Even before the pandemic, though, Weiron had dabbled in entrepreneurship, having co-owned a smaller karting operation, Batu 3 Karting. However, it was eventually sold off.
While he learnt a lot from the experience, the racing driver didn't really think about going back to entrepreneurship after that stint.
At least, not until an idea struck.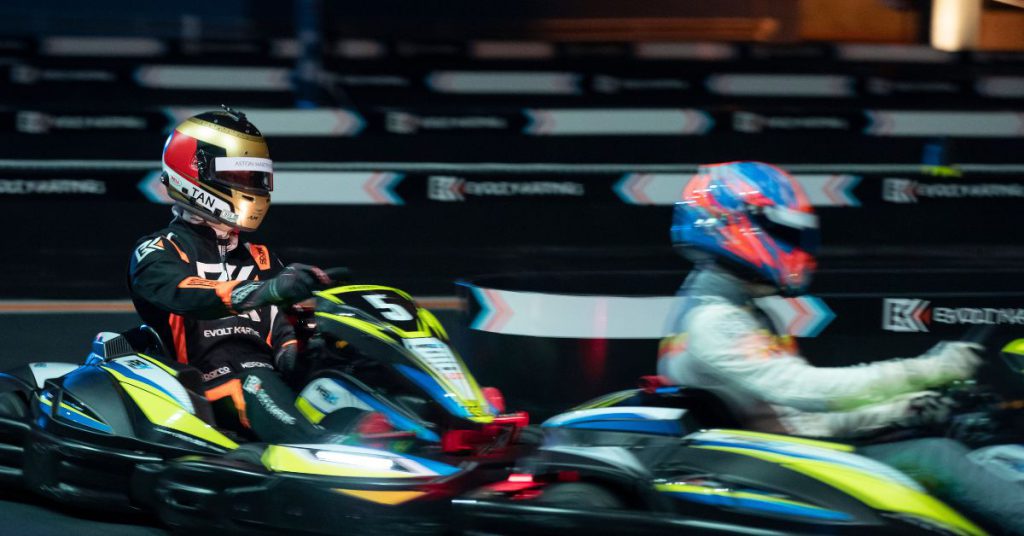 Racing, Weiron said, has always had the stigma of being an expensive sport, and rightfully so. But he wanted to change that and show how racing can be enjoyed by everyone.
This was the motivation that drove Weiron to start Evolt Karting. He believes that the centre's 600-metre track with 23 corners makes the fundamentals of racing accessible, while the indoor element meant anyone could enjoy it whether rain or shine.
In order to create the 600-metre track Weiron envisioned, he needed to find a big enough warehouse that didn't have any columns in between. This would give the team the flexibility of designing a more unique track layout with a mix of low, medium, and high-speed turns.
To incorporate everything Weiron envisioned, the renovation process took about six months.
Creating a space that feels more premium, Evolt features automated registration kiosks, a lounge area, a viewing deck, a proshop, as well as a light F&B counter.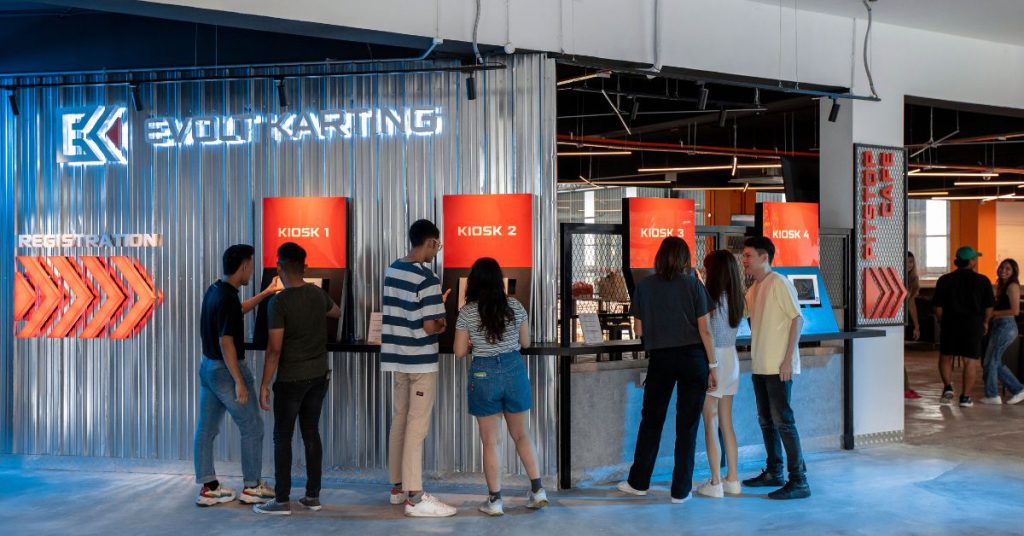 There's also a dedicated room for first timers to be briefed on the safety procedures before racing, along with changing rooms, lockers, a helmet selection area, and a workshop for any kart maintenance.
"Not forgetting to mention, clean toilets," Weiron proudly shared. "We try our best to give customers the best experience whilst providing a smooth flow from the moment of entering the premise to driving."
He also shared that there'll also be a specially designed track for kids coming soon.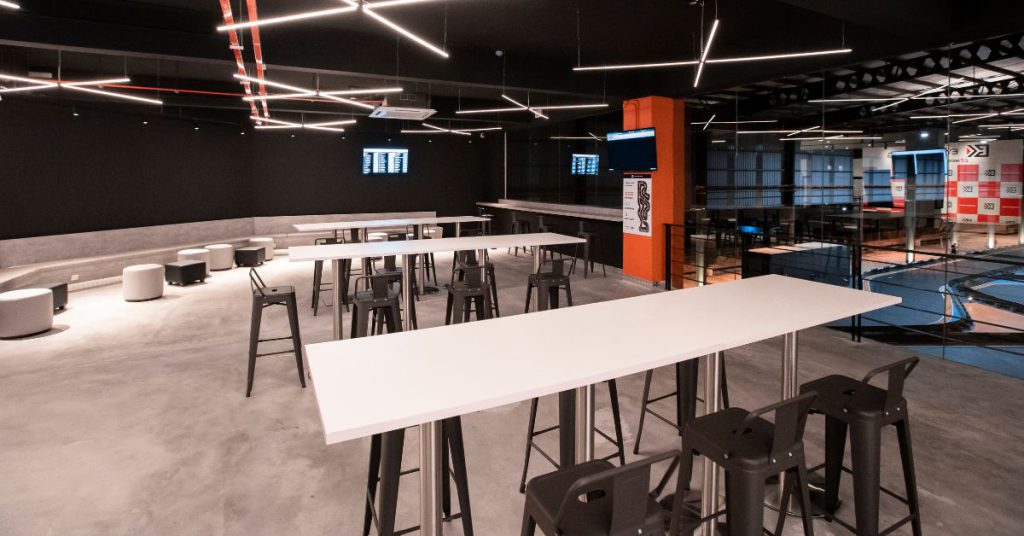 Currently, there are three categories of speed drivers can opt for at Evolt—Novice, Advanced, and Pro.
To go from Novice to Advanced, drivers must achieve a lap time of below 48 seconds. To qualify for Pro, the driver's Advanced lap time must be less than 42 seconds. Those with a valid FIA racing license do not have to meet those requirements.
Electric karts as the way forward
The reason why Weiron decided to go with electric karts is because he finds them more fun as they have higher torque compared to traditional petrol-powered karts.
Furthemore, he believes it's also the brand's goal to promote sustainability by going emission-free.
"Besides the electric karts, we use specialised safety barriers that meet the highest safety standards for indoor karting, and one-of-a-kind special resin flooring which mimics that of tarmac but less abrasive, less noisy, grippier, and safer overall for our drivers," he added.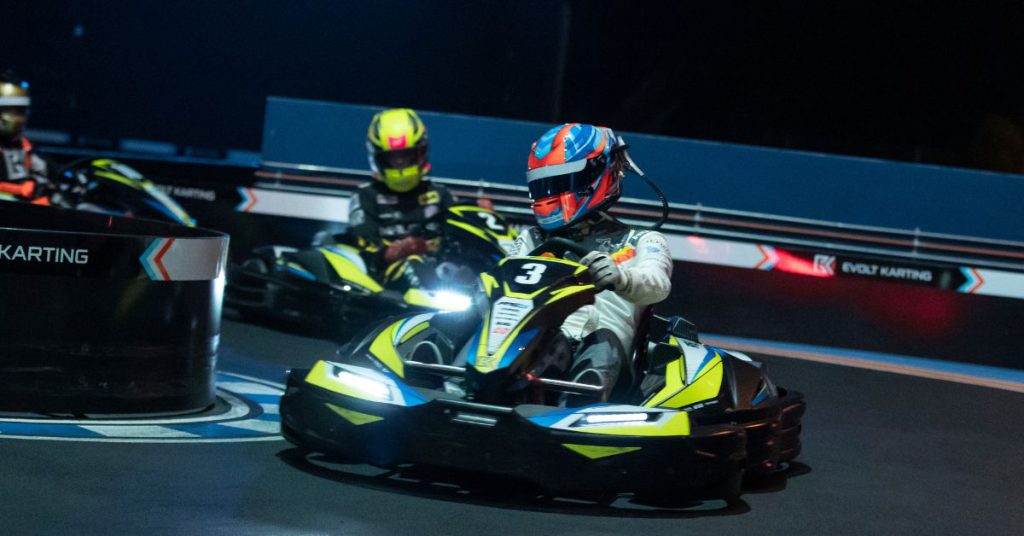 Other than Evolt Karting, though, there's also Mykart, an underground electric kart establishment in Petaling Jaya that opened recently, too.
"Electric karts are definitely the trend to go," Weiron said. "Although our region is behind time, it is never too late. Anyone who adapts the electric kart concept may do so, in fact I encourage that, we need more tracks in Malaysia!"
Still, the professional racing driver has a vision for Evolt that goes beyond having the "coolest tech in town". In fact, he already has phases two, three, and four in the pipeline that the team is currently working on.
Fostering future talent
More than just for entertainment, Evolt wanted to create a challenge for its participants.
"That's what creates excitement and competitiveness," Weiron said. Down the road, Evolt plans to introduce competitions too.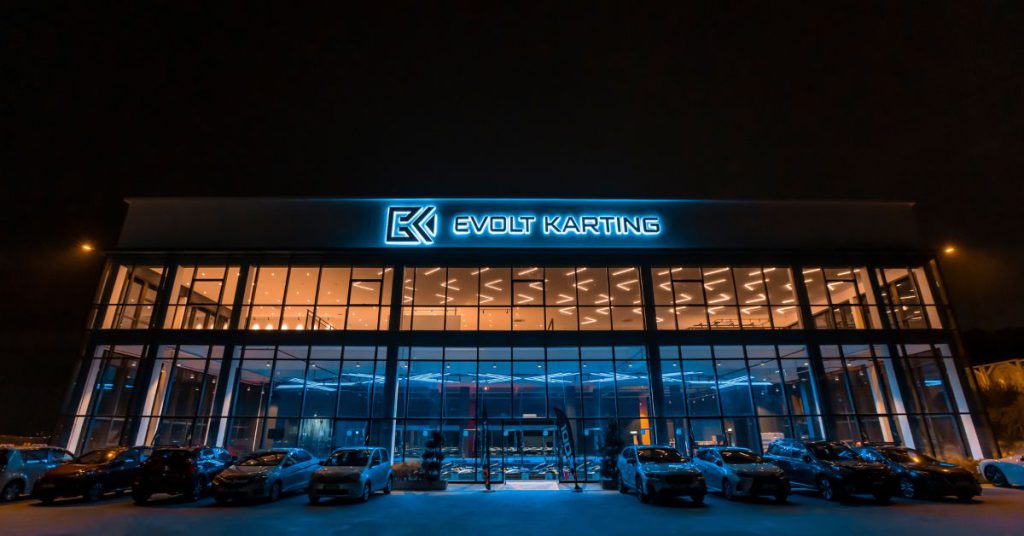 Already, Evolt features a leaderboard online that shows the top performers of each speed category.
With Evolt being founded by professional racing driver, it makes sense where these ideas and sentiments come from.
Weiron himself believes that his background does help, especially when it comes to understanding the drivers' points of view.
"But being an entrepreneur is also totally different," he expressed. "The uniqueness about us is having the understanding from both point of views which I believe we have, and that probably would give us the slight advantage."
Weiron's own journey had stemmed from go-karting, which he sees as the foundation of motorsports where everyone starts out.
Thus, karting centres such as Evolt also act as spaces where local talents will be scouted from. Weiron shared that the team does have plans to open a racing academy.
"It has always been the plan for me to give back to the community after the support I've received in my racing career," he said. "At the same time, I wanted to bring something fresh and new to the market as well."
Learn more about Evolt Karting here.
Read other articles we've written about Malaysian startups here.
Featured Image Credit: Evolt Karting