Recently, we featured a homegrown cake brand by the name of 3 Celsius Creations. The hook? Its cakes are presented in tin cans that resemble tuna cans.
We were immediately intrigued when we first came across the business, and thus explored how it came to be. Even after learning of the brand's story, though, we still weren't fully satiated. There was a lingering curiosity about what the cakes actually tasted like.
And you know what they say about curious cats…
They buy cakes in tuna cans! Or something like that.
Placing the order
As 3 Celsius Creations does not have a website of its own, customers have to DM the brand directly on WhatsApp to order.
We decided to try each of their seven available flavours—Peach Oolong, Basque Original Cheesecake, Basque Matcha Cheesecake, Double Berry Cake, Classic Tiramisu, and Ondeh Ondeh Cake.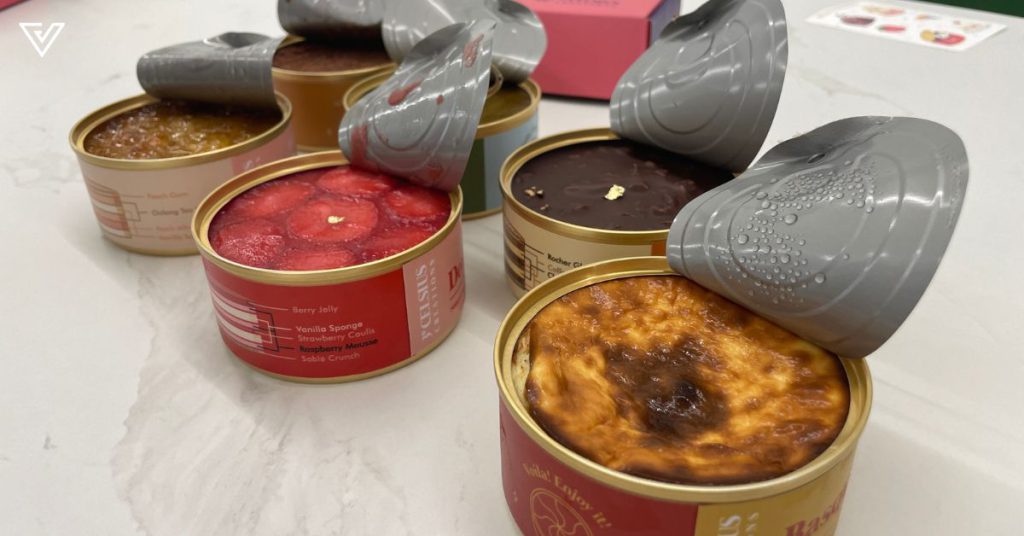 Our total came to RM154, meaning the average price for each canned cake was RM22, although they told us previously each can was RM25.  
3 Celsius Creations has a couple of preset dates when it does the deliveries. After selecting the date and providing our address details, we paid via bank transfer and waited for the cakes to come.  
First impressions
Sadly, the morning they were supposed to send the cakes, the team informed me that the Ondeh Ondeh flavour was all out of stock. They offered a refund, but I decided that it would be better if they could just send it over another time.
The rest of the cakes came on a Monday afternoon, packed nicely in two boxes—one big one fitting four cans, and one smaller one with two.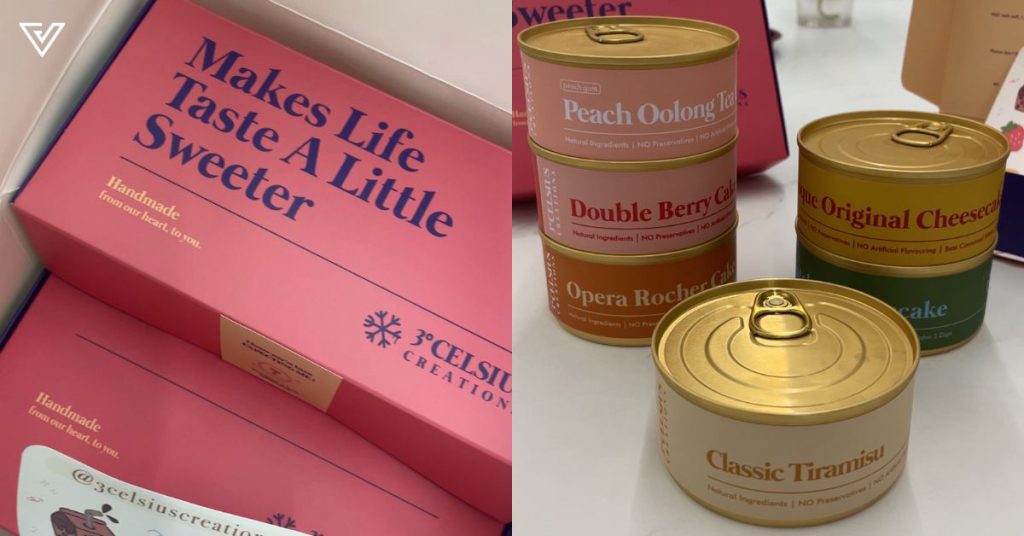 Inside the square paper bag that our order came in was an oh-so-adorable sticker sheet featuring animals sitting in tin cans.
Opening up the boxes, we found not just the cans but also sporks, which is a thoughtful addition that solidifies these cakes as fantastic picnic desserts.
I struggled with opening the cans, constantly snapping the tabs off. But my managing director Sarah would soon show me how I'd erred by simply pulling it wrong. Alas.
To be honest, the top façade of the cakes left… something to be desired, let's just say.
"It really looks like cat food," one colleague commented about the Peach Oolong cake. The can packaging likely played a role in their perception of it too.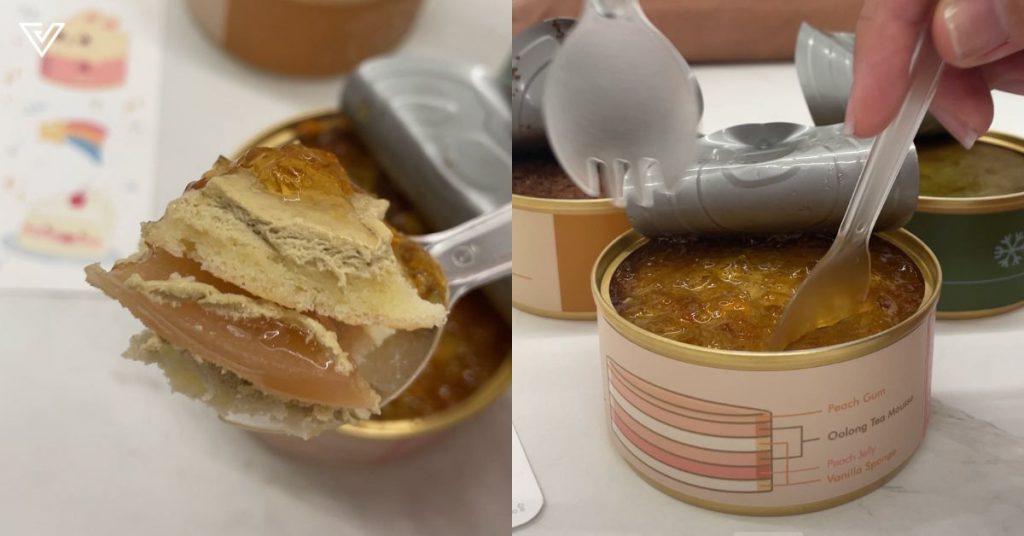 Most of them looked rather average, if not a little odd, but the Double Berry Cake looked particularly appetising with the cross-section of strawberries neatly presented. The Opera Rocher Cake looked delicious as well, though the small little sliver of gold leaf foiling was a little funny, considering how inelegantly we later ate the cake out of the can.
But let's not judge a book by its cover. At least, not wholly. How do the cakes actually taste?
Time for a taste test
First up, the Peach Oolong cake. Despite its looks, this cake was absolutely delectable with sweet, refreshing peachy flavours up top pairing beautifully with the grassy yet floral touch of the Oolong mousse.
The vanilla sponge at the bottom was airy and light, which to me is an illustration of the founder's professional baking background.
Leong Wai Yi had been running an online bakery for the past five years, so he wasn't green when it came to cakes.
The Basque Original Cheesecake was the next one we tried. I had rather low expectations for this one considering that it seems like a technically hard cake to perfect, but many of us actually really enjoyed it.  
Dense and rich, 3 Celsius Creations' cheesecake is perfect for those who love a strong creamy flavour and texture.
The Double Berry Cake lived up to its visual appeal, tasting fresh and sweet with a small hint of tartness. Like the Peach Oolong cake, it features a vanilla sponge, but the sable crunch at the bottom adds a crisp mouthfeel at the end.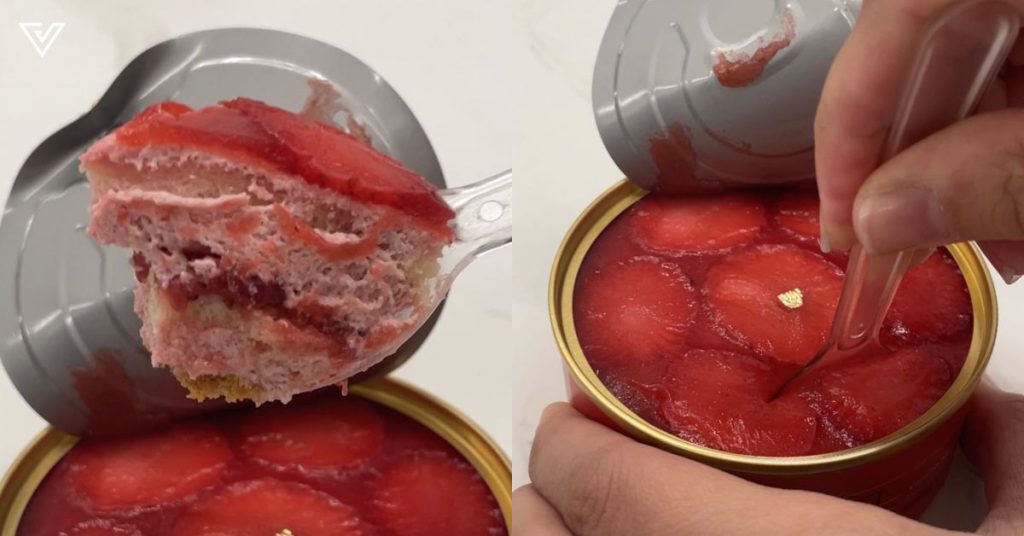 Between the Rocher glaze, Coffee Mousse, Chiffon Sponge, Hazelnut Ganache, and Sable Crunch, the Opera Rocher Cake struck a nice balance between rich and light. It tasted pretty much like a Ferrero Rocher, but in cake form.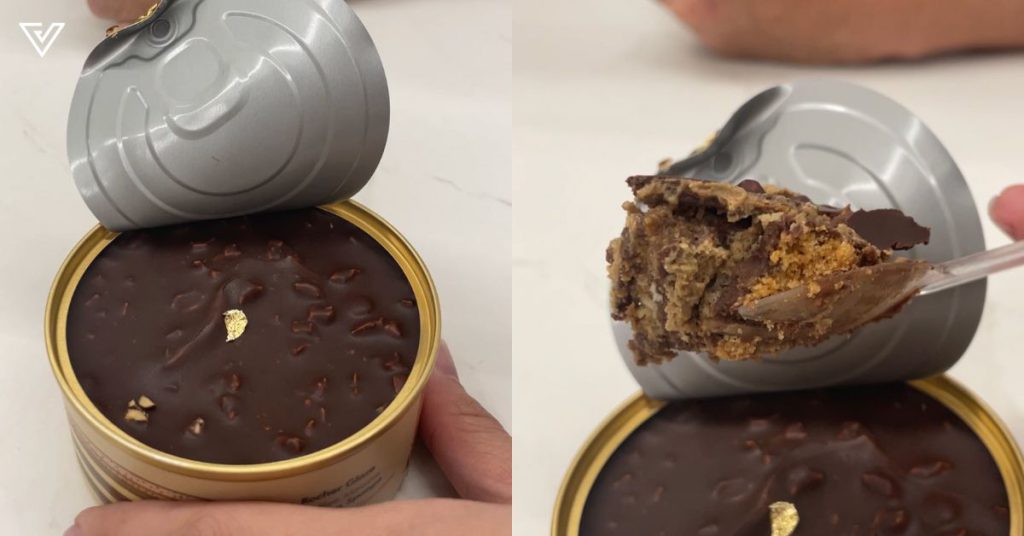 The Classic Tiramisu was a little runny as tiramisus go, but it wasn't terrible. Flavour-wise, it was on the weaker end. We've definitely had better elsewhere!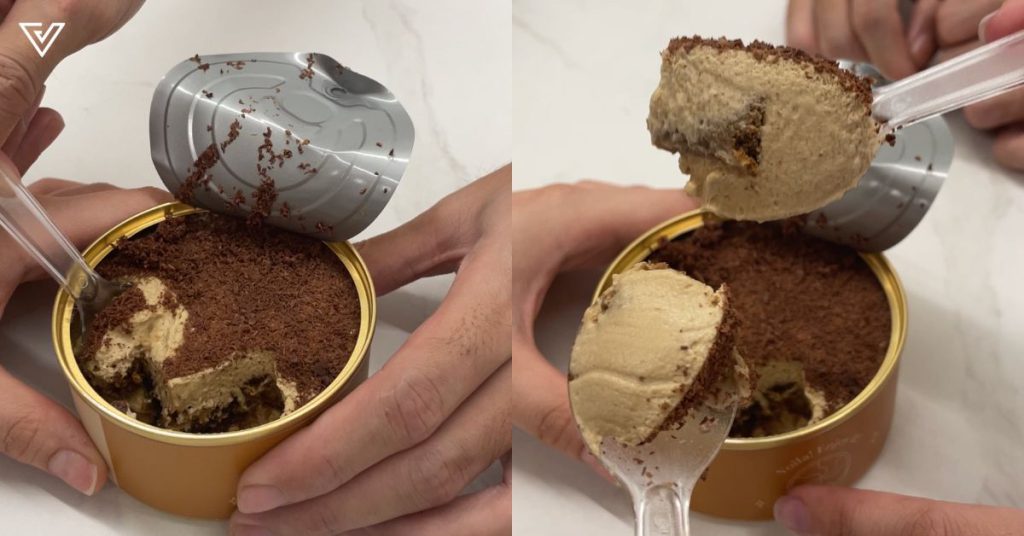 The only flavour that didn't quite hit the spot was the Basque Matcha Cheesecake. The bitter matcha tasted a little off and the texture was way too dense and somewhat rubbery, even moreso than the Basque Original Cheesecake. Only one of our colleagues said she didn't mind it.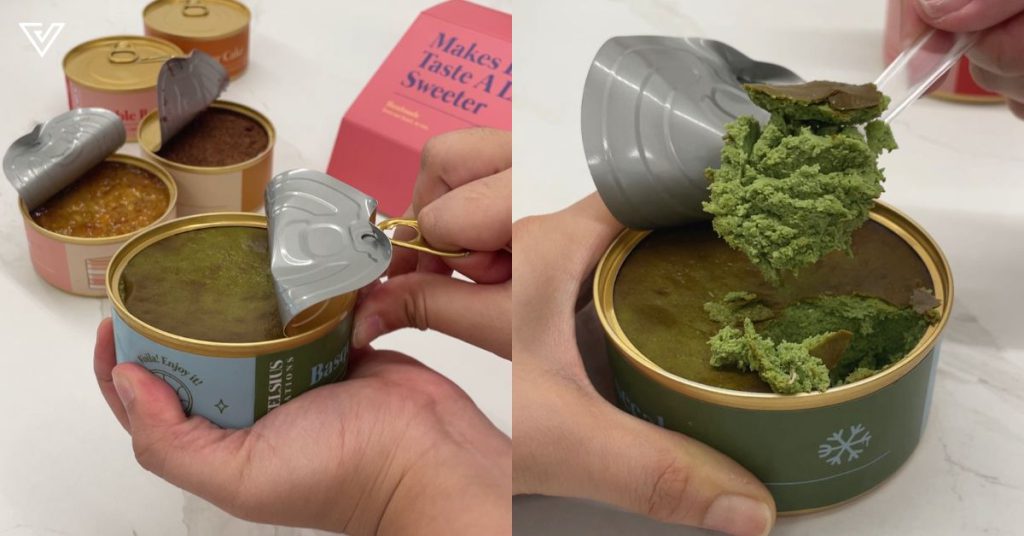 After a week or so, the Ondeh Ondeh cake finally showed up in an adorable miniature version of the square paper bag.
Featuring a layer of grated coconut up top, we were excited to finally get a taste of this cake. The coconut flavours definitely took centre stage here. While it did resemble the ondeh ondeh kuih it's named after, it has a much creamier texture (thanks to the coconut cream cheese mousse) with a slightly salty tanginess to it.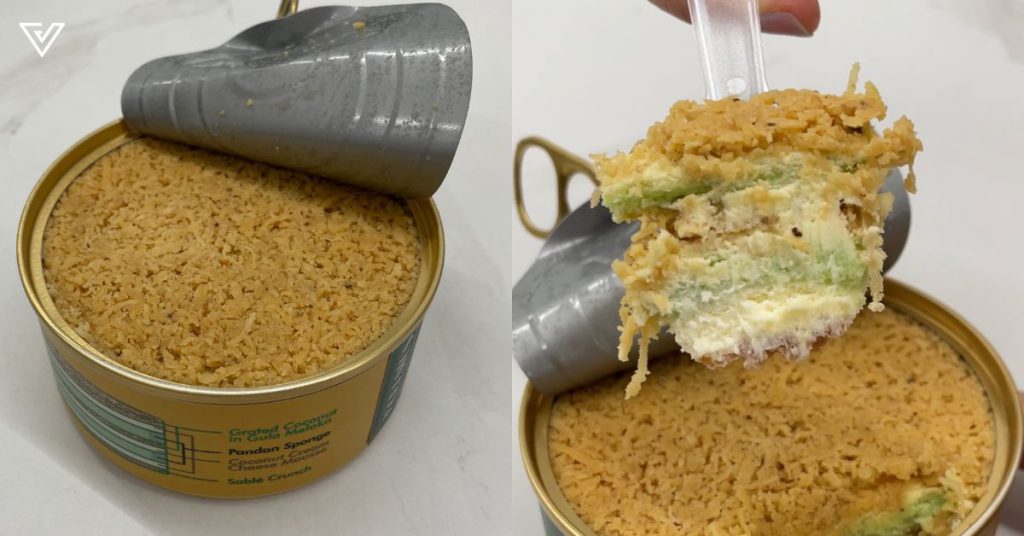 Rich and flavourful, I would say that this cake was totally worth the wait.
What we appreciated across many of the layered cakes was how they indeed met our expectations in terms of their assembly.
According to co-founder Yun, they use a scale to meticulously measure each of the seven to eight layers for a balanced bite.
You can see each of the careful layers when scooping out the cakes, and for quite a few of the flavours, they made for a nice mouthfeel.
Did it live up to the price tag?
Other than the matcha one, we enjoyed all the other cakes. My sceptical nature had me convinced that the cakes were just gimmicky, but the flavours actually backed up the unique packaging.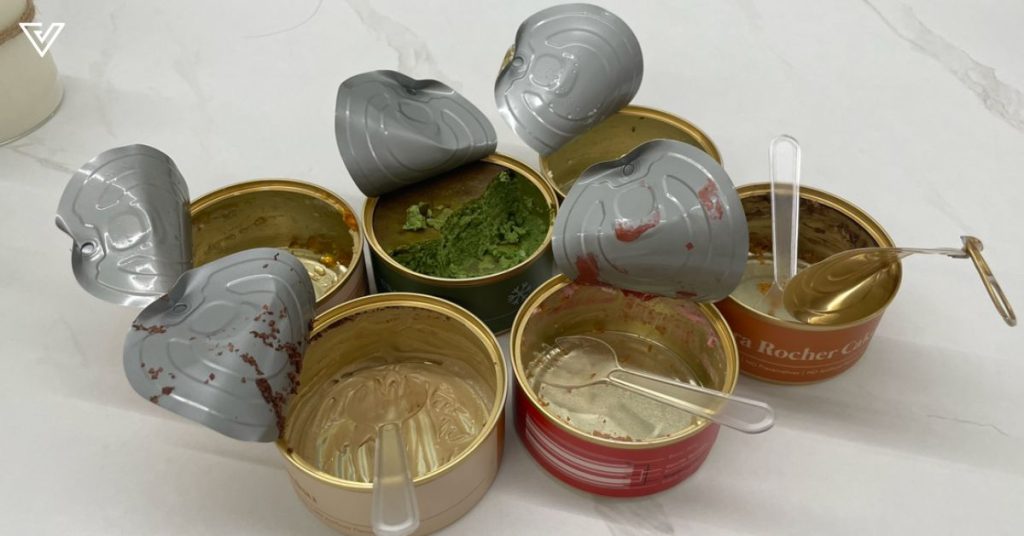 They were good. But was it RM22 per can good?
Our answer was a resounding no. At least, not for the actual taste of the cakes.
Yet, if you're willing to pay for the novelty of the can format, I would totally understand. In fact, I can envision how these would be adorable gifts and additions to a picnic date, or even as corporate gifts. It's easily portable and not bad tasting (well, save for the matcha cheesecake).  
Still, the price of RM22 (or RM25 if you're just purchasing the one) is a little too heavy on the wallet for me. If that price were to be lowered, though, I think 3 Celsius Creations would have a lot of potential to grow.
I think the product would also do well in higher-end grocery or convenience stores such as Bila Bila Mart and Qra. Right now, it seems to only be physically present in Mr. Kanso in Penang, which is, very appropriately, a canned food bar.
As 3 Celsius Creations grows, I hope that it'll be able to lower its prices and find its way onto more shelves.  
Until then, it will have to remain one of those novelty products you buy once for fun, and probably not again just for the flavours.
Learn more about 3 Celsius Creations here.
Read other articles we've written about Malaysian startups here.