Being an artist is not as easy as many people tend to assume.
You need to have endless creativity, discipline, and a great amount of patience to create something wonderful from scratch.
So the idea of relying on it as a source of income might seem a little too risky for some people, leading them to harbour doubts about those who are successfully doing so.
Well, these women we interviewed certainly prove the naysayers wrong by making it work. Here are four Malaysian artists who are making a living from designing stickers.
1. Second Floor Neko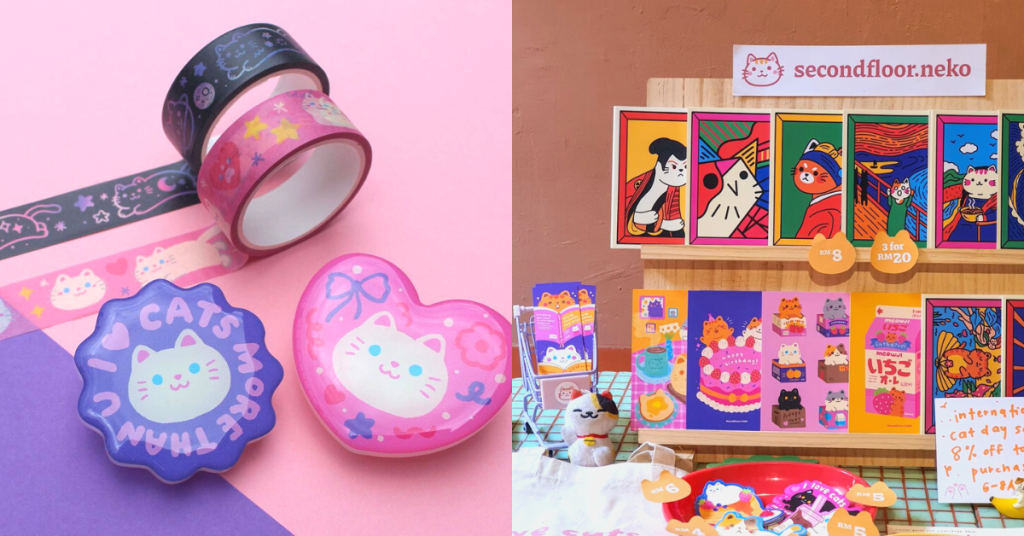 What started as a passing interest grew into so much more for Nikki. Second Floor Neko initially began as a journaling account on Instagram. That is, until her love for cats overtook the hobby. 
Inspired, Nikki began designing and selling cat-themed stickers and postcards part-time, while working as a graphic designer.
Then 2021 came around and she decided to quit her job. "It was scary and difficult in the beginning but it was worth it," she told Vulcan Post.
The support shown by her family in Nikki's entrepreneurial venture served as a big push. They even helped build her an office and procured supplies for her business.
Keeping to Second Floor Neko's roots, most of her illustrations are influenced by the mischievous behaviour of cats, Nikki's daily encounters with them, and memes.
Even after the numerous cats she's drawn though, she has no plans to stop. "I'd love to keep illustrating cute cats in an effort to make someone's days better," Nikki said. 
Surprisingly, she doesn't actually have a pet cat. But her family does feed the stray cats around her area, making them regular visitors and inspirations for her work.
To reach a wider market, the brand is currently selling its products on Shopee, Chub, and Society6.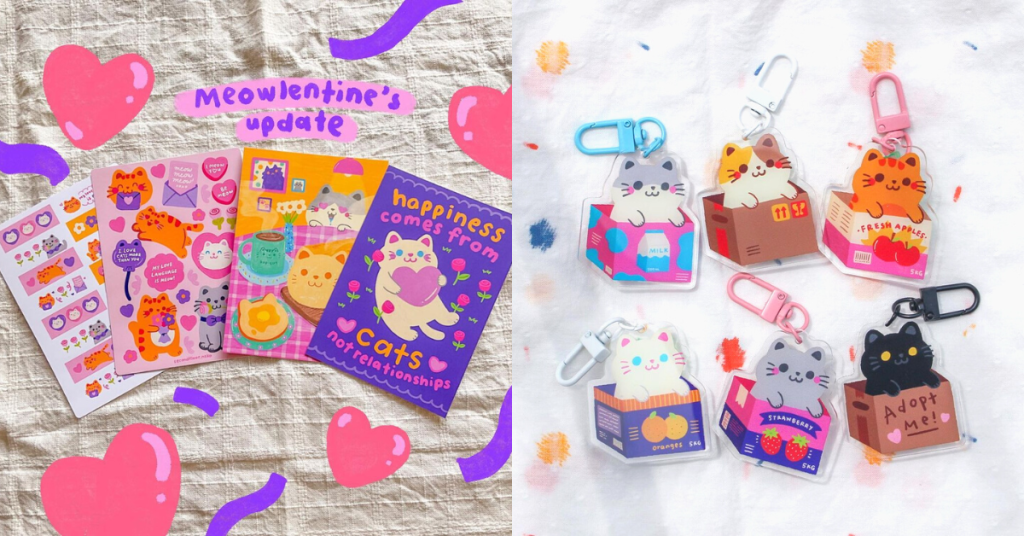 Stickers aside, here's the rest of her catalogue:
Washi tapes

Memo pads
Acrylic pins and clips 
Acrylic keychains
Bookmarks
Money packets
Postcards
Tote bag
Tapestry
Price range: RM3 to RM40
2. Susanne Low Creations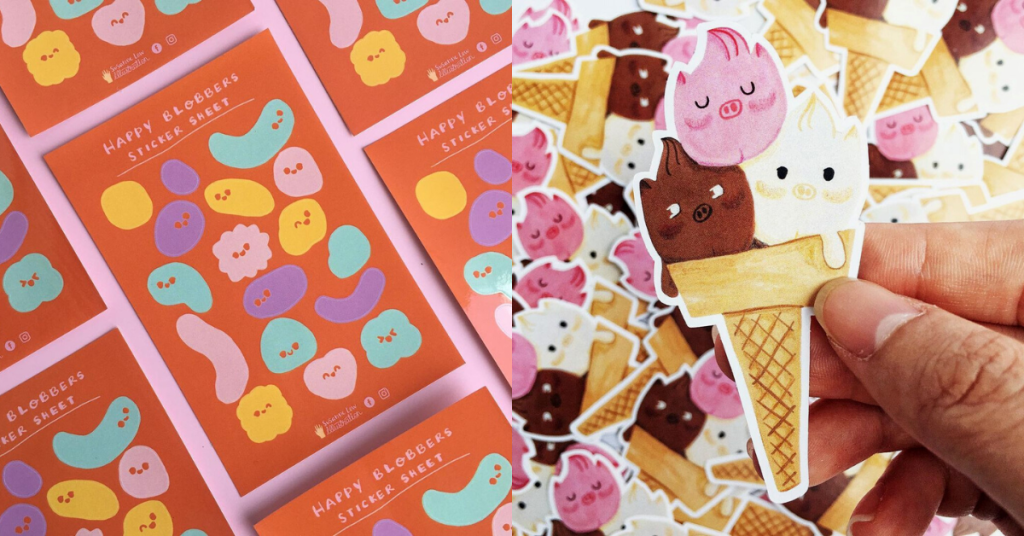 Around 2016, Susanne began dabbling in the sticker industry.
As a graphic designer at the time, she was working at a design agency for almost two years. But then some internal issues within the company's management team arose.
To protect herself, Susanne took a leap of faith and quit her job to start Susanne Low Illustration.
Coming from a family that owned an F&B business for decades gave Susanne the confidence to start down her own entrepreneurial path. Paired with her family's support too, of course.
"Some days, they would be concerned about whether I'll earn (enough) from making stationery. But with time, they told me to continue if that's my passion and joy," she shared.
Regarding her illustrations, Susanne explains that she looks for inspiration everywhere. From desserts and cute animals, to imperfect minimalism. You can find traces of it all lingering in her work.
With such a vast range of offerings, Susanne was a little hesitant to pinpoint just one item that customers prefer. The brand's greeting cards and stickers have been selling quite well for the past few years though, she shared.
Her items are currently offered at Stickerrific, as well as on Redbubble.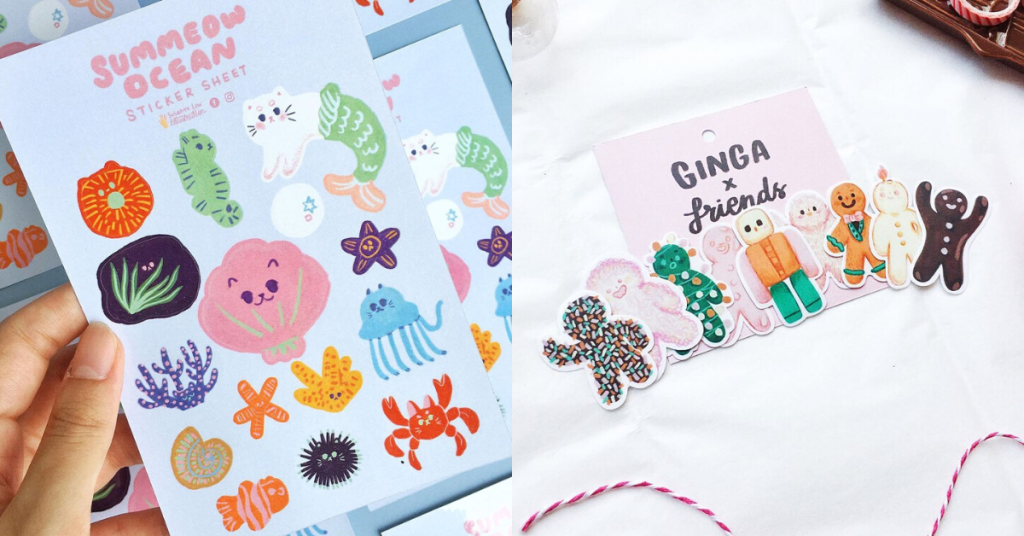 Stickers aside, here's the rest of her catalogue:
Washi tapes
Postcards
Greeting cards
Notebooks
Pins
Face masks
Backpacks
Laptop sleeves
Tote bags
Socks
Bucket hats
Scarves
Duffle bags
Beddings
Apparels
Price range: N/A
3. The Bouncy Jelly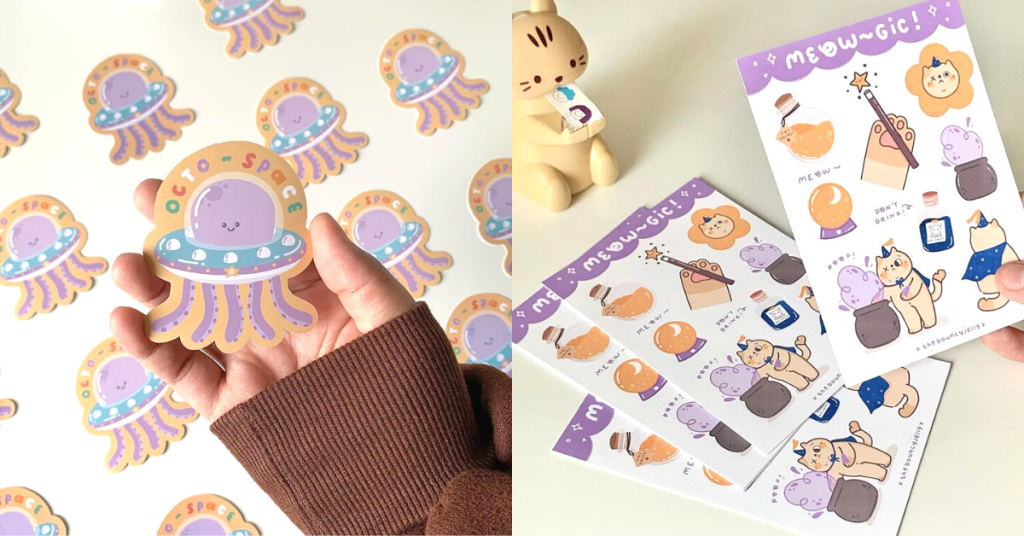 From 2018 to 2020, Salina was constantly encountering one issue while journaling, recalling, "I couldn't get a certain product with a theme that I wanted for my journal."
So, what was a girl to do? 
She started drawing on pieces of paper and cutting them into small pieces for her journals. It was her simple way of making "stickers" at the time. 
When the pandemic happened, the then-newly graduated student had a hard time finding full-time employment.
So she decided to turn this hobby into something more and started The Bouncy Jelly.
Now 26 years old, Salina takes inspiration from anything that delights her inner child. "I love cute things, and always wanted to live in a 'cute world'," she quipped.
The brand currently carries a variety of merchandise on its Shopee page, with stickers still being its main product. The founder plans on expanding her offerings to include more designs for items like keychains and pins, to name a few.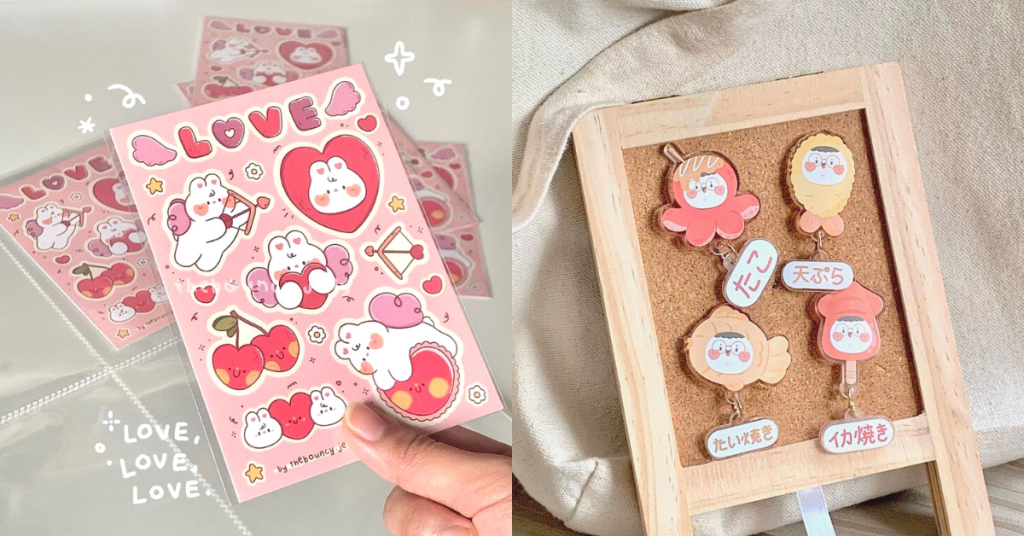 Stickers aside, here's the rest of her catalogue:
Acrylic pins

Acrylic keychains
Bookmarks
Lanyards
Tote bags
Planners
Price range: RM3.10 to RM38.88
4. Artsy Jadey
While planning to leave her corporate job as a designer-cum-marketer, Jade created an art account called Artsy Jadey on Instagram to showcase her work.
She then decided to take it up a notch. Producing stationary and merchandise designs, she started selling them on her then-newly launched website.
Similar to the other artists above, Jade's parents were "extremely supportive" of her venture. "All I needed was a green light from my mom and I took immediate action from there," she shared.
Looking at her creations, you can't help but admire how she applies humour and sarcasm in her work. "The majority of it was based on real-life events, coupled with my own raw thoughts and opinions which never made it out vocally." 
"It's mostly things I wish I could say out loud and proud but couldn't due to fear of judgement, so I express best through my illustrations. I'm just glad that many people could relate to me," Jade shared.
Of all her merchandise so far, sticker sheets are the most popular items in her store.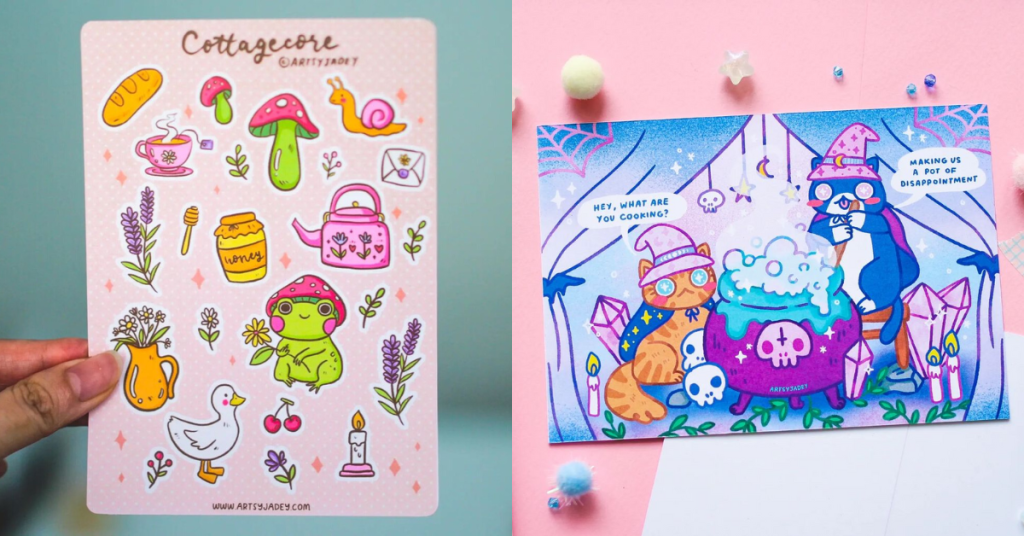 Stickers aside, here's the rest of her catalogue:
Washi tapes
Acrylic pins
Enamel pins
Acrylic keychains
Postcards
Phone grip
Lanyards
Tote bags
Art prints
Price range: RM5 to RM38
-//-
If there is one thing that's clear from their stories, it's the importance of having a good support system.
All of the artists mentioned were lucky to have supportive families that encouraged them to pursue their passions. Their journeys might have turned out quite differently if it were the opposite case.
It's also heartening to see that although art appreciation in Malaysia is still on the lower side, these artists have been able to build a strong enough fanbase that enjoys their creations.
Read other articles we've written about Malaysian startups here.
Featured Image Credit: Artsy Jadey / Susanne Low Illustration / The Bouncy Jelly