For the past few weeks, we've been playing around with the PICO 4, an all-in-one VR headset.
So far, it's been all fun and games—but not anymore. It's time to take this VR headset seriously.
That's right, I decided to test it (and myself, I suppose) on its fitness capabilities.
One of the things about VR gaming compared to regular gaming, whether that be on the PC or on consoles, is the physicality of it. It combines video games with real-life action.
PICO 4 takes this into account and comes with a built-in fitness feature. According to its website, the headset has a PICO OS 5.0 Sports Centre that is integrated with PICO's proprietary technology, CalSense, which is a physical fitness monitoring algorithm.
CalSense is able to calculate the player's calorie consumption so they don't "sweat in vain", as PICO puts it.
I also made use of a smartwatch—the Huawei GT3 SE, to be specific—as a control, to ensure that the PICO 4 was accurately measuring my activity.
A tailored fitness programme
Starting up the fitness programme, I was prompted to input my age, height, and weight. After that, it presented to me two options—Keep Fit, and Lose Fat.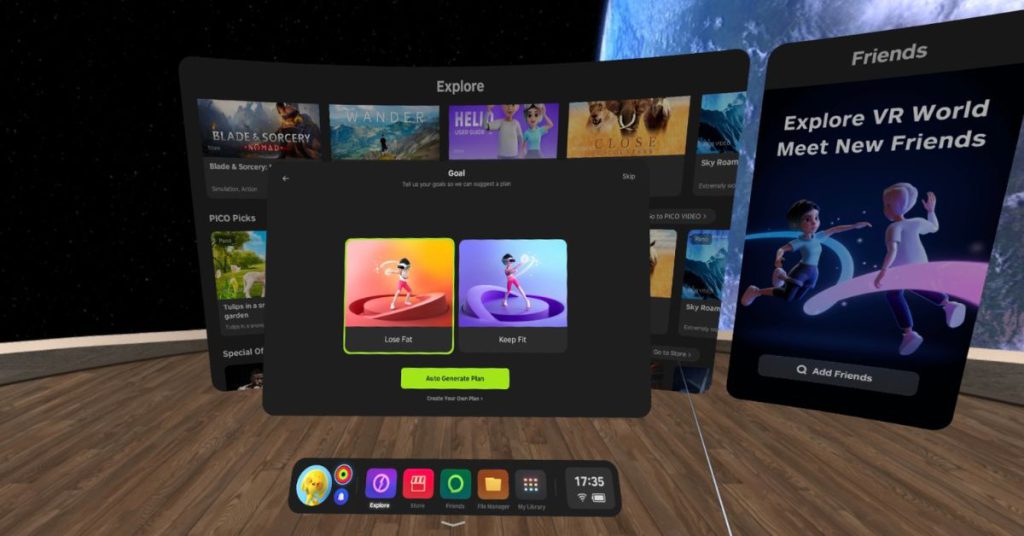 From there, the programme also asked whether I wanted to auto-generate a plan, or create my own plan. For the latter option, you can design your own daily exercise plan where you set how long and how intensely (low, medium, or high) you want to work out.
Since I have close to zero understanding of fitness, I selected the auto-generated plan.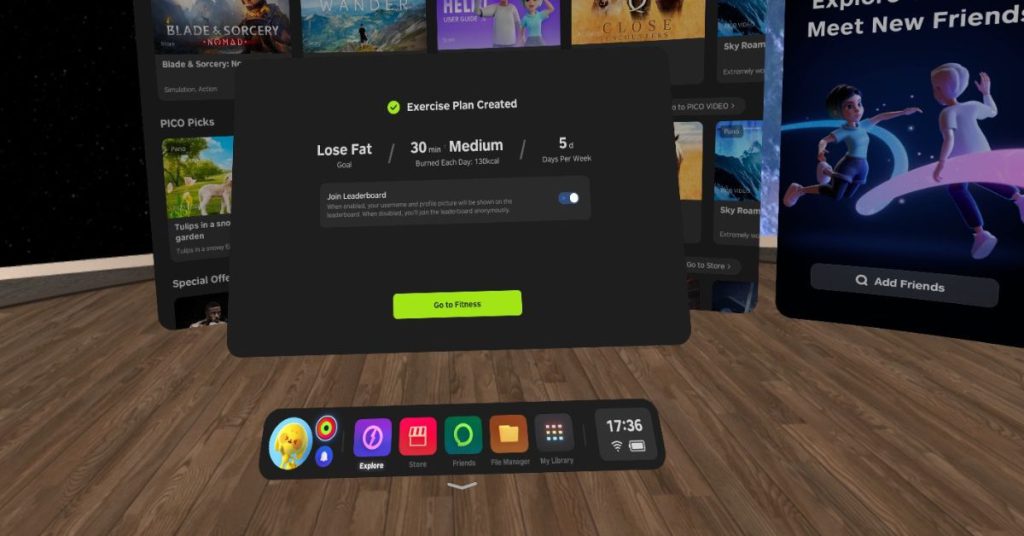 The exercise plan PICO 4 created for me was 30 minutes, on medium intensity, which would allow me to burn 130kcal per day, five days a week.
These goals are charted out inside the fitness app's home page. Here, to the right, you'll also see a "global leaderboard" for those with a competitive streak.
This will let you compete with random individuals who are also on a mission to burn calories—or just really, really enjoy playing PICO 4.
Finding more creative (read: free) ways to exercise
To achieve my goals, PICO 4 suggested three games under its "Exercise Plan": Xbooster, Manny Boxing VR, and Smash Drums.
Sadly, all three of these apps need to be bought. So, instead of purchasing those apps, I decided to opt for free-to-play games.
Naturally, one of them was the All-In-One Sports VR game that lets you play just about any popular sport, from badminton to golf to bowling to archery.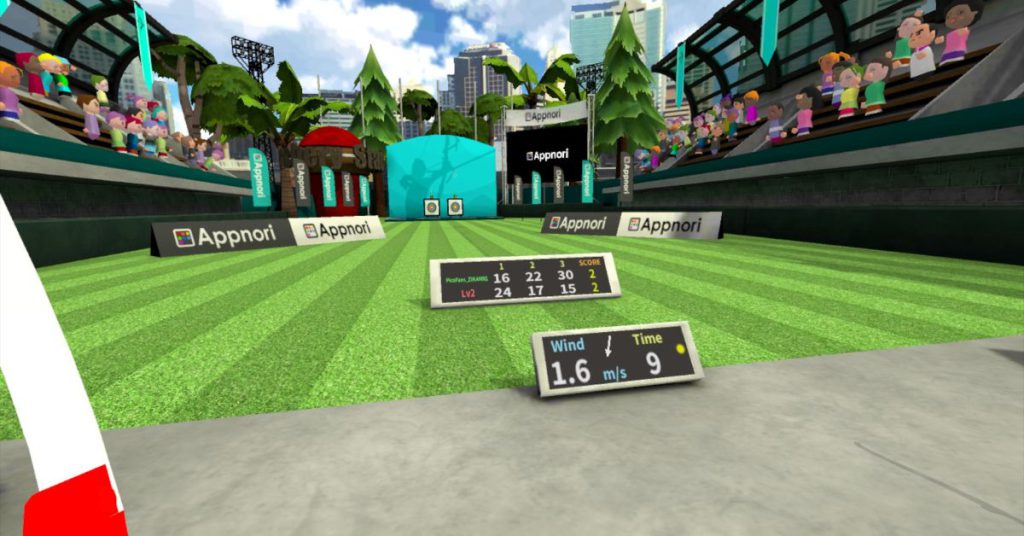 Since Manny Boxing VR had been a suggestion, I decided to try boxing.
When I first tried the game, I surprised myself previously with how above-average my boxing seemed to be. This time, having leveled up to the fifth and final challenge, I actually struggled a fair bit, but eventually managed to KO my opponent.
I was heaving and sweating at this point. My opponent had been really fast and kept going into my peripherals, which forced me to have to actually turn my body instead of just throwing my hands out in random fashion.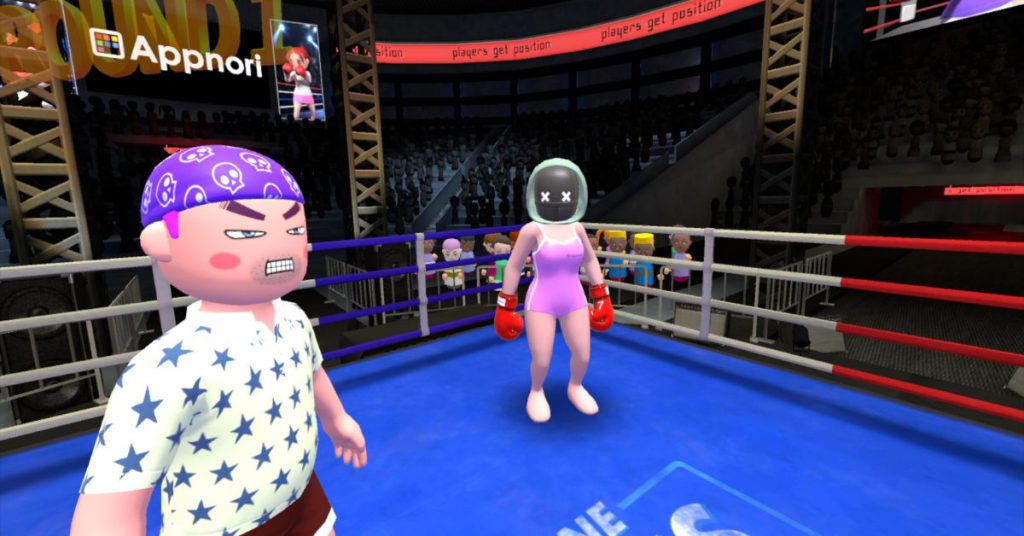 Emboldened by my success, I jumped right into tennis, where I lost three back-to-back matches and called it a day with All-In-One Sports VR.
Very arm-focused exercise
But I hadn't hit my targets for the day yet, so I kept going.
I decided to try out Mutrix, which is kind of a rip-off of the popular rhythm game, Beat Saber.
For those who haven't heard of it, Beat Saber is a game where physical manifestations of "beats" fly towards your face, and you have to slash the correctly coloured saber in your left or right hand accordingly. Mutrix functions pretty much the exact same way.
There were a few free songs to play (Shape of You by Ed Sheeran, Believer by Imagine Dragons, and Bad Guy by Billie Eilish, just to name a few). Each song has different tiers of difficulty, and because I'm not that confident in my hand-eye coordination, I went for "normal" each time.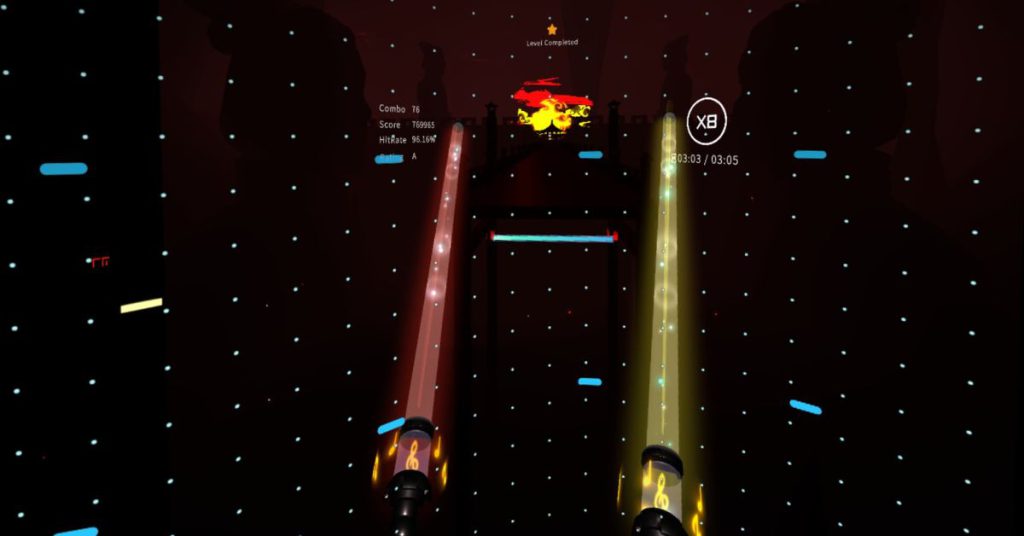 And guess what? Even normal itself was challenging. Turns out, you actually have to move your body to reach the beats and slash them in the right direction.
Still, though, the games focused a lot on moving the arms, but not so much the legs, which made the whole experience feel not-so-holistic. What's that saying, never skip leg day?
Conclusion
Comparing the stats to my smartwatch, it was in a similar ballpark. It said my calories burnt was 123 kcals, though.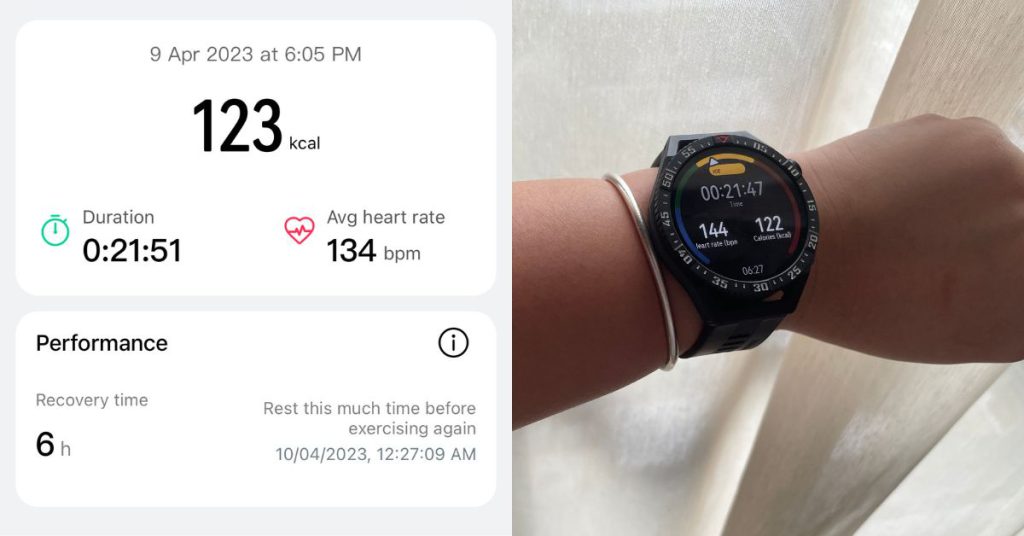 On another occasion when I was just fiddling around with the PICO 4, it somehow considered the time I spent just clicking through my settings as "exercise", clocking in one minute of exercise time.
After 40 minutes of playing the PICO 4 (but coming short in terms of calories burnt), I decided to give the headset a rest as it was starting to feel a little warm. It totally wasn't just me feeling tired.
VR gaming is a fantastic way of getting active and maybe shedding a few pounds. Yet, it's definitely not apt for people who want to take fitness a bit more seriously and gain muscles.
For someone like me who often can't be bothered to go to the gym, though, this whole setup does incentivise me to work out, because it's just so much more fun and unintimidating.
I can also imagine this to be helpful in keeping younger kids active.