For a lot of entrepreneurs, the inspiration they need to launch their very own businesses often comes from events that are happening in their lives.
Sometimes, these events can even prove to be the spark they need to leave their careers behind in search of starting a new venture.
In an example of such a case, Malaysian mother-of-two, Kie, decided to leave her career in the pharmaceutical industry after she had given birth to her first child.
She then realised that there was a lack of choices in the Malaysian baby products market which fit her personal modern and aesthetic style.
Feeling frustrated with the lack of options, Kie went on to design her very own baby products and launch the brand, Mils & Key.
Trading tablets for pacifiers
The idea came about after she had birthed her baby girl, Mila, who is now three years old.
Kie was working in the pharmaceutical industry as a market access manager and spent her career largely working in multinational corporations such as MSD, Pfizer, and Abbott.
"I had been in the pharmaceutical industry for nearly 12 years and I had thoroughly enjoyed my time building the relationships and career I had," Kie told Vulcan Post.
After she had delivered Mila in December 2019, her initial plans were to return to work and leave Mila in child care as she returned to the office.
However, the COVID-19 pandemic hit and meant that she had to adjust to working from home and dealing with a newborn, which she found extremely challenging to balance.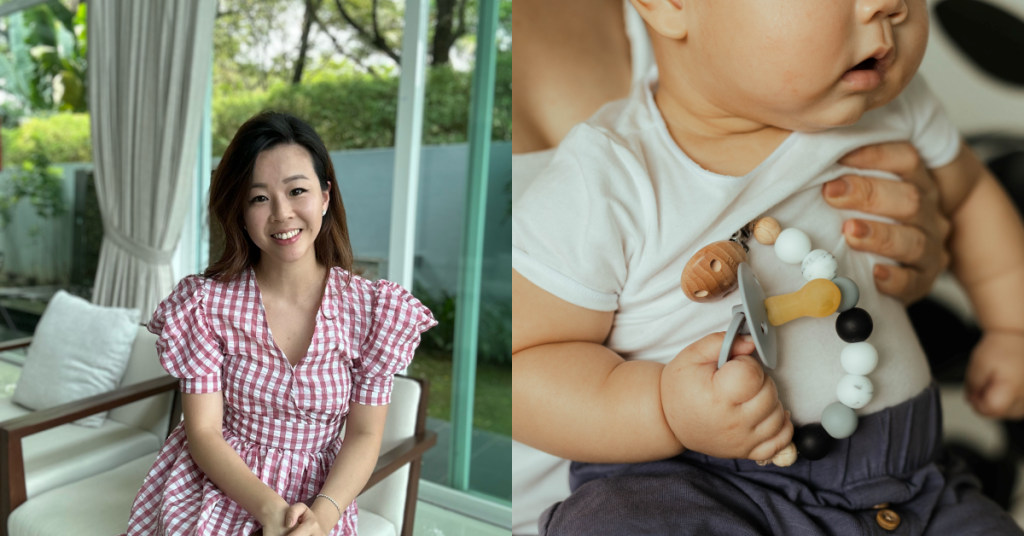 "As the months progressed, I found myself feeling a sense of guilt that I was leaving my child to entertain herself or I was rushing through her feeding sessions and feeling frustrated if she took too long."
This led her to make the ultimate decision to leave the corporate work environment as she wanted to be there for her daughter and future children.
Kie admitted that the transition was tough, and, in many ways, she is still coming to terms with it.
"Having been independent, both financially and mentally, I now have to juggle a new business, and the needs of my children without a monthly salary to call my own. It has definitely weighed on me," she explained.
The birth of an idea
Whilst settling into motherhood, Kie wanted baby products that suit her style, but was unable to find what she desired in the local market.
"Products here were often biased towards the cute and cartoonish, (such as) bunnies and bears along with bright fluorescent colours."
Because of this, she ended up purchasing most of the items for Mila on Etsy, where she was charged high shipping fees.
"However, I felt there were increasingly more mothers who shared my vision of the world and we want our babies to match the modern aesthetics of design," she said.
Despite not having any experience in either running a business nor designing baby products, Kie decided to take the leap forward with the help of her husband and her brother, who both run their own businesses.
Mils & Key was birthed out of RM50,000 from her own savings and Kie reported that she has since broken even, with all of it going back into R&D and sampling.
"I am still learning the tricks of the trade. Some may say I'm going through trial by fire. Looking back, I really have no idea where I found the confidence other than to say this is something I really wanted and needed to do."
She shared that she also took great inspiration from the successes of other mumpreneurs as well as the success of overseas brands.
Although most of her background is in science, Kie admits that she has a pretty good eye for art and creative work which she just rediscovered when she began this journey.
"My husband likes to joke that he never knew I was actually the creative type and that I had been in the wrong industry!"
Although some of the manufacturing of her products are outsourced, the design details, specifications, prints, colours are all designed and carefully chosen by Kie.
She also designs all the packaging and collaterals in collaboration with a graphic designer. 
"I've put in a lot of care to ensure we communicate safety information clearly as well as being able to incorporate personal touches through our packaging."
Kie shared that the R&D process takes about six to 12 months as she is currently doing it all alone.
"Because I am dealing with products for babies, extra care is needed before I can safely launch a product."
She cited a recent example where an entire order of hers had to be thrown away simply because the manufacturer decided to change the design to cut his costs even though the sample they had sent to her was entirely different.
Baby proofing
On how she came up with her very first product which was a pacifier clip, Kie said that she drew inspiration from her daughter who had entered the teething phase.
"Although I chose not to give her pacifiers, I found that she still needed to chew on something whether it be toys or teethers. So, I decided to get her some teethers."
However, it struck her that babies aren't capable of holding onto a loose item for more than five seconds, so having grown tired of picking things off the floor, she sought solutions and came across the pacifier clip.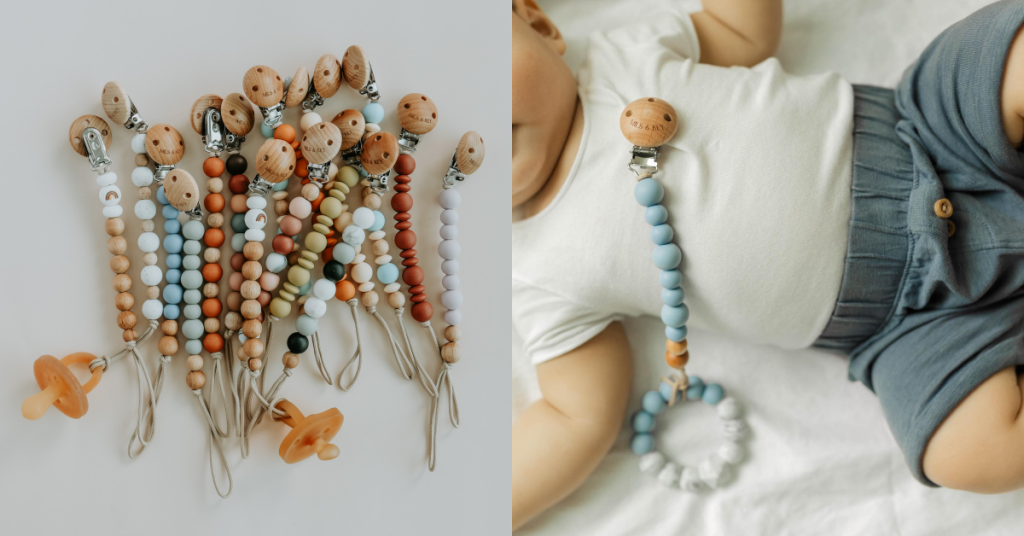 She found it to be particularly versatile as it could secure other lightweight items other than a pacifier. And as she needed ones to match the overall aesthetic in which she dressed Mila in, she knew that she wanted to create something of her own.
On the safety aspects of her products' designs, Kie said, "Ultimately, I am my own guinea pig and my guiding principle is that if I didn't feel comfortable or safe using it for my own child, I would never allow another mother to use it."
To that end, the designs must be of specific sizing, the beads made with 100% food grade silicone, and all of the wood used is raw, natural, and safe for babies.
Growing pains
Although Kie declined to share her revenue figures, she says that the brand's current growth rate month to month ranges between 10% to 30%.
"I average around 30-50 shipments a month and we do have quite a number of recurring customers. It is encouraging to me that I am trending in the right direction," she explained.
On her plans for the future, Kie said that she hopes that the brand can grow together hand in hand with Mila as she goes through her toddler years.
This year, her customers can look forward to her expanding line with swaddles, changing mats, and cot sheets which are all in the pipeline.
She also intends to join pop-up booths to start meeting mothers in person, giving them an opportunity to touch and feel the product in order to further build trust as they make purchasing decisions for their babies.
"It is my belief that mothers purchase products for their children based on trust and sincerity. I am trying to build a community of like-minded mothers who share my beliefs as well as my aesthetic and minimalist tastes and modern earthy colors," she added.
"We all want the best for our children and that is ultimately how I approach building Mils & Key."
Featured Image Credit: Mils & Key