"The dream was to do anything art-related, be financially stable, and to get eight hours of sleep daily," Sophia Ng quipped during our interview.
As one of the pioneering artists to bring live wedding paintings to Malaysia, it's safe to say that she's fulfilled her first two wishes.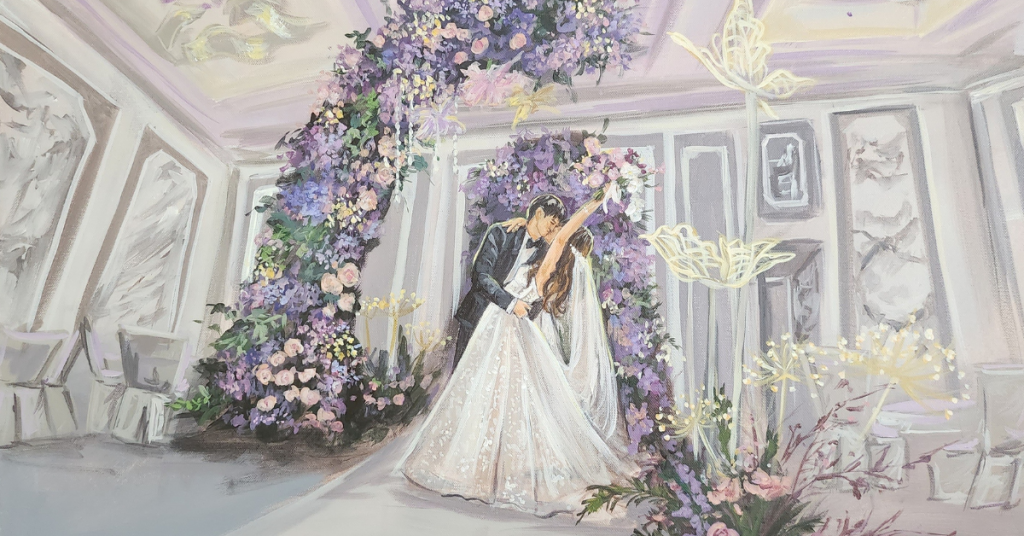 When the pandemic hit, the art studio Sophia was principal at couldn't host classes anymore. So she decided to sign up for the Youth Art Entrepreneur Programme by the National Art Gallery.
There, she learnt the basics of running an art business over the course's four months.
After completing it, she realised that she needed an art-related business model that would bring in constant flow of income.
That's when she came across a viral TikTok video of a live wedding painter in the US, and experienced a lightbulb moment.
"I saw the potential in the business model and made it a mission to figure out how it could be done," Sophia said.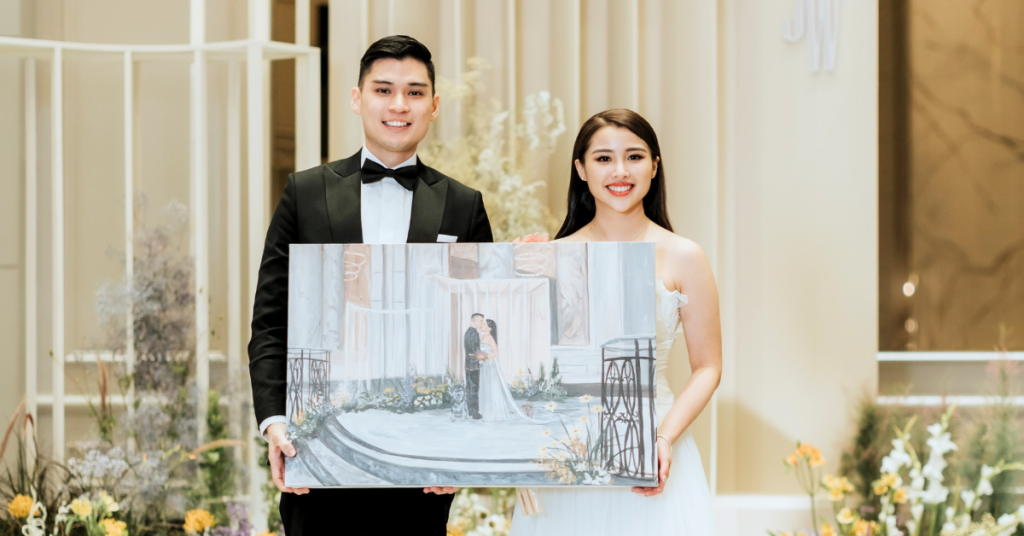 Months were spent to work out the painting process, develop the equipment list, and build a portfolio to suit the local market.
To be more inclusive of different cultures, Sophia's portfolio includes various samples to help clients of different backgrounds visualise the final painting.
"Most importantly, I had to practise again and again to ensure that I can complete the painting to a certain detail within a time frame. Because I can't risk not finishing a live painting."
Sophia also began documenting her journey on social media to gauge the local response to her business, and this became another form of market research. It even led to her first few bookings for live wedding paintings.
Setting her mind at ease(l)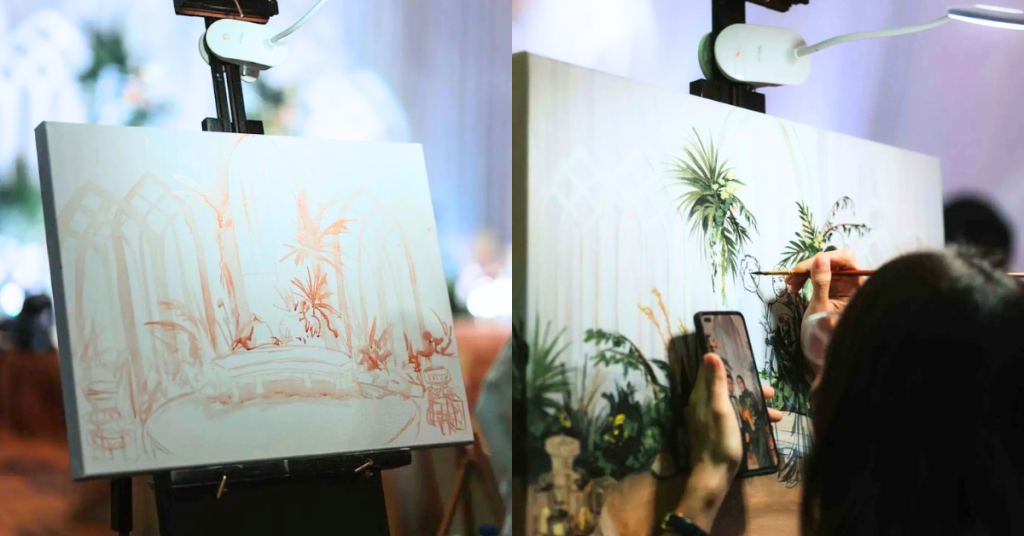 At the start of every live painting session, artists would typically paint the background. This could be the actual wedding setting or another backdrop that was agreed upon.
Sophia does this before guests arrive, which helps to ensure that nobody is blocking the view. It also puts her in the zone.
"It gives me a tunnel vision of the painting. I will remain focused on it until it's complete despite the distractions," she explained. Her past experiences as a teacher meant that she's learnt to focus in any environment.
Then all that's left to do is to wait for "the moment" that her clients have chosen to memorialise based on previous discussions.
This could be the march in, the vow exchange, the first dance, a cultural practice (like the tying of the mangalsutra, a pendant necklace, at Hindu weddings), or anything else the bride and groom favour.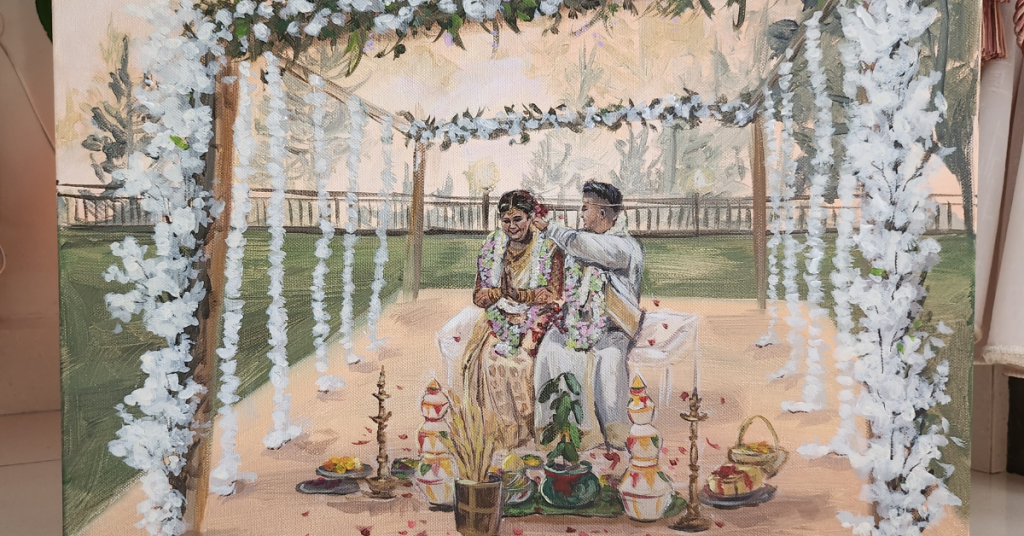 The whole process takes around five to six hours and is presented to the happy couple before the end of the event.
"The gist of a live painting is that it captures a moment or an impression of the event as it happens. It seals a memory," Sophia described.
"The focus of a regular portrait is the portrait itself, [and] the person painted is the main subject. Whereas in a live wedding painting, the moment is the main subject."
This probably also explains why Sophia's art style doesn't really approach realism. Instead, it's more impressionistic.
The painting will then be displayed for the rest of the event before being taken back to the studio for final touch ups, varnishing, and wiring. It'll be ready for its new home within two weeks after the wedding event.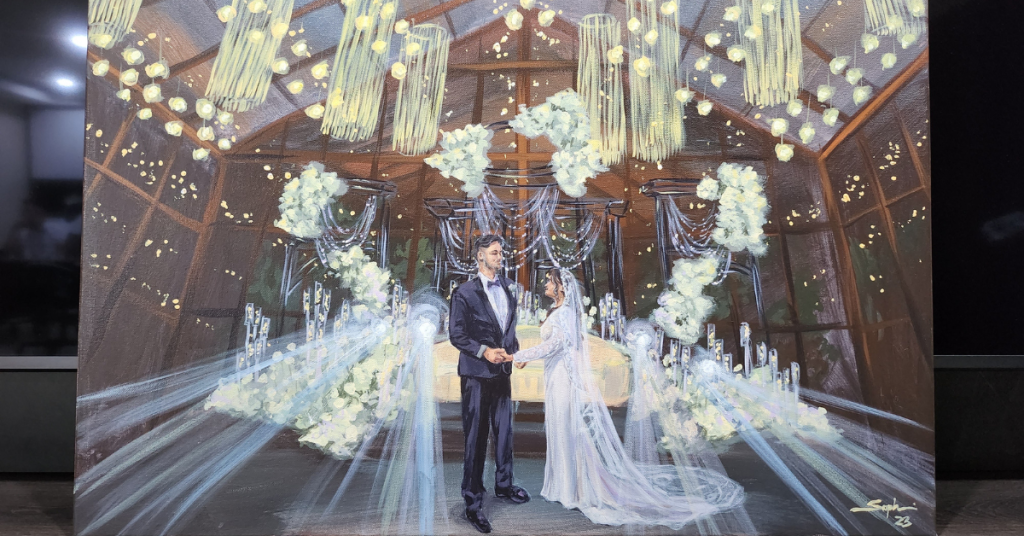 All that and "pen" some
Clients can also request to add family members who are no longer around into the painting, so that it's as if they were actually present at the ceremony. All they have to do is provide photos for reference.
One of the most memorable sessions Sophia has had was to include a bride's late mother, grandmother, and her two dogs who have passed.
"It was very moving for me as I understood the bride's emotions. I was cared for by my grandmother in my early years and wasn't able to have her on my wedding day. I also have six dogs that I love dearly."
Overall, the addition of these family members took her around 10 hours to complete the painting.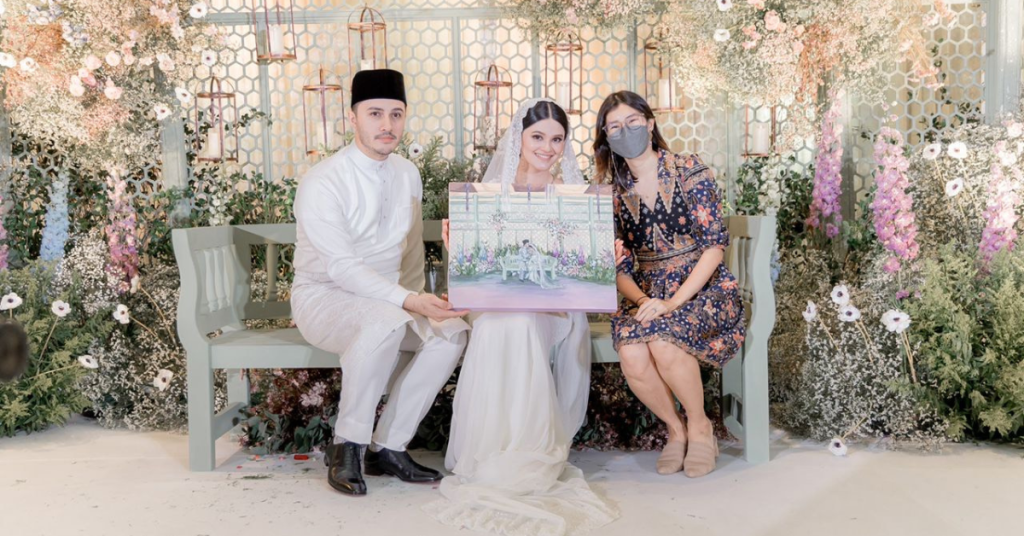 Sophia's live wedding painting service ranges from RM1,850 to RM2,850 depending on the portrait's size.
Out of curiosity, we wondered if she'd faced any naysayers who questioned why they'd opt for a live painting over a wedding photographer, and Sophia said no.
She doesn't think that the goal of live painters is to push out photographers either.
"I think we should co-exist. Live painting is a about capturing a moment, it's also a form of live performance and an added element to the wedding event."
Off to a flying (st)art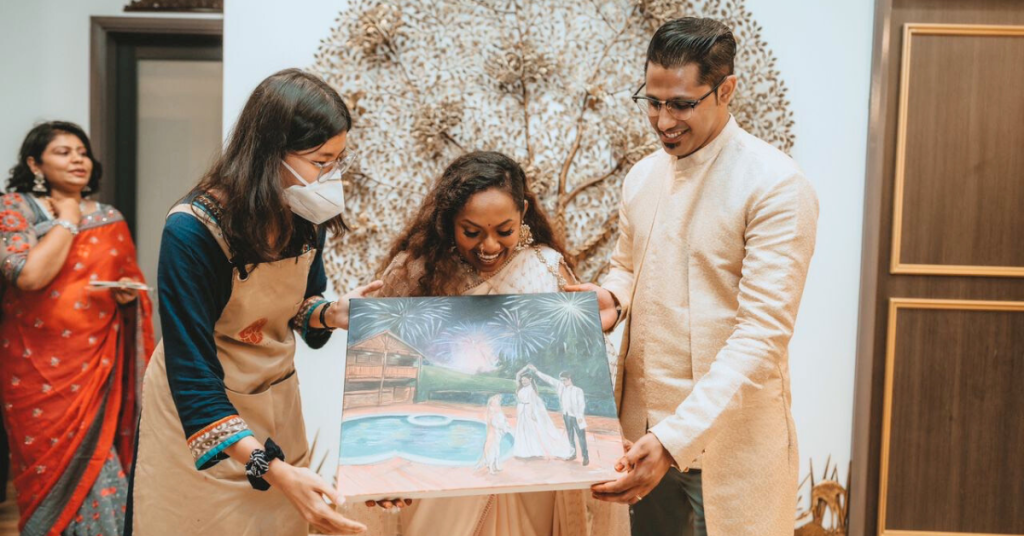 Sophia is currently based in KL, but her business can take her anywhere across the globe. Besides Malaysia, she's also painted at wedding ceremonies in Thailand, Indonesia, and Singapore.
If she's travelling to other Malaysian states or overseas though, she charges an additional travel fee.
As one of the first few (if not only) live wedding painting artists in Malaysia, her main goal is to continue bringing awareness to the art's existence.
On top of sharing information online, she's partnered with local wedding vendors like weddingsmalaysia, Bridepay, and Elysium Weddings. She also attends wedding industry related events, like exhibitions.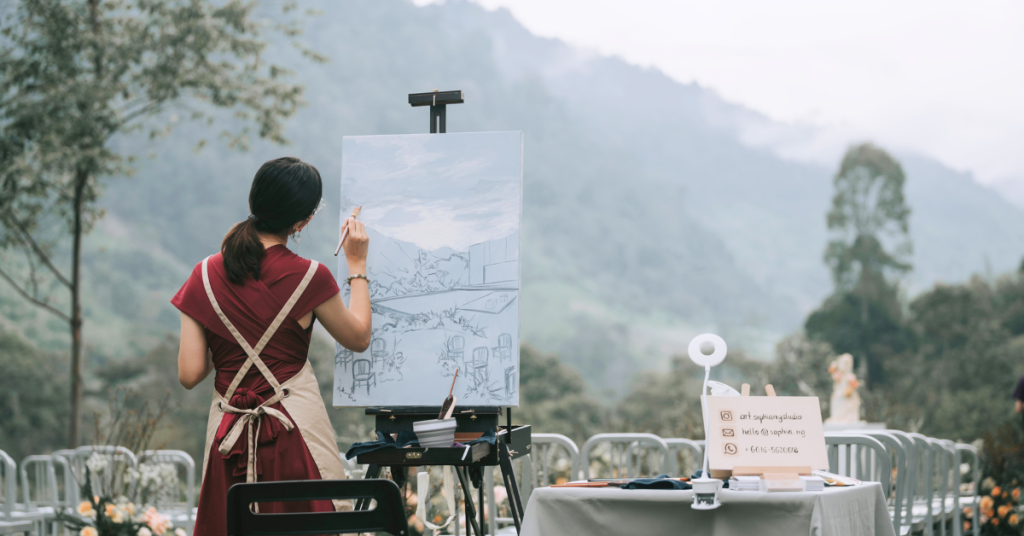 Based on the current global trend, the hype for live wedding paintings doesn't seem to be dying down anytime soon.
But live wedding paintings have actually been around for centuries. They were quite popular at royal weddings, such as Queen Victoria's.
With social media and wedding sites playing a helping hand in promoting the art as avant-garde, though, more everyday people will be able to enjoy this novel service on their special day.
So it seems that Sophia might just achieve what she's wishing for.
Learn more about Sophia Ng Studio here.
Read other articles we've written about Malaysian startups here.
Featured Image Credit: Sophia Ng Studio