As a country that prides itself on our food, there are naturally plenty of F&B content creators around. They could be pages dedicated to finding the best eateries, or everyday Malaysians sharing recipes. 
But none have surprisingly reached the heights of Khairul Amin Kamarulzaman, better known as Khairul Aming. We saw his super supportive fanbase for ourselves when we posted this article on why some influencer brands in Malaysia make it, while others don't.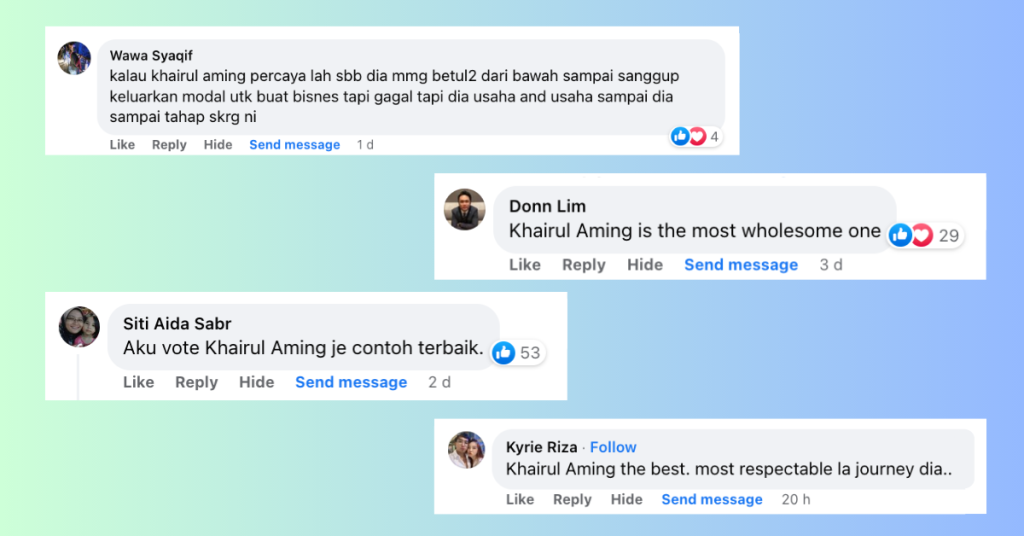 Which begs the question— what makes him so popular? Are his cooking videos just that good?
Based on what we can observe, we found seven reasons why Khairul Aming has become one of Malaysia's best-known food content creators. But first…
Let's start at the beginning
A Kota Bahru native, Khairul Aming's name is synonymous with his viral Ramadhan cooking series, entitled "30 Hari 30 Resepi".
In 2018, he began uploading new cooking videos every day throughout the fasting month. It began as a quirky way of sharing his recipes, but who knew that it would turn into something much bigger?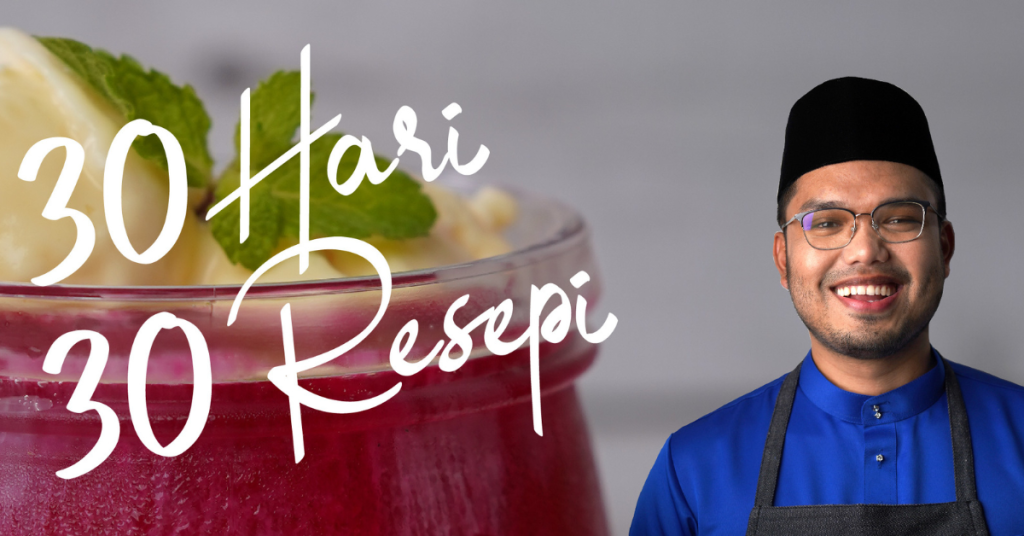 From only around 800 Instagram followers at the time, Khairul Aming has steadily grown to over 3.7 million followers in six years.
Some might say it's a stroke of luck, but most entrepreneurs will agree that this is only one factor. In the grand scheme of things, being strategic and flexible when needed is what makes one successful.
This brings us to our very first point.
1. His marketing feels genuine & aligns with his niche
As with most influencers, Khairul Aming decided to also use his platform to conduct business.
The success of his Ramadhan series drove him to try his hand at selling what's now a famous condiment in the local Malay community—Sambal Nyet. The product has since made over RM21.5 million in sales following its launch two years ago.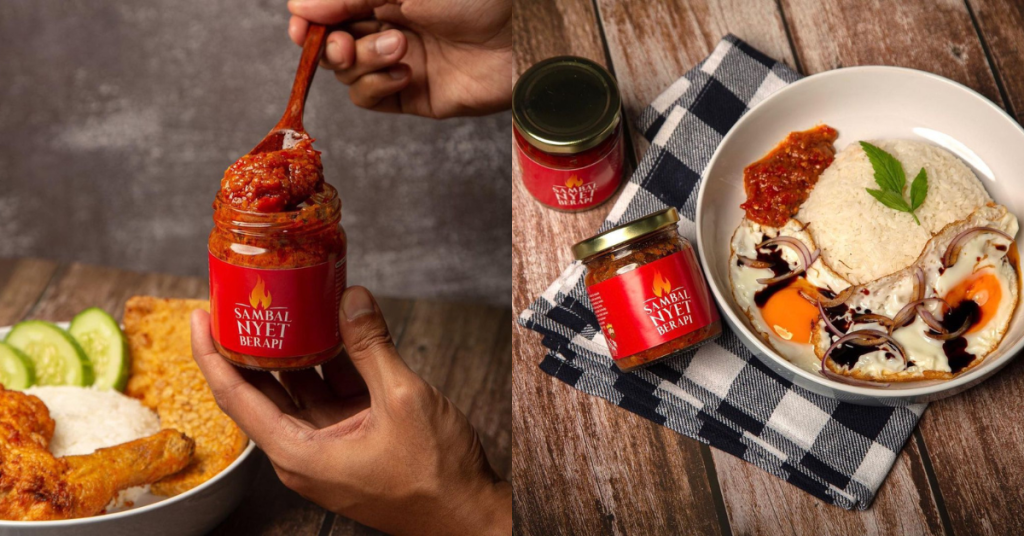 It's not an entirely unique product as various other local brands have come up with similar items. But by fusing his product with what he's known for, Khairul Aming manages to seamlessly advertise his product to fans.
It can be as simple as him using it in a cooking video for chili oil-fried eggs or a variation of instant noodles. This ensures that his followers don't feel like they're simply pushed a subpar product with no idea how to actually use it, which in turn, helps to build and maintain trust in his product.
2. He's open to criticism & acknowledges his faults
As an influencer, everything you post is subject to the criticism of people online. Even when it's constructive, navigating them isn't the easiest.
Some influencers may become very defensive, while others calmly address criticism. Khairul Aming has shown that he is of the latter. 
For example, he was recently called out by a medical doctor for the amount of cooking oil used in his videos. In response, Khairul Aming appeared to take it in his stride and accepted the feedback while explaining his perspective on the issue.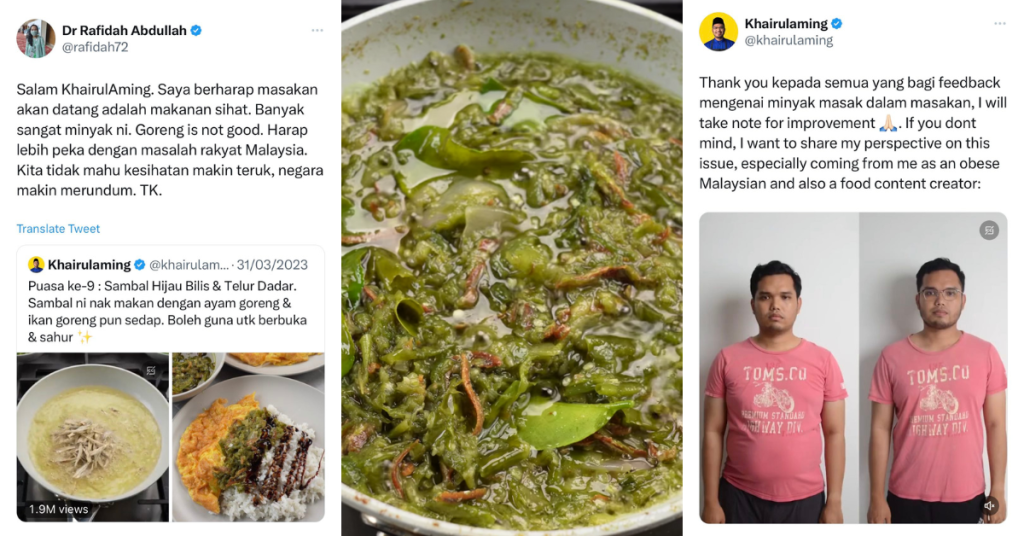 After overcoming his obesity, he found a balance between consuming tasty food while maintaining healthy portions, and with that recipe, wanted to show what it would really take to create something delicious.
So, while it might not be the healthiest recipe out there, he pointed out that people still had the decision to follow his recipe, or tweak it to be healthier for themselves.
This tactful response further earned him the respect of his supporters, and reassured them that he had their best interests at heart.
3. He doesn't easily give up on his goals
Before launching his namesake brand, Khairul Aming was working in the logistics industry.
He tried various side gigs like selling homecooked meals, clothes, and resume templates to earn some extra income. But none of them took off. 
So he decided to make cooking videos instead, on his first food channel on Facebook called Rasapop. He later developed an earlier version of Sambal Nyet and tried leveraging his platform to sell it. But for some reason, that later plummeted too.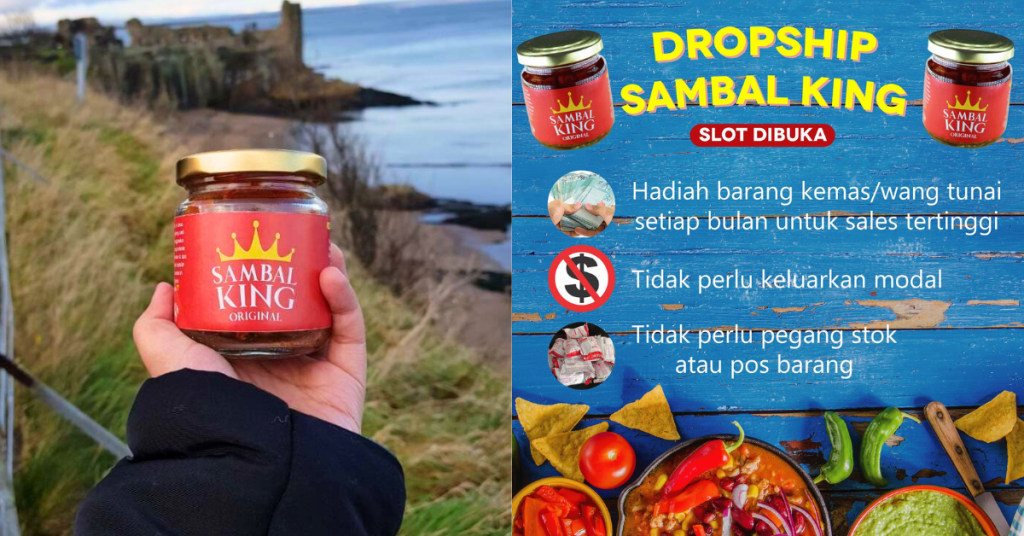 Driven to achieve this goal, though, Khairul Aming tried again once his new brand was stable.
This perseverance and willingness to try again served as an inspiration for many of his followers. It also showcased how Khairul Aming isn't just chasing fast money, but that he has a goal and continuously strives to reach it, leveraging his resources appropriately.
4. He defies typically negative influencer stereotypes 
Another interesting factor that contributes to his popularity is the way he presents himself online.
In contrast to the stereotype of showoff local influencers, Khairul Aming prefers to stay humble despite his level of fame and success. 
You won't find posts of him flaunting his wealth to the masses. In fact, he even surprised netizens by sharing that he drives a Perodua Bezza.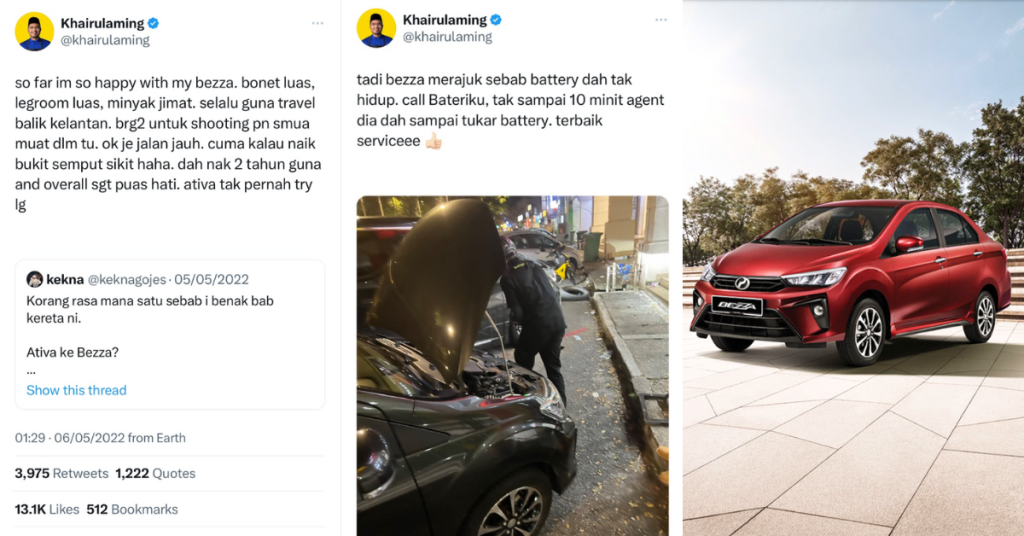 Instead, his page remains focused on his cooking content.
Meanwhile, the internet personality also seems to be free of any major controversies. Just a quick Google search will show how drama-free he is, which is quite a rarity considering how long he has been in the scene.
5. He's got an approachable online personality 
Scroll through Khairul Aming's Twitter and you'll see that he's quite an open character.
The influencer presents himself as a relatable and approachable person by posting simple everyday updates about his life, and doesn't hesitate to interact with his community on the regular.
The way he interacts with others online also remains unpretentious, and most times, it feels like you're observing just another person with his circle of friends.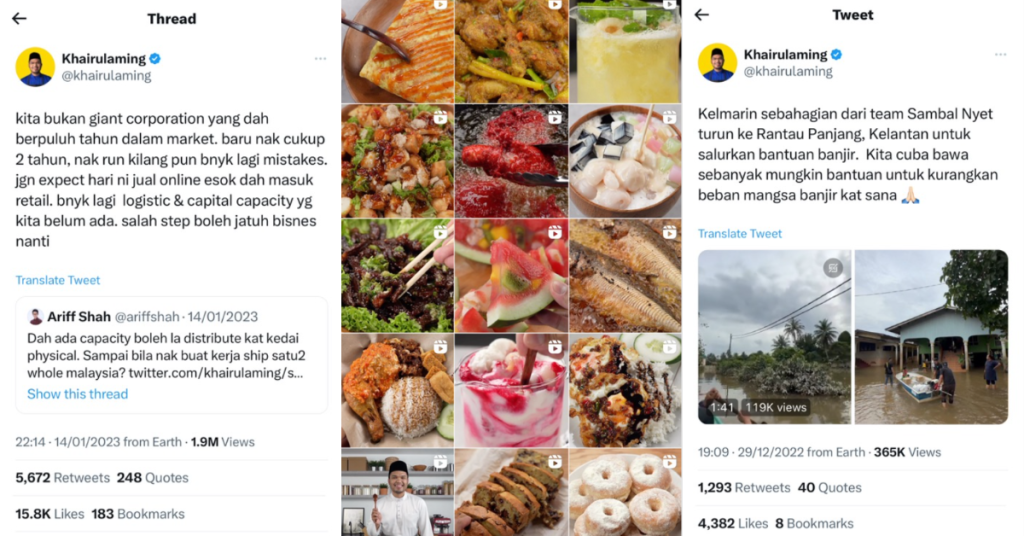 6. He doesn't remain stagnant & refines his craft
As someone who has been following the content creator for a few years, I've noticed that Khairul Aming's work remains reliably consistent.
If you're looking for easy-to-follow recipes using common household ingredients, he's your guy. And along with his rise in popularity, his content also continually improves with time.
A simple comparison between his old Rasapop videos and his latest cooking videos shows a stark contrast in quality.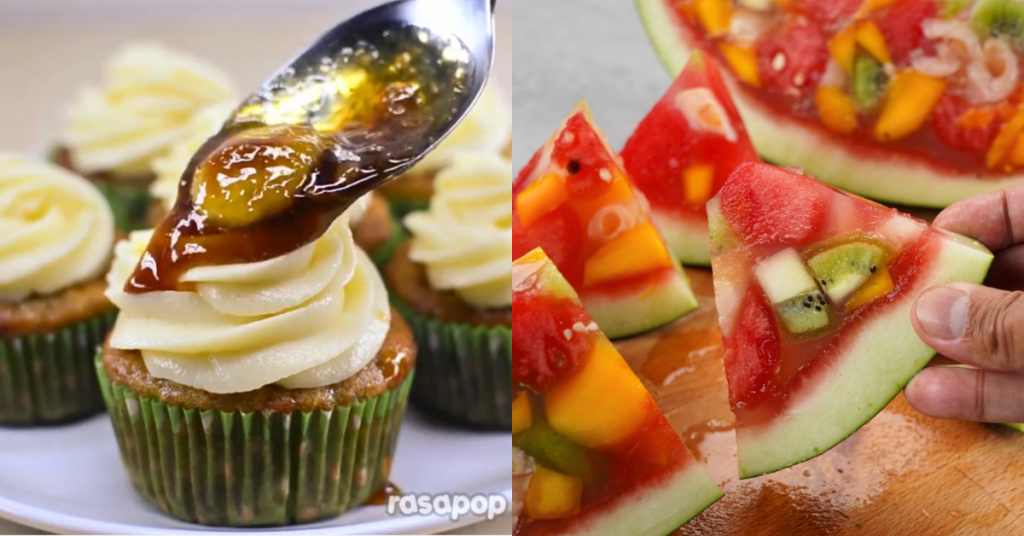 This commitment to improving his craft and sharing his best work with his audience proves to them that he wants to keep putting out his best work for their benefit. Clearly, that dedication has paid off, and he's able to share his success as…
7. He takes good care of his employees
While employee benefits are not a new concept, it's interesting to see how this young entrepreneur runs his SME.
Last year, Khairul Aming shut down the Sambal Nyet factory and brought all 60 of his staff members to go Raya shopping. Along with that was a company buka puasa dinner at an undisclosed hotel, and later a 4D3N company trip to Genting Highlands.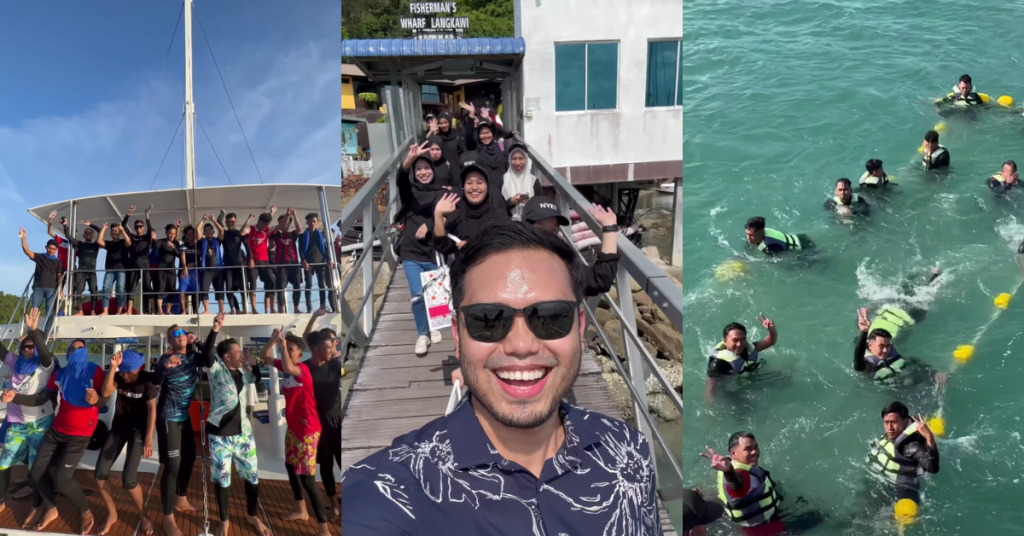 This routine continued this year, when the entrepreneur brought his team for a vacation in Langkawi. Employees were also given shopping allowances and the opportunity to take part in water-based activities.
The care he's shown further creates an impressionable image of the brand and its founder, and is something that will stick with many people.
-//-
All this isn't to say that Khairul Aming is one of the best influencers out there. We're all human and bound to make mistakes from time to time, which is where constructive feedback comes in.
But so far, he seems to be doing things right, particularly by how he steers clear of controversies, similar to how VFX creator Sofyank carries himself online as well.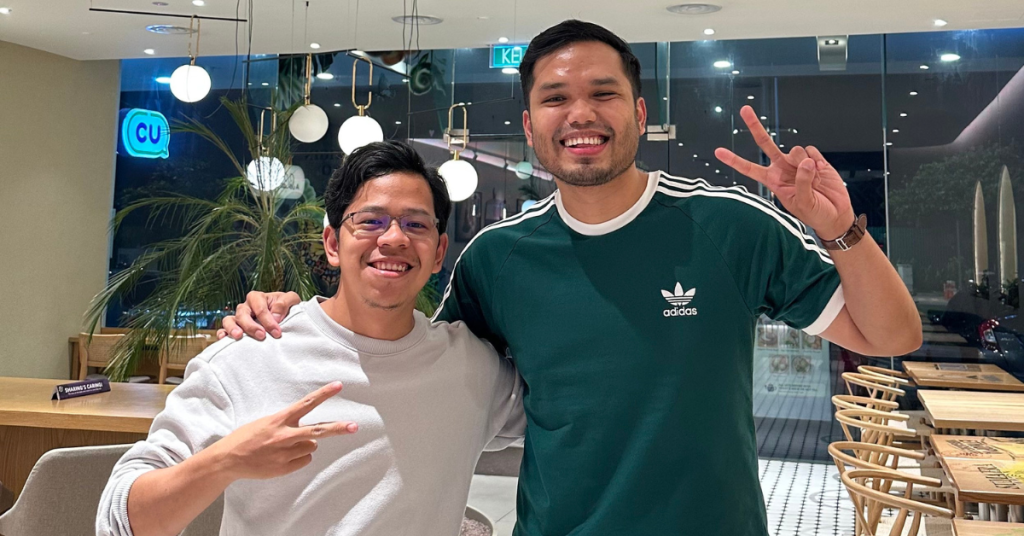 Read other articles we've written about Malaysian entrepreneurs here.
Featured Image Credit: Khairul Aming