Grab Malaysia just announced in a press release today that they'll be piloting a carpooling service called JustSave. Starting May 29, 2023, it will only be available in selected locations in the Klang Valley.
Through the service, customers will be able to carpool with another passenger that's heading in the same direction or route.
In the press release, Grab stated that JustSave fares will be slightly more affordable than its regular e-hailing service. On average, it claims customers will save up to 20% when they share a ride.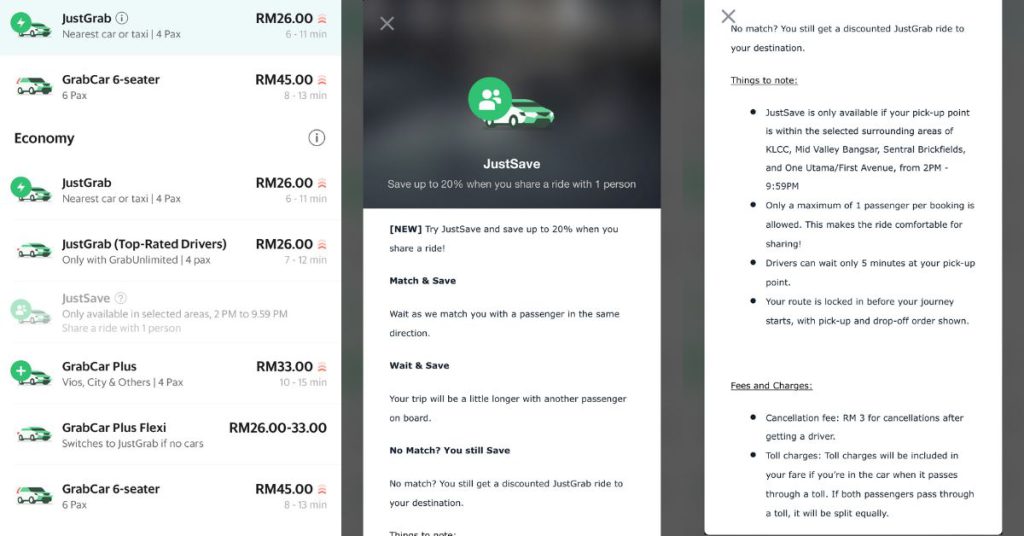 On the other hand, it gives driver-partners another option to improve their earnings per minute by serving multiple bookings at once. These bookings will have to be taking the same route or be headed towards similar destinations. 
As part of the piloting exercise, JustSave will only be rolled out in several areas within the Klang Valley. Currently, it's concentrated in high-traffic areas with high matching possibilities.
For now, this is limited to KLCC, Mid Valley Bangsar, Sentral Brickfields, and One Utama/First Avenue. The service will also be available specifically from 2PM until 9:59PM only. 
How it works is Grab users can book a JustSave ride to their location of choice (provided it's within the service area). Once done, Grab will look for another passenger that's going to the same drop-off point or another location that's in the same direction.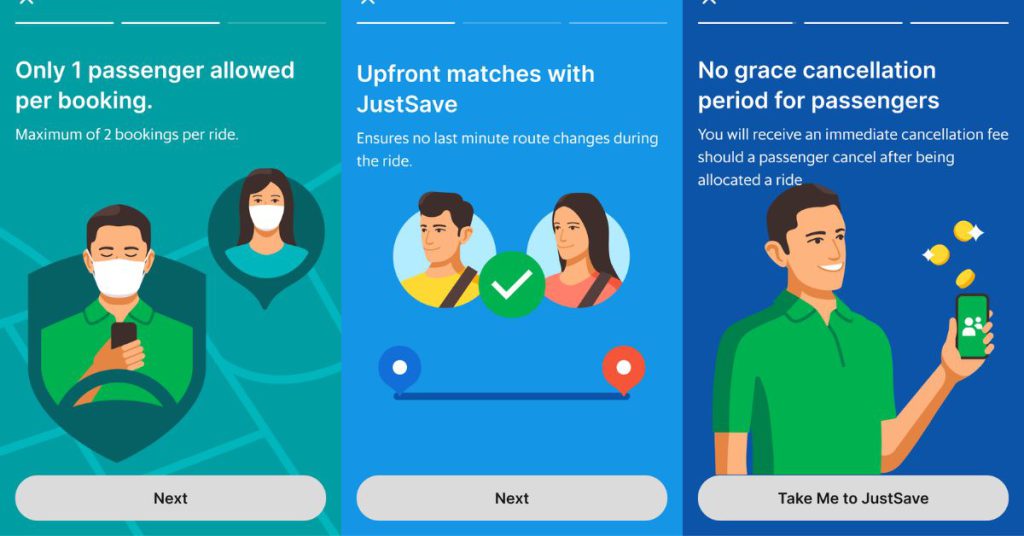 However, do note that you can only book a JustSave ride for yourself as there's a maximum of 1 pax per booking, and a maximum of 2 pax for a JustSave ride (you and the other carpooler). So if you're planning to go somewhere with a friend for cheaper, JustSave is not the option for you.
There might be occasions when customers may not be able to find another passenger to carpool with. In such cases, users can still use JustSave, but instead of the usual discount, they will be given an RM1 discount (at the time of writing) on the price of a regular JustGrab ride. 
Should a passenger cancel a JustSave ride while the e-hailing service's driver-partner is on the way, they will have to pay a cancellation fee of RM3. This amount will be pocketed in full by the driver-partner to compensate for the time and effort lost. 
Grab reassured that the remaining passenger's booking will not be affected and will proceed as booked.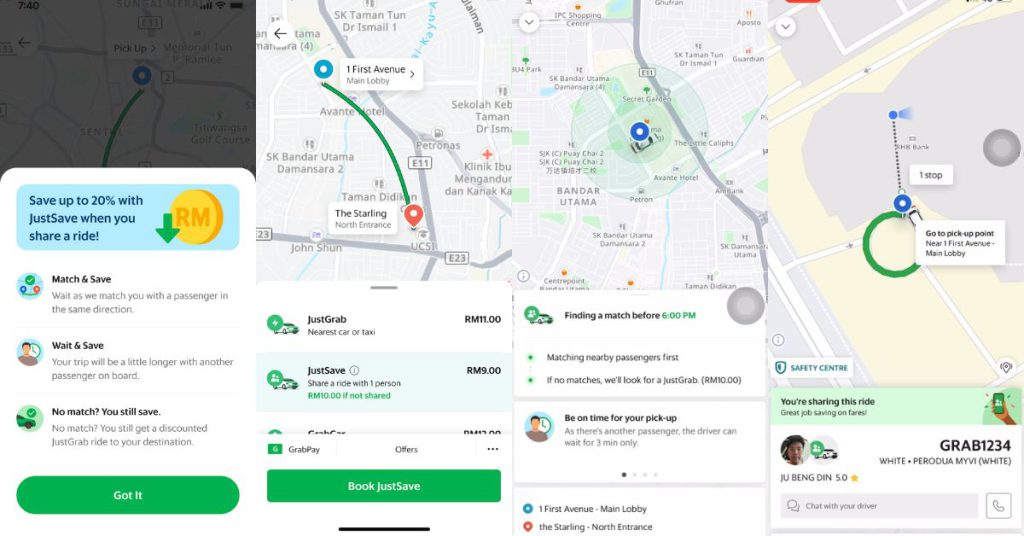 We've not yet tested this feature for ourselves, but we wondered, is JustSave actually that much cheaper of an option?
Let's say a stranger and I are lining up for a Grab at Mid Valley. I want to go to Pavilion while they want to go to KLCC.
If we both match for a JustSave, from what we checked, it would cost RM26 for the KLCC trip, and RM21 for the Pavilion trip. That comes up to a total of RM47 between the both of us.
However, if I had just asked that stranger to share a Grab with me while I add a stop for KLCC, it would only be RM39 split between the two of us.
Granted, you'd have to make that awkward conversation with strangers first, which JustSave, well, saves you the trouble of doing.
Based on past records, JustSave is not the first carpooling service offered by Grab. The brand previously introduced a carpooling service called GrabShare in 2017, and it appeared to work largely the same.
However, the feature was removed from the e-hailing platform in 2019 "for improvement purposes". Looking at GrabShare's details, it seems like JustSave might be the long-awaited update.
Read articles we've written about Malaysian startups here.
Featured Image Credit: Vulcan Post