The Dragon Boat Festival is almost upon us again, and you know what that means for us foodies—time to chow down on some bak zhangs.
Also known as zong zis, these glutinous rice dumplings can technically be found all year round, but are most commonly enjoyed during this season.
However, it can be challenging to order it online if you aren't looking in the right spots. So, here are some brands you can shop from online that deliver in the Klang Valley, categorised according to some dietary preferences.
Traditional options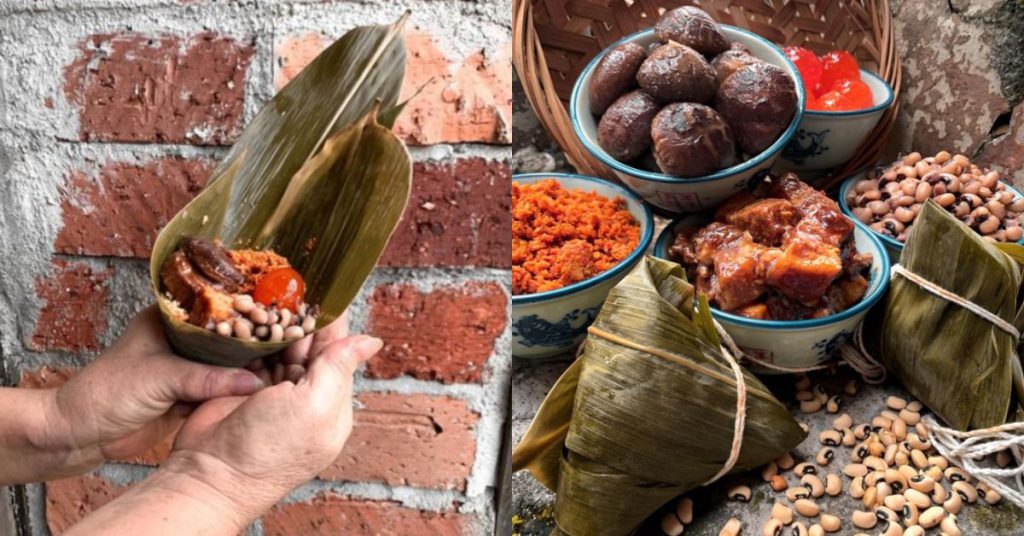 Started by a mother-son duo, Nson Yap and Low Lay Heong, Oh Bak Zhang is an Instagram-based business that comes alive every year during the Dragon Boat season.
Nson's mum Lay Heong would make bak zhangs every year after learning the recipe from her mother-in-law, Nson's grandma.
An interior designer by trade, Nson began gifting the bak zhangs to his friends to try until they suggested he sell them online.
"Mama Yap will be in charge of preparing and cooking all the ingredients and wrapping for the bak zhang, in the meanwhile, I'm in charge of taking orders, creating more content, photography sessions, designing packaging designs, and arranging the delivery and stuff," Nson said.
The duo's traditional bak zhang comes with pork meat, shiitake mushroom, and dried shrimp chili. You can also opt for salted egg yolk and black-eyed beans at an extra cost.
Price: RM10 (RM3.50 to add salted egg yolk and RM0.50 to add black-eyed beans)
Shipping: Depends on the distance
Where to buy: Instagram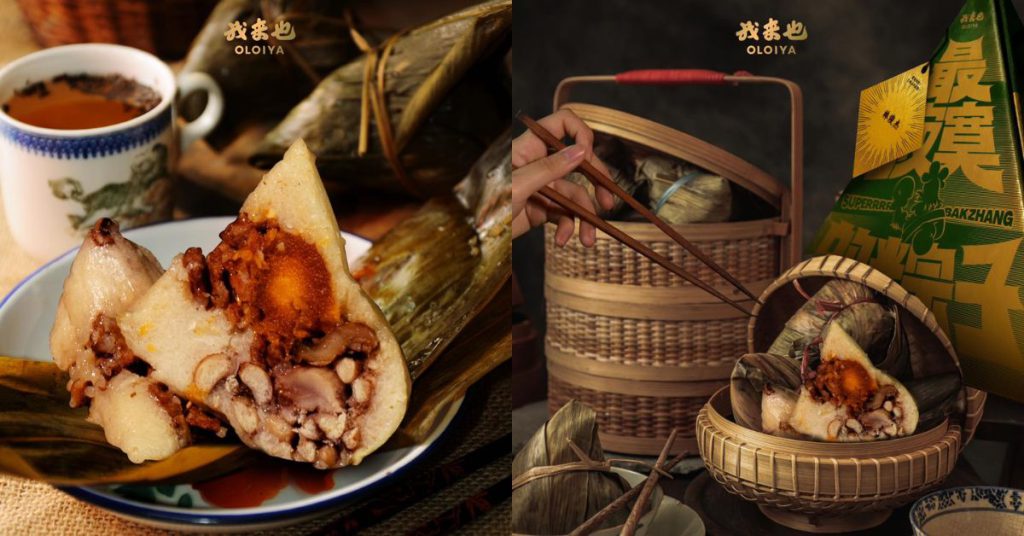 Founded in 1978, Malaysian bakkwa brand Oloiya is perhaps most recognisable through its logo of a golden chicken wearing bright red boxer gloves. Bakkwa aside, it's also been making rice dumplings during the Dragon Boat Festival seasons. This year, it's offering the Superrr Bak Zhang 2023.
Made with dried pork meat, glutinous rice, chestnut, mushroom, salted egg yolk, and black-eyed beans, there are a variety of bundles, such as with floss, bakkwa, and more.
The team ships out bak zhang orders every Tuesday.
Price: RM59.90 (three pieces)
Shipping: RM9 for West Malaysia, RM60 for East Malaysia
Where to buy: Online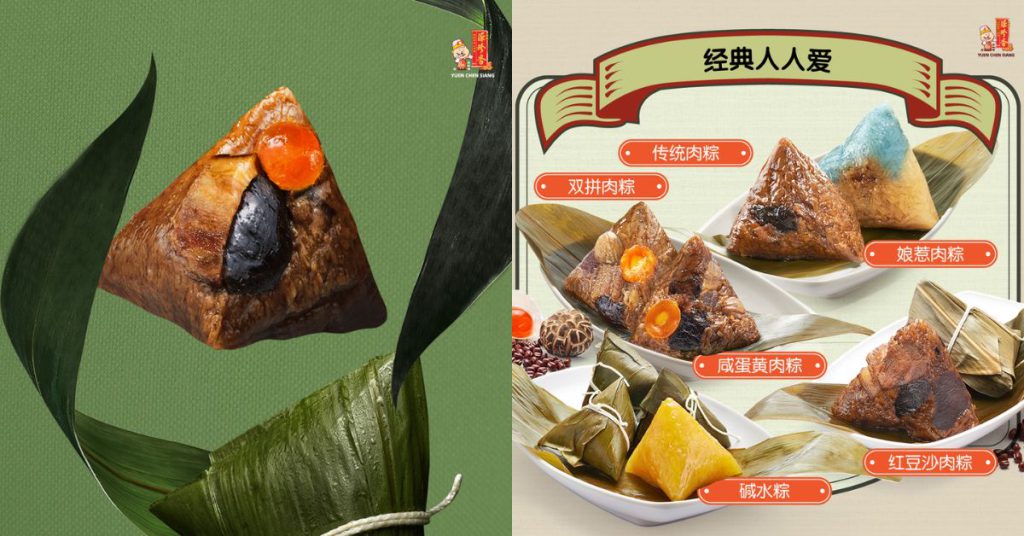 A brand from Muar, Johor, Muar Yuen Chen Siang (MYCS) was founded in the 60s and is known for its barbecued meat and meat floss.
It's got quite a range of rice dumplings available, including traditional, nyonya, salted egg, red bean, shuang pin, and braised pulled pork.
It also has kee chang and red bean kee chang options. Kee chang are known as alkaline dumplings, made with glutinous rice mixed with alkaline water that makes the dumplings chewy.
For those looking for vegan options, MYCS has a tri-legume dumpling too.
Price:
Traditional rice dumpling: RM12
Nyonya rice dumpling: RM11
Salted egg rice dumpling: RM15
Red bean rice dumpling: RM13
Shuang pin rice dumpling: RM17
Braised pulled pork rice dumpling: RM13
Red bean kee chang (three pieces): RM10
Kee chang (four pieces): RM10
Shipping: RM10 (free delivery for orders above RM150 within West Malaysia), no delivery available for East Malaysia
Where to buy: Online
Pork-free options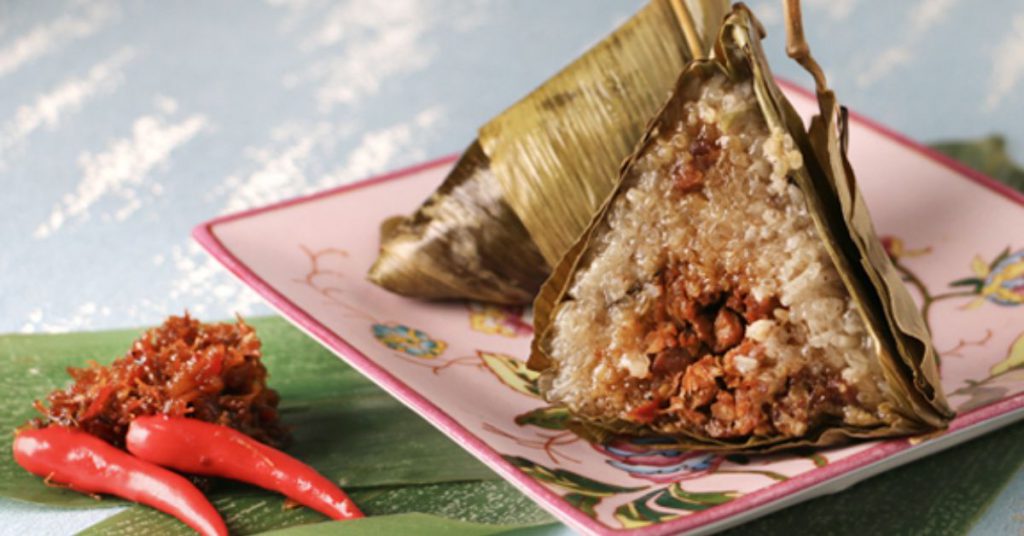 As always, Shangri-La is going above and beyond to offer a plethora of rice dumpling flavours to choose from. All its options are pork-free as well.
There's the Shang Palace Signature, which is a pack of Hong Kong rice dumplings made with abalone, assorted meat, nuts, and salted eggs. This bak zhang is 600g, which is four times larger than their other options.
The Fujian Style Rice Dumpling contains abalone, smoked duck breast, a whole mushroom, premium dried prawn, and glutinous rice.
Meanwhile, the XO Sauce, Foie Gras & Roasted Chicken Rice Dumpling features some unique ingredients such as duck liver, dried scallop, roasted chicken thigh, dried prawn, and XO sauce.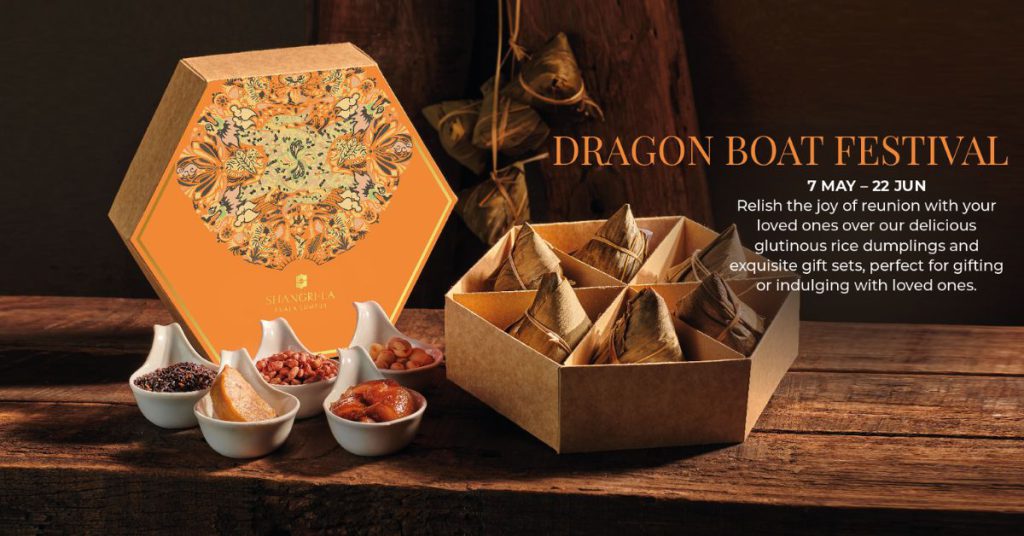 Bringing a unique Thai flavour, the Pra Kra Pao Mou Flavoured Rice Dumpling comprises chicken drumstick, basil herbs, red chilli padi, garlic, fish sauce, oyster sauce, black soya sauce, and glutinous rice.
The Yunnan Mushroom Rice Dumpling is a mushroom-filled dumpling that includes porcini mushroom, whole mushroom, and bai ling mushroom.
Dessert options include the Sweetened Purple with Vanilla Custard Rice Dumpling and the White Lotus and Truffle Honey Rice Dumpling.
Price:
Shang Palace Signature: RM158
Fujian Style Rice Dumpling: RM88
XO Sauce, Foie Gras & Roasted Chicken Rice Dumpling: RM78
Pad Kra Pao Mou Flavoured Rice Dumpling: RM38
Sweetened Purple with Vanilla Custard Rice Dumpling: RM38
Yunnan Mushroom Rice Dumpling: RM38
White Lotus and Truffle Honey Rice Dumpling: RM38
Shipping:
Free for locations within 5km of Shangri-La Kuala Lumpur
RM22 for 5 to 10km
RM30 for 10 to 15km
RM38 for 15 to 20km
RM45 for 20 to 25km
RM52 for 25 to 30km
RM60 for 30 to 35km
RM68 for 35 to 40km
Where to buy: Online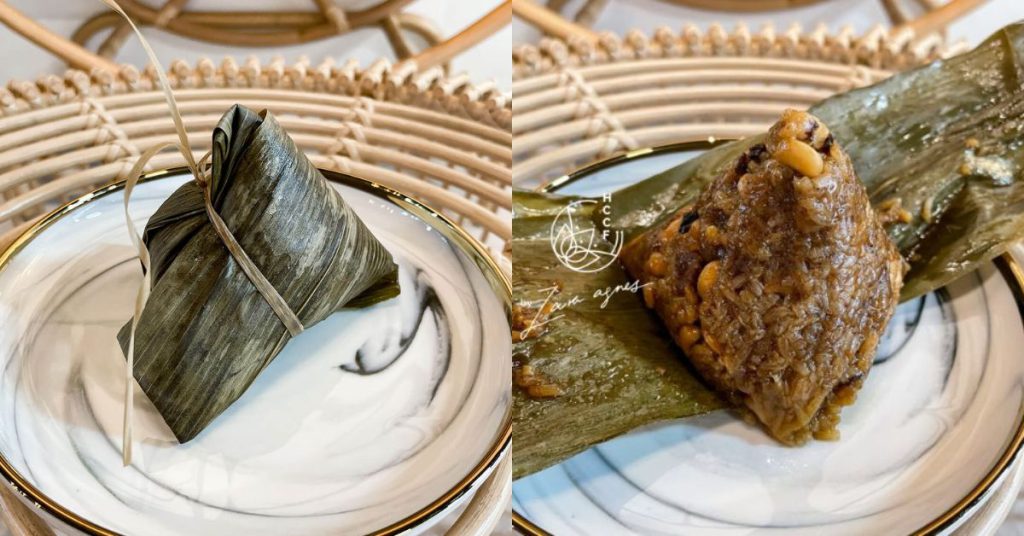 A brand we've featured in the past, Halal Chinese Confinement Food (HCCF) is a business started by Chinese Muslim mum Zara Agnes.
She offers halal bak zhangs that are filled with glutinous rice, chicken, mushroom, chestnut, black-eyed peas, dried prawns, and salted egg yolk.
Price: RM10
Shipping: Depends on the distance
Where to buy: Online
Vegetarian options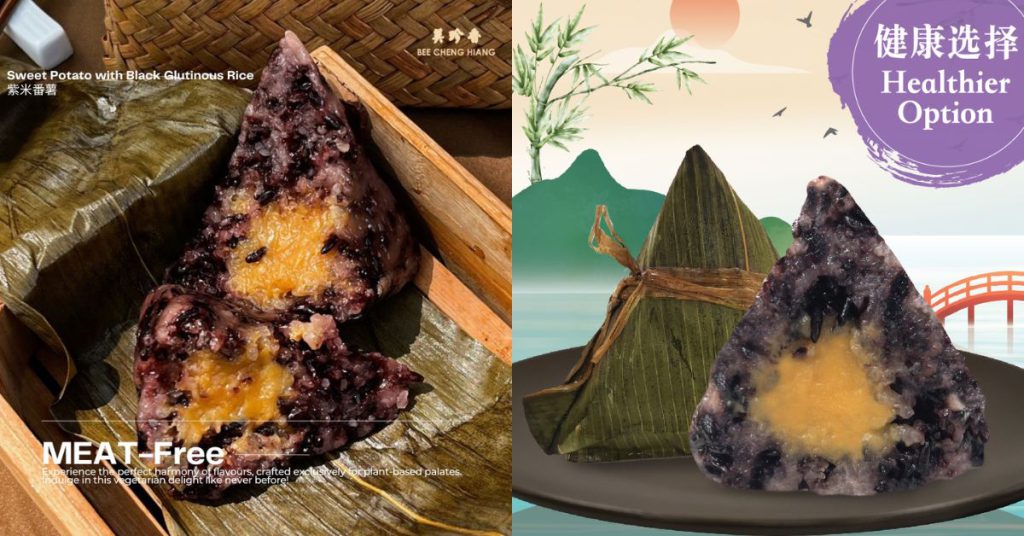 The famed Singaporean brand that's typically known for its bakkwa is shifting gears this Dragon Boat Festival.
Bee Cheng Hiang's healthier meat-free option is made with sweet potatoes and black glutinous rice.
That said, they do also have rice dumplings made with bakkwa for those who are a fan of Bee Cheng Hiang's usual offerings.
Price: RM6.90
Shipping: RM14
Where to buy: Website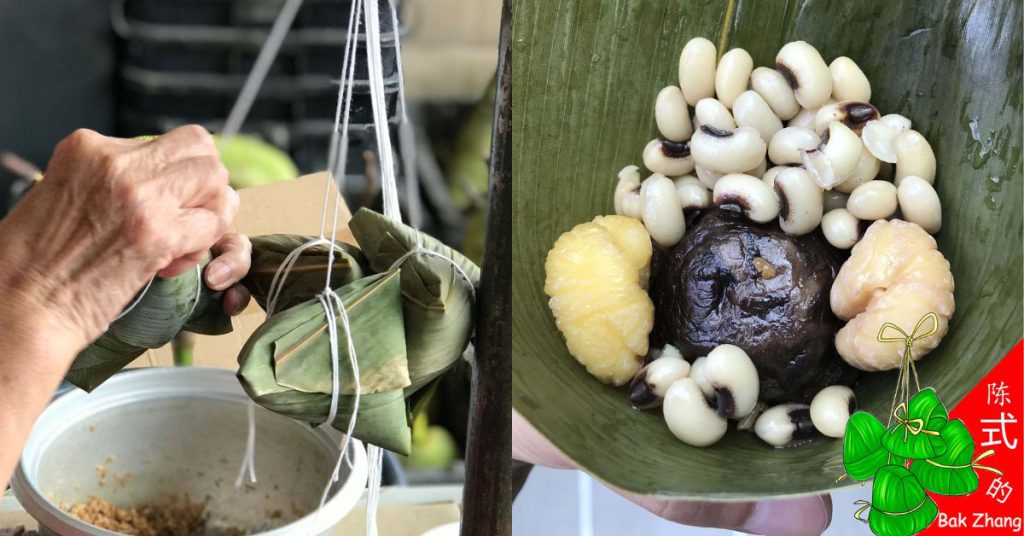 Translating to Chen's or Tan's style of Bak Zhang, this brand is selling a few varieties of homemade rice dumplings, including vegetarian ones.
There are three flavours in the vegetarian series—Traditional Hokkien Rice Dumpling, Teow Chew Rice Dumpling, and Guangdong Rice Dumpling.
The Hokkien version is made with glutinous rice, mushroom, chestnut, and black-eyed peas. Teow Chew ones use red bean paste, glutinous rice, mushroom, chestnut, and black-eyed peas. Meanwhile, the Guangdong option includes mung bean, glutinous rice, mushroom, chestnut, and blacked-eyed peas.
There are also options without salted eggs as well, which are suitable for vegans too.
Price: RM7.50 for vegan dumplings, RM8.50 for vegetarian dumplings
Shipping: N/A
Where to buy: Facebook
Read other articles we've written about F&B businesses here.
Featured Image Credit: Oh Bak Zhang / Muar Yuen Chen Siang / Oloiya