If you've ever wished that the charging cases of earbuds had smart touchscreen displays, HP's Poly Voyager Free 60+ UC wireless earbuds could be your answer. (Another option might be the earlier-released JBL Tour Pro 2, but we've not personally reviewed those yet.)
Poly's Voyager Free 60+ has standardised features such as active noise cancellation (ANC) and multi-point connectivity, so how much does its touch-enabled charging case really change the experience?
Here's our verdict.
The elephant in the pocket
The Poly Voyager Free 60+ aims to serve as both a business headset during the day with dedicated features whilst also acting as standard true wireless earbuds for music and other media outside of work.
There are three different models of the Poly Voyager Free 60 series, but the earbuds are physically the same across all models. The variables are colour, included accessories, and whether they're certified for business communication platforms.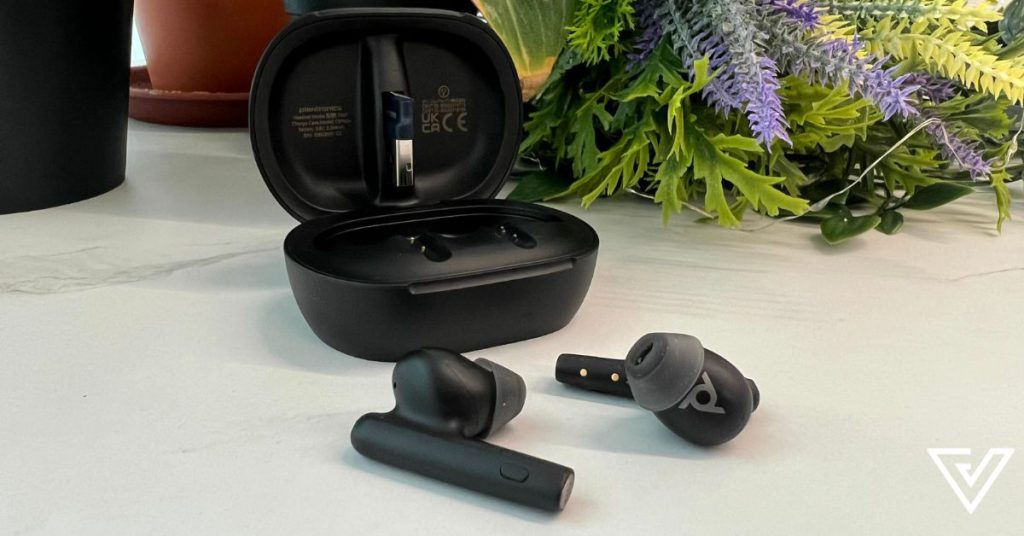 The Voyager Free 60 UC comes with a BT700 Bluetooth adapter and travel bag, whilst the Voyager Free 60+ UC we reviewed comes with the touchscreen case (but no travel case) and includes the BT700 Bluetooth adapter and a 3.5mm headphone jack cable.
First, the touchscreen case is more oval-shaped and much bigger than other earbud cases we've seen, such as the Samsung Galaxy Buds2 and Huawei FreeBuds Pro 2.
It can feel slightly bulky to slip into the pockets of your jeans. Hence, we would recommend bringing it around in a bag.
The touchscreen display is about the size of early smartwatch screens. It features buttons for playback controls, changing settings, and showing battery levels.
The display has a plastic cover but it feels pretty solid and not flimsy. However, the screen is quickly smudged with fingerprint traces which I found pretty annoying.
While the case's touchscreen is a bit gimmicky, some features are convenient. You can switch between source devices and cycle between ANC and transparency mode settings whilst the default screen shows the buds' battery life.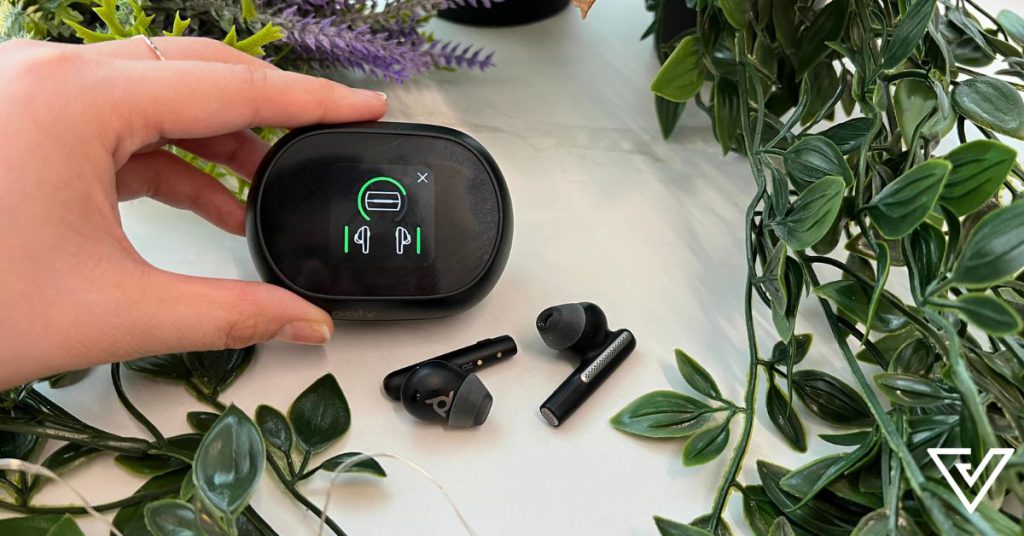 The included BT700 Bluetooth adapter comes pre-paired with the buds and is held in the case. With the earbuds' multi-port connectivity, I could easily switch between listening to music on my phone to watching a video through my laptop.
Alongside the usual array of charging cables, manuals, and three pairs of silicone tips, Poly also includes a USB-C to 3.5mm headphone jack cable, which allows the case to transmit audio from any headphone jack to the earbuds.
Although I didn't get the chance to try this out, it is a welcome addition and would be useful to connect the buds with in-flight entertainment systems and record players.
An imperfect fit
Meanwhile, the earbuds themselves aren't particularly stylish or eye-catching.
A pair of ANC microphones are hidden under a silver grille along the top of the stem, which serves as a touch-sensitive strip you can swipe for actions like advancing music tracks, changing volume, or toggling ANC.
There's also a button at the bottom of the stem to pause music or answer calls which is perfectly sized and placed to avoid accidental clicks, something I struggled with on the Sony WF-C700N, which featured larger buttons.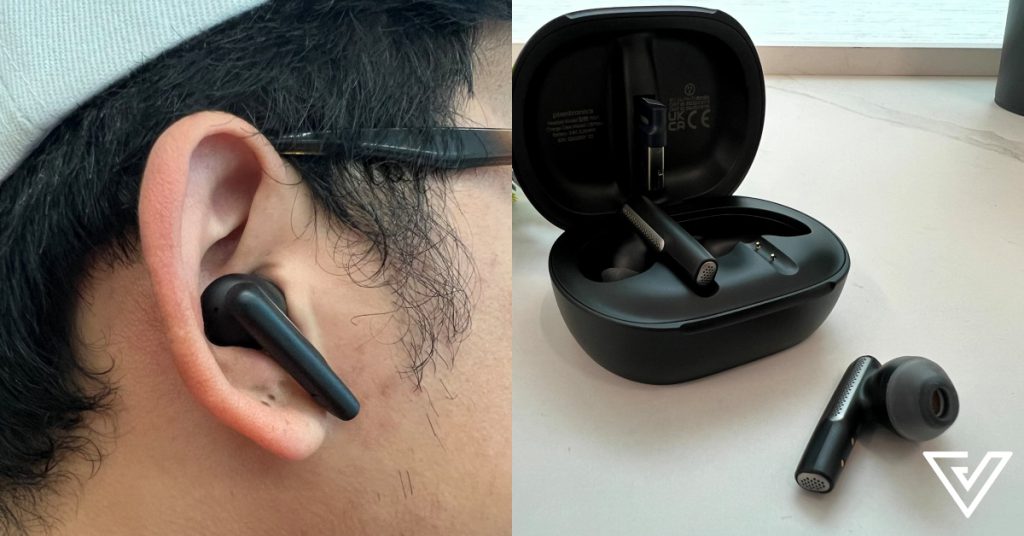 Although I could wear the buds for several hours with relatively little ear fatigue or discomfort, the fit didn't feel right with me, and the earbuds themselves felt pretty loose despite trying the other silicone tips.
Another thing my colleagues noticed was the sound leakage that occurred whenever I played music at higher volumes. I'm unsure if anything else could cause this apart from the fit.
Nothing notable in the audio department
In terms of sound, although I am not an audiophile, I didn't notice anything significant in terms of the quality.
It sounds exactly how you would expect a pair of high-range wireless earbuds to sound, good and consistent.
Meanwhile, it's ANC is also nothing significant enough to rave about and just gets the job done.
Even with ANC enabled, I could still hear certain sounds and the gists of my colleagues' conversations, but at least this was filtered to a certain level.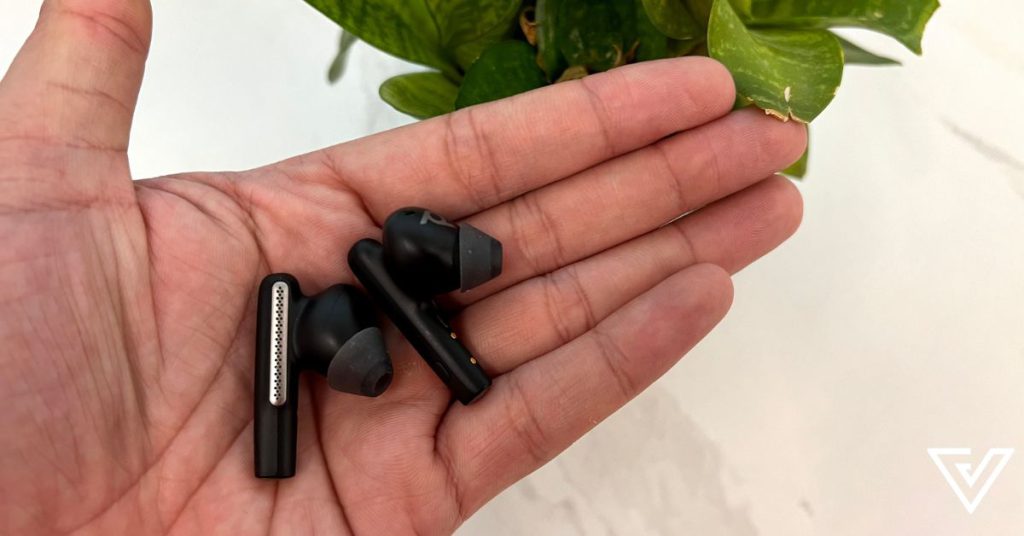 However, regarding microphone quality, the earbuds did decently well in picking up my voice, and the person on the line seemed to have no issues hearing me.
This is an important part as Poly has been touting them as the ideal hybrid work solution and that they have even been certified to work with meeting platforms such as Microsoft Teams and Zoom.
App & other features
Upon downloading Poly's Lens app, I noticed it doesn't have many features, but it has generally useful ones.
It offers a certain level of customisability to the earbuds, including adjusting voice alert settings, sidetone settings, auto-detection sensor settings, and customising the function of the swipe sensors.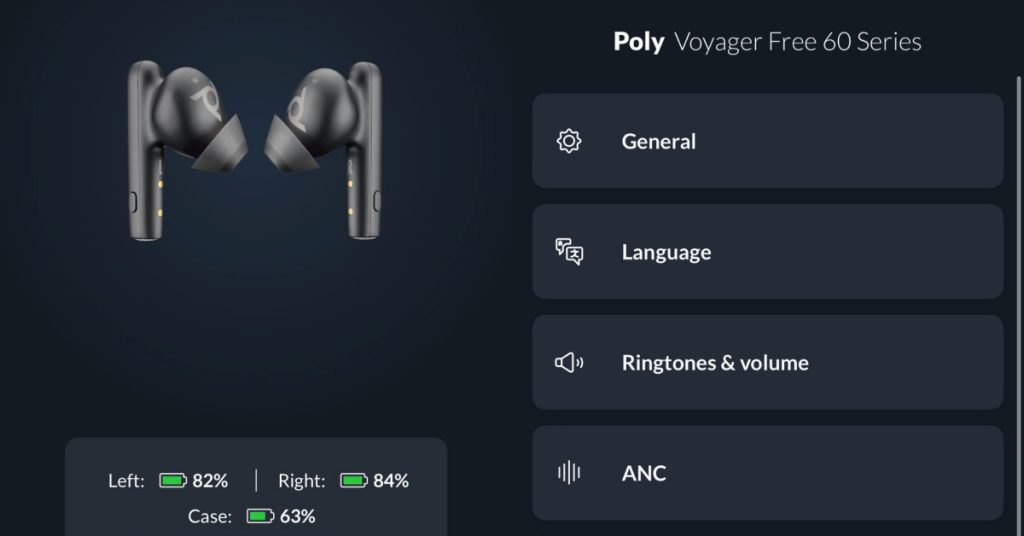 In the app, you can select the language, update the earbuds' software version, and access the sound equalizer, which only offers a Bass, Flat, and Bright setting.
There are also some uncommon features, like a noise-limiting feature to protect your ear health and a reminder if you're muted.
The earbuds hold up well regarding battery life, as I can get through a whole working day before charging them. According to Poly, the buds can last up to five and a half hours of talk time and eight hours of listening time with ANC on.
The earbuds take two hours to fully charge, whilst the case takes three hours.
The verdict
All in all, I'd say that the HP Poly Voyager Free 60+ UC earbuds are simply not worth it for their current price tag of RM1,759. At the end of the day, the touchscreen is a bit clunky to use, and sometimes more of a hassle than a help.
Its other general features are also nothing to write home about, though some remote workers who want a better experience with virtual meetings may find its UC certification handy.
It's certainly interesting to try, but the hefty price tag is a big commitment if you're just looking to satisfy your curiosity. The novelty of the charging case display will eventually wear off too.
There are other true wireless earbuds that can have the same general features at lower price points, unless you simply need a charging case with a display or high-end certified mics.
In that case, then the HP Poly Voyager Free 60+ UC can be considered.
| Pros | Cons |
| --- | --- |
| Decent battery life | Very high price tag |
| Good and stable multi-point connectivity | Earbuds didn't fit perfectly well and felt loose in the ear |
| Touchscreen display charging case to check battery levels and control music | Unremarkable sound quality and ANC |
VP Verdict is a series where we personally try and test out products, services, fads, and apps. Want to suggest something else for us to try? Leave a comment here or send the suggestion to our Facebook page.