Last week, the Vulcan Post team received an invitation to the launch of The Conjuring Universe Tour, an all-new immersive walk-through horror experience.
Located at The Curve in Mutiara Damansara, the tour features "spine-chilling" set recreations inspired by some of the more iconic scenes from The Conjuring's film franchise, including its namesake series, Annabelle I and II, and The Nun.
There's a total of 20 interactive zones (or sets) altogether, and a complete walk-through of the tour takes between 45 minutes to an hour. Visitors will be escorted in groups of about ten to twelve individuals by a tour guide.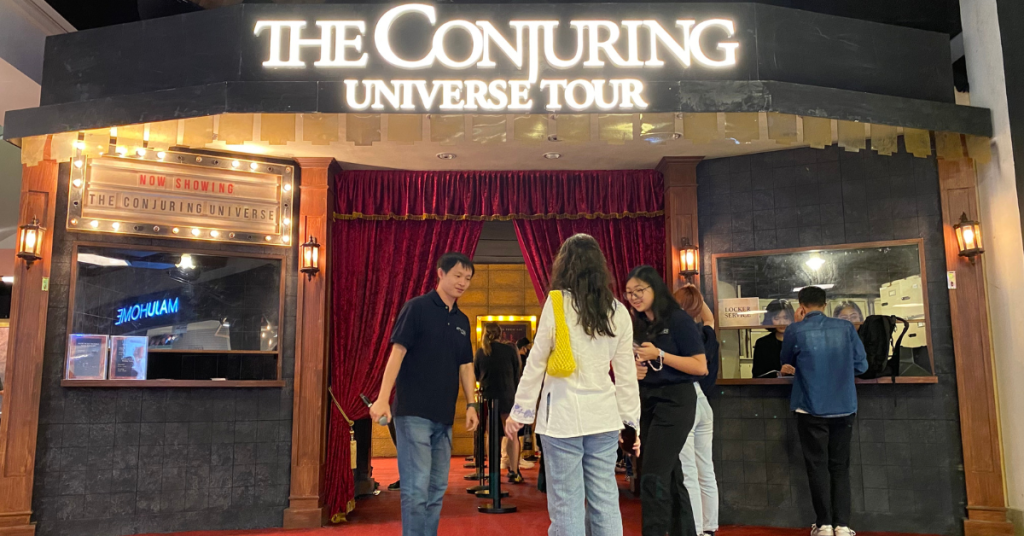 As the tour's Southeast Asian debut, we were curious to see what experiences were produced by Warner Bros. Discovery Global Themed Entertainment, Sunny SideUp, and Incubase Studio, in partnership with AM PM (HK) and Ace Media Network.
So with much excitement, my colleague Claudia and I sucked up our fears and went to experience the horror for ourselves.
Warning: Minor spoilers on the tour experience ahead.
After keeping our bags and personal belongings in the provided lockers, we joined our group of 10 other media personnels in what I assumed to be the waiting area.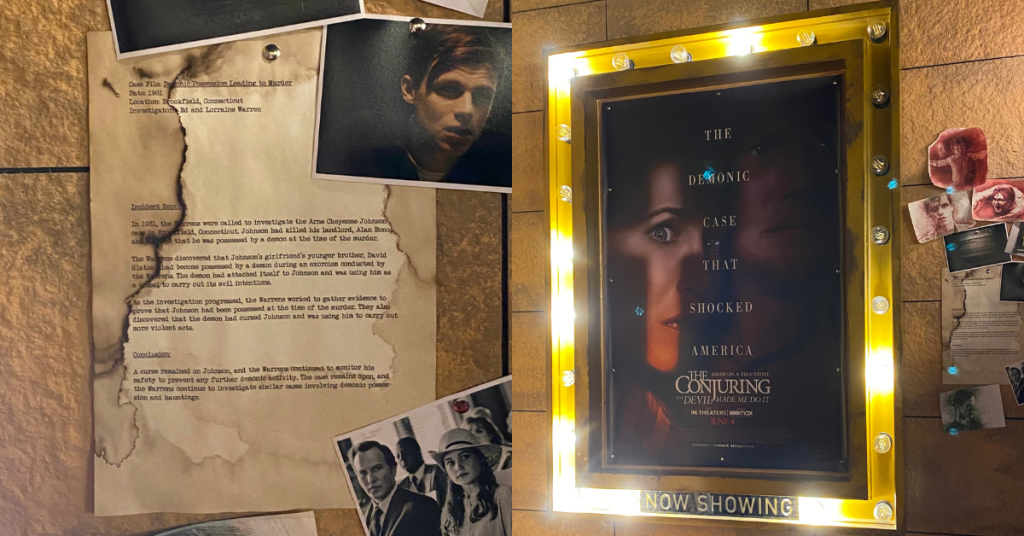 There, you'll find framed posters of all the films being referenced for the tour. Next to each poster is a "report" briefly explaining the case of each haunting. So if you're not entirely familiar with The Conjuring franchise, it might help to get some background details this way.
But this isn't really necessary as you're still able to enjoy the experience without the contextual information.
"Pack your belongings. Stay close together. I hope you can finish what I couldn't."
That's how we were welcomed with a short clip by Sean, a "paranormal expert", when we were guided to a classroom before the tour began. The classroom featured snippets of the films along with a short introduction to The Conjuring universe.
Our tour guide of the day then briefed us on the rules (basically, don't touch any of the props and remember to turn off your camera's flash) and elected a "last man" to watch over the group.
For context, the chosen "last man" is also a participant, but their role is to act as the last person out of the group to leave the set. This means that they will be in charge of ensuring that everyone on the tour stays together.
So if you're worried about being accidentally left behind, this might soothe your nerves.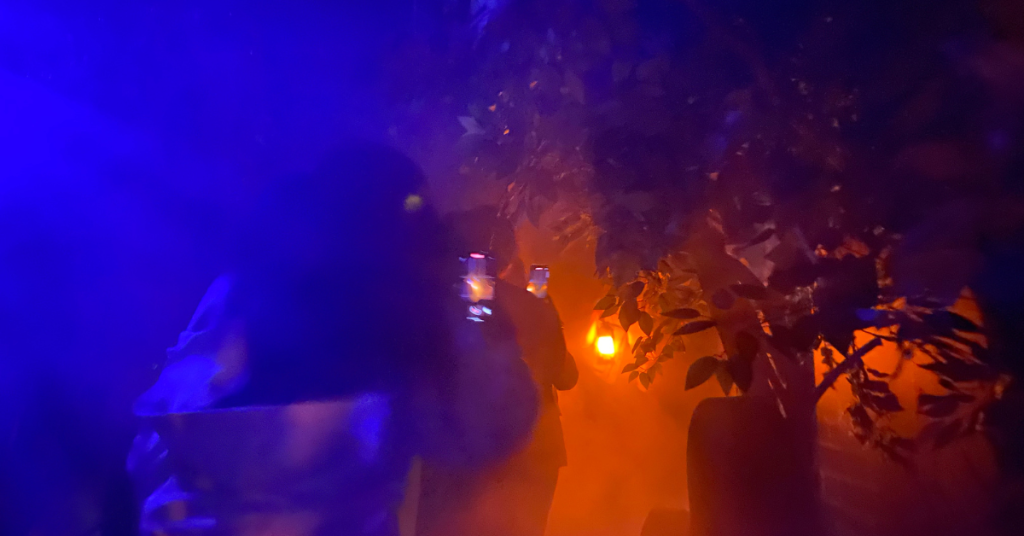 Once that was established, all 12 of us walked straight into the gloomy graveyard of the Abbey of St. Carta from The Nun. 
Tombstones were erected everywhere and the mist made it very hard to see ahead. Not having the best eyesight didn't help, but the light illuminating from the tour guide's vintage oil lamp served as a good lead.
We were quickly ushered into another room, where the group was led down a corridor with large human-sized crucifixes on both sides that served as "to-be" headstones. All the while, creepy soundtracks would play in the background, further cultivating the horror-like atmosphere.
Then we reached what I deemed to be the second creepiest set in the whole tour—the room with the "headless" nuns.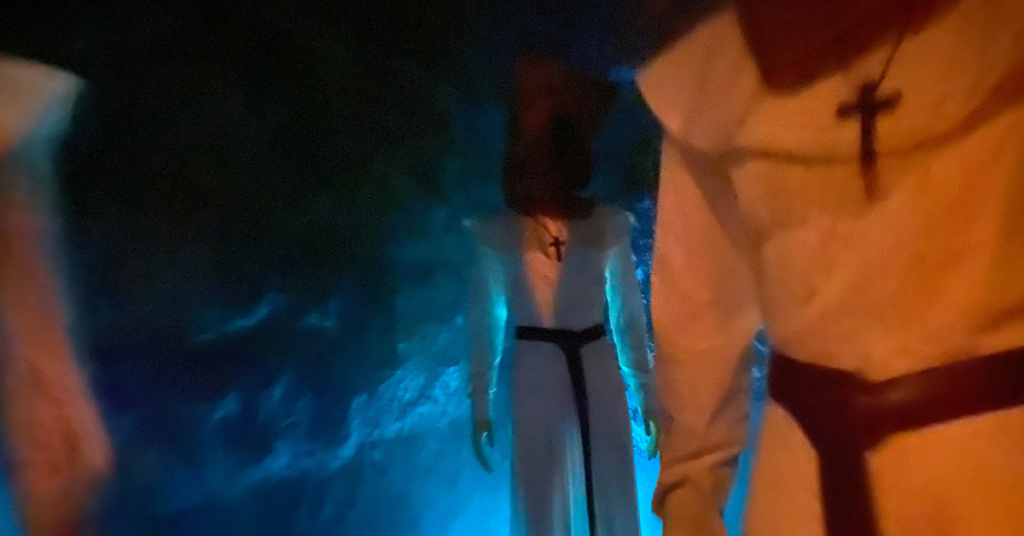 Okay, saying they're headless wouldn't be accurate, but all of them were wearing a sack bag over their heads.
This prompted the fear of the unknown and an anticipation that something more would come. In our experience, both Claudia and I were on the edge throughout the entirety of this room just waiting for an actual person to pop up from their "headless nun" costume.
Hearing our other group members shuffling about to get as quickly away from the room as possible (without running) made the experience slightly less terrifying.
That said, when we walked into another room that was filled with five bodies hanging upside down from the ceiling, I was weirdly relieved.
The tour guide explained that this set depicted The Nun's ending, where all the nuns sacrificed themselves to stop the demon named Valak from possessing them.
Playing with dolls is oh so much fun… until they're possessed
Moving into the next room was the beginning of the Annabelle series, where we were ushered into the Mullins Toy Company. If you're not familiar with the franchise, this is where the possessed doll was manufactured by a doll maker and his wife.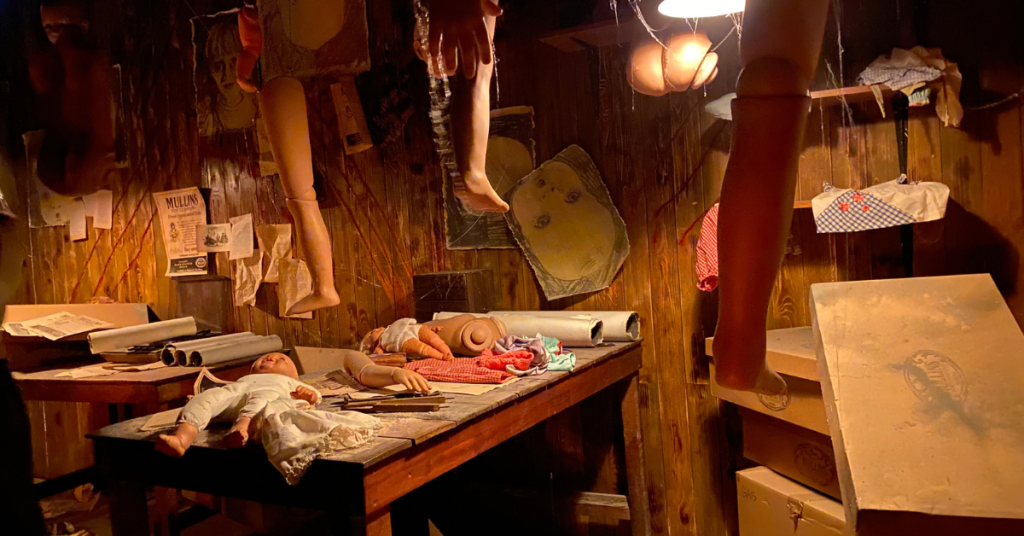 Shortly after, a corridor filled with papers led us to a tiny room where the Annabelle doll sat in a chair. Nothing really happened at first, but then the lights began flickering and she disappeared from view.
To find her, we walked into Bee's bedroom, where a tea party was set out and an old hand puppet show was playing.
I was distracted halfway when I saw a white bed sheet floating in the corner of my eye. Without thinking much, I tilted my head slightly only to find it pooled as if the floating was a figment of my imagination.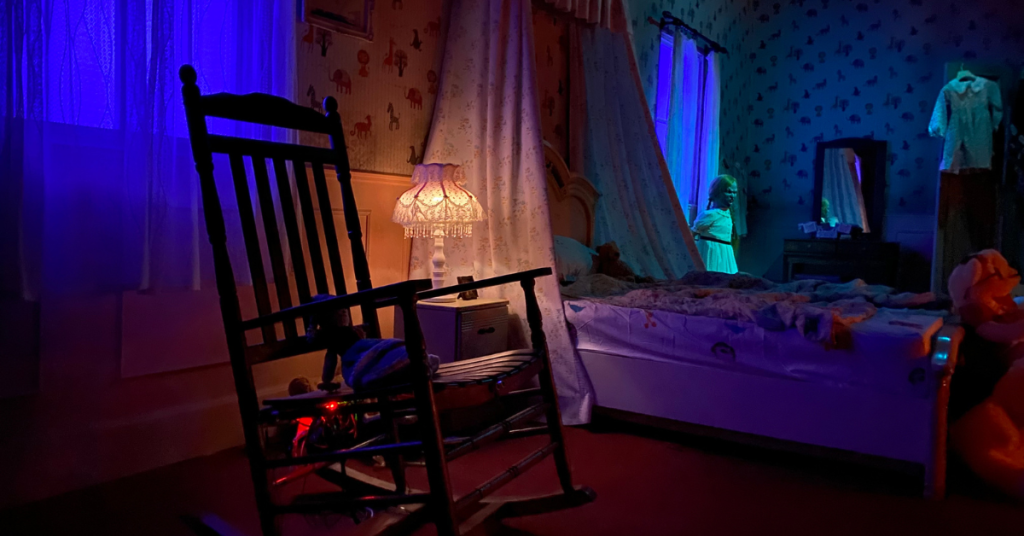 So you can imagine my fright when I turned around to find Annabelle in all her monstrous glory standing by the window, glaring at everyone.
Noticing that Claudia and much of the others had moved on, I scrammed as the room began feeling a little too bare. And what do you know, we walked straight into Ed and Lorraine Warren's Artifact Room.
Seeing it in person felt quite surreal, having followed The Conjuring movies myself since I was a teenager. But I did notice that the layout wasn't really how I remembered it being in the films, so that took away some of the wow factor for me.
We carried on past the Ferryman's Tomb and walked into a mirror maze, where the tour guide insisted we stick together. Or else the Bloody Bride would be on our heels to haunt us. In this "scene" particularly, it paid to stick with Sean-the-paranormal-expert's advice and stay together.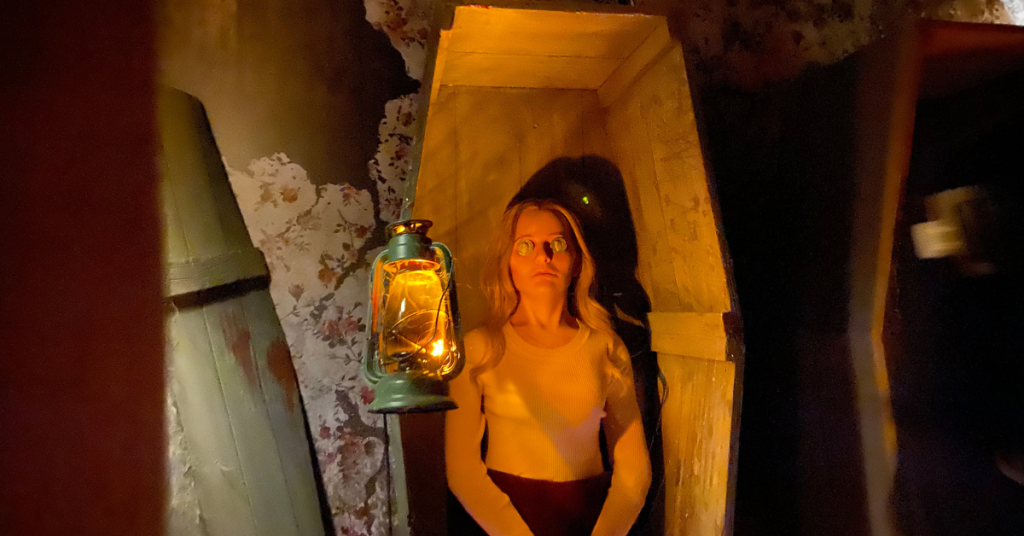 Throughout the maze, I remember wondering if the tour guides (or the rest of The Conjuring Universe Tour team) had left hidden directions in this set, just in case they accidentally wound up lost.
The Bloody Bride appeared once or twice in the mirrors to scare us, before we ultimately found the exit and wound up in Judy Warren's Room. There, a storm brewed, windows shattered, and one of our group members had her biggest fright of the night.
In such cases, it was especially helpful to have the tour guide around. Not just to provide more background information on the recreated film sets we were walking into, but to also soothe participants' nerves when it got too overwhelming.
To escape Annabelle's wrath, we all left quickly only to end up at the famed tree outside, The Perron's House, where the ghostly figure of a witch hanged herself.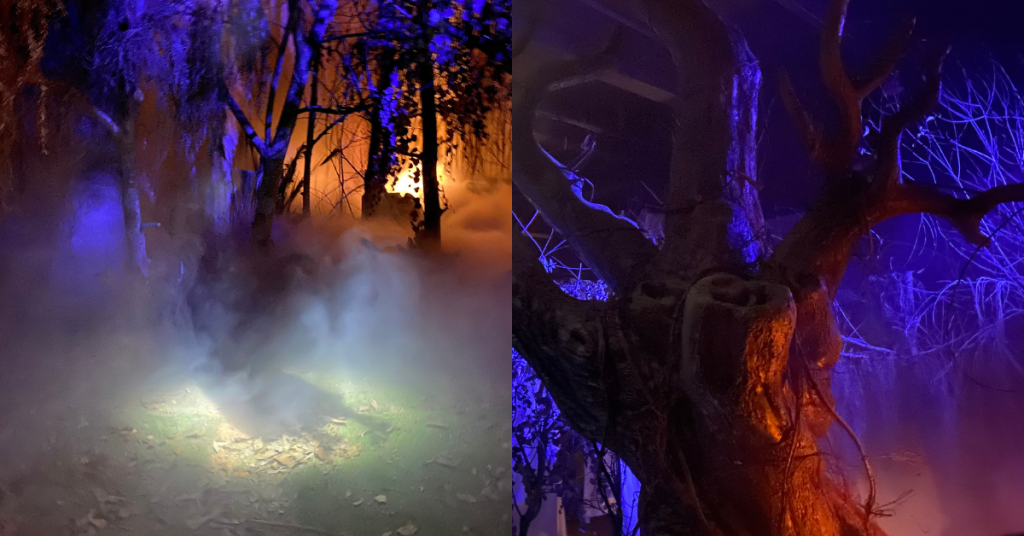 Did it live up to our expectations?
Hell yes (pun intended).
The rest of the tour, from set room 15 to set room 20, will have to be discovered on your own as these are details we've been asked not to disclose. So if this sounds like an interesting experience to you so far, then you might want to consider going through it yourself. 
Tickets are currently available through Klook, WeTix, Incutix, and KEEPSAKE by GSC. They start from RM80 on weekdays and RM95 on weekends. A complete breakdown of the pricing can be found here.
In the beginning, we overheard one of the staff members saying it's more of a way for fans to get up close and personal with the film sets.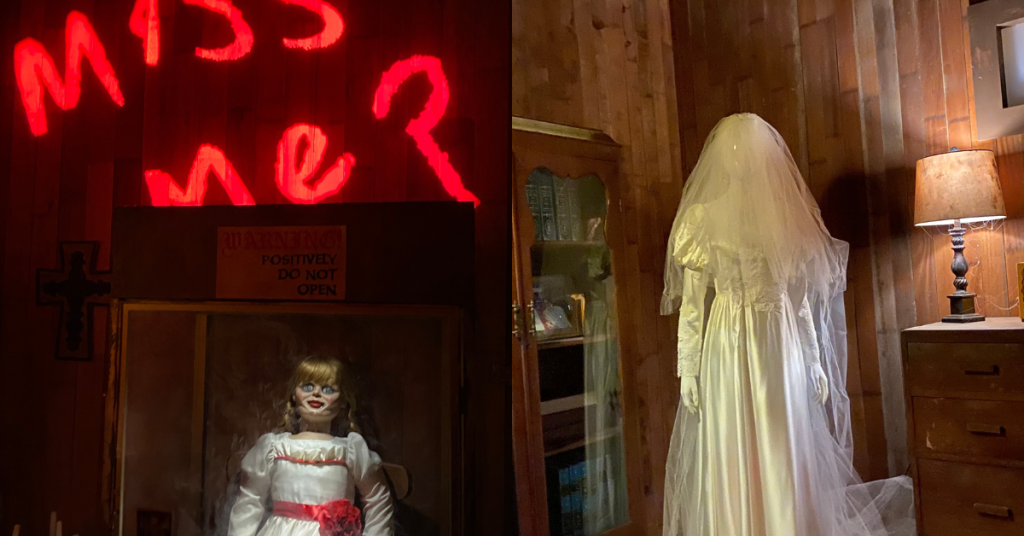 Having experienced it for ourselves, Claudia and I both agreed that it did its job, and was quite immersive. Even though we were both a little clueless about the films, we found that our guide did well at guiding the tour and sticking to his character.
The audio and visual elements also worked well together to create a more immersive experience, and the "outdoor" scenes were quite cool. Some sets also had more interactive elements to them, but we won't spoil the fun by giving examples.
However, we did find that the music was too loud during some parts of the tour, especially towards the end. And the tour guide's microphone was not the clearest, making it a little harder to understand him sometimes.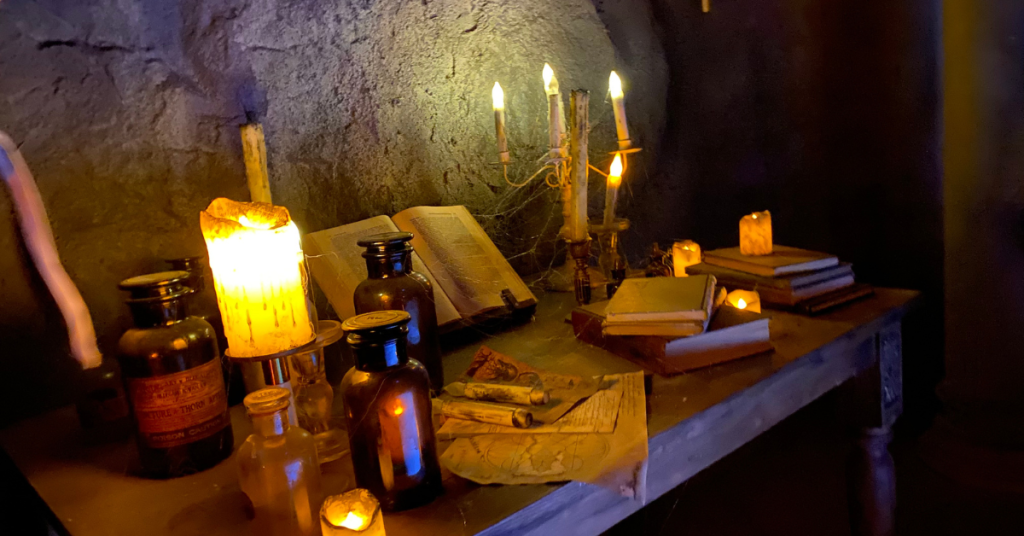 But overall, it was an exciting experience that general horror enthusiasts could enjoy. Just don't forget to wear comfortable shoes because you'll be walking a lot.
The Conjuring Universe Tour is currently available for visitors starting from August 26, 2023, until November 19, 2023. So if you'd like a good scare, then a tour around this experience might just be the de-stressor you're looking for.
Learn more about The Conjuring Universe Tour here.
Read articles we've written about Malaysian startups here.
All Image Credits: Vulcan Post