[This is a sponsored article with U Mobile.]
If you use your personal phone number for work, you'll know the feeling of having your clients or team members send you messages and emails at any given hour of the day.
Whether or not they require an immediate response, you can't help but take a glimpse at them, or even reply to the texts as your phone buzzes and lights up, demanding your attention.
This feeling might be heightened if you're the business owner of a micro or small-and-medium-sized enterprise (SME), and have to be available for your customers all the time.
In such scenarios, perhaps getting a phone service plan that offers more, or even a separate business phone might come in handy.
U Mobile Biz hears you, and with their Unbeatable 5G U Biz 98 5 Lines Bundle, SMEs can get a premium plan at half its usual price (originally RM98/line/month), as it's currently being offered at only RM50/line/month.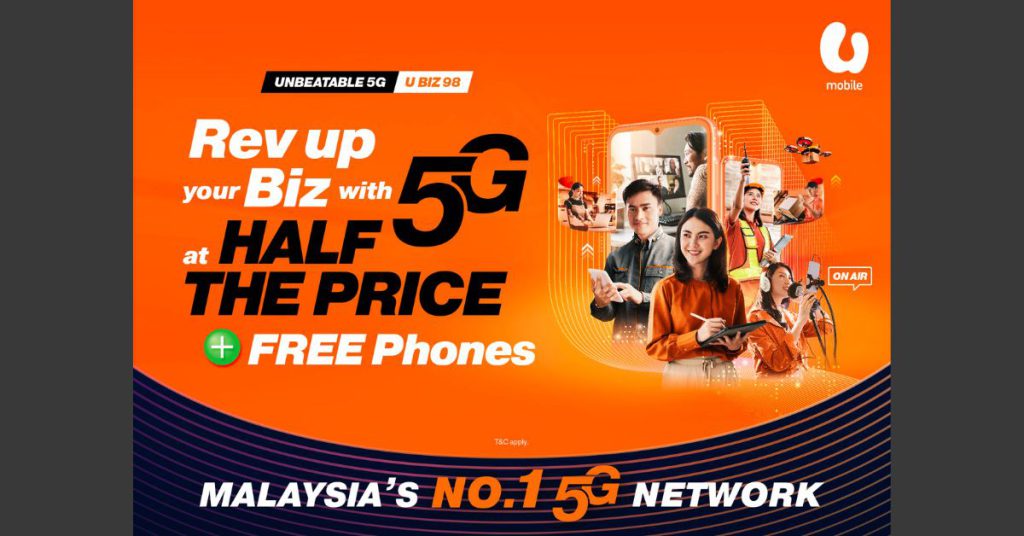 What's in the package?
Simply put, the Unbeatable 5G U Biz 98 5 Lines Bundle offers SME owners constant and fast connectivity, allowing you to focus on running your business smoothly.
For one, if you're an entrepreneur who frequently works on the go, you won't have to worry about your location's poor network connectivity while going about your duties (those who do hybrid work know the struggle).
That's because signing up for the Unbeatable 5G U Biz 98 5 Lines Bundle will get you an ultra-fast 5G network of up to 1,000GB for your data and hotspot needs.
For scale, with a 1GB plan, you can enjoy approximately eight hours of music, watch around an hour and a half of videos, or browse the internet for about 10 to 12 hours. Meanwhile, an average household consumes 586GB of data per month.
Hence, the Unbeatable 5G U Biz 98 5 Lines Bundle's 1,000GB of high-speed data should be enough for your needs. It also gives you the flexibility to connect your hotspot to multiple devices at a time, no matter where you are, with little disruptions to run your business remotely.
Even if you're travelling overseas to catch a business conference, or if you're simply on a family vacation, the Unbeatable 5G U Biz 98 5 Lines Bundle lets you easily stay connected to your business partners and team members.
The plan also comes with free 5G Global Roaming across 63 destinations, you can effortlessly stay connected when traveling abroad.
Under the Unbeatable 5G U Biz 98 5 Lines Bundle, you'll be provided with a total of five premium postpaid lines (phone numbers). This means that you can give your team members access to the package's benefits too, especially for those working in customer-facing roles.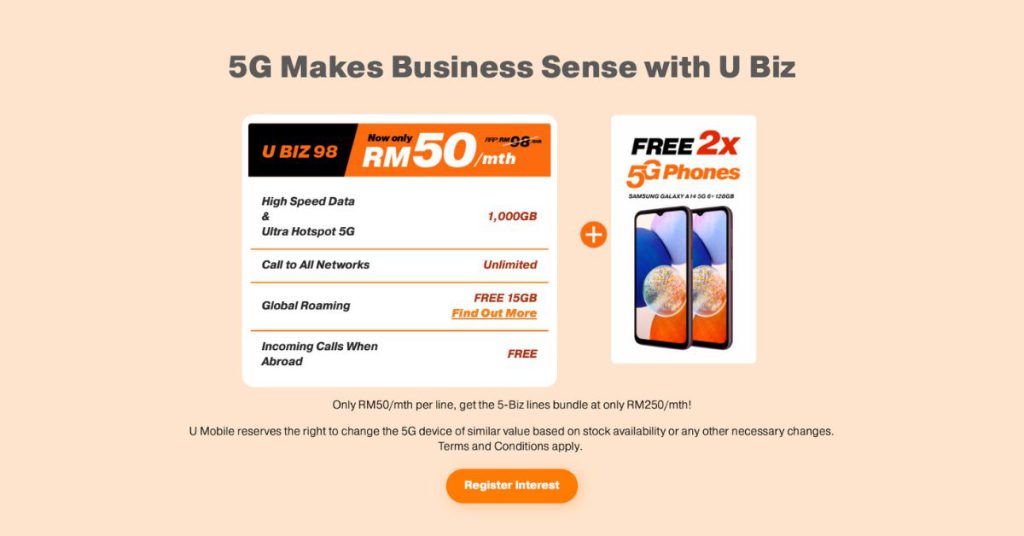 Furthermore, when you subscribe to the Unbeatable 5G U Biz 98 5 Lines Bundle, U Mobile offers two complimentary 5G smartphones. This gives you and one other member of your team the option of keeping their work and personal phones separate, for better privacy.
Learn more about the Unbeatable 5G U Biz 98 5 Lines Bundle here.
Read about Malaysian startup stories here.
Featured Image Credit: Vulcan Post