Five years ago, Mao Ting — a double-degree graduate from the Massachusetts Institute of Technology (MIT) and former data scientist — faced a life-altering experience when a wrongly-taught Pilates class left her with a severe spine injury during her postpartum period.
It left her in debilitating pain, rendering even the simplest actions excruciating. Ting's spine injury was so severe that sitting down brought waves of agony up her spine, and her body could not tolerate the slightest stress. She was, quite literally, relegated to lying down for extended periods.
The excruciating pain and physical limitations led her on a quest for comfortable, supportive footwear. Despite trying numerous options, none met her needs, leaving her frustrated and determined to make a change.
Frustrated by her first-hand experiences, Ting embarked on her entrepreneurial journey by founding Sunnystep.
"I want to create the most comfortable, supportive shoes that not only feel good, but also look good. I believe good shoes are not only for people who are in pain like I was; it should be accessible to everybody," said Ting.
The impact of a wrongly-taught Pilates class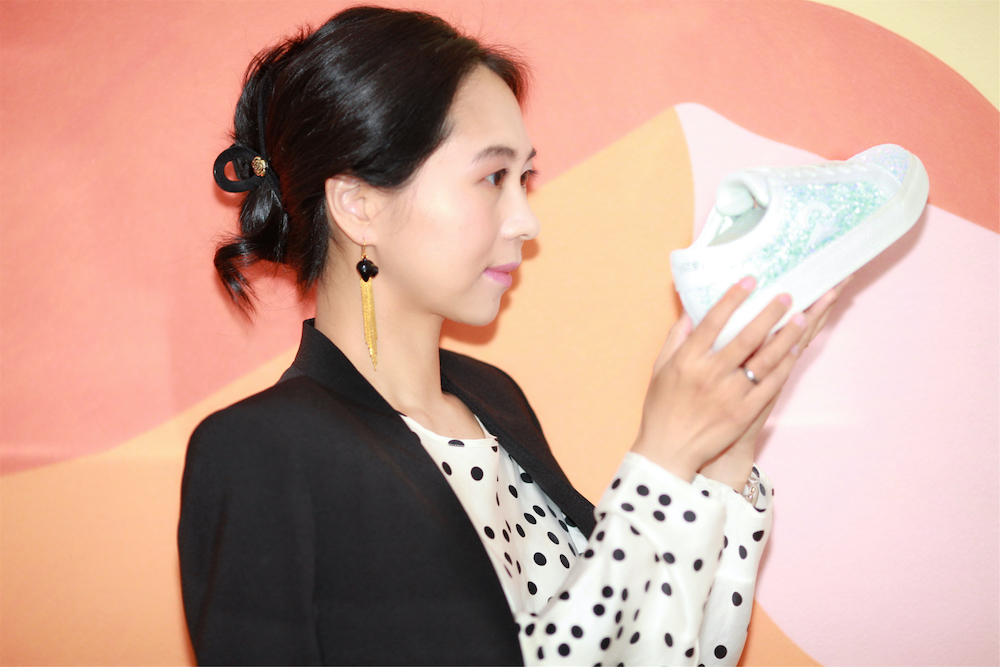 Recounting the traumatic spine injury, Ting shared that she took a private Pilates class with an instructor who had no experience with postpartum bodies. This instructor, seemingly confident but lacking the necessary knowledge, "blindly" pushed Ting beyond her limits.
The immediate aftermath of the first class left Ting in intense back pain, but she did not initially suspect the class as the source of her suffering. Tragically, she continued with a second class from the same instructor, causing her back pain to escalate to excruciating levels.
I could not stand straight right after that class and for many months after. I couldn't sit down for more than a few seconds without the pain gripping my whole back through my spine. The pain was so severe that it would freeze my brain.

– Mao Ting, founder of Sunnystep
The pain became an ever-present companion in her life. Ting's meals were consumed standing up, propping her plate on a box on her dining table. Sleep was elusive, as the pain frequently woke her from what little slumber she could find. She also couldn't carry her newborn baby as she was in constant pain. This ordeal continued for over a year, marked by sleepless nights and endless tears.
Ting sought help from numerous physiotherapists, orthopaedic doctors, and sports trainers, all in pursuit of recovery. While her path to healing was long and challenging, Ting's unwavering determination and positivity kept her moving forward. Her quest for relief led her to acquire extensive knowledge about muscles, joints, mobility, and exercise.
Despite the ongoing battle with back pain, Ting is now able to sit down, albeit with the need to move about every hour to avoid straining her back. She cherishes the opportunity that Sunnystep has given her to build a brand with a higher purpose – to provide comfort, support, and style to those who need it.
The humble beginnings
Setting up a small booth in an atrium fair at Square 2, Novena, in May 2019, Ting faced challenges from the very start.
Positioned in a less visible corner due to the brand's relative obscurity, Ting couldn't personally manage sales as her spine injury still caused severe pain when she stood or moved for extended periods.
Undeterred, she hired a student part-timer to handle sales. The first day saw a single pair sold, but by the third day, they had managed to sell eight pairs. The part-timer reported that many people were intrigued by the shoes, even if they didn't make an immediate purchase. This initial response laid the foundation for Sunnystep's growth.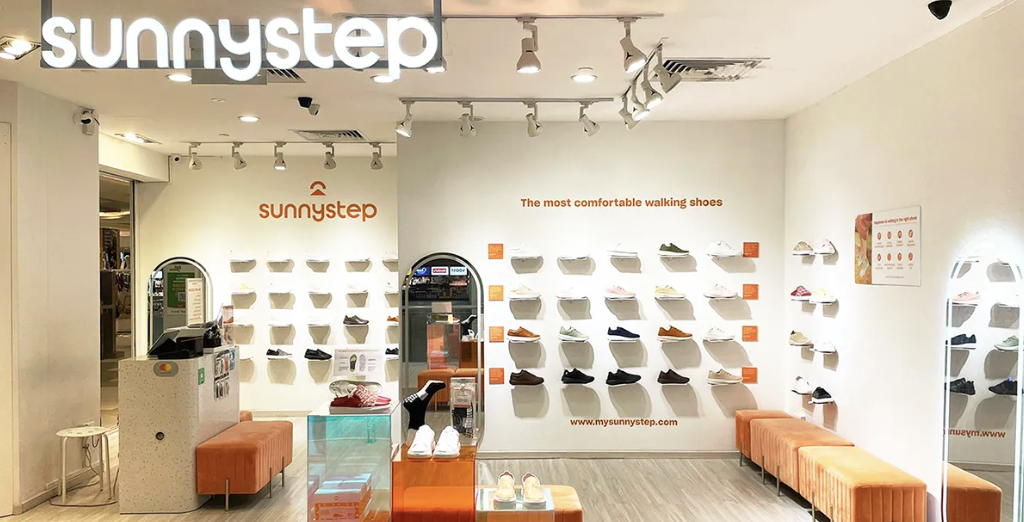 About six months later, Ting opened Sunnystep's first retail location at Square 2, only to be confronted by the onset of the COVID-19 pandemic. Despite the challenges posed by the pandemic's "retail blues", Sunnystep not only survived but thrived, opening nine more outlets islandwide.
Contrary to expectations, the pandemic created an opening for Sunnystep, as numerous retail locations became available for new brands like theirs.
As the world grappled with the pandemic, people grew more health-conscious and started prioritising quality over quantity. This shift in consumer preferences aligned perfectly with Sunnystep's commitment to offering comfortable, high-quality footwear.
The brand's dedication to comfort and style had cultivated a loyal customer base from the early days, and these supporters, who often referred friends and family, played a pivotal role in Sunnystep's resilience.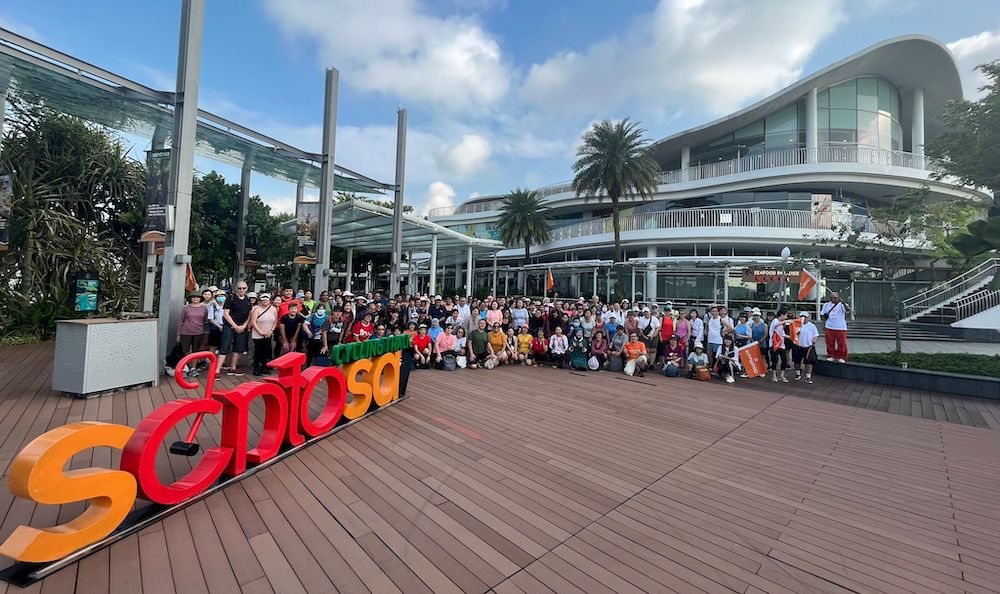 Grateful for this support, Ting and her team initiated a monthly walkathon event open to the public, promoting active living and the health benefits of walking. These walkathons quickly gained popularity, with one event attracting over 600 attendees.
In addition to walkathons, Sunnystep regularly organises online and in-person health and wellness talks, collaborating with doctors, physiotherapists, and medical experts to educate the public on self-care. This commitment to community engagement and well-being underscores Sunnystep's dedication to making a positive impact beyond the realm of footwear.
"Comfort first"
Sunnystep's shoes are designed with one primary goal: comfort that minimises stress on the feet and body.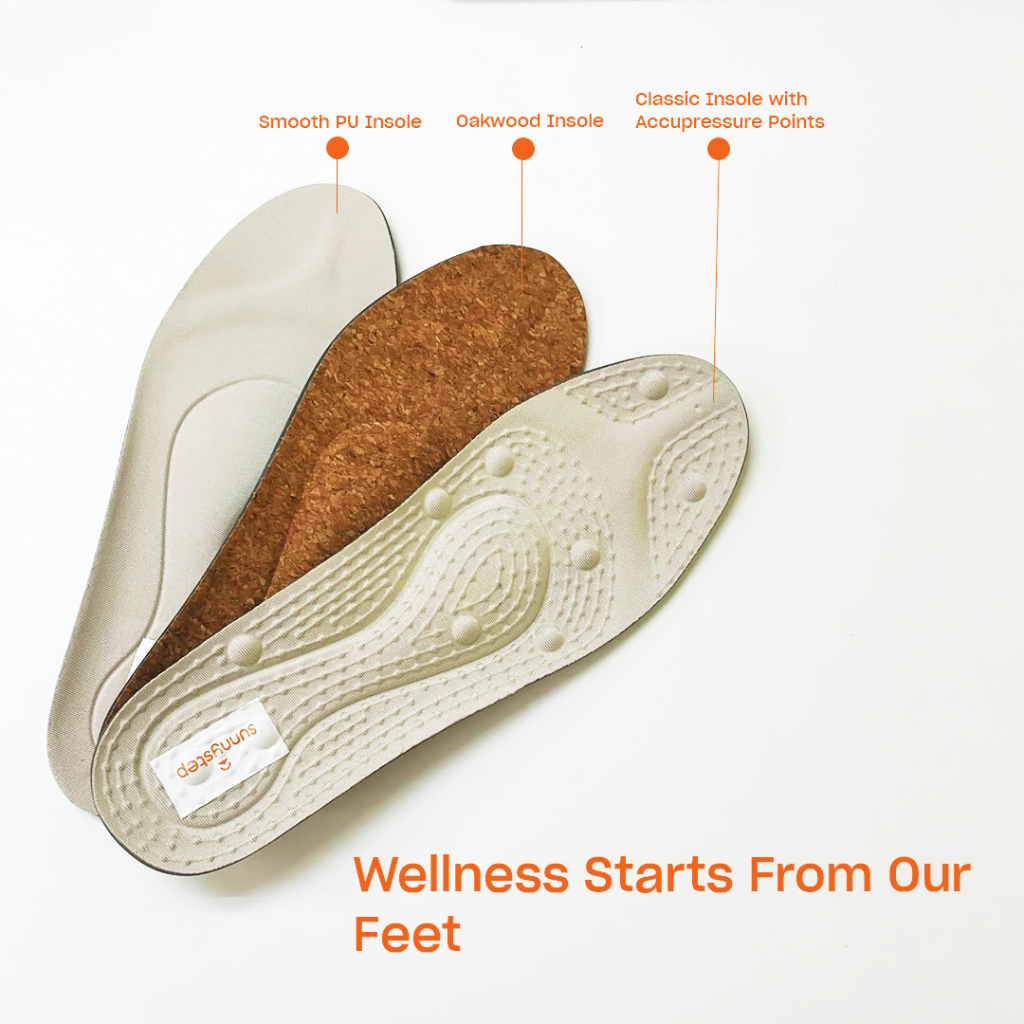 Sunnystep doesn't just make comfortable shoes; they make shoes designed to cater to Asian foot shapes. Asian feet tend to be flatter and wider on average, and Sunnystep's proprietary insole technology — crafted from a material resistant to sinking over time — provides stable arch support.
Their shoes address the specific needs of the Asian market, promoting proper posture and gait to prevent long-term foot, ankle, and hip problems. Customers also appreciate the added acupressure massage points on these insoles, helping to relieve muscle tension throughout their daily activities.
The formula for Sunnystep's outsoles is another testament to their dedication to innovation. They've recently advanced their outsole formula to provide more cushioning and durability without sacrificing lightness and anti-slip functionality.
A substantial investment in new equipment is required to produce the new formula. There was no hesitation on our end to make this investment because it is going to make our shoes better. We will not stop improving Sunnystep shoes.

– Mao Ting, founder of Sunnystep
One of the standout features of Sunnystep shoes is its ability to seamlessly blend style with functionality. Traditional orthotic shoes are often criticised for their outdated designs, but Ting and her team are on a mission to change that perception.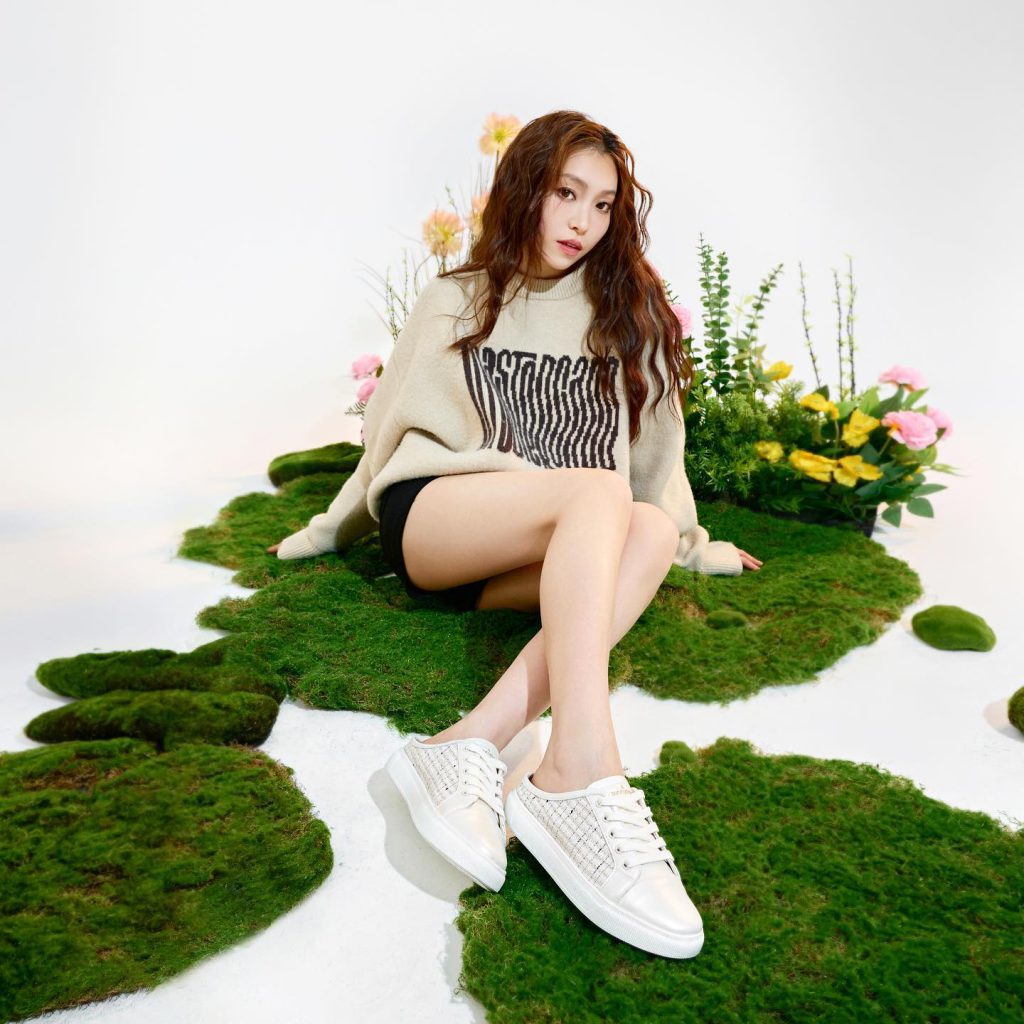 Sunnystep's tagline, "Comfort First. Anything possible next," encapsulates their belief that style and function can coexist harmoniously. They invest heavily in research and development to create stylish footwear that caters to dynamic lifestyles, all while ensuring that their shoes are comfortable and supportive.
The endorsement of Sunnystep by local podiatrists is a testament to the brand's efficacy. Many patients have recommended Sunnystep shoes, further establishing the brand as a trusted choice for foot health in the Asian community.
Every little detail matters
Creating a comfortable shoe is no small feat, and Sunnystep knows this all too well. Ting revealed that they produced over 300 design prototypes last year, but launched only four new designs.
The process is meticulous, with attention to the smallest details that can make a world of difference in comfort. Ting and her team worked tirelessly to perfect the design, experimenting with various materials for cushioning and stitching techniques.
Choosing the right materials is crucial for any footwear brand, and Sunnystep has excelled in this area. Their microfibre uppers are not only blister-free, but also more durable than genuine cowhide leather. Sunnystep prioritises breathability, which enhances comfort and is a key customer demand.
Sustainability is also at the forefront of Sunnystep's material choices. They use microfibre materials certified by the Global Recycling Standard, ensuring that no animals are harmed in the process. Their upcoming capsule collection featuring uppers made from recycled coffee grinds further underscores their commitment to reducing environmental impact.
Ting's background in data science served as a foundation for Sunnystep's iterative design process, akin to the principles of Design Thinking. The team constantly innovates and improves their shoes with each new production batch, ensuring that every iteration is better than the last.
"We listened to our customers' feedback and also made our shoes water-resistant, anti-slip, anti-bacterial, and easy to clean with no maintenance required," said Ting.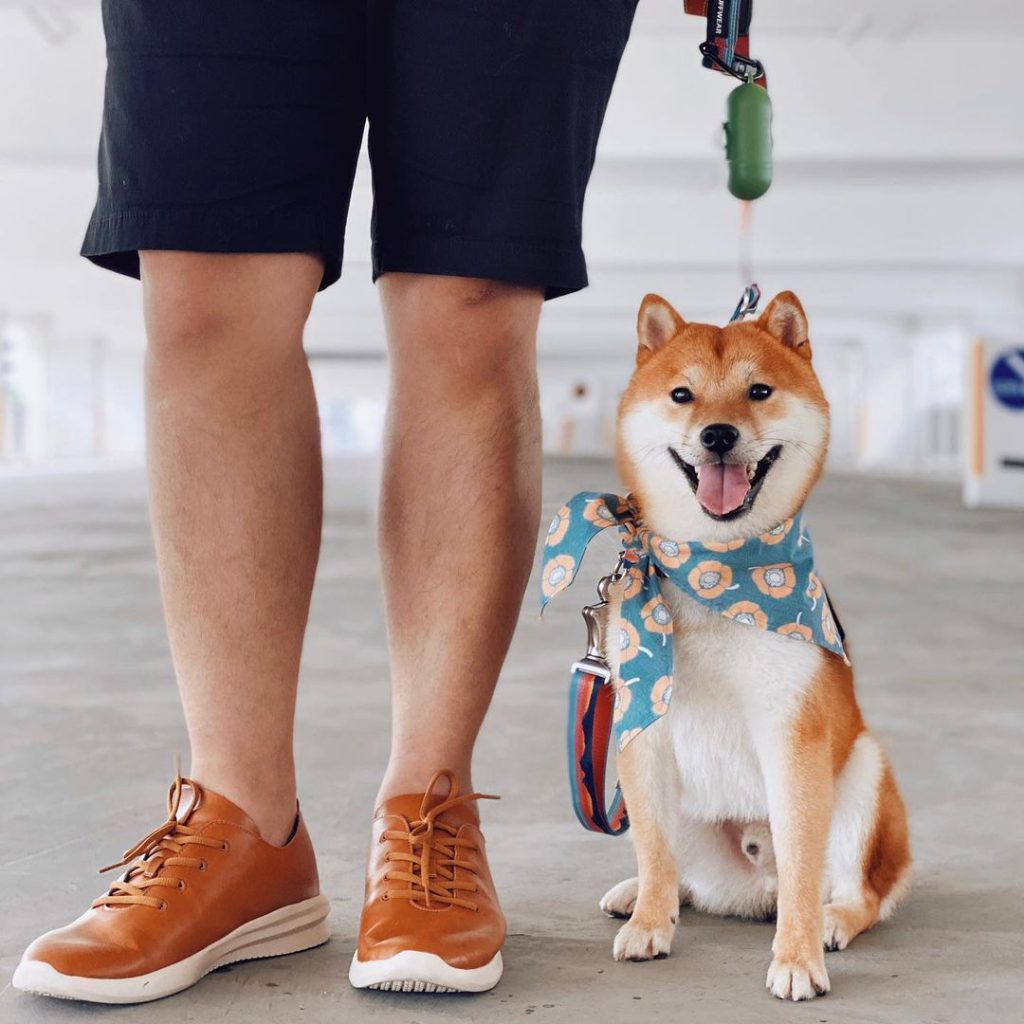 When customers expressed the need for more heel support, Sunnystep swiftly introduced the Balance Space Runner, an improved version of their classic Balance Runner, with reinforced heel support.
Sunnystep also takes co-design seriously. One customer's request for a pink colour inspired the creation of the popular Sakura shade, which perfectly captures the essence of cherry blossoms. This collaborative approach not only delights customers, but also showcases the brand's commitment to meeting their unique needs.
Achieved its first million within 18 months
Sunnystep's achievements are nothing short of remarkable. With a humble start fuelled by S$30,000 from her personal savings, Ting turned her vision into reality.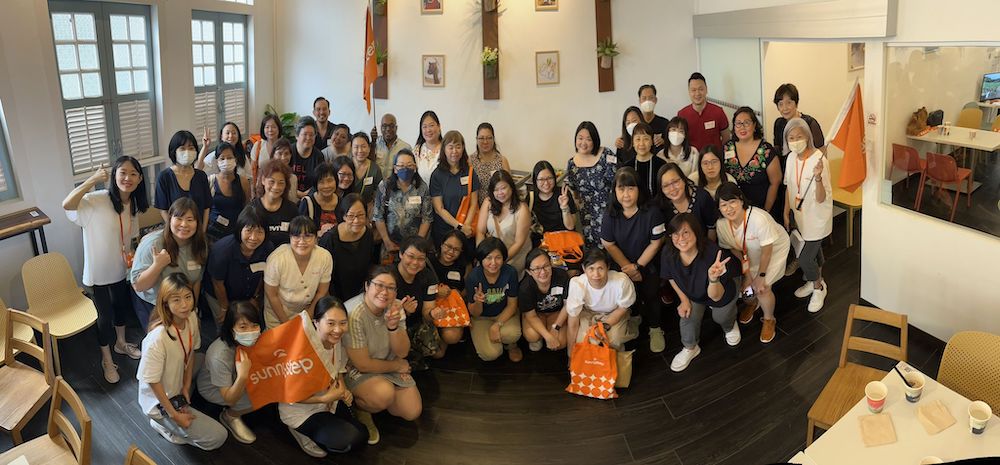 Notably, Sunnystep achieved its first million dollars in revenue within just 18 months of inception, a feat made even more impressive given the pandemic's disruptive impact on businesses worldwide.
We have been tripling in sales every year. Tourists have heard about our shoes from word-of-mouth and we get customers from neighbouring Asian countries all the way to the US buying half a dozen pairs of shoes and our insoles at a go when they visit Singapore.

This is part of the reason why we have received many inquiries from other countries about distributing our shoes and setting up franchises in their home countries. Some of them [even wrote] love letters gushing about how much they and their entire family have fallen in love with our shoes and what resources they have to help introduce Sunnystep to their domestic markets.

– Mao Ting, founder of Sunnystep
On that note, Sunnystep is currently building a team to expand their business in Asia and beyond.
However, its path to success has not been without its share of challenges. Ting, a mother of three young children, knows the art of balancing family and work all too well.
Her resilience was put to the ultimate test when she discovered a group of retail staff members engaged in nefarious activities within the company during her late pregnancy and postpartum recovery. This revelation was a hard pill to swallow, as Ting had placed immense trust in these employees, even increasing their salaries multiple times in a year.
Taking full responsibility for the management oversight, Ting turned this painful experience into a learning opportunity.
"I learned that I need to build a strong and stable organisational structure with proper processes and procedures. This expensive lesson taught me that people can make or break the brand," she reflected.
Sunnystep's hiring practices were revamped, the team structure was strengthened, and staff training programs were enhanced. Most importantly, a new culture was fostered within the organisation, emphasising unity and performance. The brand emerged from this tumultuous period stronger and more united than ever.
Later this year, the brand is set to launch its Disney collection, adding a touch of magic to its already impressive lineup. As Ting passionately puts it, Sunnystep is on a journey to "reimagine comfort" and change the world's perception of comfortable shoes, all while embracing innovation and sustainability.
Featured Image Credit: Sunnystep