Anyone who's into K-Pop would likely have heard of an upcoming festival by the name of Borneo Sonic Music Festival (BSMF).
Dubbed "Borneo's biggest music event" by the organisers themselves, the inaugural festival happening October 6 and 7 will facilitate 20 performances.
Headliners include HYO (from Girl's Generation), CL (from 2NE1), Taeyang (from Big Bang), and Suho (from EXO), amongst other famous acts.
It doesn't take someone in the industry to know that booking these talents—especially for a first-time festival—is not easy at all.
That's why it's even more surprising to learn that the man behind it all is not actually an event organiser by trade.
Meet Steven Au
"I am a property developer (by day) and event organiser (by night), like Batman," the founder shared with Vulcan Post.
While he's jesting about being a vigilante (we think), it's true that Steven's background is as a property developer.
He's the managing director of a development company in Kuching by the name of Benta Mewah, which makes up the first two initials of the event company BME International. The E stands for entertainment.
As for the addition of "International", Steven says that indicates his ambition of bringing his projects abroad, namely Australia, in the near future.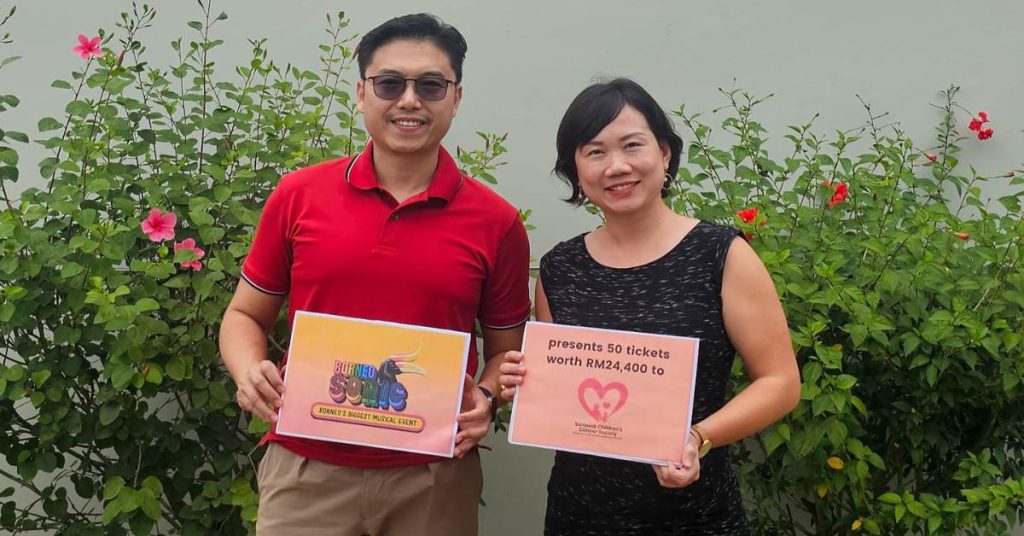 Introducing himself, Steven shared, "I love meeting new people and love creating things that are enjoyed and appreciated by people. That's why I've been in property development for over 13 years."
The reason for starting BSMF is actually related to his property development career too.
Over the years, Steven has noticed a lack of entertainment activities in Kuching. This in turn results in less people investing in properties in the area.
"So, I hope I can do something about this and build the brand of BSMF to be an international event, attracting more people to fly in and stimulate the property industry and other sectors," he proudly shared.
Take two
Technically, this isn't the first such event that Steven has organised.
A few years ago, he had actually initiated the efforts for Borneo Music Festival, which featured a lineup that included Alan Walker and DJ Soda.
"I saw the opportunity in it when we have Rainforest Music Festival, which brings music lovers from around the world to Sarawak to enjoy music and drinks, which you don't see it in other parts of Malaysia," Steven explained.
Jumping on the opportunity, he decided to bring in a popular male DJ as well as a female DJ.
However, the COVID-19 lockdowns occurred. The team had no choice but to postpone the event that was slated to happen in April 2020. Six months turned into a year, and by mid-2021, Steven decided he had to sell it to investors.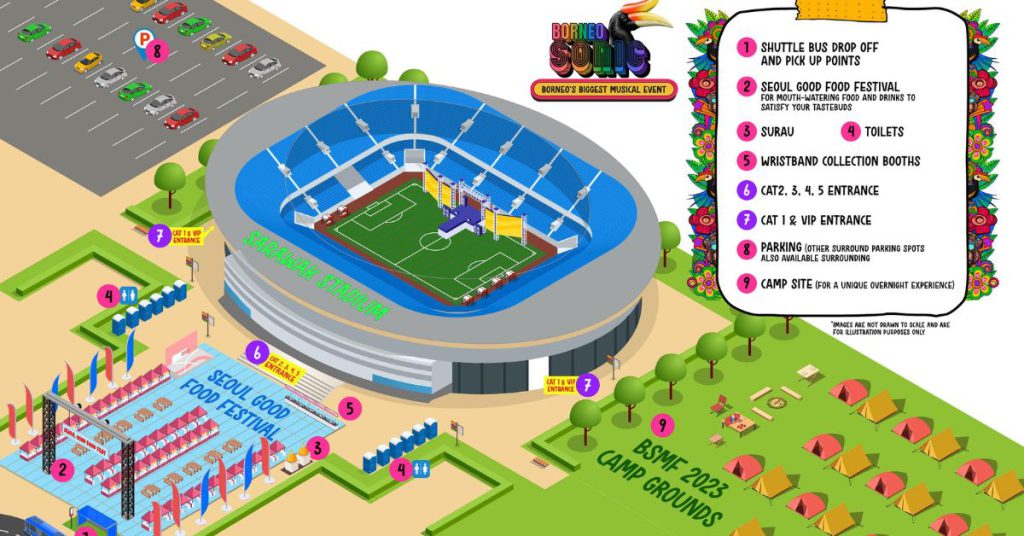 The music festival was eventually carried out by October 2022, but Steven was no longer involved.
Seeing the announcement of Borneo Music Festival confirming their event date, Steven thought to himself, 'That would've been me'.
"Then I thought again, 'Why not I do it with a different genre and different market?' So, I started brainstorming for BSMF."
Good things don't come easy
With support from family and friends, as well as from Datuk Sri Karim, the tourism minister of Sarawak, Steven set off to make the BSMF dream come true.
But of course, dreams are only dreams until the work is actually put in. And the work that went into BSMF is nothing to scoff at.
Booking talents that people will show up for is naturally one of the biggest concerns.
"There are language barriers and cultural differences, and these surely have been extra challenges," Steven shared.
"It took us about five months to finalise the line up. With the plan of making this big and impactful, we have to look for an artist that is popular yet matured, as it's very sensitive to perform in Malaysia after recent incidents."
Of course, he's referring to the incident with The 1975 that happened during Good Vibes Festival, which not only affected festgoers and vendors, but also the industry at large.
"We have to pick artists without issue in the past and tendency of doing 'funny' things to challenge the authorities," Steven pointed out.
However, this was only one hurdle. In fact, getting artists on board is nothing compared to actually selling tickets.
For those curious, the two-day ticket prices start at RM488 for Cat-5, RM488 for Cat-4, RM688 for Cat-3, RM788 for Cat-2, and RM888 for Cat-1. VIP tickets are RM1,288.
As Steven said, "There are too many challenges, other than getting artist into land of Borneo, the bigger challenge is to get locals to buy tickets. No joke. It's more stressful than getting Korean artists in."
While BSMF was well received from oversea fans, Steven reported according to the sales data, things were different with the local market.
"Many of the locals are not well exposed to concert or music festivals, especially such a scale of events," he said.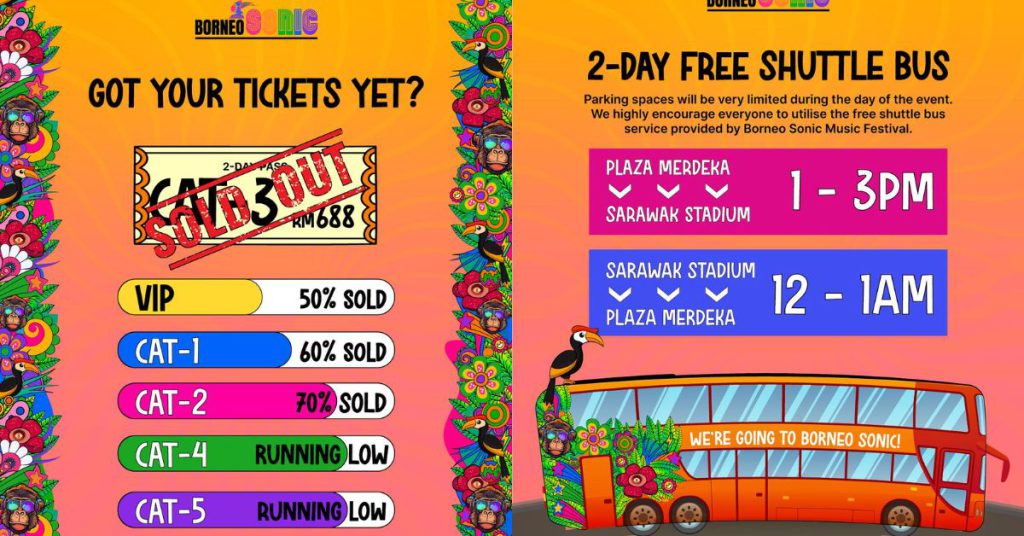 "There are also groups being sceptical as there are many cancellations of concerts, some are expecting our event will eventually cancel due to marketing gimmick to sell big names who never make it to Kuching."
Working with authorities and getting permits are things to worry over, too, especially as BSMF would be one of the biggest music shows in Kuching.
According to Steven, Sarawak Stadium, which BSMF will be hosted in, has not housed any big events other than sports events.
Perhaps this is one of the reasons why BSMF actually ran into some trouble on September 16 when they had to change the seating plan. This resulted in some negative feedback from commenters.
However, the organisers took the feedback in stride and revised the seating plan once more. That said, there are still negative comments, but inquiries about the event are also still pouring in.
Putting Borneo on the music tourism map
Although the reception hasn't been that great, Steven is still positive about the bigger picture and is working with long-term goals such as BSMF 2.0 and 3.0 in mind.
"Numbers of tickets sold aren't as great as we expected but still at great potential side as many concertgoers are last-minute walk-ins," he said.
"I believe people will act quickly and feeling [FOMO] after seeing artists arriving at the airport, flooded with fans. Then they will move their legs to buy tickets."
Post-BSMF, BME International has other plans in the works. For one, the team aims to organise smaller-scale concerts and facilitate fan meet-and-greets.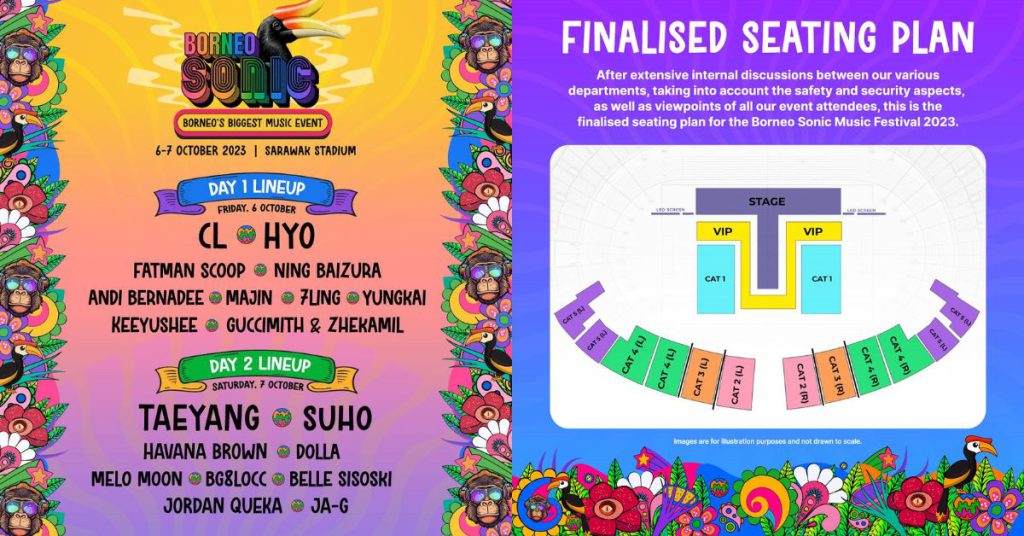 For BSMF, Steven said he definitely aims to organise it as an annual event.
"As mentioned above, the concert culture here is not as great as West Malaysia," Steven pointed out. "We have festivals that are mainly organised by government agencies to celebrate National Day and festive events, but not a big music concert or music festival by private sectors."
However, with time and efforts from the local industry, relevant infrastructure such as accommodations and transport systems have improved significantly, Steven said.
Coupled with the effort and passion from teams such as BME International, perhaps Sarawak will grow into a global destination for music events.
Learn more about Borneo Sonic Music Festival here.
Read other articles we've written about entertainment here.
Featured Image Credit: Borneo Sonic Music Festival