The loss of a co-founder and the delay of a highly anticipated project could have easily derailed many businesses. However, for Tipsy Collective — a homegrown group of distinctive F&B and lifestyle concepts — adversity has only fuelled their determination to turn dreams into reality.
Derek Ong, one-half of the founding team of Tipsy Collective, was the charismatic visionary whose boundless creativity and entrepreneurial spirit guided the collective's journey.
However, Derek's remarkable tale is one marked not only by triumphs, but also by an immense loss that struck at the young age of 35.
Following his untimely passing last month, Tipsy Collective not only lost a co-founder, but also a cherished friend and creative genius. Derek's contributions to the collective were nothing short of extraordinary, and his absence left a void that was deeply felt by all who knew him.
Yet, in the face of this profound loss, the Tipsy Collective community rallied together to honour his legacy and carry forward the torch that he lit.
Both co-founders dabbled in F&B since the age of 17
Over a decade ago, David Gan — the other co-founder of Tipsy Collective — and Derek's paths converged during a church mission trip to the Philippines.
Bonded by their shared commitment to give back to the underprivileged, this serendipitous meeting set the stage for an enduring friendship that would later reshape Singapore's F&B landscape.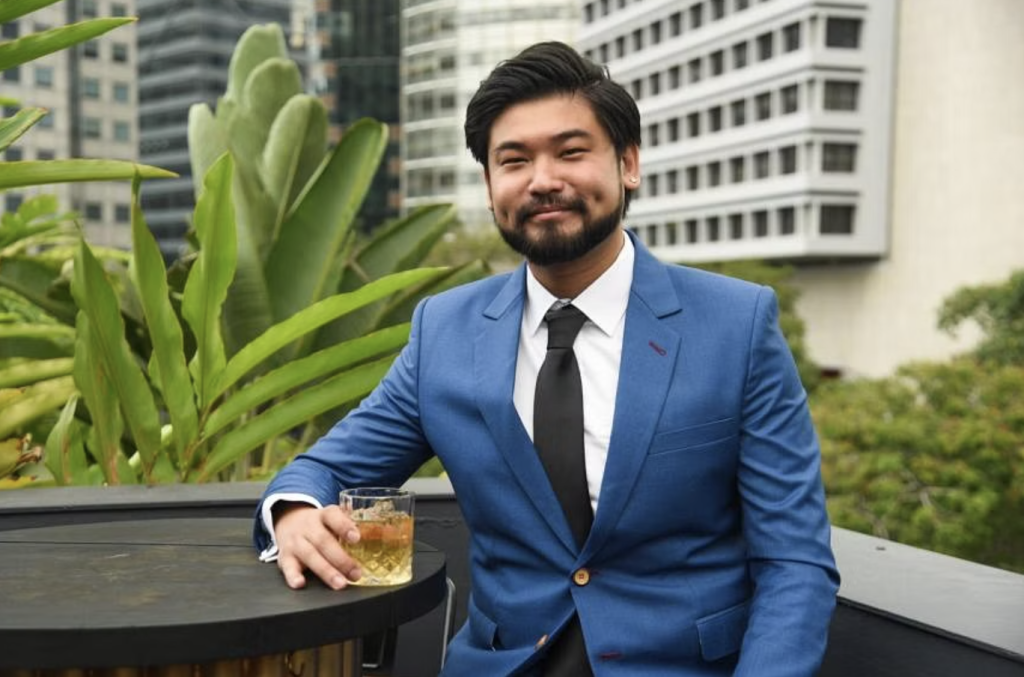 Derek's journey in the Food and Beverage (F&B) industry started at the tender age of 17, when he embarked on a career as a bartender.
After completing his national service, Derek's passion for F&B led him to join another F&B group in 2011. During his tenure, Derek oversaw the expansion of the company's portfolio from two to eight outlets in a short span of time. As General Manager, he managed a workforce of over 200 employees, gaining invaluable experience that would ultimately fuel his entrepreneurial ambitions.
Derek's entrepreneurial spirit led him to initiate several ventures, including the creation of a unique halal fish bak kwa, which secured startup funding from SPRING Singapore. He also ventured into the burger business and notably operated Central Perk Café, the official Friends-themed café licensed by Warner Brothers.
In contrast, David's path into the F&B world was influenced by his second-generation background in the industry. From a young age, he was exposed to the diverse facets of F&B and hospitality, from serving traditional zi char dishes in industrial canteens to working in modern tapas bars and cafes in Canada.
At the age of 17, David took his first entrepreneurial step into the world of F&B, attempting to run a Western food stall in an industrial canteen. Though this venture didn't go exactly as planned, his passion for the industry remained unwavering. He explored other industries, including roles in private schools and banks, but the allure of F&B drew him back.
In 2016, David ventured into the café business in Canada, growing it from a single outlet to four successful locations. Eventually, he returned to Singapore, where fate brought him together with Derek to establish Tipsy Collective in 2018.
Built 14 brands in the span of five years
Tipsy Collective's journey began with a simple question: "Why not bring the party to the heartlands?"
Prior to our inception, the majority of the popular drinking and entertainment establishments were primarily situated in town. Having grown up in the neighbourhood, we often found it inconvenient to commute to town for social gatherings, live performances, and parties.

– David Gan, co-founder and Executive Chairman of Tipsy Collective
Their answer to that was Tipsy Penguin, their very first concept which opened doors in Tampines back in 2018.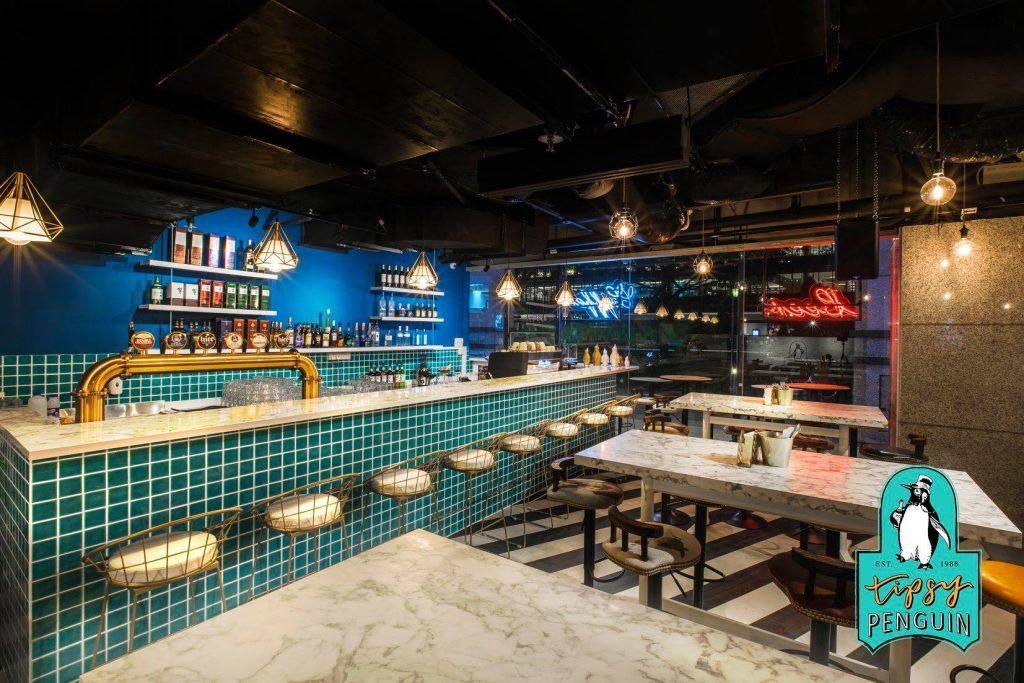 The name, inspired by the sociable penguins that huddle for warmth, set the tone for what Tipsy Collective aimed to achieve: an inviting social environment where individuals could bond, enjoy themselves, and get tipsy while having fun.
The inception of Tipsy Collective came with a significant financial commitment.
We initially invested S$250,000 in our first outlet. … At the outset, we had just enough capital to cover the rental deposits for our outlet.

As a new startup with no established track record, we faced some funding challenges during this phase as traditional sources like banks were hesitant to provide loans, and potential investors had their doubts.

– David Gan, co-founder and Executive Chairman of Tipsy Collective
However, David and his team were determined to realise their vision. Through careful cash flow planning and perseverance, they secured the necessary funding, and it took them approximately six months to break even.
Following Tipsy Collective, they've introduced a range of other unique concepts, each with its own distinct theme and identity.
In 2019, they launched rooftop bar Lady Wu and gastrobar Tipsy Bird. The following year, they introduced Hadouken! Singapore as their online food delivery arm, as well as Tipsy Bunny, known for its innovative take on classic dishes.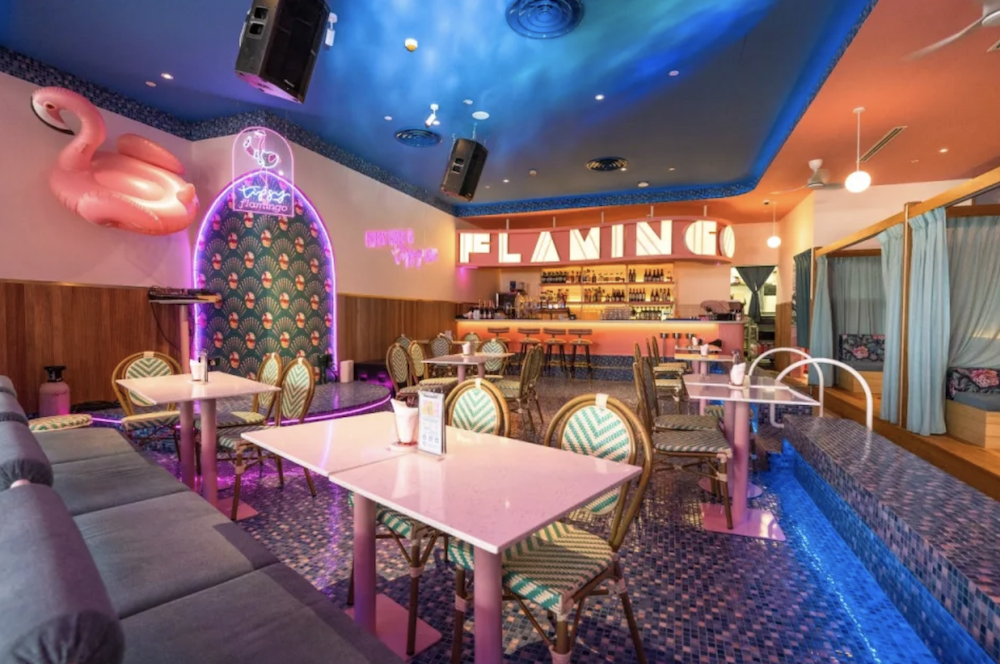 The year 2021 marked the birth of several venues, including their first live entertainment gastrobar Tipsy Panda; O/T (short for 'Only Tipsy') Bar, the first bespoke cocktail bar in the heartlands that's inspired by the 1940s Manhattan office ambience; as well as Tipsy Flamingo, a beach-themed concept launched in collaboration with local celebrity couple Pierre Png and Andrea De Cruz, exuding the essence of summer with its vibrant colours, an indoor 'pool', and seaside cabanas.
That same year, it also ventured into the entertainment arena with Tipsy Live Academy, a singing and DJ academy.
In 2022, Tipsy Collective continued to push culinary boundaries with the introduction of Kubô Woodfired Kitchen, Jelebu Dry Laksa, and the Tiki-inspired gastrobar Tipsy Hippo.
This year, they also unveiled Wallich Manor, a high-energy cocktails and bubbles super lounge.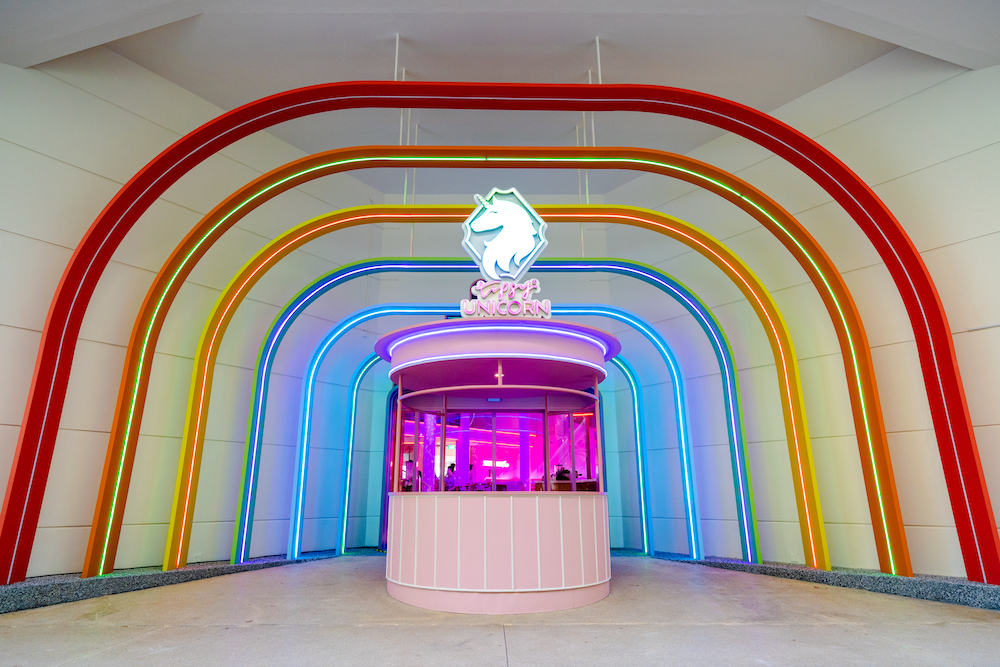 Their most recent addition to the portfolio is Tipsy Unicorn, located on Sentosa Island. Launched in September, it offers a Vegas-style day club experience that adds an alluring beachside twist to Singapore's entertainment landscape. Guests can indulge in live bands, renowned DJs, fitness and wellness programmes, and an extensive array of food and beverages.
Tipsy Unicorn places a strong emphasis on design and entertainment, boasting the largest stage in the local beach club scene, reaffirming their commitment to providing top-notch entertainment.
Tipsy Unicorn is a tribute to Derek's vision and spirit
However, the journey to bring Tipsy Unicorn to life has been marked by a poignant loss — the recent passing of Derek — which led to the postponement of its initial launch.
The eventual launch of Tipsy Unicorn holds deep significance, serving as a heartfelt tribute to the vision and spirit of Derek.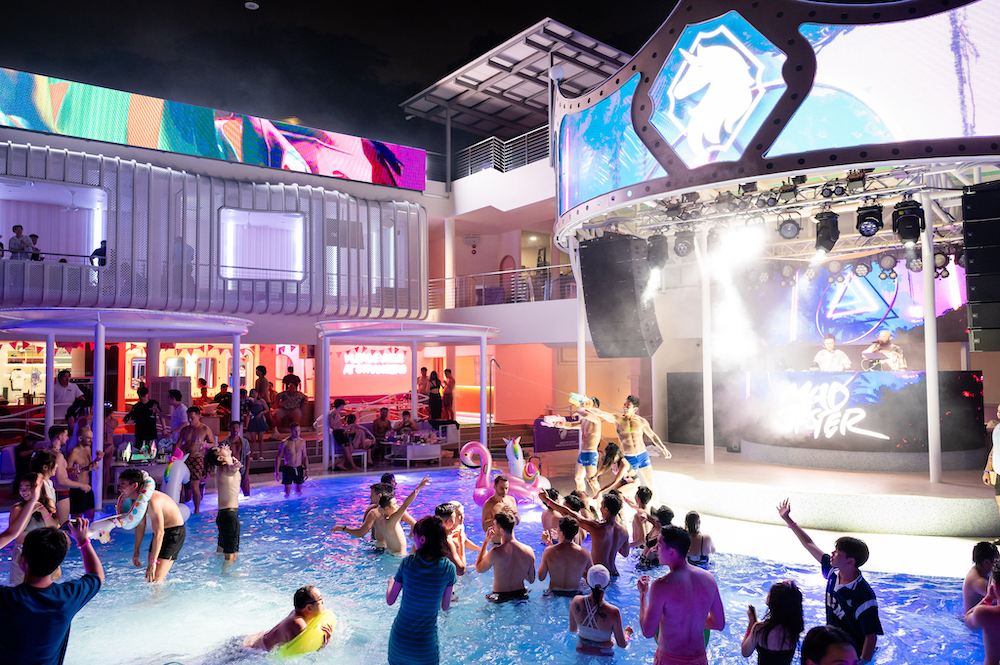 "Tipsy Unicorn has been a dream of both Derek and myself for the longest time. It marks the inauguration of our Tipsy Mystical Series, distinct from our other Tipsy outlets primarily characterised by animal themes," explained David.
"This series embodies our transition towards a more lifestyle entertainment-centric business approach."
He went on to emphasise Derek's pivotal role in shaping Tipsy Collective's identity, fondly recalling Derek's creative energy and his knack for thinking outside the box. "One thing you could always count on with Derek is that he had the wildest ideas in the room," David said.
David shared stories of their brainstorming sessions, where Derek's imaginative ideas took centrestage. One of the most memorable moments was when Derek suggested installing a Firefox swing for guests to enjoy after indulging in drinks — a whimsical idea that perfectly embodied his playful spirit.
There was another time when he proposed installing a track system at Tipsy Unicorn to lower the bottle server, enabling the direct delivery of drinks to guests.
Derek's passing represents a profound moment, not just for Tipsy Collective, but for the entire industry.

[His] experiences in the industry truly shaped the foundation and values of what Tipsy Collective is about. He was not only a visionary, but also someone who knows how to infuse fun and creativity into everything we do. Thanks to Derek, we've become known for our unique experiences and daring ideas.

– David Gan, co-founder and Executive Chairman of Tipsy Collective
Adaptability amid shifting demands
Besides the sudden loss of its co-founder, Tipsy Collective has faced its fair share of challenges over the years, with one of the most persistent being the ever-changing demands and dynamics of the industry.
"It's important to stay agile and responsive," David emphasised. "We regularly update our offerings and strategies to align with shifting demands."
One notable example of this adaptability is their approach to emerging food trends. When trends capture people's interests, Tipsy Collective infuses them with its "unique Tipsy touch", such as putting a personalised twist on its highly-raved Basque burnt cheesecake.
The COVID-19 pandemic inevitably presented an unprecedented challenge to the entire hospitality sector, forcing businesses to confront uncertainty and adapt rapidly.
At Tipsy Collective, we firmly believe that innovation can arise from any experience. … Rather than viewing [the pandemic] solely as a threat, we rcognised it as an opportunity for adaptation and innovation.

– David Gan, co-founder and Executive Chairman of Tipsy Collective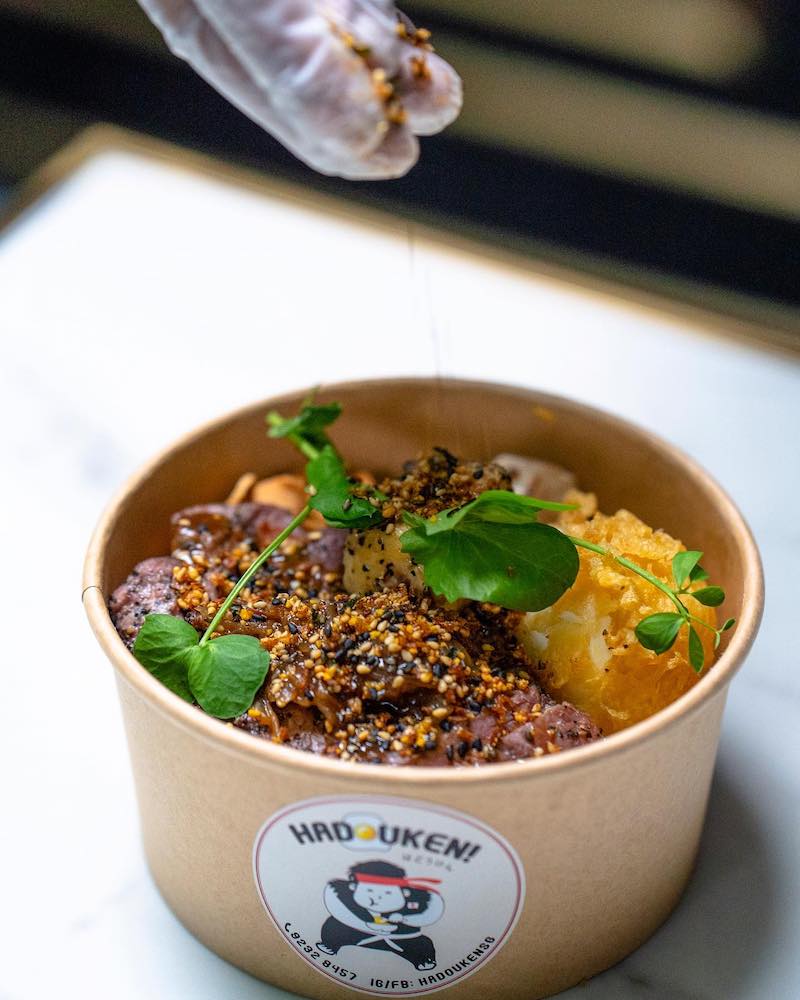 In response to the challenges posed by the pandemic, they pivoted to offer takeout and delivery services. They swiftly launched their online food delivery arm on 7 April 2020, coinciding with the onset of the Circuit Breaker measures in Singapore.
"While the pandemic initially posed a threat to our business, it also provided an opportunity for us to diversity and demonstrate our resilience by adapting to changing circumstances."
"Hadouken! Singapore not only helped us weather the storm, but also allowed us to keep our team intact. We didn't have to lay off any staff members during this period of uncertainty," added David.
Additionally, the increased demand for takeaway packaging led Tipsy Collective to take a significant step towards sustainability by fully transitioning to the use of biodegradable packaging at all of its outlets.
This commitment reflects their dedication to not only surviving the pandemic, but also thriving responsibly by minimising their environmental footprint. It's their way of giving back to the community and the planet while navigating the uncertainties brought on by the pandemic.
As David shares the challenges faced and overcome by Tipsy Collective, it becomes clear that consistency and excellence have been their guiding principles.
Expanding to Malaysia next
In a saturated F&B industry, Tipsy Collective's enduring and thriving strategy centres around its relentless commitment to innovation and creativity.
Their ability to consistently reinvent themselves and challenge the status quo, not only in culinary offerings but also in customer engagement and emerging trends, sets them apart.
According to David, Tipsy Collective's long-term vision is to maintain and strengthen their position as the leading lifestyle hospitality group.
They plan to achieve this by prioritising innovation and adaptability in an ever-changing market, which he describes as two pillars that will be instrumental in ensuring the sustainability and continuous growth of the brand.
With regards to global expansion plans, David shared that they have two upcoming outlets opening in Kuala Lumpur, Malaysia.
"We remain resolute in our commitment to our expansion plans set before Derek's departure, ensuring that the collective carries on his legacy with steadfast determination," he added.
Throughout their journey so far, David assured that their dedication to delivering the 'Tipsy experience' has remained steadfast, ensuring that each outlet radiates a welcoming, communal atmosphere.
He added that the core values established by himself and Derek will persist as the very bedrock of the company, serving as a guiding force and inspiration for every team member.
Featured Image Credit: Tipsy Collective
---
Embark on your startup journey with MAS-regulated ANEXT Bank, one of Singapore's first digital banks for SMEs.
---