They say beauty is pain, but 54-year-old Suman Masciarelli thinks otherwise. Born in India but having spent most of her life in the United States (US) and Singapore, Suman shared that her multicultural upbringing exposed her to a diversity of experiences.
"I do not fit in many boxes as my ideas, knowledge, and insight goes across so many realms of business and human behaviour," said Suman.
The year 2000 was an eventful year for Suman. Not only was the US still reeling from the infamous dot-com crash – the rise and fall of technology stocks in the 1990s and 2000s – but it was also the year when she founded Theikos in Boston. Theikos is a global Software as a Service (SaaS) consulting and product company that specialises in cloud computing solutions.
Suman has since sold Theikos and assumed managerial roles in other companies before joining footwear industry giant Crocs in 2011. It was through her stint at Crocs that she noticed how frustrated shoppers were with inconsistencies in sizing, fitting, functionality, and comfort level, as well as the benefits of making longer-lasting footwear with high-quality materials.
With her newfound drive to address these pain points, along with decades of experience in the technology and science sector, she founded HOPE ROSA in 2018 and launched the brand at the end of 2019, offering reinvented classic women's shoe designs.
When asked about her main inspiration for starting HOPE ROSA, Suman said that in a world where women are scrutinised for their appearances, she realised that beauty lies not just in aesthetics, but in functionality.
We want to make women feel confident, happier, and comfortable in their own shoes — literally and figuratively. At HOPE ROSA, our mission is multifaceted, touching on style, function, sustainability, and showing women to ask for more from all their trusted brands. We believe that by addressing these aspects, we can shape a brighter future for fashion and for the women who wear it.

– Suman Masciarelli, founder of HOPE ROSA
COVID-19 halted their operations two months after launch
Despite her enthusiasm, Suman encountered an obstacle course full of challenges right from the very beginning. She shared that her initial challenge was to find factories and partners willing to execute her vision for end-to-end innovation, as manufacturers needed to retool to cater the production of her designs. She added that finding suitable manufacturers remains a time-consuming process and ongoing challenge for the business.
Finding willing investors was also an early challenge for Suman, as HOPE ROSA's unique concept did not always align with traditional investment models. Despite facing rejections from other investors, HOPE ROSA managed to successfully secure investments from Horizen Ventures, and more recently, received buyout offers from two strategic partners.
Being as innovative as HOPE ROSA in an established industry like fashion is no easy feat. Suman shared that she has experienced resistance and inertia within traditional fashion companies, which limited her access to her target market. She stressed the importance of continually introducing new concepts, such as "smart luxury", into the fashion industry to allow consumers to warm up to the idea.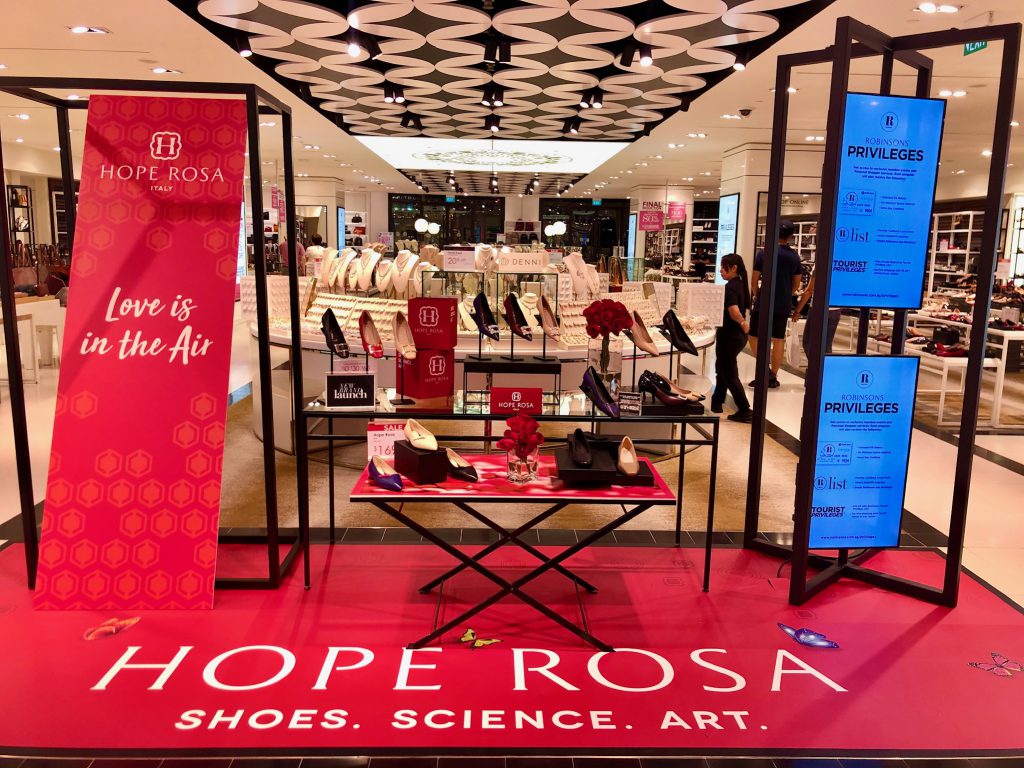 Originally launched as a brick-and-mortar fashion brand, the company was immediately hit with a roadblock when the COVID-19 pandemic forced the halt of their in-store operations just two months after launching.
With lockdowns and restrictions heavily affecting brick-and-mortar stores, Suman decided to pivot to a fully e-commerce model, focusing on building HOPE ROSA's online brand presence.
This shift allowed the brand to further refine its design direction, with a focus on reinventing classic and timeless designs. It also allowed the company to diversify into new product categories, including bags and watches, and expand its presence on online marketplaces such as Zalora and Shoppee to reach a broader audience.
HOPE ROSA aims to redefine the online shopping experience to be more enriching and less transactional, providing customers with a seamless and productive shopping experience. Suman explained that by going fully online, the brand can shift its focus towards producing quality content and educating consumers. This strategic move also makes the brand more resilient in the face of future challenges.
The challenges we've encountered with HOPE ROSA mirror the journey of many startups that dare to upend existing systems. We remain undeterred. We're not just building a brand, but contributing to a larger transformation in the world of fashion, where style, science, and sustainability converge.

Suman Masciarelli, founder of HOPE ROSA
Smart luxury: Integrating tech and science into fashion
With household homegrown names such as Charles & Keith and DMK, along with established brands such as Clarks and Aldo dominating the women's shoe category, what sets HOPE ROSA apart in the competitive fashion industry? 
According to Suman, HOPE ROSA's design philosophy transcends mere aesthetics, focusing primarily on the comfort and support it provides to consumers. The brand collaborates closely with experts in biomechanics, podiatrists, and design labs to address potential pain points, incorporating patented cushioning materials to enhance comfort and impact absorption.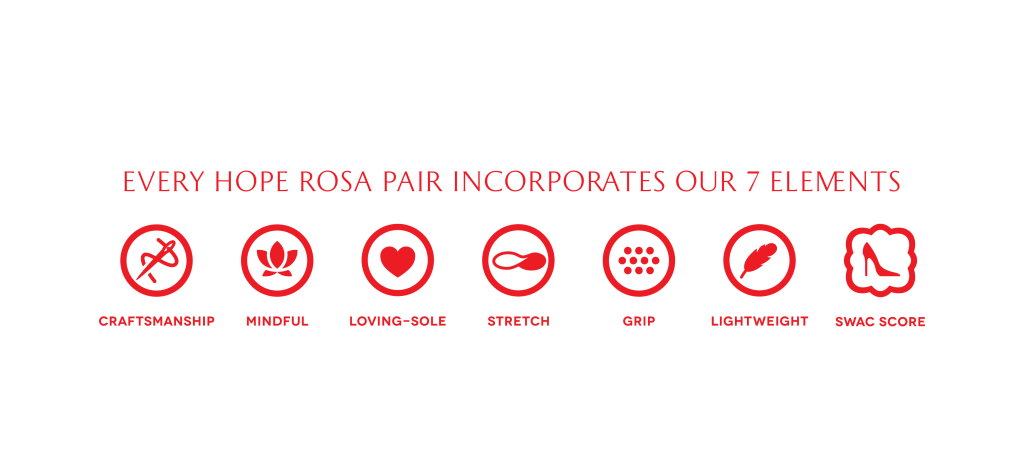 For HOPE ROSA's shoes, all designs undergo rigorous testing, and comfort levels are assessed using an in-house rating system called Shoe Wearability and Comfort (SWAC). This rating system considers the impact of heel height on a customer's ability to stand comfortably for extended periods, taking into account changing foot biomechanics.
Suman believes that categorising footwear based on wearability hours simplifies the decision-making process for customers, helping them find designs that suit their lifestyle.
HOPE ROSA carries an extensive range of sizes and are made with wider widths. The brand also offers a digital fitting service, where customers can send their measurements via WhatsApp or email, and seek guidance on the best size and style for their needs.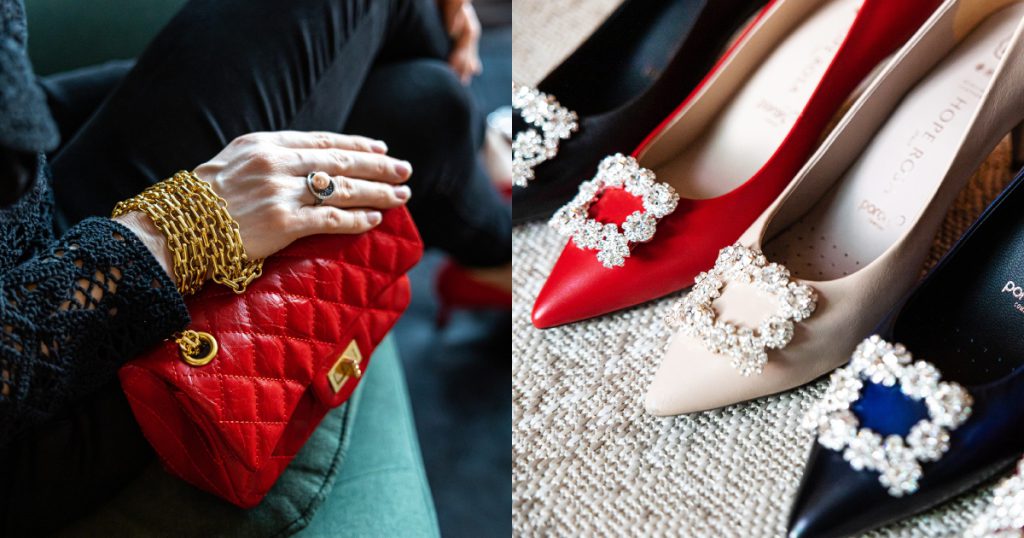 The brand adheres to a 'less is more' ideology in bag design, with logoless products that prioritise functionality, focusing on weight, comfort, and innovation. Their bags, which are all made from leather, are also treated for stain and moisture resistance to increase their durability.
The brand's innovative footwear and bags have quickly garnered a loyal customer base since their launch, with 40 per cent of customers becoming repeat buyers.
Their bestseller, the Marylyn Pumps, has sold over 5,000 pairs to date. Suman acknowledges the trust shown by loyal customers, she notes that staple sizes often sell out, necessitating demand planning to accommodate their expanding customer base.
"Whether it's our shoes, bags, or any other collection, they all have to outperform [current offerings through] functional design and our science infusion," said Suman.
Enhancing the online shopping experience with AI
HOPE ROSA uses Artificial Intelligence (AI) to enhance the online shopping experience, offering more personalisation and convenience. By gathering customer data on measurements, preferences, and purchase history, it allows the brand to craft customised recommendations and content for each customer. This data serves as the cornerstone for refining product offerings, optimising marketing strategies, and streamlining inventory management.
The brand is also in the process of building their mobile app SnapFit, which will allow customers to take pictures of their feet using their mobile phones. AI algorithms will then recommend the best shoe size. The app retains this sizing information for future reference, adding a layer of convenience to subsequent purchases.
Suman shares that while the app is still a work-in-progress, the brand is using social commerce to enhance efficiency, aiming to reduce returns, exchanges, and the brand's carbon footprint once the app is fully realised. She also expresses her ambition to make this technology available to other brands to allow consumers to receive accurate size recommendations when shopping across various brands.
Creating sustainable and slow fashion, with plans to conquer US next
Sustainability is another core pillar for HOPE ROSA, and it is applied throughout their design processes and operations. The brand chooses natural, high-quality materials that are modified to ensure longevity in their products – the leather used is tanned using vegetables, and their rubber outsoles are derived from felted kenaf and corn.
As leather is a biodegradable material, Suman shared that as long as the tanning process is done correctly, it reduces the brand's carbon and water footprint, and the products are able to stand the test of time. The brand also makes a consistent effort to minimise waste, exploring ways to repurpose and recycle product components.
According to a case study by Sustainomics on LinkedIn, while there is a growing number of sustainable fashion brands, they only constitute a fraction of the fashion market in Singapore. The study also mentioned that there is a lack of awareness regarding sustainable fashion, as many are still accustomed to consuming fast fashion.
Suman expresses her commitment to minimising the brand's environmental footprint, championing an "anti-fast fashion" and "slow fashion" philosophy. "By reimagining fashion with sustainability in mind, we aspire to reduce wastage with long lasting, seasonless fashion," said Suman.
Suman also expresses her excitement with the brand experimenting with recycled silk and wool in HOPE ROSA's upcoming collections, as well as lab-made leather.
To date, HOPE ROSA has successfully penetrated six markets across Asia, with Singapore and the Philippines emerging as their most popular markets. Suman shared that there is a universal appeal for HOPE ROSA as a brand in Southeast Asia as it is a region famous for its diversity of brands and preferences.
As part of their ambitious growth strategy, she plans to expand HOPE ROSA into the US market, and they are currently actively seeking funding to support this expansion.
Although the brand has set a revenue target range of S$2 million to S$5 million for 2024, Suman shared the growth of the brand is heavily dependent on the closure of their second funding round. As such, actual revenue figures may vary from the projected values.
Suman hopes that HOPE ROSA will upend the existing fashion and accessories brand, to be the de facto brand for women, and leaving an indelible mark on the industry.
---
Embark on your startup journey with MAS-regulated ANEXT Bank, one of Singapore's first digital banks for SMEs.
---
Featured Image Credit: HOPE ROSA