This is a workcation series where we personally visit and review hotels, resorts, and more, to find out how well they cater to digital nomads and hybrid professionals.
Hotel highlights:

✓ Situated in a historic building in the heart of Kuala Lumpur's Chinatown

✓ Lots of common areas to relax or work in, such as the Sunken Living Room or the Library and Business Den

✓ Houses Yellow Fin Horse, an ingredient-driven restaurant

✓ Gym and pool aside, there's a Float Studio that features sensory deprivation pods for guests to relax in
Located in the heart of the ever-busy Chinatown, Else Kuala Lumpur (Else) is not your usual hotel.
I first came across Else while reading "The Best Michelin Guide Hotels in Malaysia", and quickly became enamoured with the beautiful visuals of the hotel.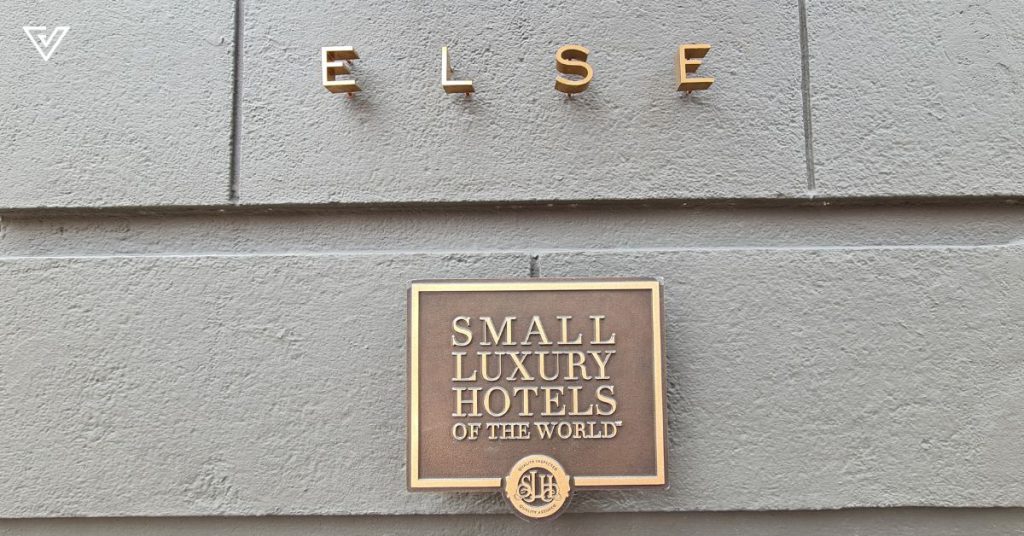 With an art deco façade and a Japandi-styled interior covered in earthy tones, Else is an Instagrammer's wet dream. And perhaps also a history aficionado's too, considering the interesting background of the location. The Lee Rubber Building has plenty of past lives, such as being the headquarters of the Japanese secret police then later a Popular bookstore outlet.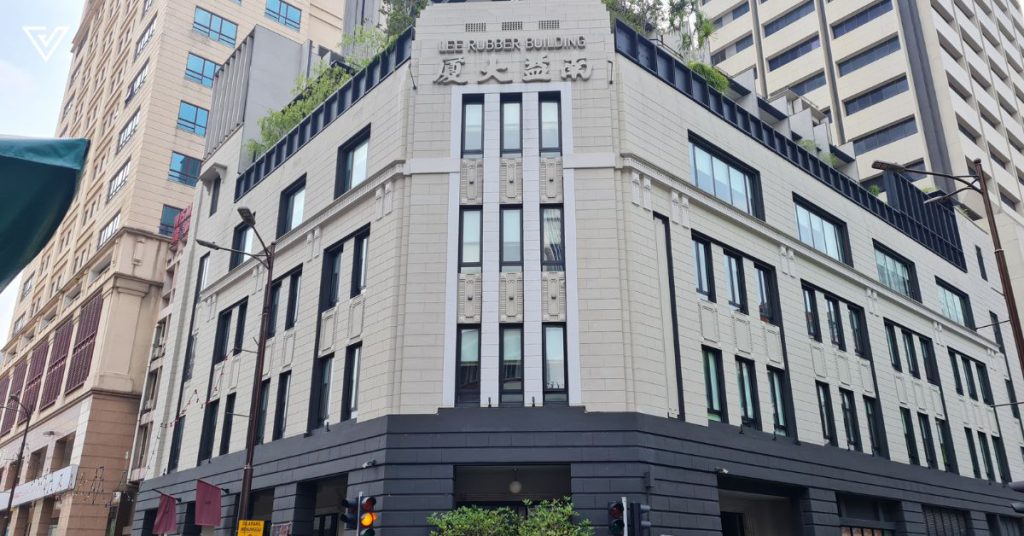 In any case, it's a destination hotel for sure, with Michelin describing it as more "urban resort than city business hotel".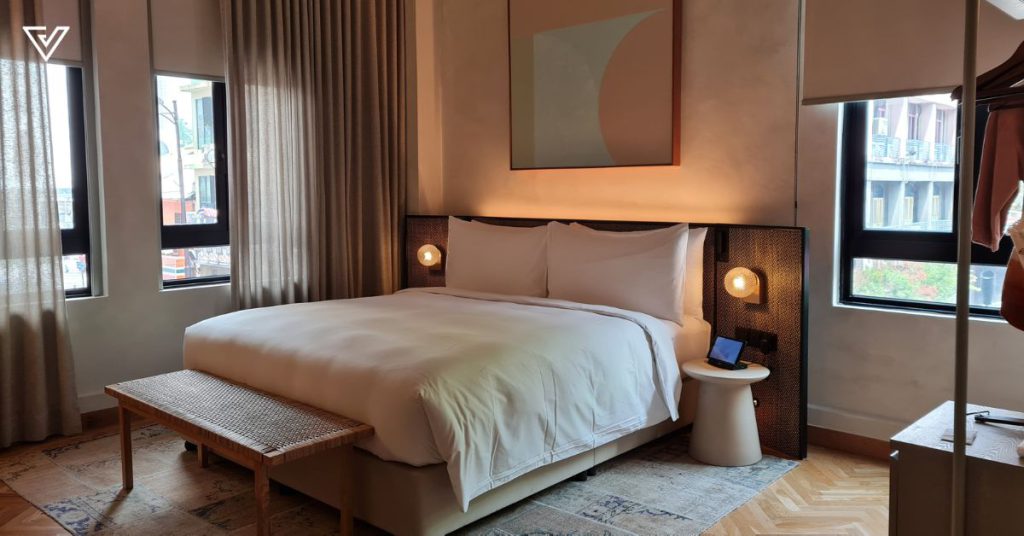 And yet, here we were, trying to turn our 2D1N stay at Else into the most productive workcation possible.
Work stuff
After checking in at the intimate lobby on the first floor, we went to our home for the night, the Mantra Room.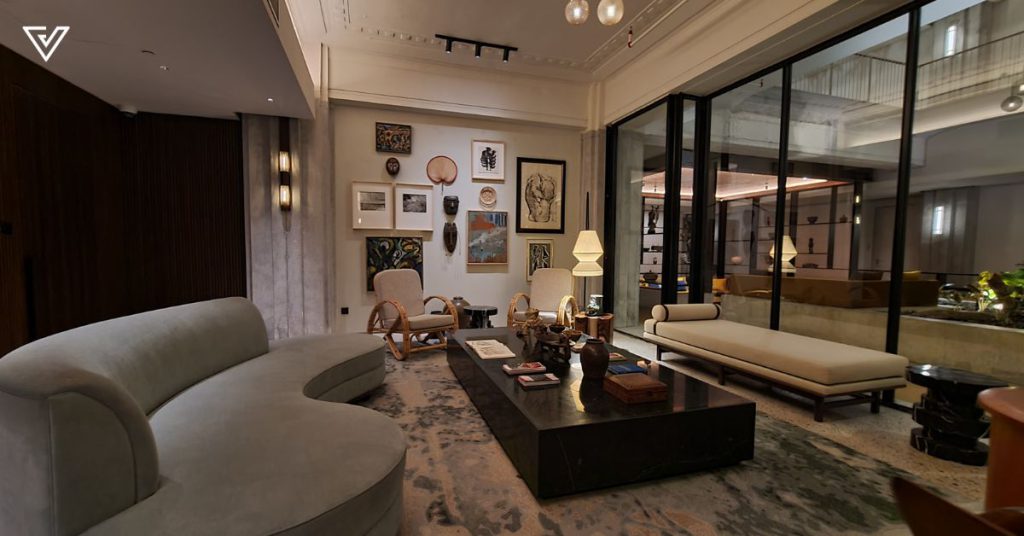 In terms of amenities, there was everything we could need, from toiletries and bathrobes to snacks and slippers.
Some extra frills include a bag, created in collaboration with homegrown brand, MUNI, as well as a magazine printed in collaboration with another local name, Process Magazine.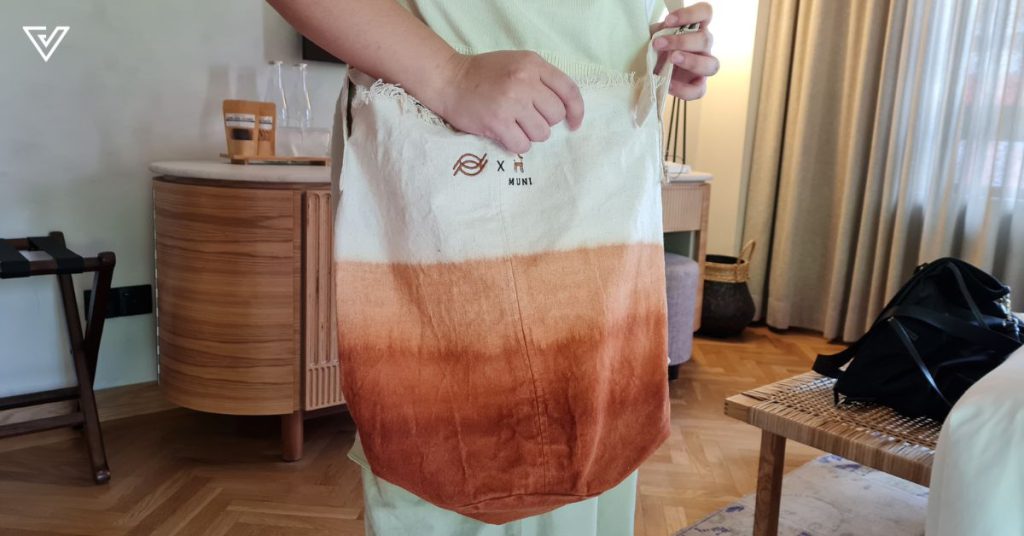 The fridge is stocked with a range of drinks and even some chocolates, with the prices of everything listed in the handy tablet on the bedside table. The tablet also gave extra info on the hotel, its facilities, and nearby attractions.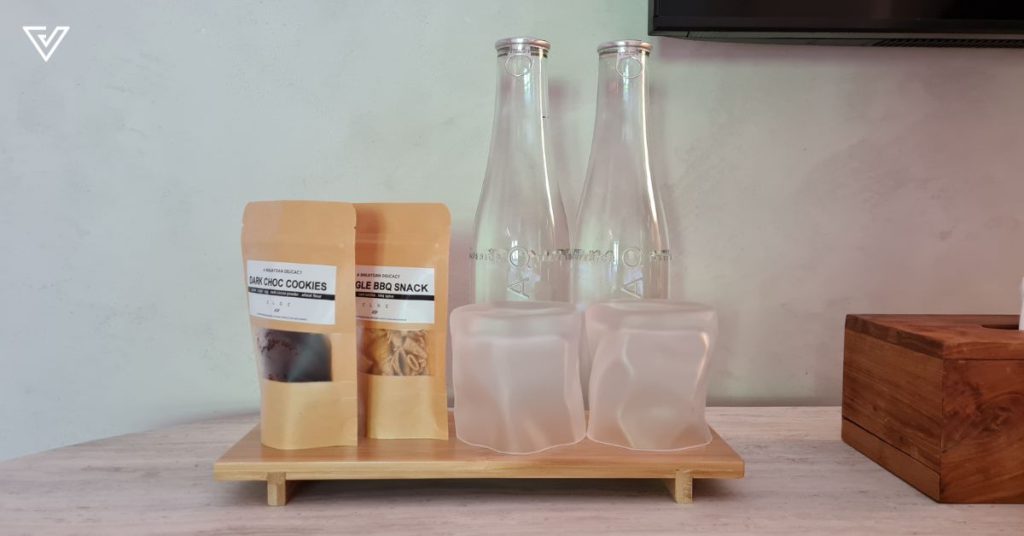 Our bedroom wasn't the best space for work, unless you're more of a work-in-bed type of person (which I'm not). The only other spots you could work at included the foot-of-bed bench or the ottoman tucked into the minibar/console table.
This is where it's clear that Else KL's priorities lay in providing an urban retreat experience for guests. But that didn't mean that it had nothing to offer more business-minded travellers.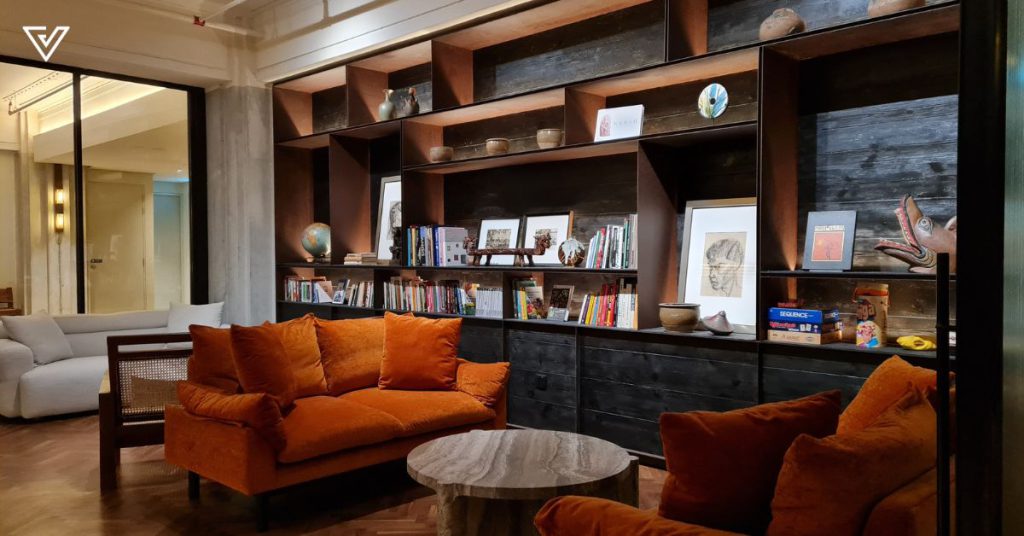 We knew there was a library and Business Den, so we packed up our things and moved to the second floor.
As we made our way there, we spotted some empty spaces which seemed a bit out of place in a hotel that was otherwise quite cosy. We were later told that these are intentionally designed to accommodate future creations done through their Artist in Residence programmes.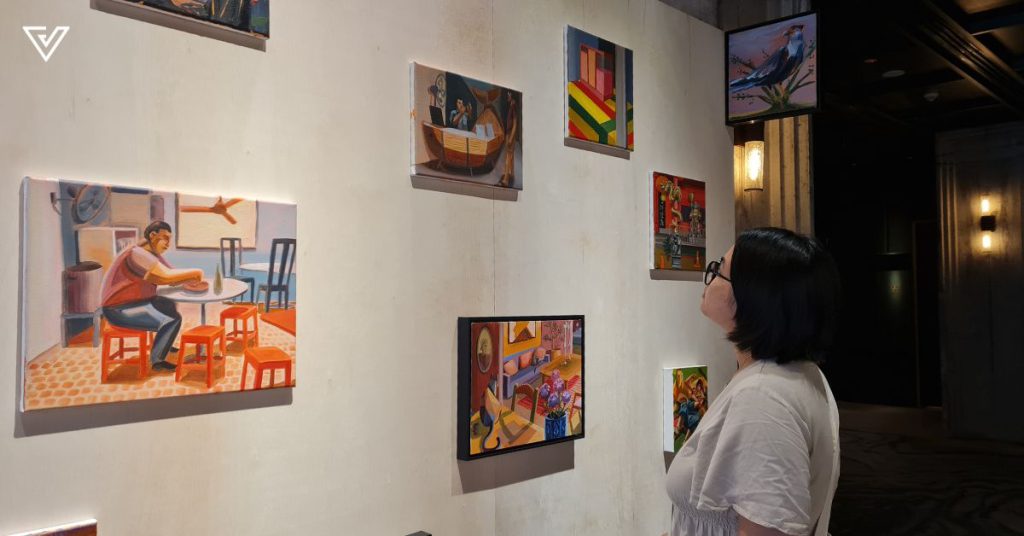 Speaking of that, the current Artist in Residence is Argentinian artist Franco Fasoli, and his work can be found in the ground floor entryway.
The library itself comprises two areas. The main section with all the books feels more conducive to lounging and reading, then you have the Business Den at the back.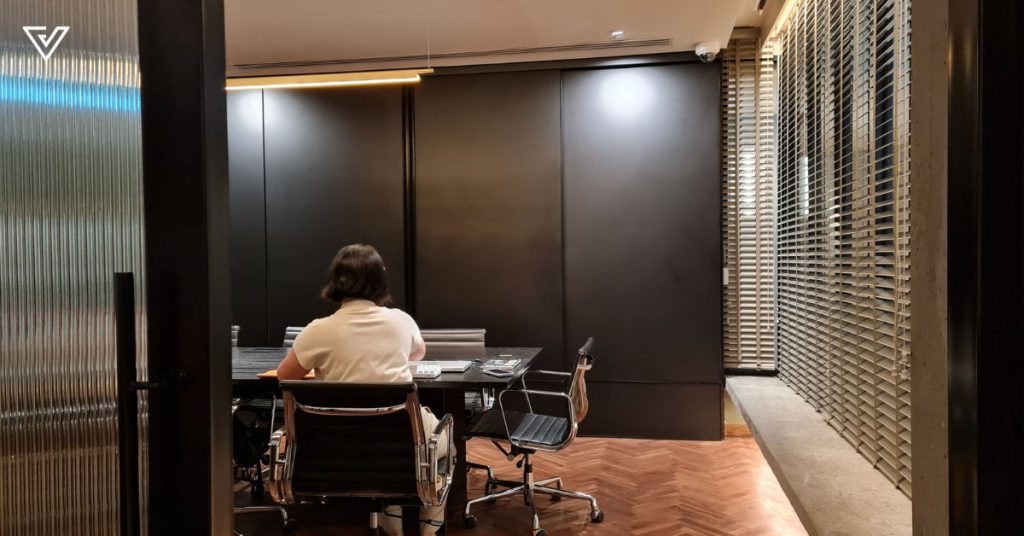 It's essentially a conference room that's free for in-house guests to use. However, in the occasion that someone books it for a function, the hotel will reserve it.
"If the intention is just to use as an in-house guest, then there will be no set up. However, if the booking is for an event, then depending on the requirements we can set up with a fee implied," the staff told us.
We managed to get quite a bit of work done in here, and the Wi-Fi was strong enough for us to stream the Budget 2024 announcement live and write about it.
But we did have a gripe with the internet. It was challenging for us to connect to the Wi-Fi, and often took us multiple tries to get a connection. Thankfully, once connected, things were pretty smooth-sailing, and the Wi-Fi is actually pretty speedy.
The Wi-Fi throughout the hotel is thankfully consistent in strength and speed, so if you want a more casual work spot, there's the Sunken Living Room next to the lobby, for example.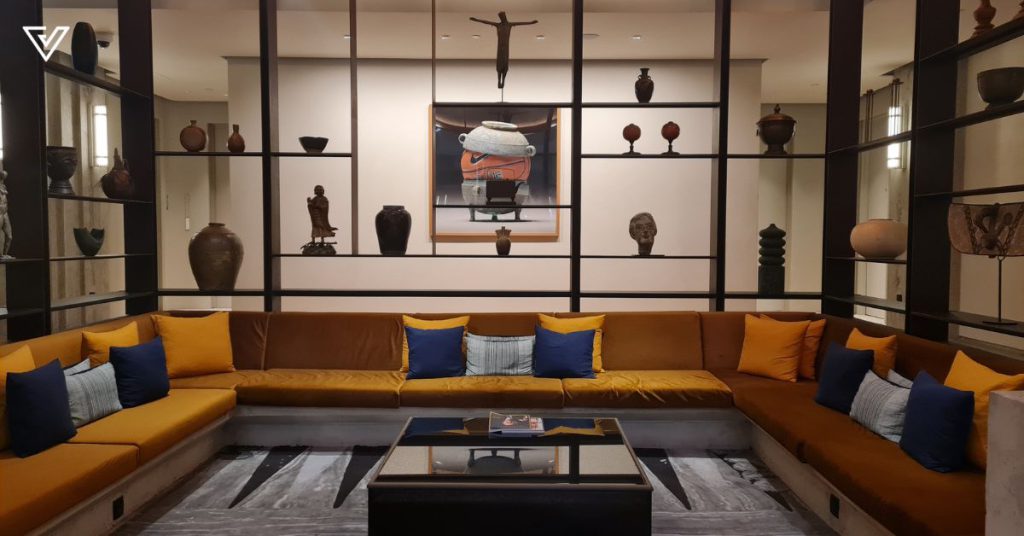 After a productive few hours in the Business Den, we wrapped up and left for our date at Yellow Fin Horse, the open-fire, ingredient-driven, seafood-centric restaurant located on the hotel's fourth floor.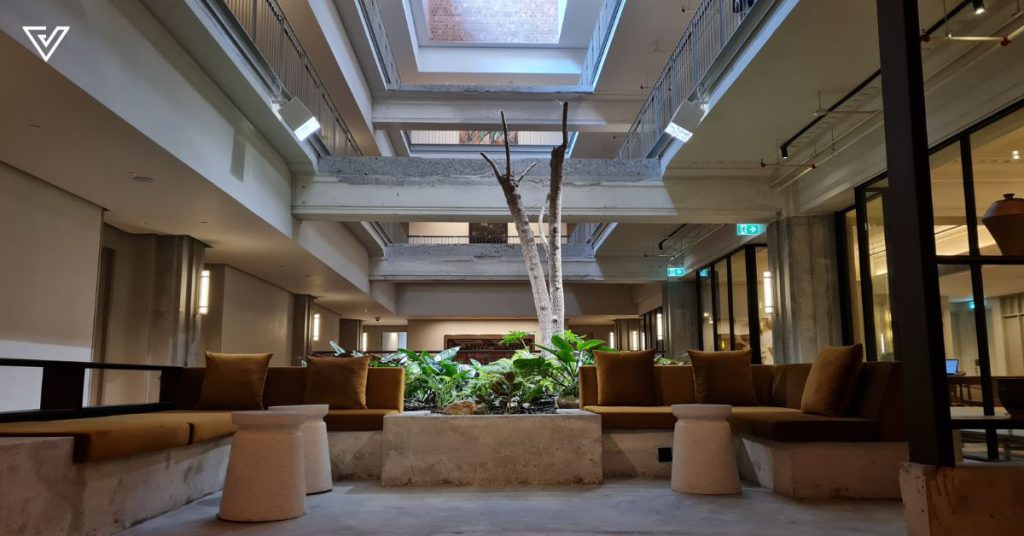 Fuel for the body and soul
How do I even begin describing our two-hour dinner at Yellow Fin Horse? From the bread to the dessert, nearly everything made us gush and rave over the incredible flavours. All the dishes are made from scratch, including the drinks.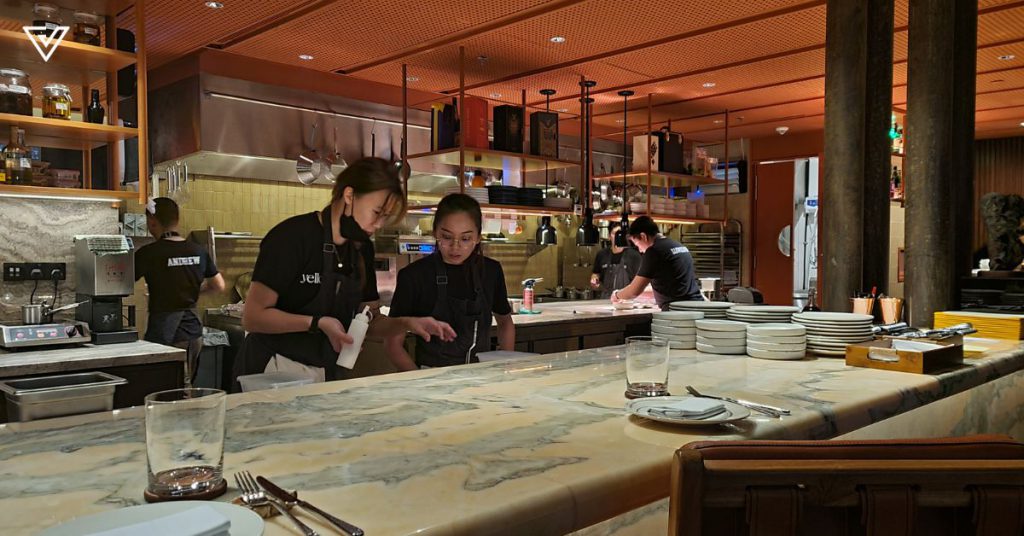 It was hard to pick our ultimate favourite, but here's what we really enjoyed. We began with the longan sourdough, underscored by a mild sweetness from the fruit, balanced by the slight char on the bread. A smoky and creamy binchotan charcoal-infused butter elevated this to the next level.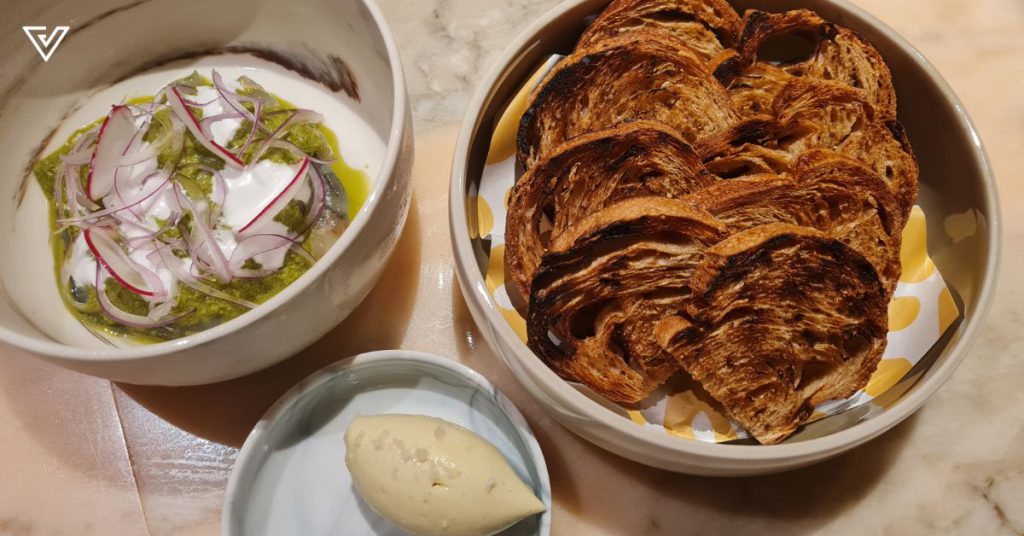 The next dish, crudo (meaning raw in Italian), featured local Malabar snapper, the freshness further highlighted by the cucumber dill buttermilk.
One of our favourites of the evening was the refreshing and flavourful Sinaloa-style aguachile with Japanese Obsiblue prawn and coconut milk. Complementing the incredible sweetness from the raw prawns was the crunchy beetroot, the tangy flavours mellowed out by the coconut milk.
The smoked Petuna trout was beautifully prepared, with the harmonious blend of watercress, apple, walnut, and wasabi mayo balancing the fattiness of the fish while adding texture to the dish.
As for mains, the coal-roasted duck breast may seem simple, but it was so well-executed that I couldn't stop reaching for more. Perfectly brined and roasted, the meat was juicy, tender, and just the right amount of saltiness.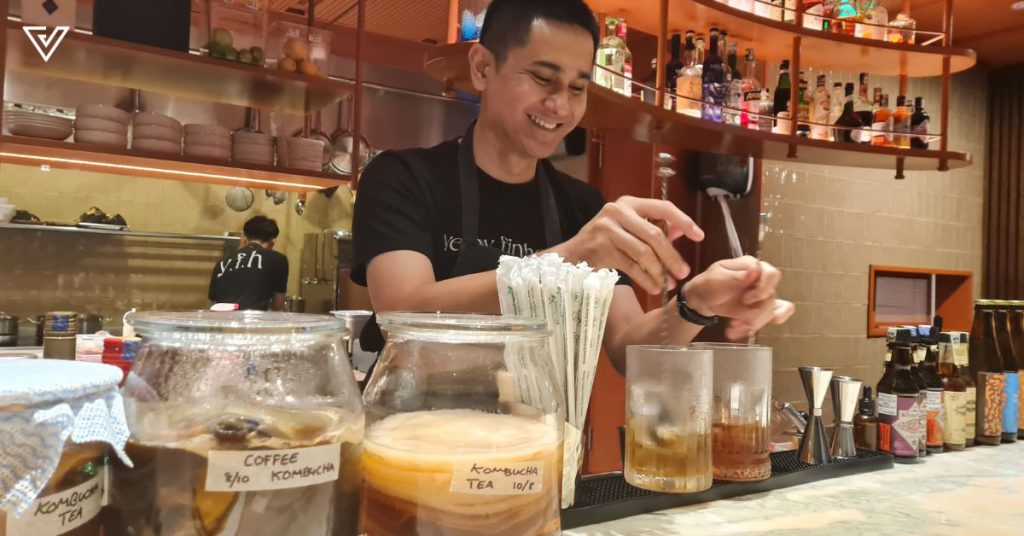 The scallops with pumpkin brulee and burnt orange was a rich, creamy delight with perfectly cooked scallops.
Finally, for dessert, we enjoyed a Kelantan chocolate cake with a smoked chocolate lava centre, paired with chocolate sorbet, and topped with Murray River salt. How many times can I say perfect in this article?
The point is, even if you don't plan on staying at Else, Yellow Fin Horse is a must-visit for foodies.
The ala carte breakfast at Raw Kitchen Hall the next morning didn't disappoint, either. For starters, we got the Quinoa Bowl and the Greek Yoghurt Parfait.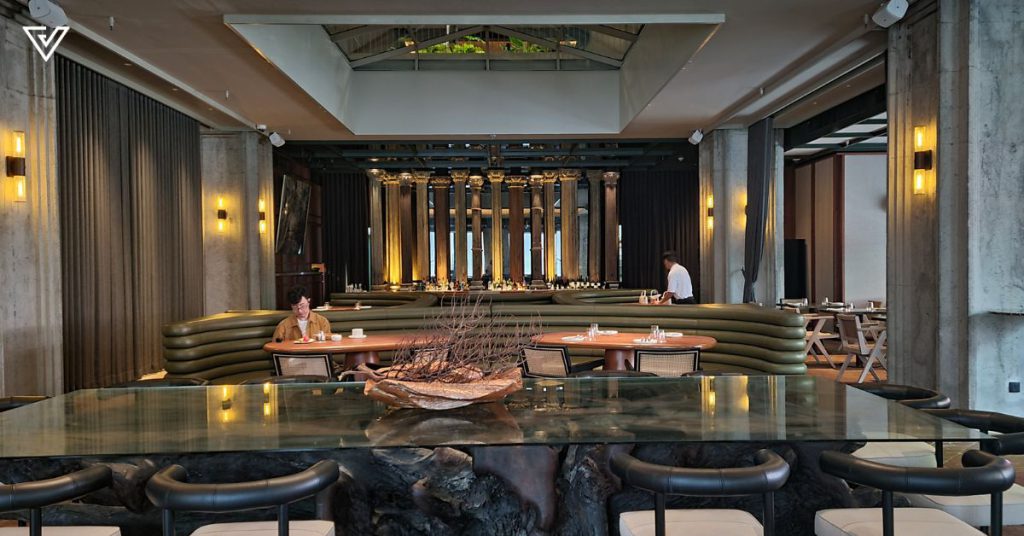 The quinoa bowl was particularly delicious, whetting the appetite with a fresh and harmonious mix of picked cucumber, cherry tomatoes, corn, and hijiki.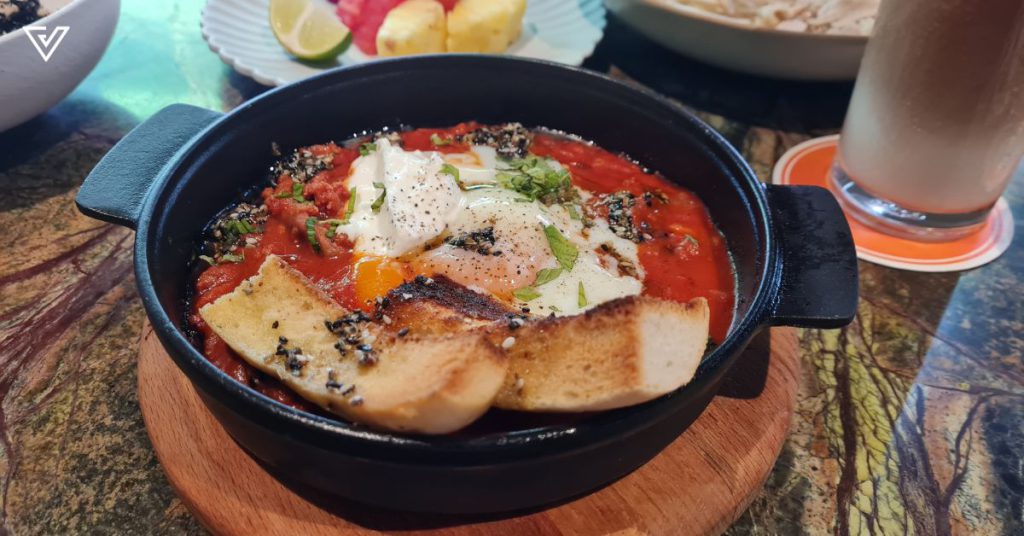 As for our mains, our picks were Shakshuka and Soto Ayam. Both were filling and flavourful, and well-executed overall. The meal also came with a tropical fruit platter to share.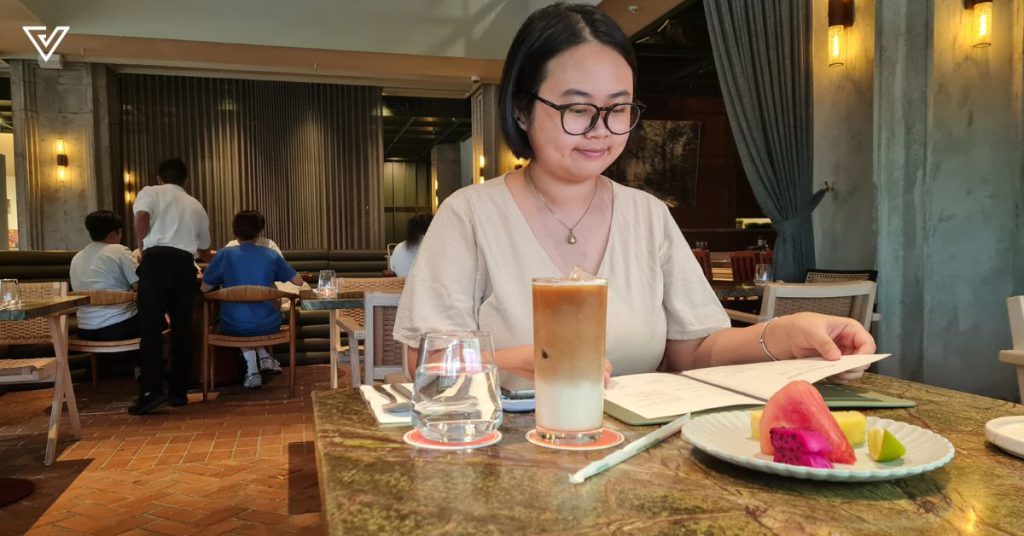 Time to float away from my troubles
The most interesting facilities at Else, I argue, would be the floatation tanks, or more dramatically, the sensory deprivation pods.
Located inside the gym on the fourth floor, there are two rooms of floatation pods, and it costs RM100 per hour-long session. Else KL generously allowed us to try it out, so we scheduled it for after our hearty breakfast.
The hotel doesn't typically offer the pods to non-guests, though the team might consider a direct request if there is availability.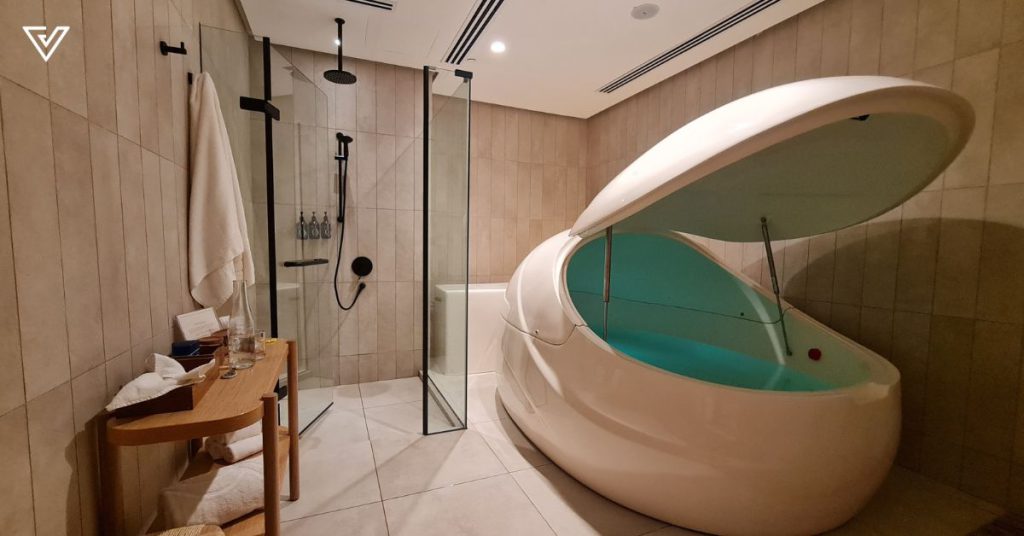 I was told by the staff not to (I asked twice to make sure) close the pod. He told me that I wouldn't be able to open the pod from the inside, which I highly doubt considering there's a bar on the inside of the pod. Still, I didn't dare try.
My experience here was much like a floundering bird trying to fly for the first time. Clumsy and awkward, and very much confused.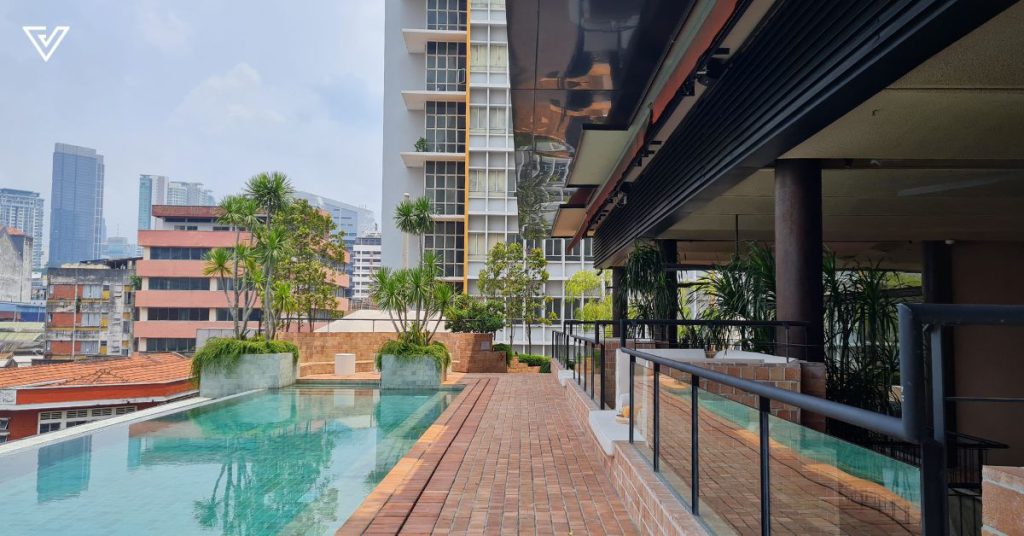 There are a lot of things I learnt after actually trying it, like how I had to relax my whole body, and how I should leave the water with my head tilted back so the salt water wouldn't just drip into my eyes.
Later that evening, after I felt the hardening of salt in my ear, I also found out that it's industry practice to use earplugs during these sessions to protect the ears.
Understandably, Else isn't a dedicated floatation pod centre with specialised attendants, which is why you're left to your own devices. But perhaps diving into the experience headfirst (not literally) might just be the kind of adventure you're looking for.
Ultimately, I think the floatation tanks are great ideas—just not executed as well as I would've appreciated. To start, some earplugs would have been helpful.
However, at the end of the day, I really enjoyed my session and figuring out how the sensory deprivation pod worked. I was able to relax for a while, and time passed faster than I thought.
Conducive to work, but tempts you with more
To be honest, I find that Michelin's descriptor of Else as an "urban resort" might be pushing it a little.  
Rather than grade it on a spectrum of urban resort to city business hotel, I think Else can best be classified as truly something else.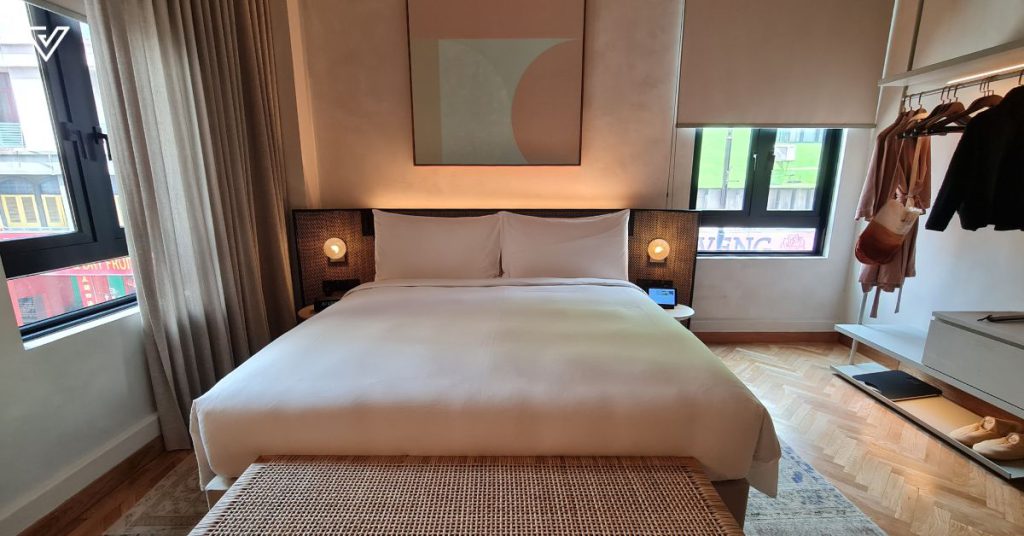 It's intimate, yet with a lot of social areas to mingle, and the food is delicious, but don't forget that there's plenty of famous kopitiams to try nearby too.
Else strikes a perfect balance of making you want to stay in and relax, making full use of its facilities, while also beckoning you to go forth and explore the surrounding city.
With this, you could argue that it makes for a very well-balanced workcation, with enough facilities for the "work" as it does "cation".
| | |
| --- | --- |
| What workcation crowd is Else Kuala Lumpur suitable for? | Pro tip |
| Solo hybrid workers | Spend some time mingling around in common areas such as the Sunken Living Room and the Library |
| Creative nomads | Get inspired by the art and decor around the area, or even from the bustling neighbourhood |
| Small teams | Make yourselves comfortable in the Business Den and consider enjoying a team dinner at Yellow Fin Horse |