[This is a sponsored article with Time.]
Time Digital Masterclass is an ongoing webinar series by Time.
The free masterclasses cover a diverse set of topics designed to empower SME owners with valuable knowledge for achieving business success in the digital world.
Four classes have been hosted so far this year, with a hybrid event that took place both virtually and physically in September which covered the topic, "Scaling Up Malaysian Startups".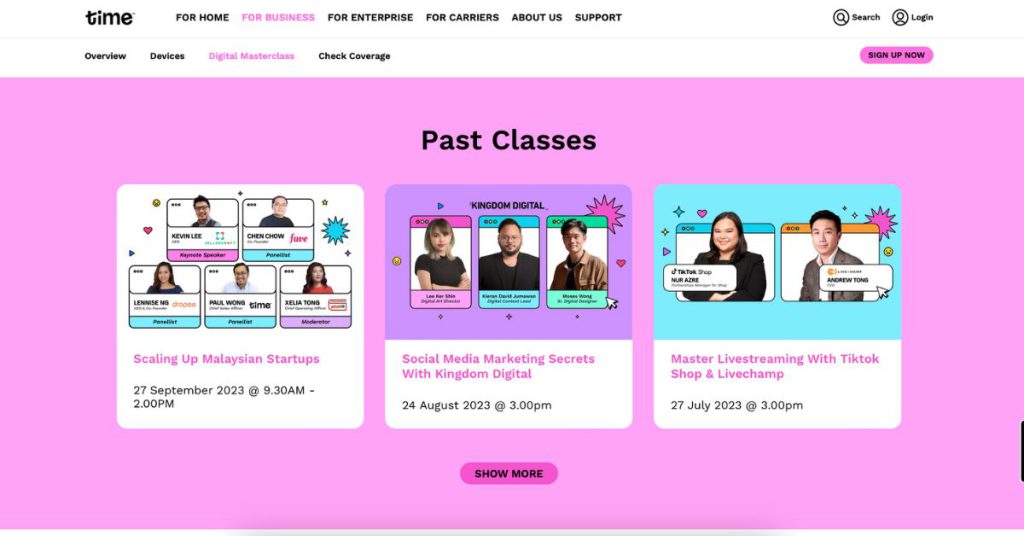 This November 23, 2023, Time Digital Masterclass is back for its new installation which is titled, "Navigating The Cloud: A Guide for SMEs".
Navigating the cloud space
Cloud services are vital for startups and SMEs, especially when it comes to boosting your business's scalability and flexibility.
For SME owners, this means that as your company grows or faces fluctuations in demand, you can easily adjust your cloud resources without the need for significant capital investments. It can be seen as a quick and cost-effective way to adapt to changing business needs.
Furthermore, cloud computing can give you and your team the ability to access work data wherever they are, making it easier to employ flexible work arrangements.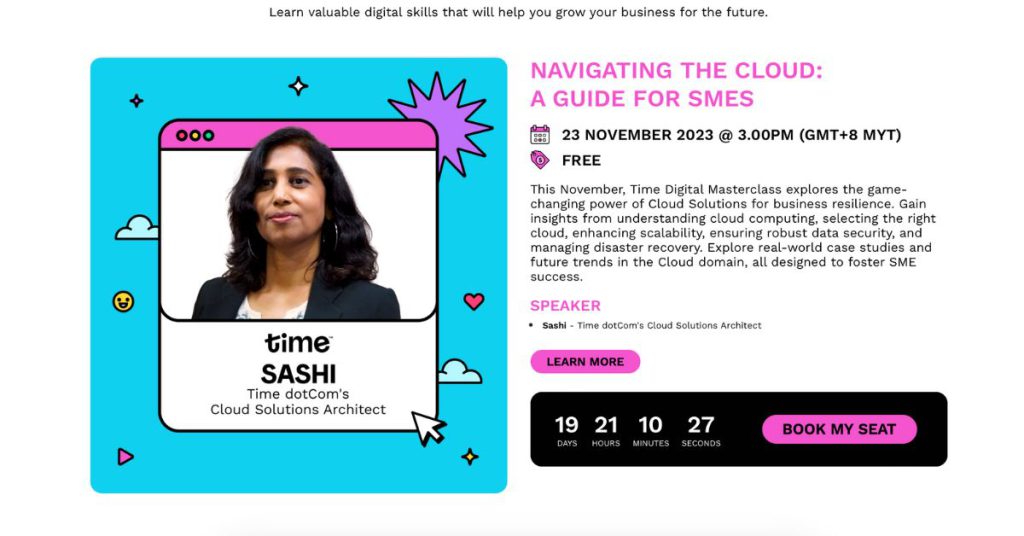 In the upcoming Time Digital Masterclass webinar, you'll learn about how cloud solutions can play a pivotal role in your SME's growth, starting by picking the right cloud services to suit your unique business needs.
You'll also get to learn about real-life success stories from SMEs that have benefited from using Time's cloud solutions, as well as get a glimpse of upcoming cloud trends.
Hear from a seasoned tech expert
Speaking on the subject is Time's Cloud Solutions Architect, Sashi, with expertise in improving both on-premise infrastructure and cloud technology solutions.
She will discuss how cloud security can enhance data safety for your business and provide disaster recovery solutions for unforeseen events, drawing on her IT experience and knowledge.
So, if you're curious about getting more insights into how cloud computing can boost your business's agility, you can sign up for the free webinar here.
Check out previous Time Digital Masterclass sessions here.
Read about other Malaysian startups here.
Featured Image Credit: Vulcan Post