[This is a sponsored article with Securities Commission Malaysia.]
Despite the plethora of career prospects in the capital market, Malaysia is facing a talent shortage where nearly 50% of professionals in this field are over 50 years old.
That's according to the Securities Commission Malaysia (SC).
Did you know: Capital market is a broad term that's used to describe various trade entities and different types of financial instruments. Examples of such trade include the stock market, bond market, as well as currency and foreign exchange (forex) markets.

Investopedia
Perhaps that shouldn't be surprising, since one would assume that it is the older generation that has the wisdom and financial literacy to work in this industry.
Working in the capital markets means that you'll be managing the wealth of clients. This can be a daunting task for younger individuals who aren't yet financially savvy enough to understand volatile market trends.
So, how can the industry inspire young talent to take on this potentially lucrative career and support the capital market's long-term growth in Malaysia?
The SC has identified that a contributing reason is a lack of opportunities for junior professionals and fresh graduates to gain practical exposure and knowledge about Malaysia's capital market.
Hence, investED was rolled out. It's a programme aimed at upskilling young talents, giving them an easier time getting a job in Malaysia's capital market.
3 programme components, each with a purpose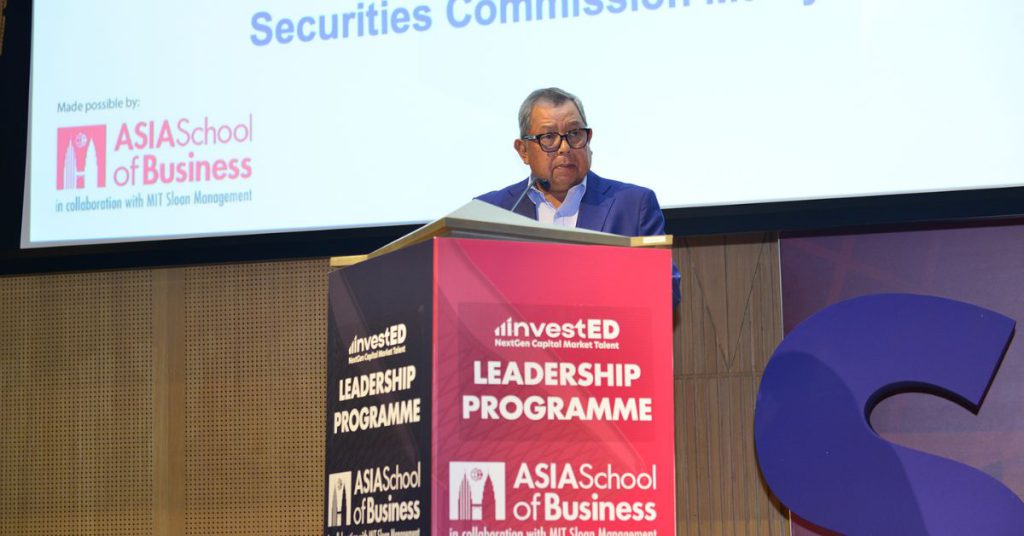 RM30 million has been allocated to finance the investED programme which will run for three years (from 2023-2025).
Driven by the SC, investED is conducted alongside the Ministry of Finance (MoF), the Ministry of Higher Education (MoHE), Bursa Malaysia, and leading capital market industry players.
investED aims to train up to 9,000 university graduates to be capital market-ready. There will be three different programmes carried out to fulfil this.
1. investED's Leadership Programme
Joining investED's Leadership Programme means that you'll be taking classes at the Asia School of Business in KL. It's part of the programme's one-month comprehensive and interactive formal learning course.
Once completed, you'll move on to a six-month internship at one of investED's partners within the capital market industry. That means, you could get on-the-job training at reputable companies such as Bursa Malaysia, Maybank Investment Bank, Gobi Partners, Kenanga Investment Bank, BDO, and more.
As an investED trainee, you'll receive a monthly allowance of RM2,000 during your one-month formal learning, and a monthly allowance of at least RM2,400 during your job placement.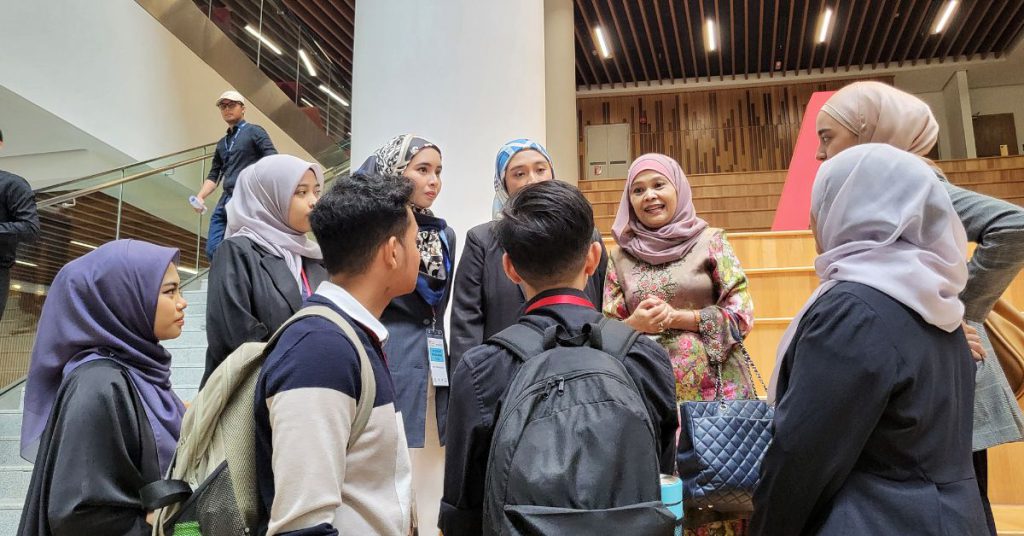 If your job performance manages to impress your placement company, you could be offered a permanent position, either after completing your six-month internship, or earlier.
investED's Leadership Programme aims to provide job opportunities for 600 graduates.
2. investED's Foundation Programme
If you want to build a better base understanding of Malaysia's capital market before diving into leadership and management skills, you could consider investED's Foundation Programme.
It's an online certification course managed by SC's learning arm, the Securities Industry Development Corporation (SIDC). The Foundation Programme aims to benefit 2,400 graduates.
"This programme is designed to equip participants with the necessary skills and knowledge of the capital market. It is great for graduates who want to kick off their career in the capital market," explained SC.
"It has a shorter duration and offers specialised certifications like the Certified Capital Market Professional-Compliance 1 (CCMP-C1), and e-Familiarisation Programme for Marketing Representatives (eFPMR)."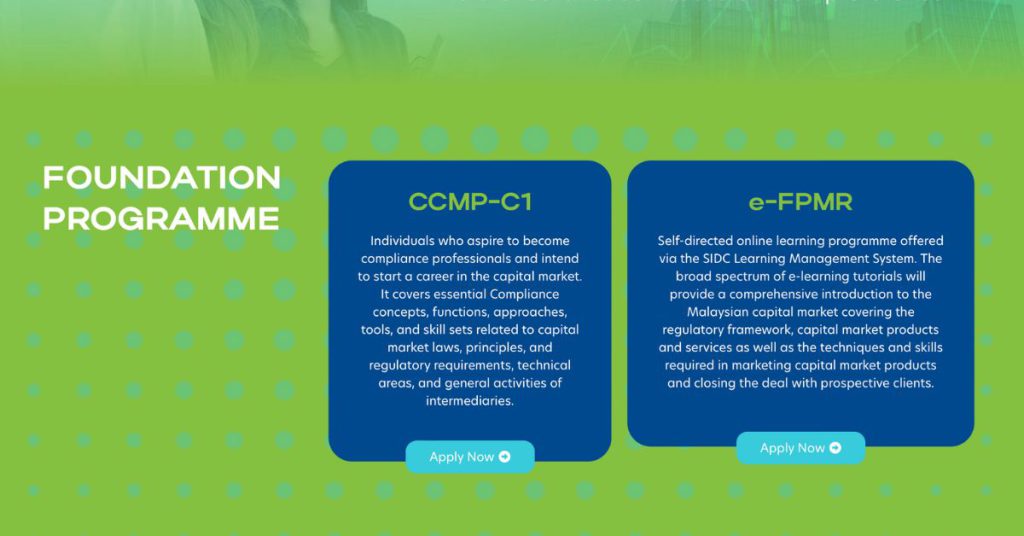 At the end of the modules, there will be an online assessment to test your knowledge. Once you pass, you'll receive a certificate for your achievement.
3. Career talks and fairs
Those interested in learning about the career opportunities offered in the capital market can take part in investED's career talks and fairs. There will be 20 career talks and over six career fairs that will run until the end of 2023.
The career talks will be a good opportunity for you to learn about intriguing topics such as "Exploring Careers and Roles in the Capital Market", and "What Are The Future Talent Trends, Skills and Opportunities for Today and Beyond?"
So far, investED has participated in the Mega Careers & Study Fair 2023 at KLCC on August 19-20, 2023, which was attended by over 29,057 visitors.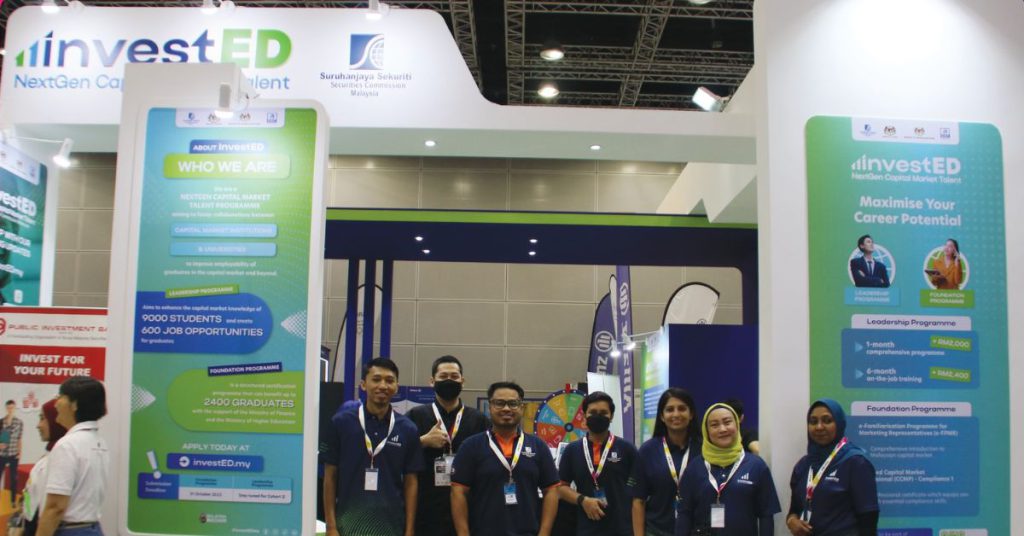 Some companies that were present at the career fair included Mercury Securities, CIMB, Nomura Asset Management Malaysia, Affin Bank Berhad, RHB Investment Bank Berhad, and more.
The investED programme has also partnered with public and private universities all across Malaysia. Through this partnership, they aim to engage with up to 3,000 students each year.
Calling out for Cohort 2 participants
investED is open to final-year students and those who've graduated in less than a year. Malaysians studying locally or overseas can apply.
To be eligible for the Leadership programme, graduates must have a minimum CPGA 3.00, and an English proficiency with a minimum of Malaysian University English Test (MUET) band 4.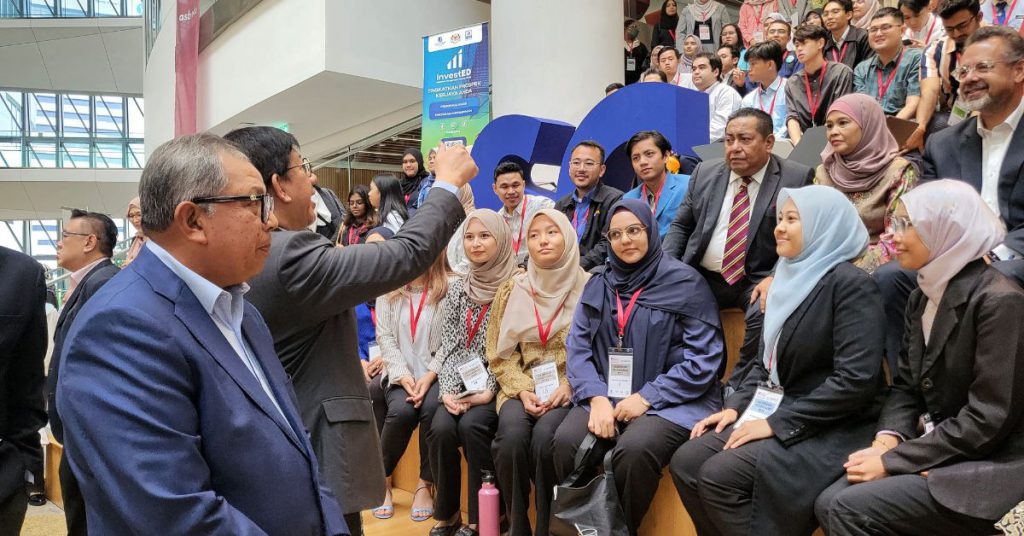 As of August 2023, the investED Leadership Programme's first cohort is already undergoing their training. Meanwhile, the Foundation Programme's participants have commenced their journeys since August 2023.
If you're keen to join the programme as well, registrations can be made for Cohort 2.
It's worth noting that there are no fees involved to join these programmes, as they are fully sponsored by investED.
Read about other finance-related topics we've featured here.
Featured Image Credit: Vulcan Post