A new boutique cinema by GSC has launched last week in Mont Kiara, created in partnership with Alliance Bank.
We had the honour of visiting the space to check it out ourselves last week. Located on the third floor of 163 Retail Park, Velvet is a retro-themed cinema that's home to three cosy cinema halls as well as a public karaoke machine and an in-house bar.
Those who are familiar with GSC's Aurum Theatre might find the concept kind of similar, but where Aurum focuses on luxury, Velvet is more artistic and vintage with '60s-inspired features.
The location in 163 Retail Park itself isn't the most spacious, so the team could only fit three screens. But with those three screens, they wanted to create something magical.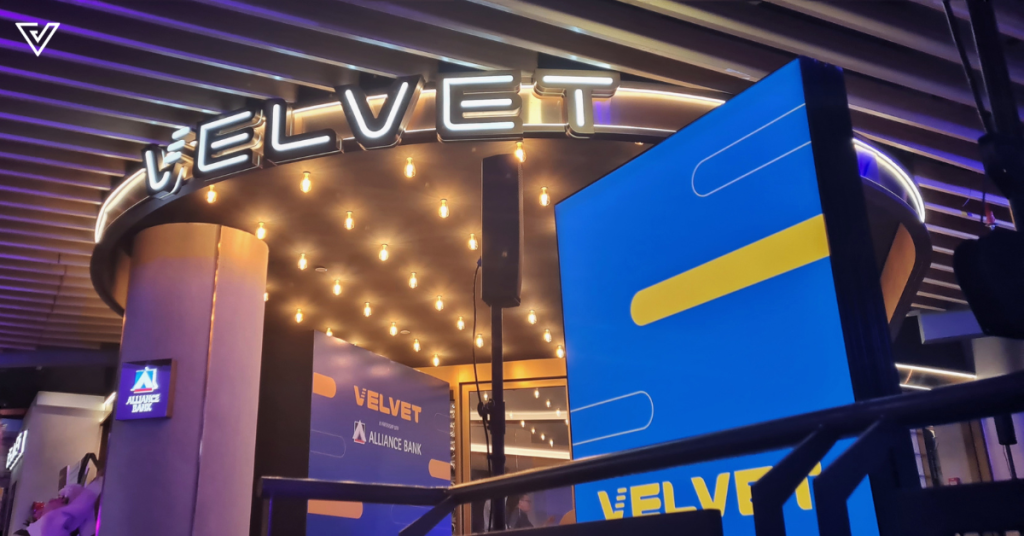 "We want to really bring back the magic of cinema, from the yesteryears, but reimagined for today's audience," explained Koh Mei Lee, the CEO of GSC.
The name Velvet, Mei Lee told us, is a reference to the heavy, lush red curtains that drape across the theatre stage as well as retro cinema screens. This aligns with how Velvet pays homage to the old-school theatre experience.
Dressed to the nines
The best word to describe Velvet, I'd argue, is swanky.
In our conversation with Mei Lee, she had shared that the space is very interior design-driven, which we can attest to.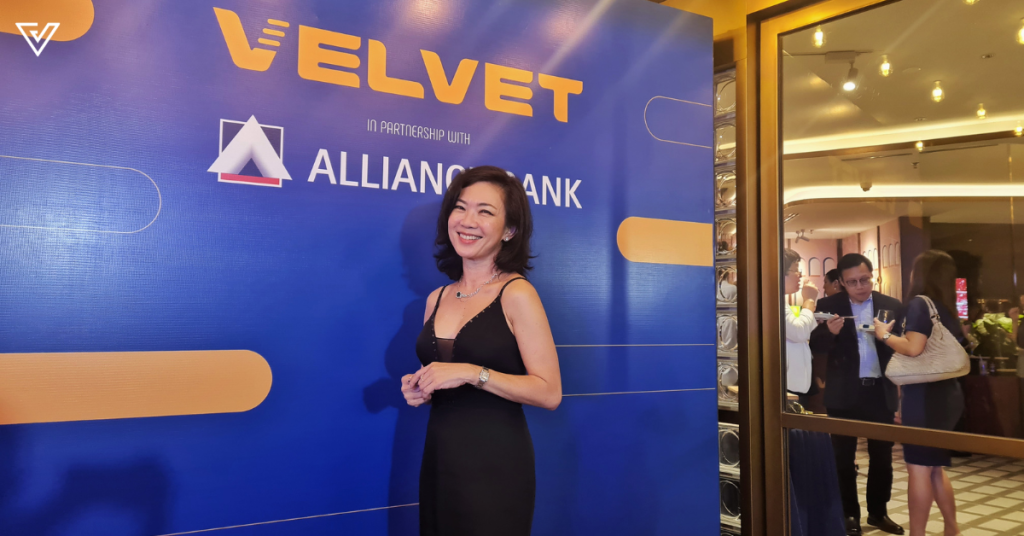 With dark tones and dim lighting, Velvet exudes almost a posh "gentleman's club" vibe. Even the karaoke machine has one of those retro microphones stands. Featuring floral wallpaper, the washrooms located inside the cinema space itself were nice, too.
We visited on the day of the official launch, so it was packed with people, but on a usual day, there would be lots of great spots to take some Instagram-worthy portraits.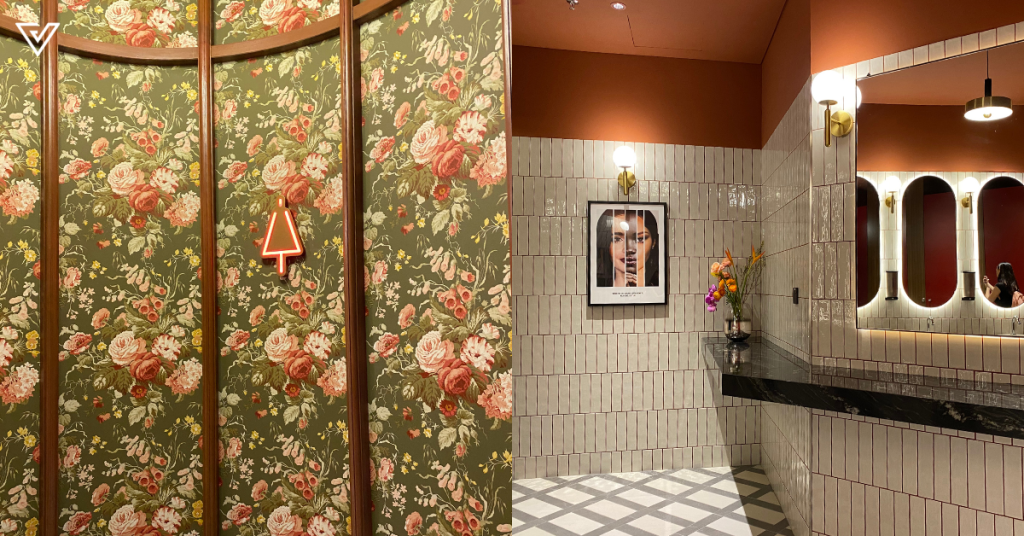 More than a cinema, Velvet wants to be a lifestyle spot with F&B offerings.
The menus haven't been officially released yet, but we heard it'll be similar to the light bites we had on the day itself. This included things like Loaded Chili Wedges, Fried Chicken Wings, Charbroiled Chicken Tikka, Cajun Chicken Quesadilla, English Trifle, and Green Tea Panna Cotta.
Over at the bar, a team of mixologists were concocting movie-themed mocktails and cocktails. Our poison for the evening was a non-alcoholic pink beverage called Pink Panther, as well as a glittery blue cocktail finished with a popsicle that we did not get the name of. According to the press release, the food and drinks served at Velvet are movie-inspired.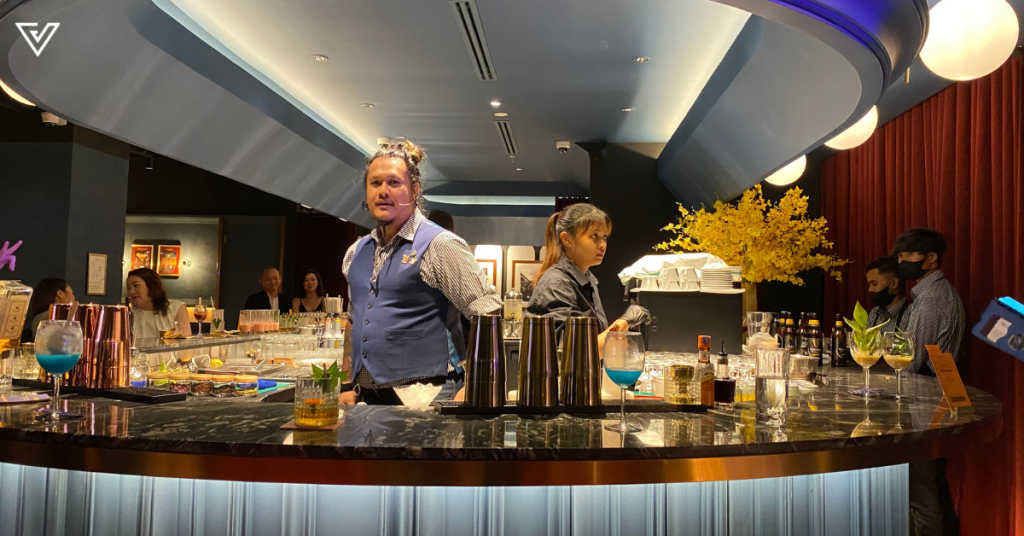 Talking to the CEO, she told us that she envisions people dropping by to enjoy the space and grab a drink or a bite, making Velvet more of a lifestyle destination than just a regular cinema.
"I hope they will actually come, just to have drinks, just to chill, get away from the busy lifestyle, because we have a very good mixologist," she said. "And you know how they say bartenders are like therapists?"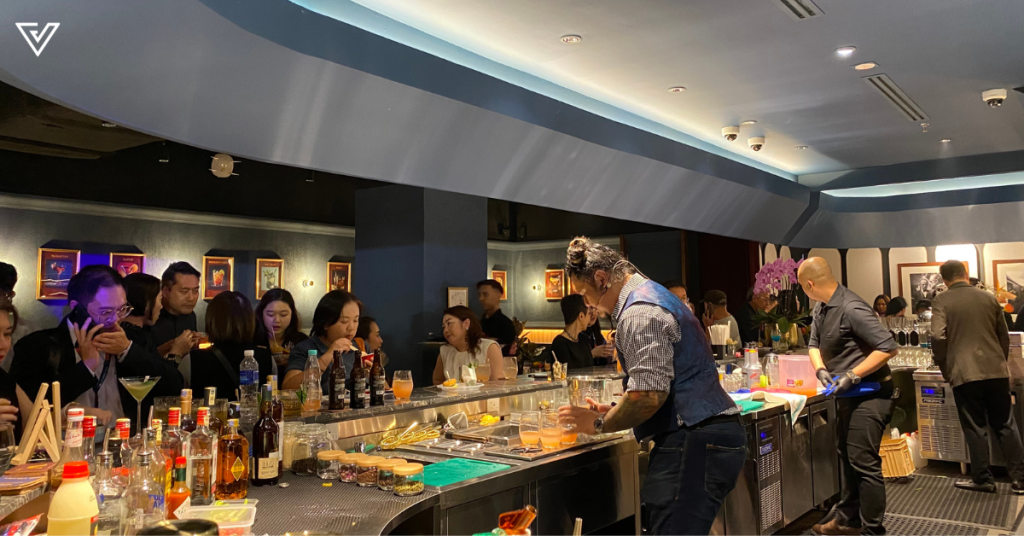 Another stress relief option in Velvet is the karaoke section. Mei Lee pointed out that it's an open mic and is very communal yet still intimate.
The actual movie experience
After exploring the space, we settled in for our movie. Screening that evening was The Marvels, but don't worry, we won't be spoiling it since we're not so much reviewing the movie as we are the viewing experience.
Comfort-wise, the seats are definitely more luxurious compared to the usual ones in most cinema halls, but nothing as crazy as the Getha beds featured in Aurum Theatre.
If you're looking for that kind of bed experience, though, seats in the front row of each hall are longer, allowing you to stretch out your legs comfortably.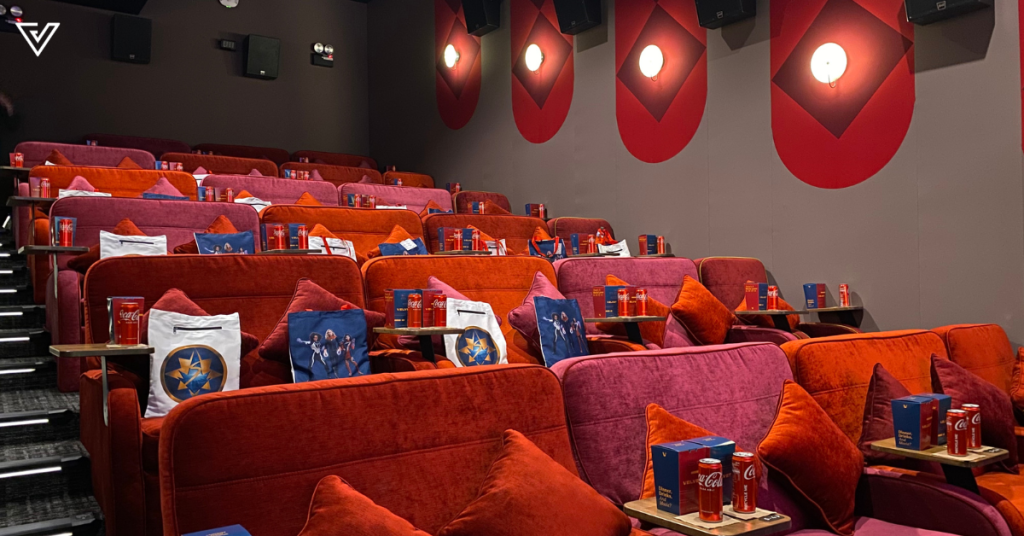 The seating is mostly arranged as couple seats, with a limited number of single seats available. That means most seats won't have an armrest between you and your partner, though the loveseat is spacious enough that it wouldn't be awkward if you were with a friend.
Each seat will also have a pillow that you can cuddle with or lean back against—a feature that I quite enjoyed.
Unless you have an aisle seat, each person will be sharing a small table with the next couch over, which also acts as a partition.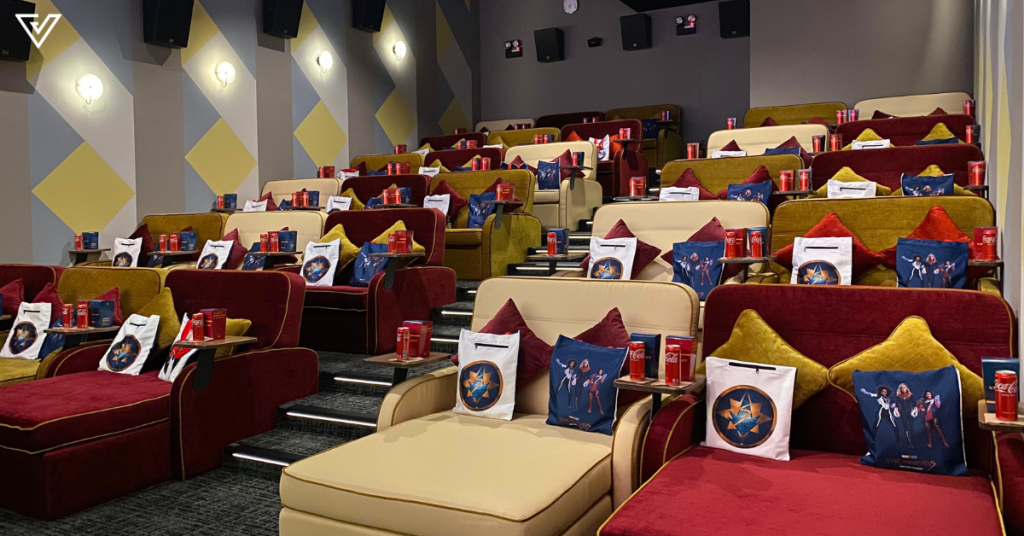 Admittedly, the technology is nothing to shout about here. It doesn't seem to feature IMAX or Dolby Atmos, and that's perfectly fine by me. A cinema experience doesn't have to boast the highest-resolution screen with the most immersive surround sound system ever to be enjoyable.
One cool feature I spotted in this cinema was that in the back of each seat, there's actually a USB plug point so you can charge up your phone during the movie.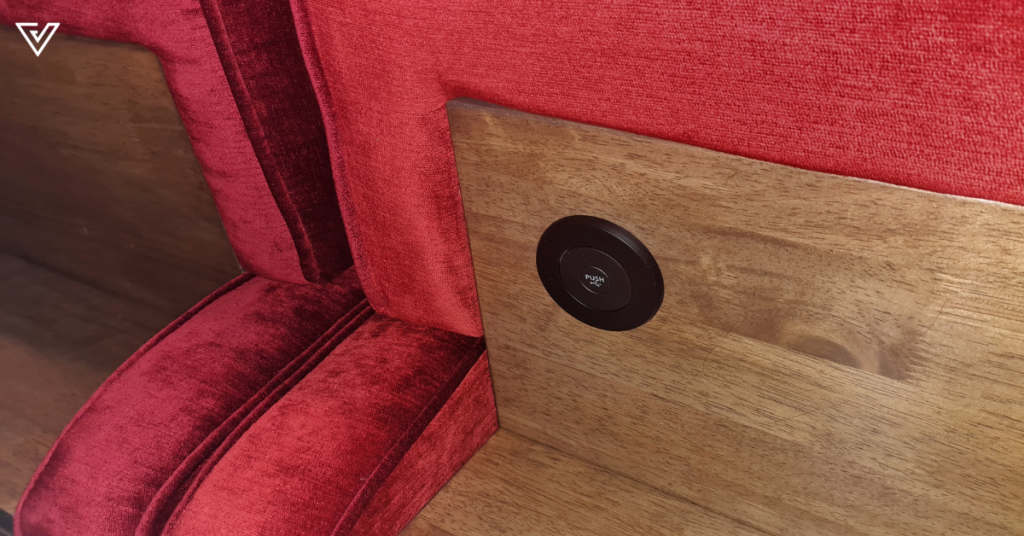 Given, you'll have to bring your own cable, and it does seem to charge relatively slowly. But as someone whose phone is always dying, this was genuinely helpful on the day of my visit.
The only downside from this experience, I would say, is that at times, I could hear sounds from the karaoke machine downstairs. However, my colleague who attended with me said she didn't pick up on it, though, so if your movie is immersive enough, it shouldn't be too much of a distraction.
Designed for the community
It's clear that Velvet offers a unique cinema experience with lovely aesthetics, but is it worth the price? The regular pricing is RM200 for a pair of tickets, meaning RM100 per pax. Each ticket includes complimentary snacks and food.
For its opening promotions, ticket prices will be going as low as RM140 for a pair, though we're not too sure when the promotions will start or end.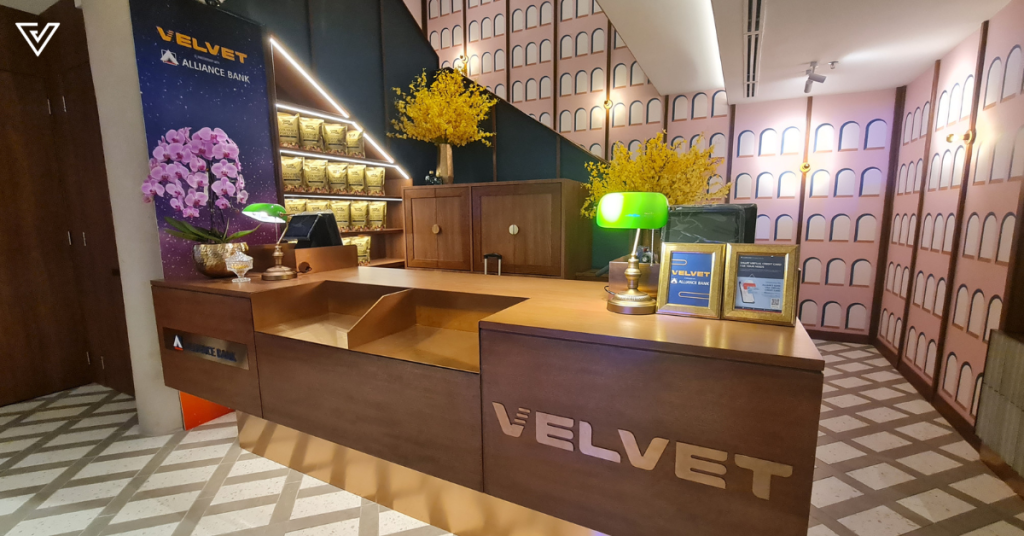 This pricing is decidedly more affordable compared to Aurum Theatre's Gethá Lux Suits, which are the cinemas with the fancy beds. One seat in those suites goes for RM160.
That said, if you're looking to go to the cinema purely just to watch a movie, I would say that it might not be worth it to go out of your way to check out Velvet.
But that's okay, because, as a small and intimate venue, Velvet is there to serve its own Mont Kiara community more than appealing to the mass audience.
"Because it's so small my aspiration is that people will come here so often from the community that it's kind of like a cinema where everybody would know your name," Mei Lee told us.
Although we watched a superhero movie at Velvet, the cinema actually aims to showcase a range of content, not just the hottest, trendiest box office films.
Rather, aside from Hollywood blockbusters, Velvet wants to show art-house films and cult classics too.
With that, the CEO added that she sees Velvet as an event-driven venue as well.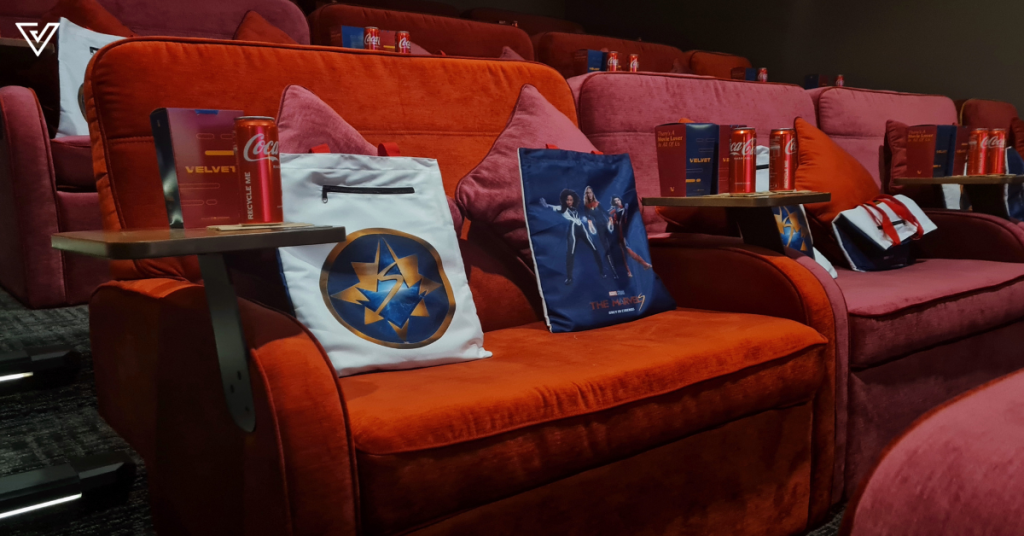 "For example, if we can bring 'In the Mood for Love', can you imagine an event where everybody will come, dressed up in their cheongsams, for Chinese New Year?" she expressed.
"It's not just about cinema, it's about engagement, it's about enjoying yourself, it's about memories about how movies used to be."
This direction clicks with Velvet's Mont Kiara address, which is home to a lot of expats, who Mei Lee believes would appreciate understated films more, compared to the mainstream audience.
For those who think Velvet sounds like their kind of scene, but live too far away from Mont Kiara, we asked the CEO whether this concept and brand is something GSC wants to further develop, outside of 163 Retail Park.
"If there is an opportunity, then yes, of course," she shared. "If I think this brand will resonate very well with the local community, we would like to, but we need to have the right location."
In any case, Velvet at 163 Retail Park hasn't officially opened to the public yet, so based on the reception when it does open, maybe things will change.