(First things first, please turn down your volume for this article. You might appreciate this heads-up later.)
Starting a business in a building that's rumoured to be haunted means bad juju for many entrepreneurs.
But not for childhood friends Nik and Dzaizul.
In fact, the ghostly building that used to house Singgahsana Lodge in Kuching, Sarawak, was the perfect place for the duo's new venture:
An old but gold building
Growing up in Kuching, I remembered passing by Singgahsana Lodge often, but all I knew of it was that it was in a very, very old building.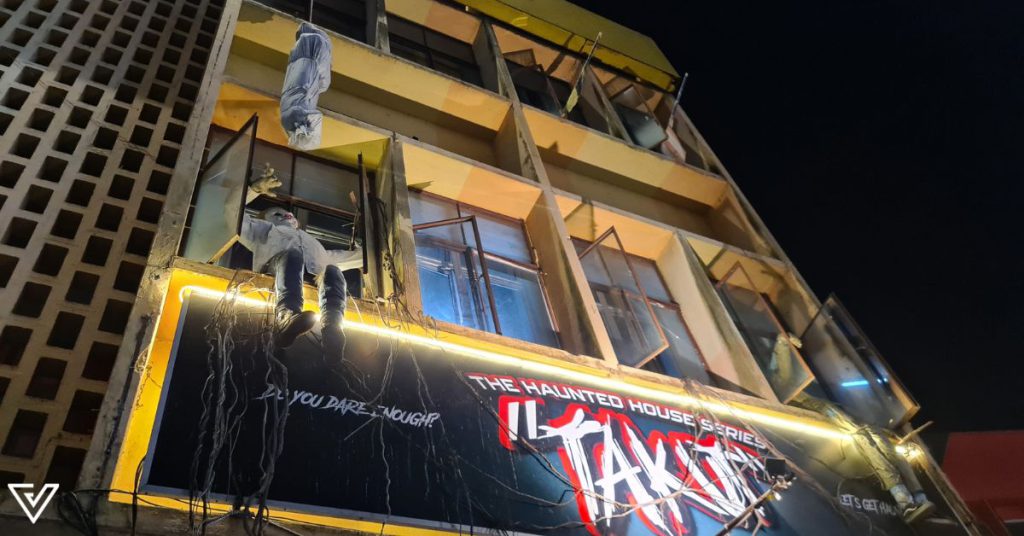 It was likely this aged charm that caught Nik's attention in the first place.
During the pandemic, he observed people strolling by the Kuching Waterfront to release their stress.
A thought popped into his mind. "Why not make some entertainment?"
If you ask a Kuchingite what they do for entertainment in the city that isn't shopping, cafe-hopping, the cinema, or the beach, you'd probably get an "um… I don't know".
Sure, we had pop-up funfairs every now and then, but permanent fixtures one can easily visit are few, including Kampung Budaya and the Waterfront.
We have no theme parks in Kuching, no definite go-to for year-round entertainment.
This is precisely what TAKUT wants to change.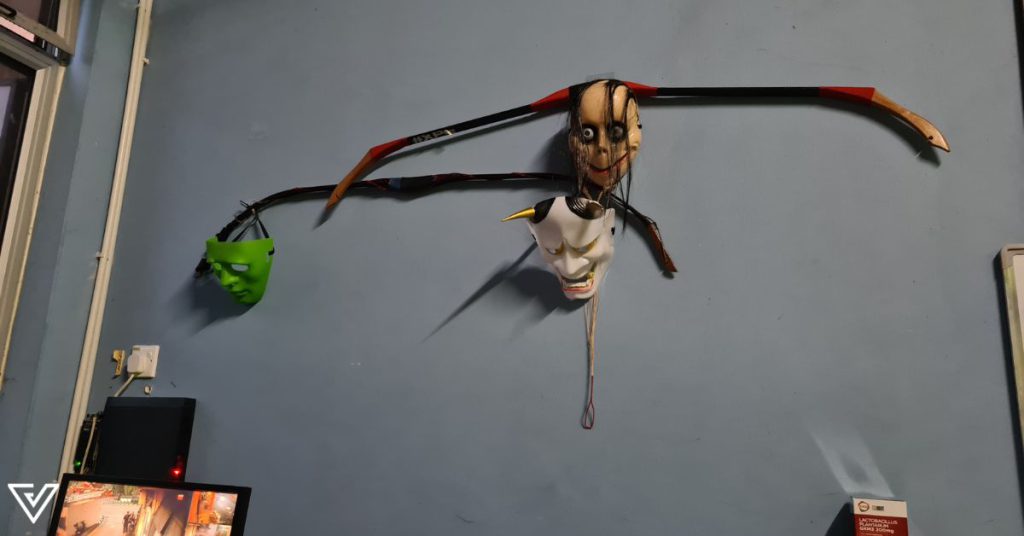 Nik and Dzaizul's grand plan for TAKUT is to make it a landmark in Kuching's Golden Triangle (where the Waterfront, Carpenter Street, and Main Bazaar are, with very high foot traffic).
But back to the Singgahsana Lodge, where TAKUT's story began.
While the aesthetic of the building's exterior matched their plan, the interior was still a nice lodging, if TripAdvisor reviews are anything to go by.
After renting the building, Nik and Dzaizul turned things around.
Where fear and fun go hand-in-hand
Unable to find a contractor to do what they wanted, Nik, Dzaizul, and some of the early TAKUT team did the renovations themselves.
This included building walls, traps, and pop-up jumpscares. "I would say it's about 70% DIY," Nik described.
He acknowledged that the old building lent to the overall atmosphere already, which meant they needed less effort to ramp up the spooky ambience.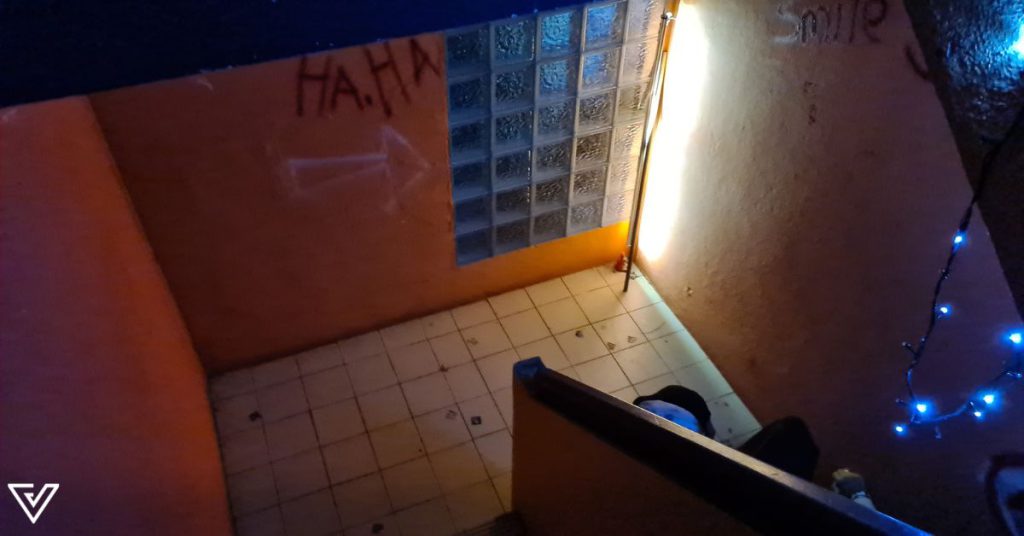 Not to mention, Nik and the TAKUT team truly believe the building is haunted.
Everyone tucked in for some ghost stories? Because here are a few Nik disclosed.
First, when they were doing renovations, hammers and pliers would move after they put them down.
No one could explain that, and though the TAKUT team is full of people who love scaring others, they were dead serious at the time.
Another time, one of their staff got locked in the toilet before the venue was opened for the day. Wanting to get out, the staff called his colleagues to ask who had locked him in.
Funny thing was, no one else had even arrived there yet.
A lock on the outside of the door had trapped him. But this was no fancy, electronic lock error.
It was an old-fashioned lock, the type that you had to wiggle in and out. So who had pushed it closed?
Other occurrences include how a team member would pass a colleague in one room, but then spot them in another one further ahead just seconds later.
It would not have been possible for the colleague to move past them without being noticed…
In the early days of TAKUT's operations, they were required to get RELA's help for crowd control.
A RELA volunteer suddenly told Nik that he had spotted a lady staring down at him from the roof while he worked.
There's actually no roof access.
Furthermore, at this time, TAKUT had only been using the first of the building's three storeys for their haunted house.
All this has not stopped Nik from making the topmost (third) floor his living space though.
"Committed," I commented in awe, and Nik simply chortled in reply.
A guide to successfully ghosting people
To keep things exciting and customers returning, TAKUT changes up its theme every four months or so.
They call these "seasons". But in between those main seasons are also mini-seasons. At the time I was visiting, it was Chinese New Year themed, featuring jiāngshī (Chinese hopping vampires).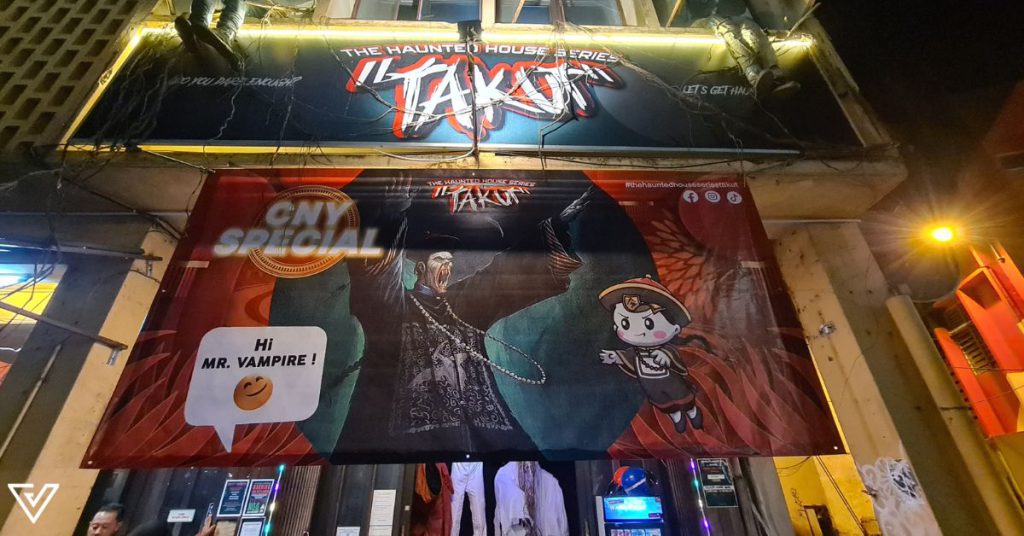 Prior to this, they had a Christmas theme called "Santa's Secret", then they had Clown Week, and Zombie Week.
With every theme change comes renovations, along with orders for costumes, or DIY sessions for the costumes they can't buy anywhere else.
Their prices remain fixed regardless of whether it's a main season or mini-season, at RM18 for adults, and RM5 for kids (yes, kids are welcome).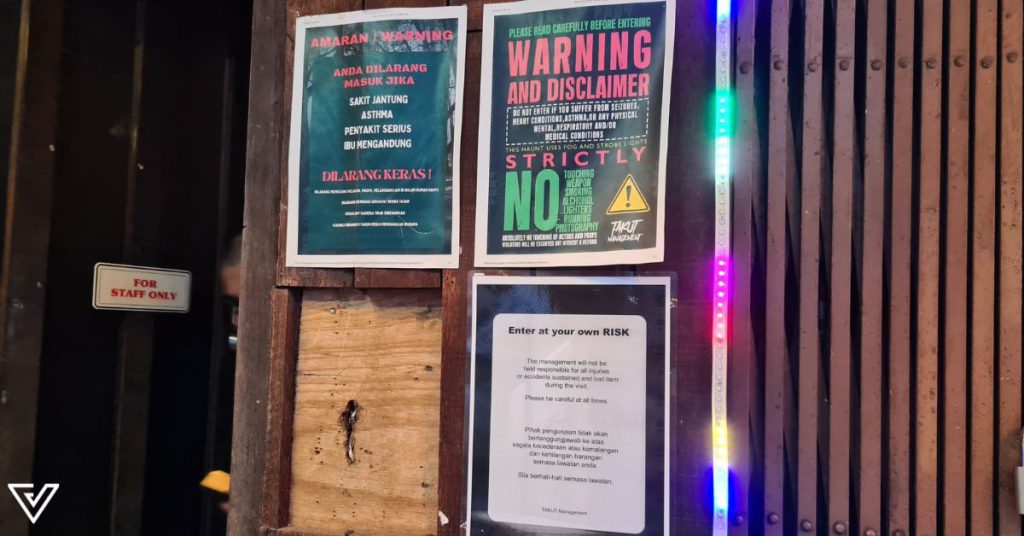 TAKUT is open from the spooky hours of 6PM to 12AM, and an entire walkthrough of the place will take about 10 to 15 minutes, assuming you aren't frozen in fear. Groups of four are let in at a time.
On the scaring side, TAKUT has a team of about 12 talents who go through a bit of training, then don their costumes and makeup independently.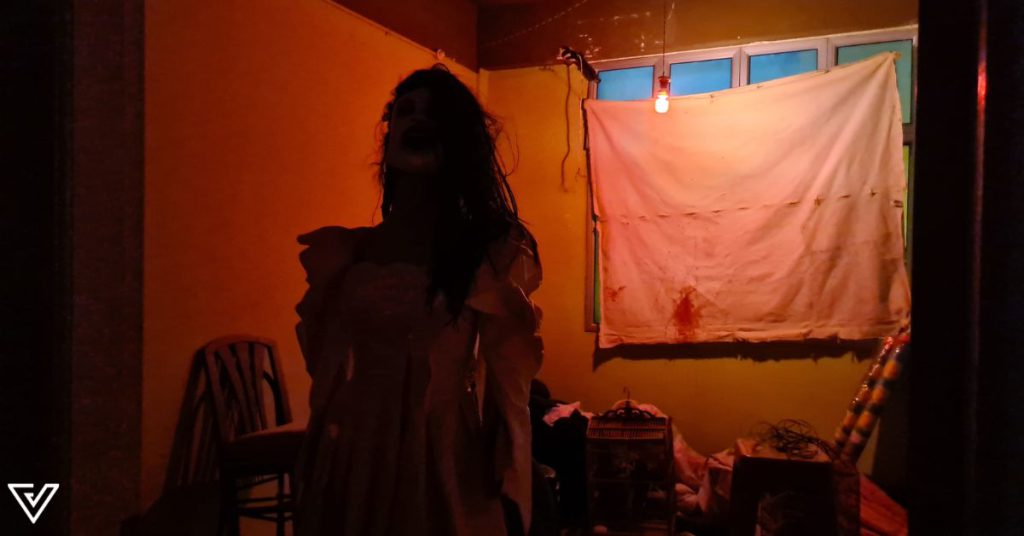 What they do here isn't as theatrical as what Hauntu does, so it seems like it might be easier to become a "ghost" at TAKUT, if anyone is looking for a side hustle.
Being the co-founders, it seemed like Nik and Dzaizul would've naturally tried their hand at scaring people too, right?
"Yes, yes, of course!" Nik exclaimed, "You should try it sometime, it's fun to scare the sh*t out of people!"
Despite my reputation as the office troll, I'm not sure if I would be good at scaring people. I wouldn't get a chance to try at TAKUT that day… but I did end up being coerced into entering the haunted house, escorted by the co-founders.
I wasn't able to film or photograph a lot while inside, because 1) you're technically not allowed to (I got approval from the co-founders), and 2) I wanted to protect myself by covering my eyes and ears when I could (yes, I'm a scaredy cat).
Maybe it was my habit of falling asleep to horror game playthroughs, but I'm proud to say that I actually survived TAKUT without screaming, falling, or passing out.
Don't get me wrong though, my heart was pounding in my ears.
Spreading the scares, bit by bit
Not everyone was as brave as I was though, I found out.
TAKUT actually keeps a logbook of how many people have fainted during their visit. A total of 27 in the past year, Nik told me in our interview. Seven of those were guys.
Then there are those who peed their pants—five adults. "Kids don't faint, they cry," Nik grinned.
"So, what do you do with people who faint?" I meekly asked.
"We gali lubang (dig a hole), cement lah!" Nik and Dzaizul burst into raucous laughter.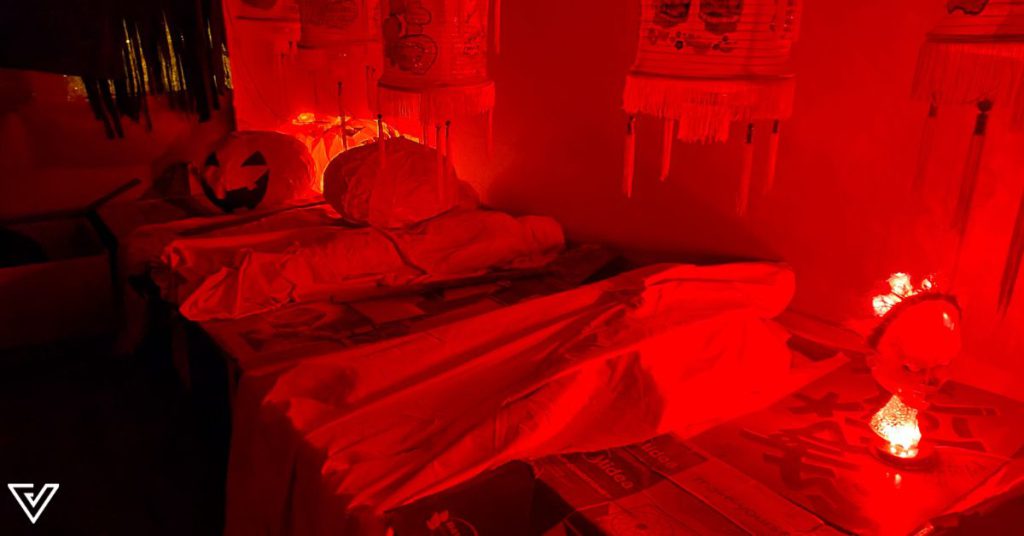 They were kidding, of course. I hope.
Fear aside, there's also the fun element to the experience. There's something thrilling about the adrenaline rush, your fight or flight instinct kicking in.
It can keep someone coming back for more. Nik reported that they were able to break even by the second month, and remain profitable today.
Their first target now is to make the brand known to the entirety of Sarawak.
"I like to think it's 45% accomplished already," Nik said, "Because I've received calls from Pahang to KK, saying, 'Bang, dekat mana rumah hantu? Aku nak pergi.' (Bro, where's your haunted house at? I want to go.)"
To spread the word of their business, they plan to go into major Sarawakian cities first, then do small tours across the rest of Sarawak using canopies.
They'll also try to join the Kabong International Kite Festival, which is a notable annual event that takes place in a local quiet fishing village.
For now, their plans will be carried out through temporary fixtures to test the waters, with Nik adding, "We do plan to eventually expand our business to KL, KK, where we can have permanent places with higher city populations."
Maybe in the future, they'll even set up a haunted hotel or haunted restaurant concept.
One thing's for sure though, TAKUT will remain quite the popular haunt for locals and tourists alike, if the lines I saw even during CNY were anything to go by.
All Image Credits: Vulcan Post