AmBank today unveiled its new concept of "community banking" in collaboration with Bask Bear Coffee at three of AmBank's branches in Klang Valley, Penang, and Kedah.
According to the news release, customers will now get to enjoy the best of both worlds with this "bank-in-a-cafe" concept.
What this means is that both brands will exist side-by-side in adjoining lots.
The integration is said to provide Ambank with the opportunity to grow closer to its community and position Bask Bear Coffee as a disruptor and innovator in the cafe market.
"We are working towards redefining the customer experience at our branches starting with community banking," said Aaron Loo, Managing Director of retail banking at AmBank.
"Our pilot of this concept has yielded positive outcomes with higher customer footfall and stronger customer engagement with the branch. Moving forward, we believe there will be even greater integration as banking services converge with lifestyle retail choices."
The three aforementioned branches had their soft opening recently and received a good response from the business community and cafe crowds, the release reported.
Speaking to Bryan Loo, the founder and CEO of Loob Holding Sdn Bhd (which owns Bask Bear Coffee), he shared that these locations were chosen because they're considered strategic areas with matured township and diverse communities.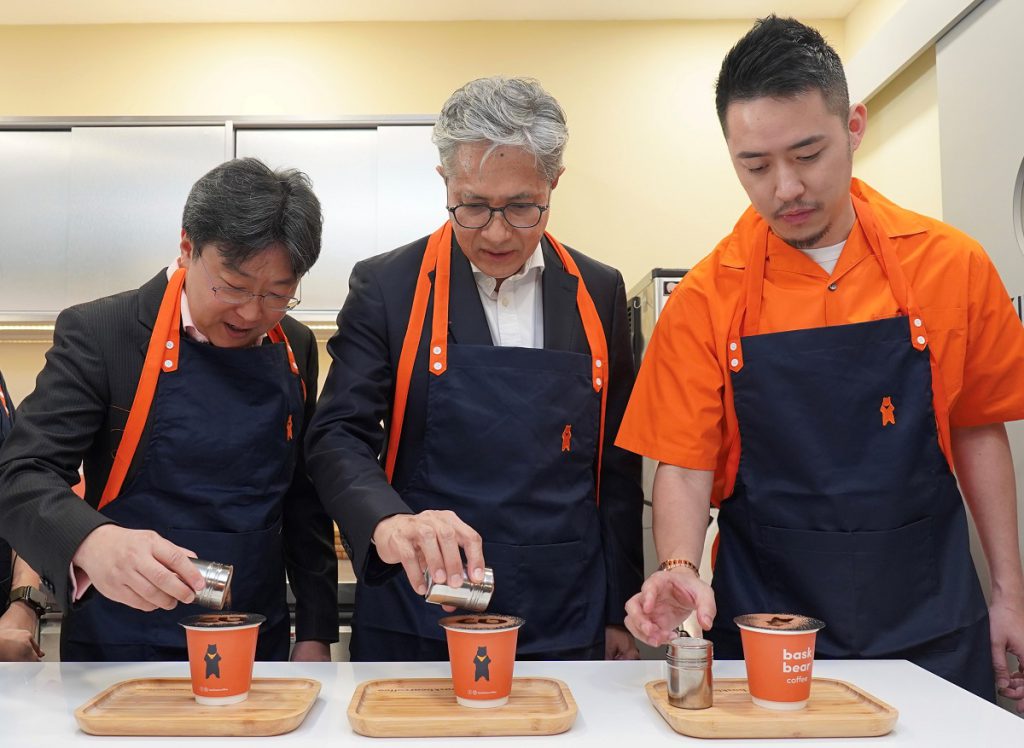 "This maiden joint effort with our leading bank partner is truly from the core of our brand DNA as Bask Bear Coffee is always about 'Being Bold, Being Brave'. As far as we know, this is the first such concept where a cosy cafe intertwines with a dynamic functioning bank branch."
The core idea of the collaboration is to not only create a differentiated experience, but to also stay relevant to meet the ever-changing needs of consumers. 
According to Bryan, the partnership is an effort in ramping up Bask Bear Coffee's presence across the country too, as well as boosting the brand's credibility and positioning.
He teased that customers can expect to see more of such novel concepts from Bask Bear Coffee, as they're "always breaking boundaries".
Bryan revealed that the collaboration came about when Bask Bear Coffee approached AmBank.
"It took us quite a long time to convince the bank just like how we did for Tealive, trying to convince the oil and gas players to allow us to integrate into their stores. We were in talks with AmBank at least a year and a half ago. [It's] all worth it today," he told Vulcan Post.
Bryan added that he is confident the partnership would benefit both brands as well as their customers. He looks forward to this continued collaboration with AmBank and will jointly explore other locations. 
They're targeting to open another 47 such outlets throughout the country in the near future. Both companies will be working closely together to evaluate and integrate the concept into existing and new AmBank branches.
To celebrate the new collaboration and launch, they shared that 10 lucky winners will be selected to receive a complimentary cup of coffee every day for 365 days.
This campaign will run from March 9, 2023 to June 8, 2023. It's open to customers who successfully perform recognised banking transaction(s) at any of the three cafe banking locations.
Customers using AmBank credit or debit cards for walk-in purchases at these Bask Bear Coffee locations will also get to enjoy further promotions.
Editor's Update [10/3/2023, 11.22AM]: Parts of this article have been edited to include more information from our interview with Bryan Loo.
Featured Image Credit: AmBank / Bask Bear Coffee