It's been a little over a year since MalaysianPAYGAP (MPG) got its start.
For those who don't know, MPG is an Instagram account—that now also has a YouTube channel—that advocates for wage transparency.
It's best known for posting anonymous Malaysian employees' wages and job details online to give others a clearer picture of what the standards are like in the industry.
Other than just continuing to broadcast anonymous Malaysians' wages, though, MPG has quite an assortment of ambitions it plans to act upon in the near future. Its creator, Prestine Davekhaw, made this clear in a recent interview with us.
Here's a glimpse into some of its upcoming projects that the platform aims to undertake.
It's a numbers game
Having collected a wealth of data, MPG began to showcase its findings on a Google Looker Studio dashboard sometime last year.
This dashboard compiles and presents information about the median gross salary in Malaysia across different states as well as racial and educational backgrounds.
While insightful, an issue that has come up is that of having a sample bias. The kind of people who end up submitting their information and salaries to MPG are typically English-speaking and work in MNCs.
This issue is something that Prestine acknowledges and plans to address.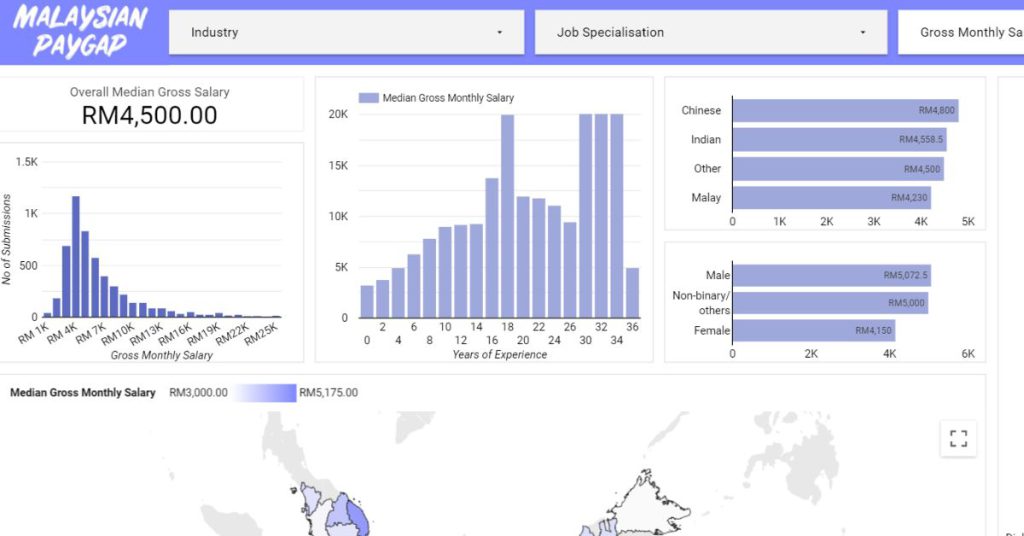 "We're going to have another round of data collection coming through next year, that's when we'll activate more power on the ground to reach out to people who are not the majority of our audience."
Believing that MPG is inadvertently ignoring a huge part of the population that's more comfortable conversing in Malay, Prestine hopes to get a Malay producer for the YouTube channel, and further diversify the team from there.
This will help them reach out to different parts of the public and complete the data collection process.
The data dashboard aside, Prestine shared that many have asked MPG to publish an official report. However, that will be a challenge in itself.
"When we are collecting that data, we don't have the infrastructure to support payslip verification," she pointed out. "So, we are unable to verify that this submission is 100% true on that dashboard. It's not sufficient enough to come up with a report."
Understanding how important and valuable such a report may be, though, the MPG founder hopes that they'll have a skillful enough person to come in and work on this infrastructure.
"It's very easy to try to influence culturally, to try to use stories and narratives to change the conversation," Prestine acknowledged. "But it would be more impactful if we can pair it up with a whole data system."
A different spin on a job board
Currently, MPG is looking to fill roles for its upcoming project of building a dedicated website. This website will support the whole wage transparency narrative while providing resources for individuals and companies to support and implement that.
The team also wants to create a portal on the website that streamlines the data collection of wages.
Another thing that Prestine wants to accomplish, she revealed, was to create a unique job board.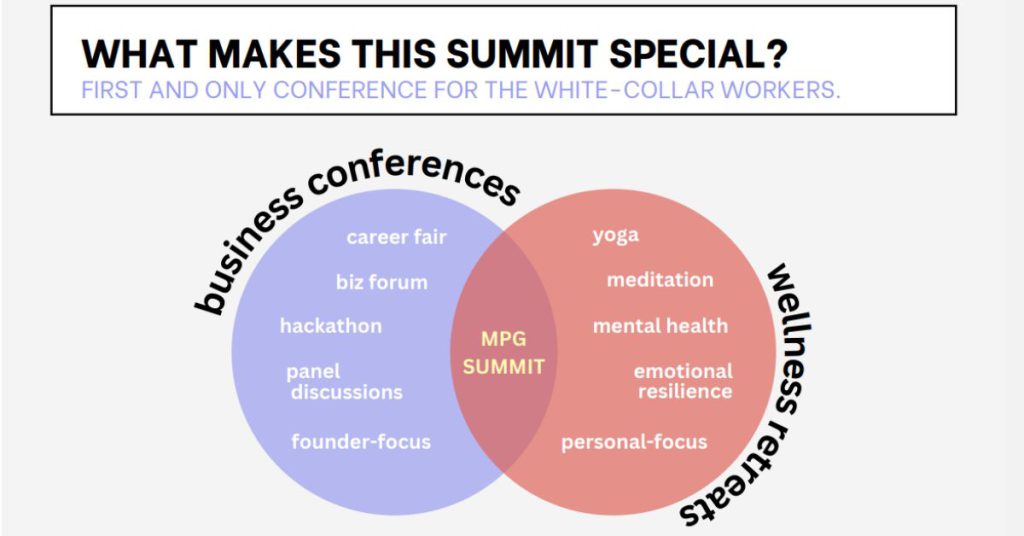 "For this job portal, I'm not 100% sure if it's what the community needs, even though it seems like it," the MPG creator shared. "Everytime we post up something, I will receive so many DMs saying, 'What is that company, I would love to apply to them'."
Hearing this, Prestine realised she wasn't providing them with a straight-cut solution. Thus, she felt like maybe a job board was the answer.
But unlike the usual job board, MPG aims to only list companies with good transparency and perks.
"It's going to be very selective, so we also have to make sure that we know all of the benchmarks that we're going to set."
She added, "And we have to know how to filter companies. We have to know how to talk to companies and understand their pain points too."
It's certainly a tall order, but having the established MPG branding behind it would immediately help the job board stand out from others in Malaysia.
Shining a light on corporate heroes
It doesn't stop there. Website and job board aside, one of the biggest projects Prestine aims to undertake is a job summit.
Planning to call it Corporate Heroes, she likened the future summit to a career conference—but more fun, and only for white-collar workers.
Prestine believes that in terms of conferences, employees only ever get to attend job fairs. Conferences typically only cater to entrepreneurs and policy-level people, not the everyday worker.
Thus, MPG's summit—to be dubbed the Corporate Heroes Summit—will be a mix between a business conference as well as a wellness retreat. Much like the job board, it will feature a curated cast of employers.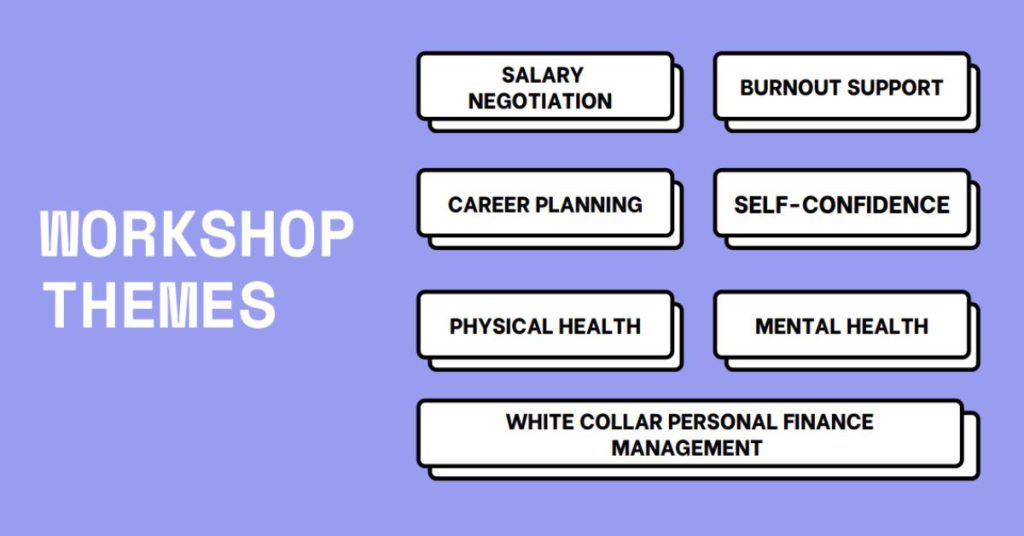 The speakers that Prestine hopes to invite include member of parliament Syed Saddiq, financial blogger Aaron Tang (AKA Mr Stingy), and Khailee Ng, a managing partner of 500 Global.
Workshop themes at this summit include salary negotiation, burnout support, career planning, white collar personal finance development, etc.
Panels might feature discussions around racism in the workplace, whether HR personnel are friends or enemies, managing boundaries in the workplace, and more.
In short, this whole summit is created for white-collar employees, by white-collar workers.
"Policy is going to take a long time to change," she explained the importance of such a summit. "In the meantime, what we can change is the collective mindset towards work."
Prestine and her team aim to organise the summit in Q4, but for now, it's still a huge work in progress. MPG will need a lot of support to make it happen, but the founder seems ambitious enough to hopefully see this movement through.
Learn more about MalaysianPAYGAP here.
Read other articles we've written about Malaysian startups here.
Featured Image Credit: MalaysianPAYGAP