Nestled in the vicinity of Sunway University in a humble food trailer is Chong Ka Fei and his Japanese cooking.
Hailing from the royal town of Kuala Kangsar, Perak, the 27-year-old's interest in Japanese cuisine took him to many places, such as prominent restaurants where he got guidance from a Michelin-starred chef. 
But his brand, Kinori, doesn't sell the fancier meals like those that he was trained to whip up in restaurants.
Instead, the first-time entrepreneur makes nori tacos and donburis for the common people.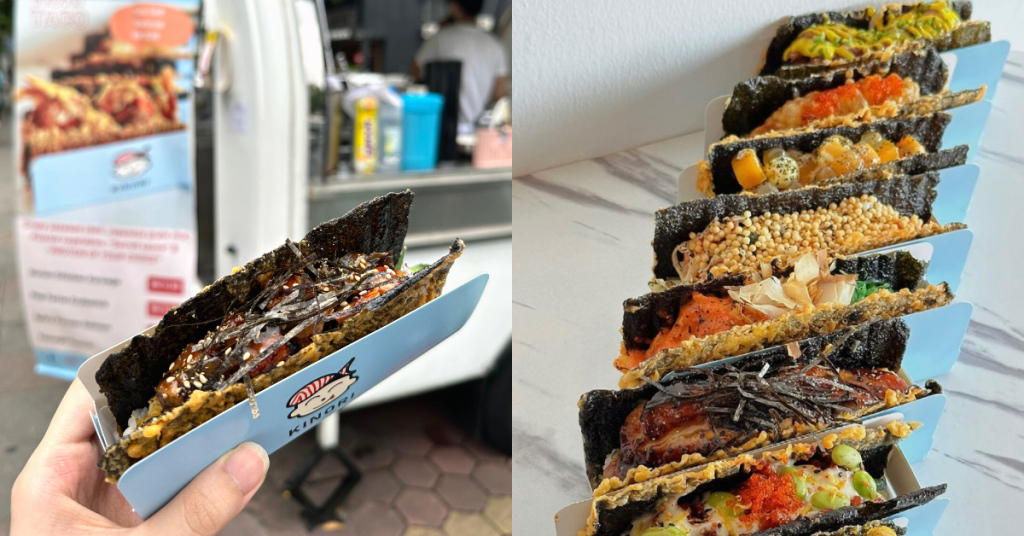 Mentored by a Michelin-starred chef
At 17 years old, Ka Fei started working at a Japanese restaurant back in his hometown. He then moved to Singapore a year later and was employed at Public Izakaya by Hachi.
This was a big step up, as the restaurant is operated by the Hachi Group, a company that calls itself the pioneer of omakase dining in Singapore.
His past experience proved to be valuable when Ka Fei was promoted to work at Hachi Restaurant within the same year. There, he learnt the ways of preparing kaiseki traditional multi-course meals.
His ambitions took him even further next. After flying to the Land Down Under, Ka Fei worked at ICHI NI NANA in Melbourne before moving on to Golden Gai, a Japanese fusion restaurant and bar.
This turned out to be another tipping point in Ka Fei's culinary career.
At the time, Golden Gai's menu was curated by Michelin-starred chef Masahiko Yomoda. He noticed Ka Fei's talent and invited him to help out at another kaiseki restaurant called Ishizuka.
But instead of choosing one or the other, Ka Fei had the opportunity to work at both. From 10AM to 4PM at one restaurant, then 4.30PM to 10PM at another.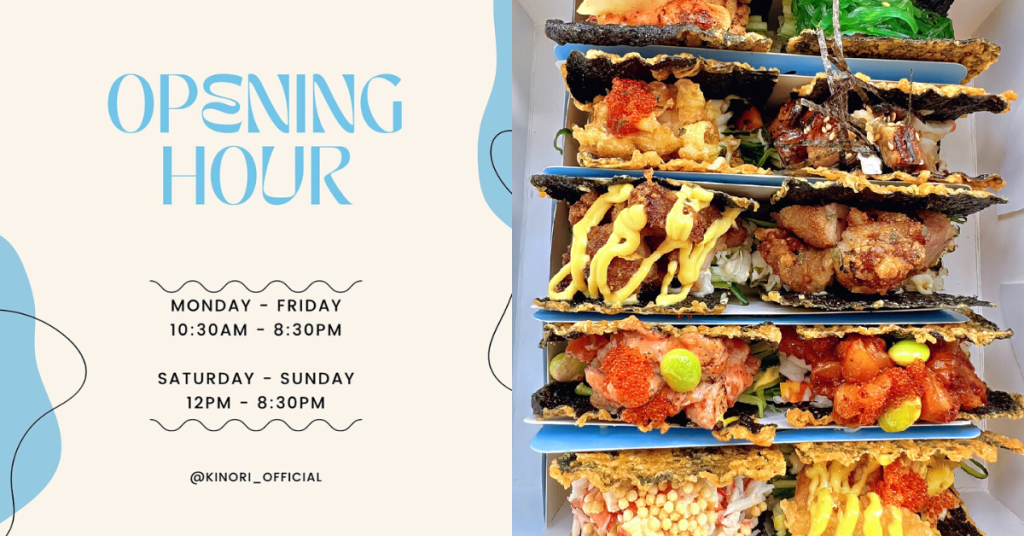 Coming back to his roots
After a while though, Ka Fei decided to open an F&B business in Malaysia because he believed there was greater potential for him here than in Melbourne. 
Running a food trailer alone is quite a bustling affair, so he first searched for a business accomplice online. "That's where I met my partner, Carine," he said.
The name "Kinori" has a combination of a few elements—"nori" which means seaweed and "ki" which means energy and power in Japanese. Coincidentally, the founder and his partner's Chinese names also start with "K". 
The duo's decision to set up a food trailer called Kinori around Sunway University was a calculated move.
"It targets both students and crowds coming from other areas. Compared to Taylor's Lakeside Campus, [where] the location is not as easily accessible (to non-students)," Ka Fei explained.
Besides that, areas around universities and offices tend to be prime real estate areas for F&B industries, as students and workers don't usually like to go very far for daily meals.
That said, establishing Kinori with a food trailer does have its downsides. Unlike food trucks, a food trailer is not as portable. This means that they can't regularly move around to different locations.
This explains why Ka Fei and his partner chose to rent the food trailer for three months (until May 20, 2023) as a trial period. 
During this time, they'll decide if extending the rent or shifting to a different location would be better for the business.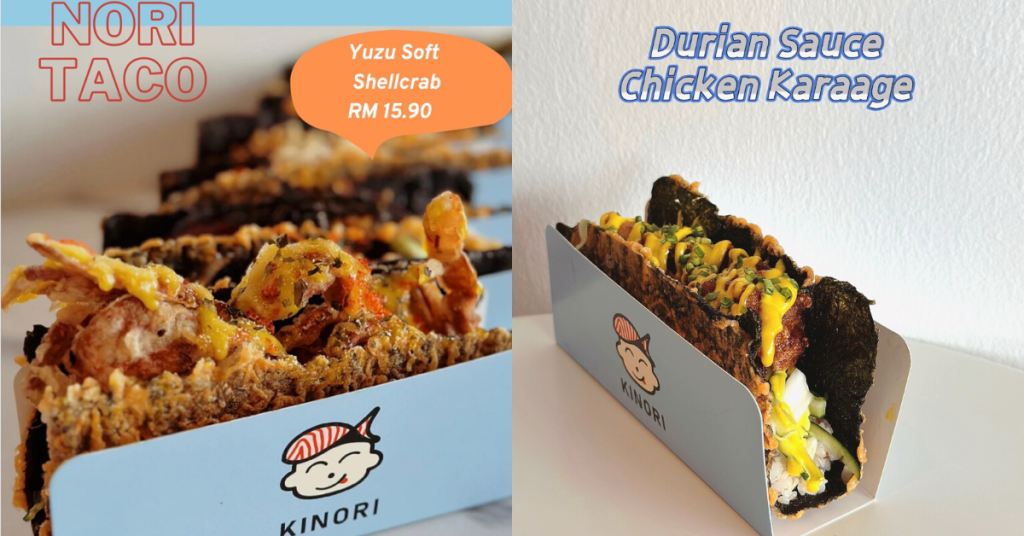 Making something of his own
Nori Tacos (or more commonly known as sushi tacos) are not a new concept in Malaysia, with brands like Mr Chew's Chino Latino Bar and Pokétwins also offering it. 
But its presence in Malaysia is not wide either, which supports Ka Fei's idea of focusing on this specific Japanese food. Donburis, on the other hand, are quite a staple in most Japanese restaurants, but perhaps Ka Fei's experience is what sets Kinori's apart from the competition. 
That said, they're working on expanding the menu to include other Japanese food.
You might find that the seaweed shells might have a spicier kick to them the next time. Kinori is also planning to include Japanese sandos (AKA sandwiches) in their offerings soon.
In terms of pricing, Kinori's Nori Tacos start from RM10.90, while its Donburis start from RM13.90. Customers can also choose to turn it into set meals (includes a drink and a side of coleslaw) by adding RM2.90.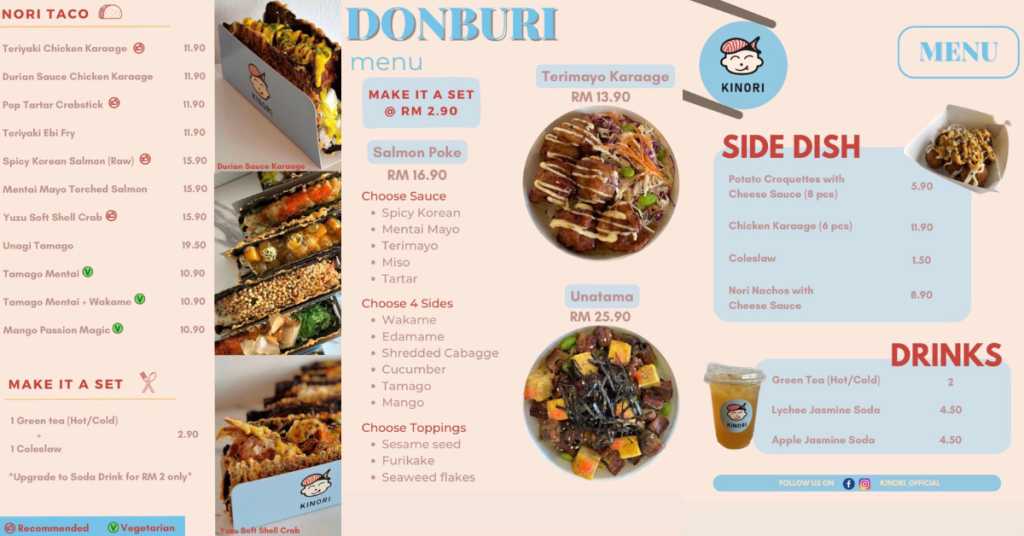 Having worked in multiple restaurants, the transition to running a food trailer wasn't easy. Ka Fei had to readjust his operations and work in multiple spaces.
"I do most of the preparation work in another kitchen, not in the food trailers," he shared. "It's harder to work in a food trailer due to the small space and also the electricity and water limitation."
The duo are also restricted to using certain equipment only. So it's no wonder the small food trailer space remains the brand's biggest challenge.
Besides that, juggling several roles is still somewhat new to Ka Fei. "I have to be a cashier and a chef [at the same time]," he said.
Imagine having to cook while serving a queue of customers during rush hour. It's not the most comfortable situation to be in.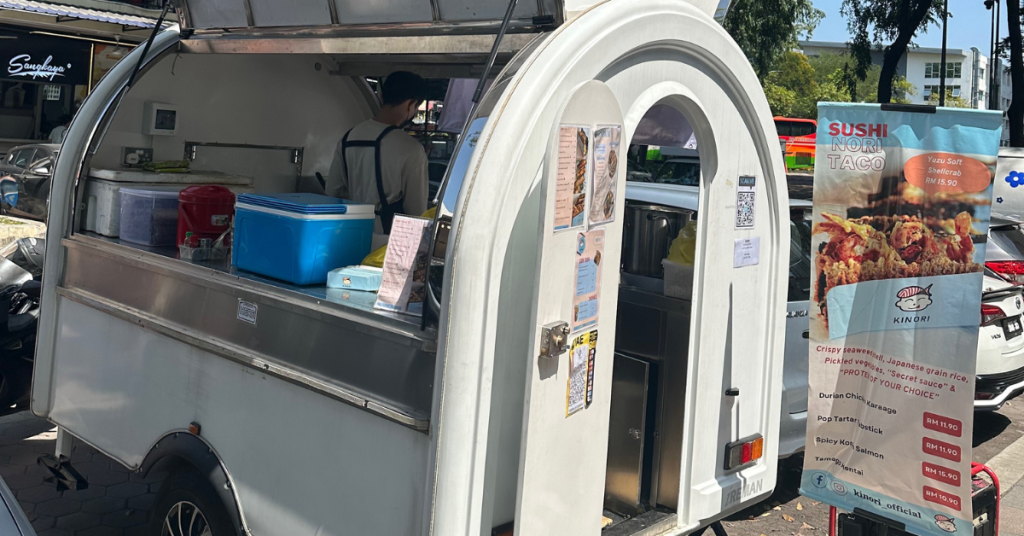 Rolling out a new path for himself
With all that said, Ka Fei finds that his experience running the new business has been quite enlightening.
"I have learnt how to communicate and interact more with customers," he shared. "We (the team) learnt that not only is the location important, social media marketing is crucial as well."
But he admitted that there's still a way to go before they could reach their ultimate goal. 
Speaking candidly to Vulcan Post, Ka Fei confessed, "I believe that I need to put more time and focus on this business in order for it to run well. If I do it as a side hustle, I could only manage to do online orders on certain days and only if I have another full-time job."
Eventually, the duo plans to open Kinori kiosks in shopping malls and maybe even a Kinori cafe. But in the meantime, they'll be taking it one step at a time.
Featured Image Credit: Kinori