At trader's markets in Malaysia, most booths are usually manned by some young, hip person. After all, running these booths isn't easy work, and these events are typically more of a young adult's scene.
However, such isn't the case for Pick a Pickle, a pickle brand that's been popping up at such events over the past few months.
Rather, you'll find 68-year-old Allan Yeo or perhaps his wife, 69-year-old Sally Yeo, handing out pickle samples and bagging jars.
Here's the story of how Allan, a now-retired medic, started a pickle business last year with the help of his wife and his daughter, Audrie Yeo.
A true passion for food and cooking
Allan has always had a close relationship with food.
Growing up as the eldest child in a family of nine, Allan often helped in the kitchen, where he picked up the skill of pickling from his mum, who hailed from Chaosan, China.
His love for food continued even after he began serving as a medical assistant with the Ministry of Health. During his service, he would be posted to remote areas in Pahang, where he ended up learning rare pickling recipes, such as pickled rubber seed.
Later, he joined ExxonMobil as an offshore medic, where he was able to interact with many great cooks from around the world.
12 years into the job, he was promoted and found himself stationed in the UK, where he also pursued degrees in occupational health and safety management.
"Even with my tight schedule, because of my passion for cooking, I worked part-time in a local Japanese restaurant after work till midnight and on weekends," Allan shared. "Although 'medic' is my profession, cooking is my passion."
Still, the man loved clinical work. So, when the opportunity came for him to do more clinical work in the oil and gas industry, he took it.
"There is nothing more rewarding in life than to see my patients recover after my treatment, and saving lives during medical emergencies like serious injuries on the rig."
During the pandemic, he finally decided it was time to retire. Yet, after being homebound for a couple of years, he decided to get active again. With support and encouragement from his family, Allan decided to start his very own F&B brand.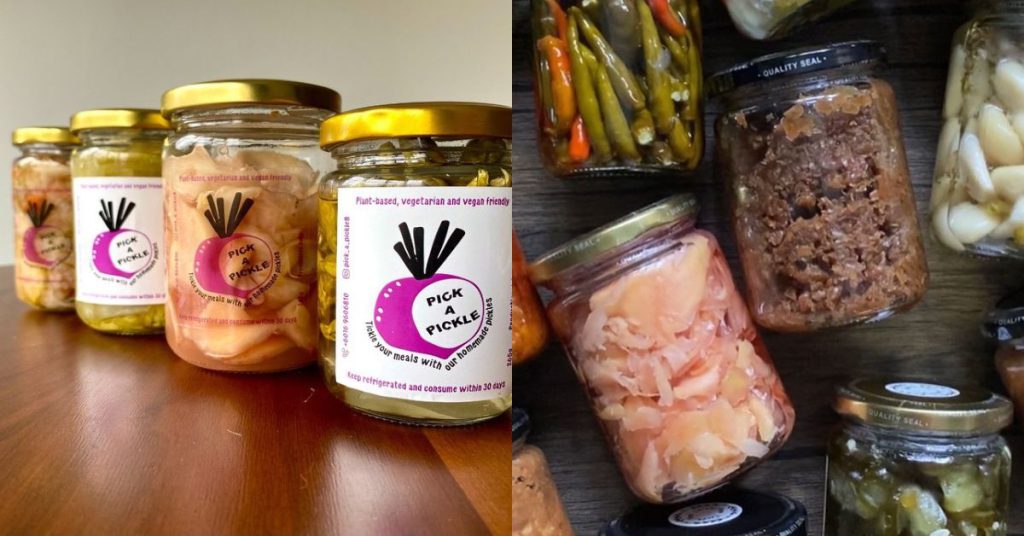 Starting off with a bang
Together with Audrie and Sally, he launched Pick a Pickle in June 2022.
"My parents have always had this thought of getting into F&B and had toyed with the idea of opening a humble hawker stall to pass time," his daughter, Audrie, shared.
While Audrie and her siblings thought it was a great idea, they also understood that their parents weren't young anymore. Working as a hawker every day at their age may be too much.
Then one day, as the family enjoyed a serving of Allan's radish pickle, a conversation about selling those pickles popped up.
As fate would have it, Audrie's friend who organises pop-up markets was in the midst of curating a food-themed market. So, when the friend offered them an opportunity to participate, they decided to take the chance.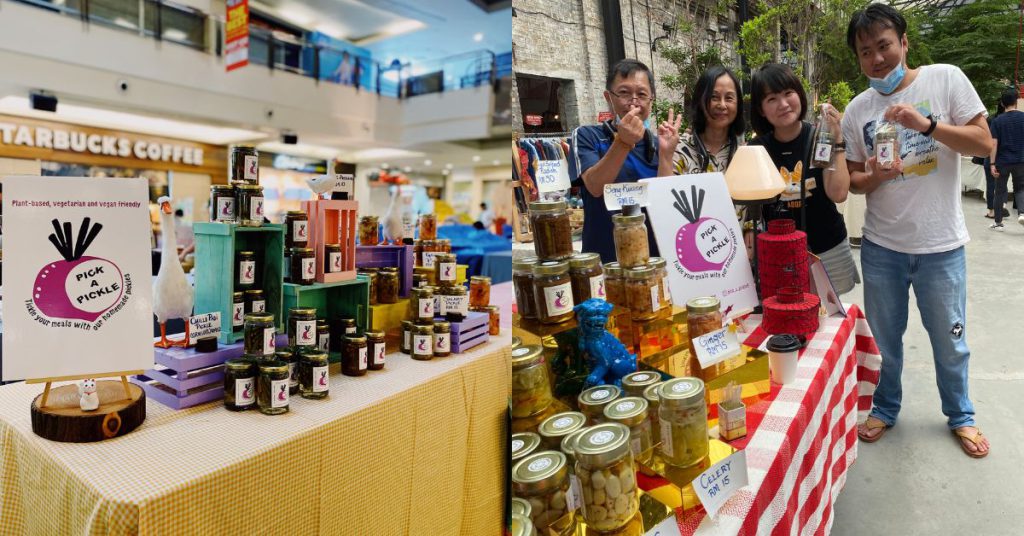 Much to the family's surprise, they did well in their first market. They managed to sell all of their products and even got some customers to make pre-orders.
"Seeing people's responses when they tried out samples and convincing them to buy is really motivating and encouraging," Audrie said. "I am also happy to see my parents, especially my dad's face light up whenever a customer gives compliments to the chef."
From there, Pick a Pickle began to pick up steam, receiving invitations from other pop-up organisers.
A youthful spirit at heart
Audrie's mum, Sally, is also a big part of the whole venture. Prior to retirement some years ago, she was a medical lab assistant working at a government hospital in Kuantan.
"They did enjoy retirement, but then again, it can get quite passive," Audrie shared. "They do miss their friends at work and those days of being productive, especially my dad."
Especially with all the children having moved out, Allan hasn't been able to cook as much as before, since no one is home to eat his food.
With that in mind, Audrie finds that Pick a Pickle has been good for them as it keeps them active, as she noticed that they've slowed down a lot since retiring.
"It scares me to see them slow down so much in mobility," Audrie admitted. "Starting this project and with business being good, I have not seen them so enthusiastic about something for a while now and am happy to see this."
Allan shared that the home-based nature of Pick a Pickle has made it a particularly good pastime since he gets to set his own pace with no pressure, and with relatively low overhead.
As such, he highly recommends other retirees out there to just do whatever they've always wanted to do to keep themselves busy.
While there have been many positives with the business, there have been a couple of shortcomings too, as with any pursuits in life. For one, running a business with family members can sometimes result in disagreements.
"Butting heads will definitely occur due to the generation gap," Audrie shared.
Allan also agreed, sharing that working as a family certainly has its ups and downs.
"There will always be differences in opinion, but the most important thing is to compromise and come to a common agreement. There is nothing in the family that cannot be resolved," he said.
Not exactly slim pickings
Currently, Pick a Pickle has about 10 products on its menu, and would occasionally do specials depending on what recipe Chef Allan can successfully cook up.
"The very first pickle that started this whole business is the OG Radish," Allan said. "By the way, 'OG' means 'Original Gangster'. Another teenage terminology that's very alien to me…"
The OG might just be referring to Allan's mum, since it is based on her recipe, but with some tweaks so it fits the modern palate.
"My mum's method of pickling will ensure all my pickles remain crunchy for a longer period," he said. "We are Teochew people, and pickles are one of our specialties."
Another pickle Allan highlighted is the Mala Sengkuang, which is infused with soy sauce and flavoured with Sichuan peppercorn, chilli flakes, and chilli padi.
Allan is also proud of the celery pickle, which he came up with himself.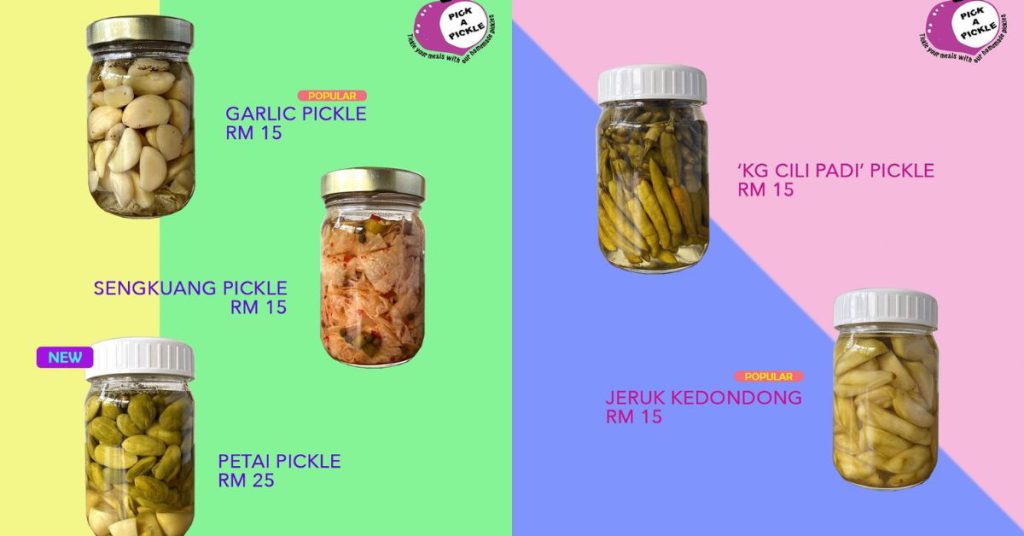 "How it started is very interesting," he assured.
He's usually the chef in the family, while Sally only cooks when there are special requests from the kids. Every time she cooks dishes that use celery, there would somehow be an abundance of leftovers of the vegetable.
"No matter how hard I tried to use them, there is a limitation to the serving," he explained. "My family will go on strike if I were to serve celery every alternate day."
Thus most of the time, the leftover celery ends up in the trash. Finding that to be a waste, Allan decided to pickle them one day, and after several trials and errors, he finally came up with an ideal recipe.
"Quite a number of my customers who hated the smell of celery are now fans of my celery," he shared.
Garlic and petai pickles are also a few other interesting innovations sold at Pick a Pickle.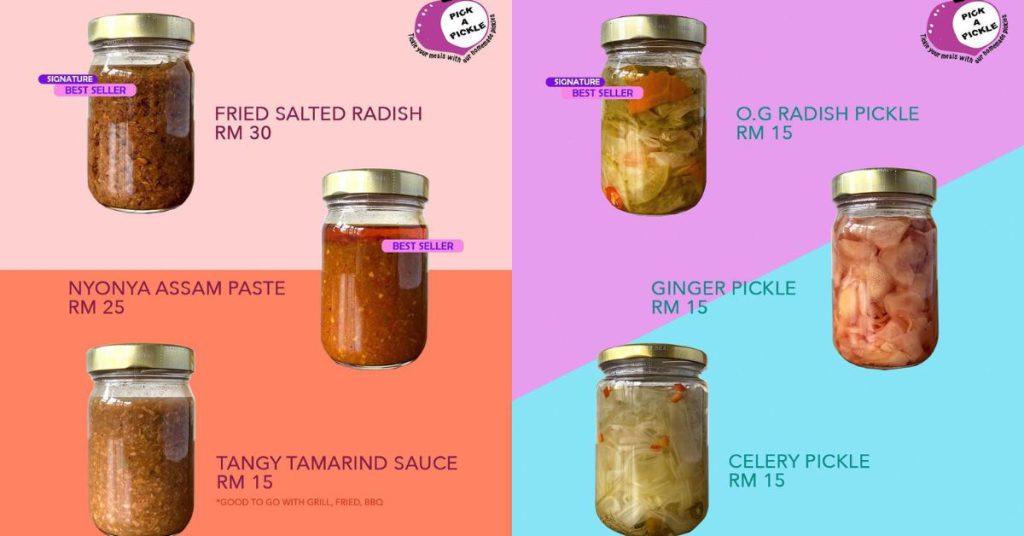 The family is currently trying out more new ideas like pickled curry okra, Nyonya acar awak, pickled bamboo shoots, pickled mushrooms, and pickled chillis stuffed with shredded papaya.
Pickles aside, they also make savoury pastes, including fried salted radish, Nyonya assam paste, tangy tamarind sauce, and sambal belacan.
Passing the pickling secrets
What started out as an occasional family activity has now become a full-fledged business for Allan, Audrie, and Sally. Not too long ago, the family officially registered their business.
Pick a Pickle initially started with a small capital of RM6,000, and Allan is happy to report that the returns have since doubled. To date, the team shared that they have sold around 1,500 jars of their products.
Rather than the money, though, Allan finds it more rewarding to just interact with customers and hear their feedback.
With that, he hopes to pass his pickling skills to his kids, and that their brand can become a household name.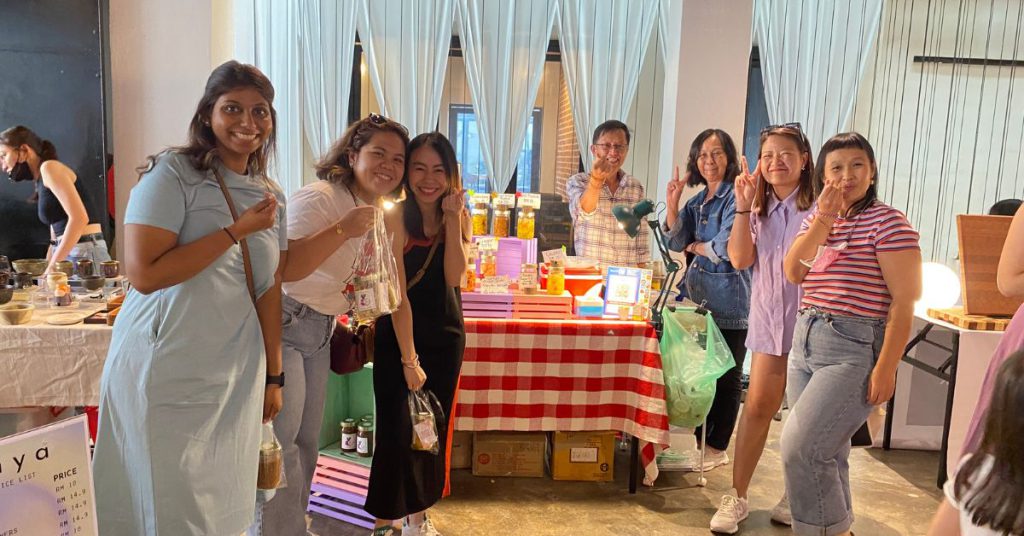 Once there are sufficient resources, the family plans to move to a central kitchen and start looking at retailing while getting proper certifications such as the HACCP, GMP, and halal certification.
"I am very proud of them for taking this risk in life for their own personal growth, even though they are in their late 60s already," Audrie expressed. "Of course, I do get a heavy heart when orders become overwhelming and my father has to rush them."
Thankfully, Allan seems perfectly content running the business.
"Venturing into entrepreneurship is a totally new experience for me," the 68-year-old businessman said. "It is a learning curve for me, but it's interesting. I always wanted to go into the food line after retirement, and it sort of came true."
Learn more about Pick a Pickle here.
Read other articles we've written about Malaysian startups here.
Featured Image Credit: Pick a Pickle