Some people are lucky enough to find something that they are passionate about at a young age.
For others, it might not be until they participate in a specific workshop or class that ultimately helps them to figure out what they're genuinely passionate about.
Ronnie Khoo didn't find his passion until he joined a terrarium workshop later in life. Little did he know that this would result in him quitting his decade-long career in telco and eventually opening Ohsum Mossum, a botanical art platform.
Sculpting his life
Speaking to Vulcan Post, Ronnie shared that his formal education and working experience have nothing in common with what he is currently doing.
Ronnie graduated with a Bachelor of Electrical & Computer Systems Engineering and worked for over a decade in telco for mobile network vendors and operators such as Huawei, Maxis, UMobile, and Celcom.
After a while, though, he wanted to do something more rewarding and meaningful than his day job.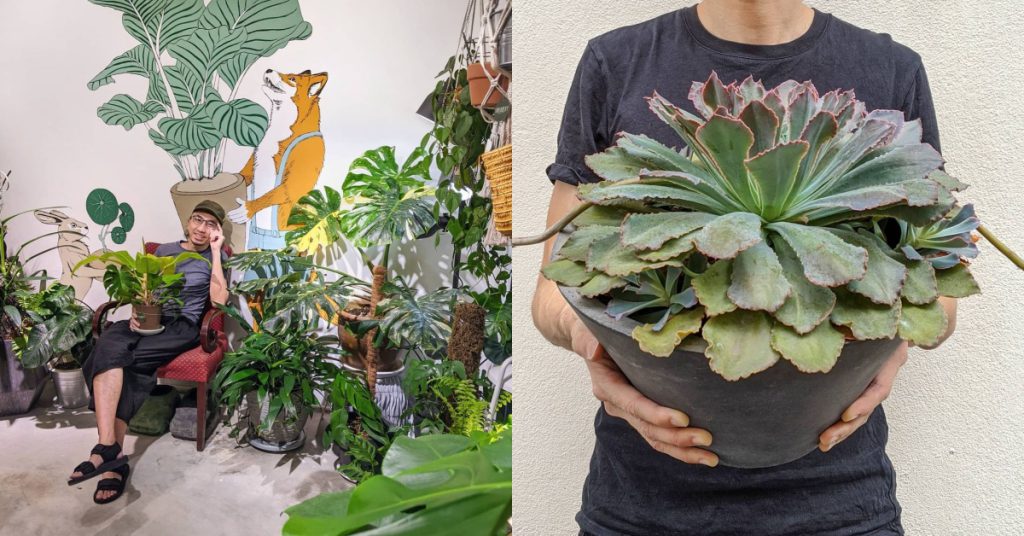 "I've always gravitated towards creative work, so switching careers finally felt like I was doing what I was meant to do. That sense of belonging was far more important than financial risks at the time," he shared.
For context, Ronnie had previously dabbled in the local arts scene by playing in bands and participating in theatre, art projects, and indie films.
Referring to himself as a late bloomer in terms of his passion for plants, Ronnie shared that he only got into plants seriously in 2015 after attending a terrarium workshop hosted by snackfood, a gift emporium.
From there, his interest was piqued, and he started making terrariums at home.
"Compared to other things I've tried like songwriting or water-colouring, making terrariums [required] relatively low skill and [provided] instant gratification. It was a casual way to express oneself and feel accomplished at making something pretty."
He left his full-time career to focus on the craft in 2017, two years after Ohsum Mossum was created.
Thankfully, he had a modest amount of savings to tide him over, plus starting a terrarium business from home required quite a low expenditure.
"It wasn't that hard, although people tell me it was brave to leave a professional career behind."
Bringing nature a step closer to home
Although he initially had no real intention of developing his hobby into a business, Ronnie said it was a natural progression.
"I had quite a collection so I joined weekend markets to sell them, they were still quite novel then."
However, he gained confidence after realising that terrariums are an easily scalable business.
"You can do it from home, use social media, and expand into a shop when you feel it's right. You don't need to put out a lot of capital from the start," he said.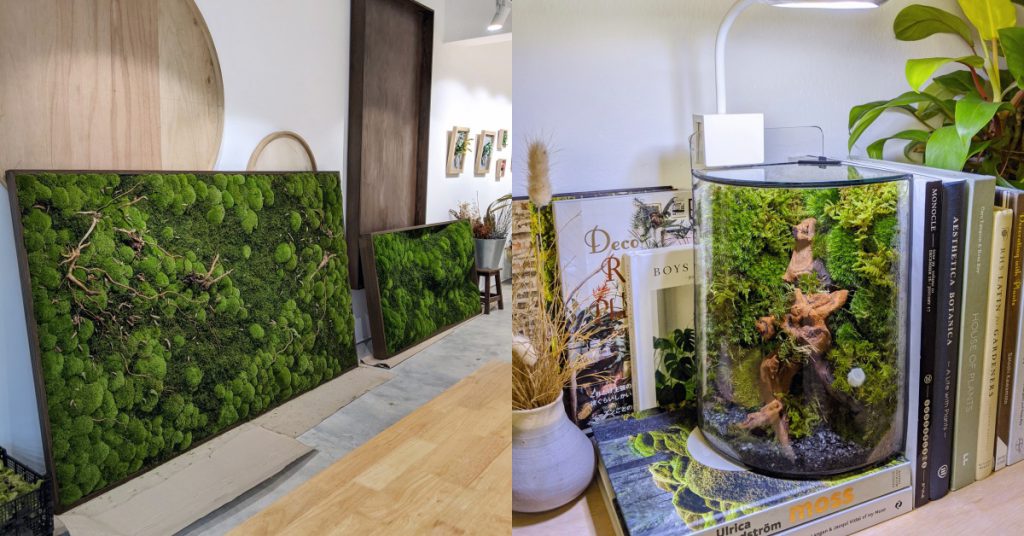 Ronnie shared that moss has a unique appeal in Malaysia because it is an exotic plant here. "We don't get them growing as abundantly in our cities as in temperate countries." It's probably why the Mossy Forest in Brinchang is a sight to behold for locals and tourists alike.
Apart from selling terrariums via its online platform, Shrubbery, and its physical store located at Bandar Utama, the brand's primary focus is botanical installations, where Ohsum Mossum's full-time team of skilled artisans get to work.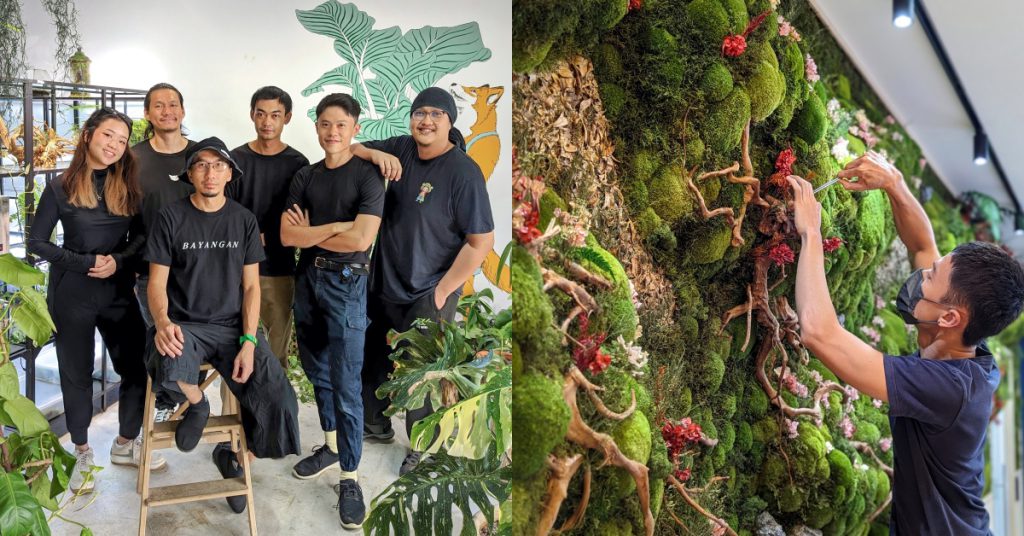 "We're primarily focused on installation work at the moment. At heart, we are crafter artisans, so we're always looking for new things to explore and make within the plant crafting space to improve our skills."
Currently, within a month, they can make up to around 30 square metres of moss art at a level of technical quality. Anything more than that needs to be parked for the following month.
Some of their notable clients include DeWan, Standard Chartered, the Forestry Department, and more, with Ohssum Mossum's extensive portfolio of clients proudly showcased here.
Ronnie said they are focusing on preserved moss installation work because there is a lot to explore and advance, and about one in five projects they take on is something they've never done before.
"The more we make, the better we're getting. We can only hope the market continues giving us opportunities to improve. We'll be doing this until we feel we're plateauing. At this point, I will focus on documenting and teaching from the industry experience we've gained," he said.
Planting the seeds for the future
In terms of the challenges they face, Ronnie believes that they meet the same challenges that other local craft makers face, such as a relatively smaller market size, a weak currency, and lower purchasing power.
Despite the challenges, the founder does not doubt that they are among the most prolific and adventurous in the niche space of preserved moss walls.
For context, when they started with terrariums, they used living moss which requires the right conditions to keep alive.
"Moss doesn't stay alive exposed on a wall indoors, the conditions are not suitable. So to make moss art on a wall we had to learn how to preserve moss, which is simply plant taxidermy—processing real plants to stay looking fresh and green."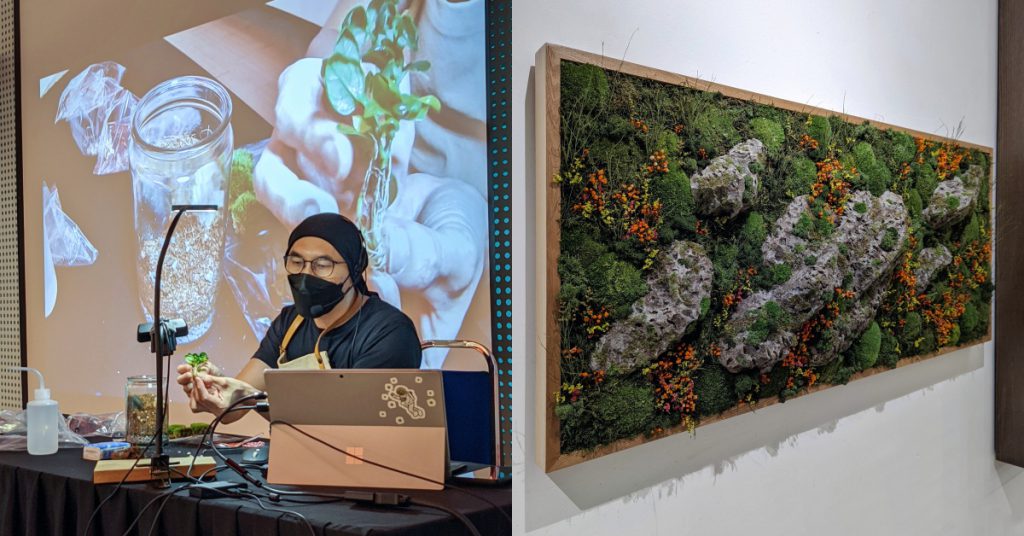 Although some manufacturers make and sell preserved plants for crafters to use, Ronnie claims that Ohsum Mossum was one of the first plant crafters to preserve their plants in-house.
When they started doing this around 2018, they received frequent questions from international followers on Instagram, to the point where they held a Zoom class to teach people worldwide.
"It felt like I was part of a movement and it's precious, I don't think I could have impacted the engineering world this way if I remained in engineering."
Ohsum Mossum also offers classes and workshops, and Ronnie said that the market demand for workshops is greater than the ready-made ones they sell.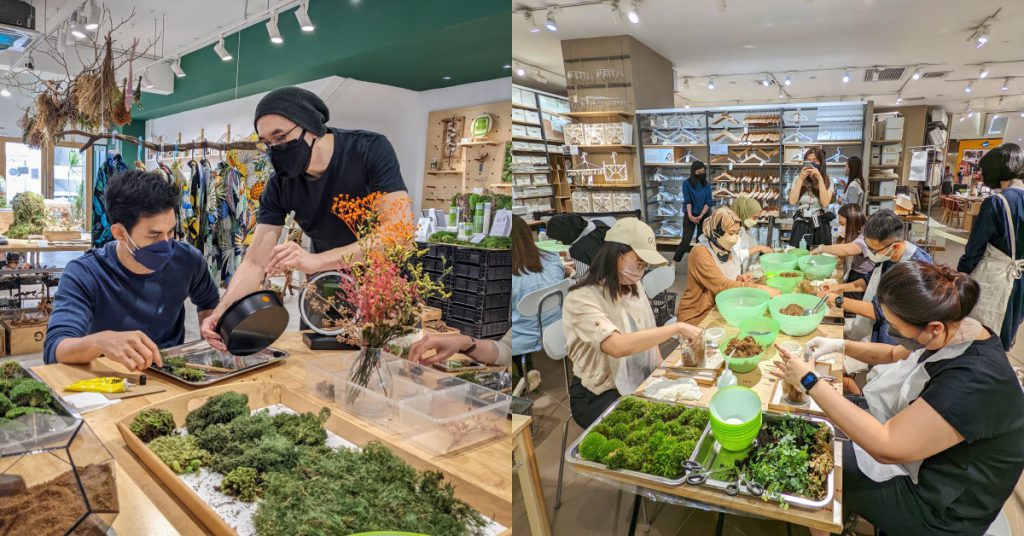 "We prefer to do terrariums as workshops because we get to educate our students as well. Our secret agenda is to 'plant a seed' of curiosity about the plant world and I would like to think that our students leave our workshops with a better understanding of plants," he expressed.
The majority of their classes caters to beginners and are fun and casual, where they teach the basics of plant care and how terrariums work.
"I learnt my first terrarium at a workshop (and look where it led me). I want our students to leave with that same sense of accomplishment and enthusiasm for nature," he concluded.
Learn more about the Ohsum Mossum here.
Featured Image Credit: Ohsum Mossum