EzyCart, a Malaysian smart shopping trolley based on artificial intelligence (AI), will now be used in local supermarkets such as Redtick, Lotus's, and Jaya Grocer.
This cutting-edge technology would enable shoppers to effortlessly navigate stores, locate products, and enjoy a hassle-free checkout process, eliminating the need for long queues at cashier counters.
In a press conference yesterday (June 13), NanoMalaysia Group CEO Rezal Khairi Ahmad said the EzyCart, which is equipped with an e-wallet system, helps consumers find products on the shelves and uses antibacterial nanotechnology to keep the carts virus- and bacteria-free for months.
A fund of RM1 million was allocated for the development of the cart.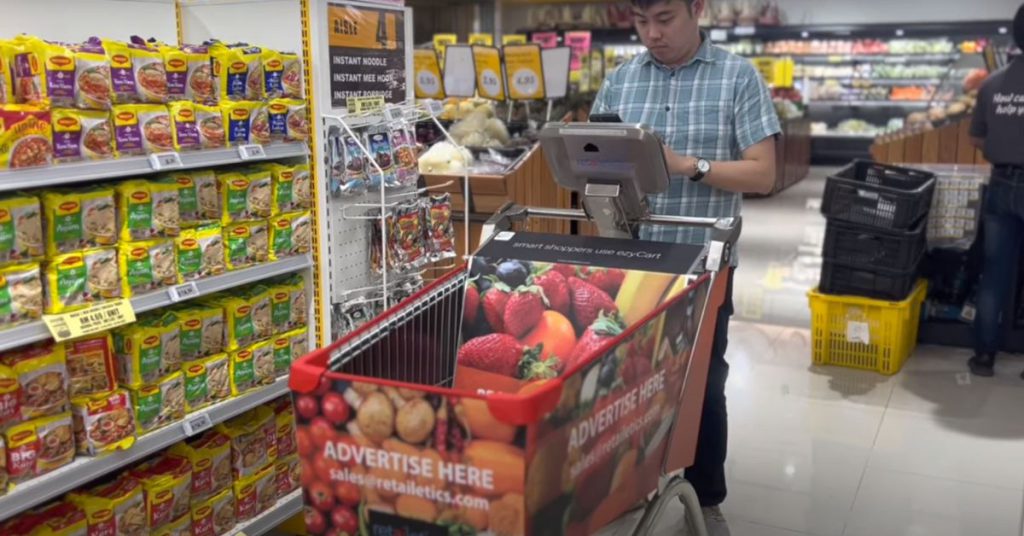 The event was also attended by Minister of Science, Technology and Innovation (MOSTI) Chang Lih Kang, who said: "It is essential to contextualise the EzyCart project within the broader smart retail industry landscape."
He shared that the revenue generated by smart retail shopping in the Asia Pacific region amounted to US$8.38 billion in 2020, and it is expected to soar beyond US$25 billion by 2025.
"Furthermore, we anticipate a substantial growth trajectory within Malaysia's smart retail market, with expectations exceeding RM1 billion by 2025. These figures highlight the immense potential and the pivotal role that Malaysia can play in shaping the future of the smart retail industry."
How does it work?
EzyCart is essentially a specialised shopping trolley developed through the collaboration of NanoMalaysia Bhd and Retailetics Sdn Bhd, an AI-based retail automation solution provider.
The customised trolley features technology such as barcode scanning, product verification (using weight and availability of the product), and a combination of advanced sensor features. This can all help to mitigate the risk of theft.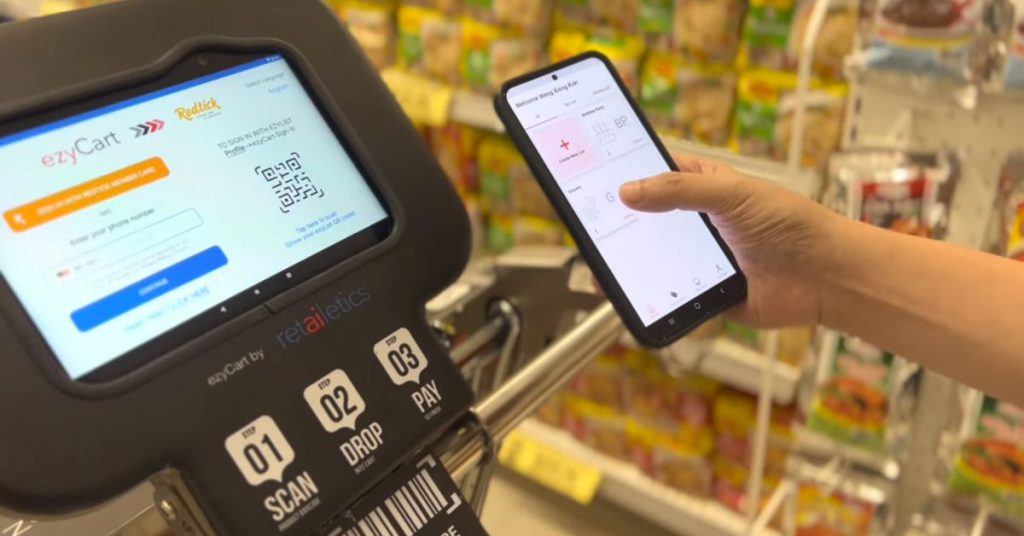 NanoMalaysia Group CEO Rezal shared with Vulcan Post that the EzyCart hopes to save time for consumers and provide an avenue so shoppers can easily plan their groceries.
With the ezList mobile app, consumers can efficiently plan their household shopping by making planned checklists on what groceries they need.
When you enter the supermarket, you can log onto their profile on an EzyCart, which will display the checklist and help guide you around the store to find the items.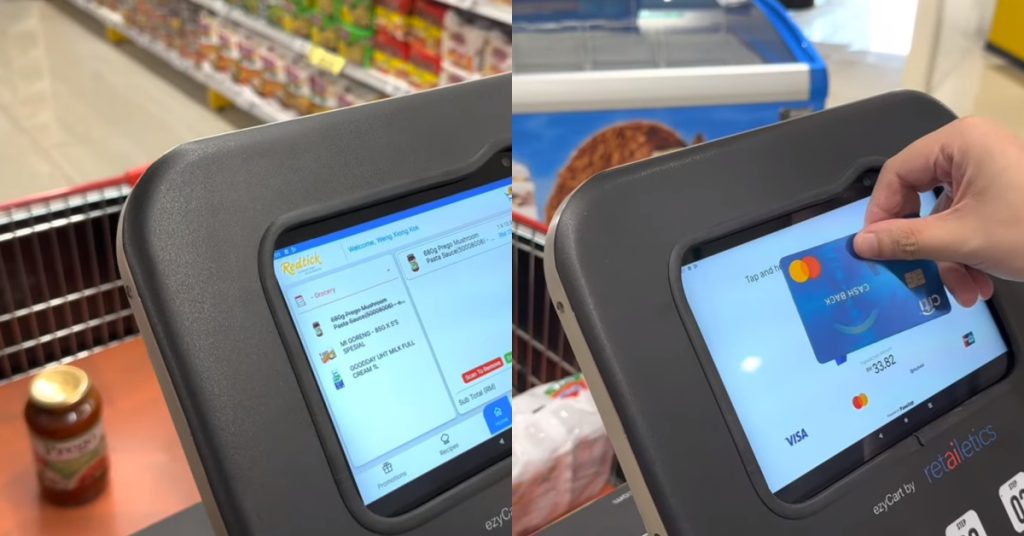 After you have gathered all of the items and placed them into the EzyCart, you can make payments directly with the smart trolley, eliminating any need for you to go to a check-out counter.
Meanwhile, it also helps retailers keep up with stock as the EzyCarts can be integrated into a supermarket and its inventory.
Rolling into stores
For a start, Rezal said EzyCart would be deployed at Redtick Putrajaya with a total of 10 trolleys placed in the supermarket. This marks Redtick as the first supermarket chain in Malaysia to embrace intelligent shopping cart technology, he shared.
Rezal explained that the EzyCart doesn't intend to replace conventional shopping trolleys and will co-exist to give consumers a choice.
"The long-term goal is not to replace conventional carts but to give users a choice. Although some may choose not to use it, we have given a step-by-step procedure for ease of use, and the interface itself is easy to navigate."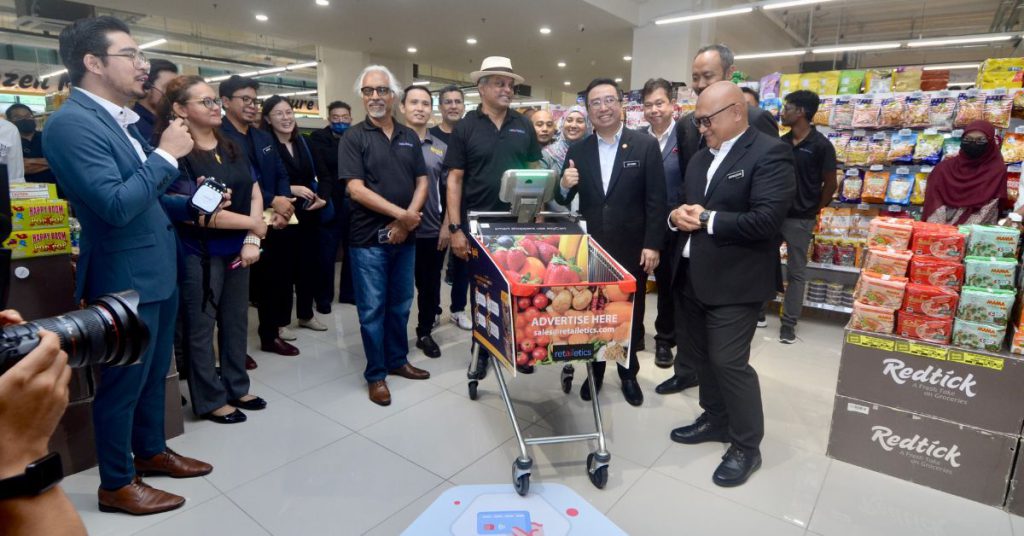 Redtick co-founder Loh Kok Hin said, "EzyCart enables us to provide our customers with an exceptional shopping experience, and this technology empowers us to sell more effectively, streamline our processes, and deliver a seamless in-store journey."
EzyCart was developed based on feedback from shoppers and retailers, and following the successful launch of the prototype in 2022, the smart shopping cart is entering the trial phase in several supermarkets, including the Redtick Supermarket in Shaftsbury Putrajaya.
Featured Image Credit: EzyCart