[This is a sponsored article with DearTime.]
A Bank Negara Malaysia (BNM) survey in 2015 found that only 4% of B40 households have life insurance or family Takaful coverage.
The high cost of annual premiums and the ease of access to the service are two main factors making it tough for those in lower-income groups to attain traditional life insurance.
That's where DearTime Insurance (DearTime) comes in, to lower these barriers to entry.
With an aim to get all Malaysians protected, here are six things to know about this new homegrown insurtech brand.
1. Its founder is an actuary with 15 years of experience in the insurance industry
DearTime was founded by Jon Ng, who's worked in Malaysia's insurance scene since 2008.
Jon held various roles in well-known insurance brands, being involved in actuarial pricing at Great Eastern, and product development at Tokio Marine, to name a few.
But throughout his career, something didn't sit well with him.
Due to the business model of traditional insurance companies, Jon shared that insurance agents are naturally centralised in urban areas to sell to affluent households.
This makes it difficult for those in rural B40 communities to access insurance. Instead of waiting for a fix to crop up, Jon took a leap of faith to start his own digital solution.
The mission? To democratise insurance and get all Malaysians covered, particularly those in middle-to-lower-income groups.
DearTime was launched in 2022 under BNM's Fintech Regulatory Sandbox 2, a regulatory environment that provides startups with a space to innovate in the country's financial sector.
2. Everything is done digitally through its app
DearTime takes on a fully digital approach by allowing users to purchase policies, edit their coverage, and make claims all through its app. This overcomes the limitations of an agent-first model.
Cutting out fancy policy names, the app also opts for language that's straight to the point. For example, the death coverage is simply named "Death", while the personal accident product is called "Accident".
Not only is the approach less intimidating, but it is also easily understandable to a wider scope of consumers.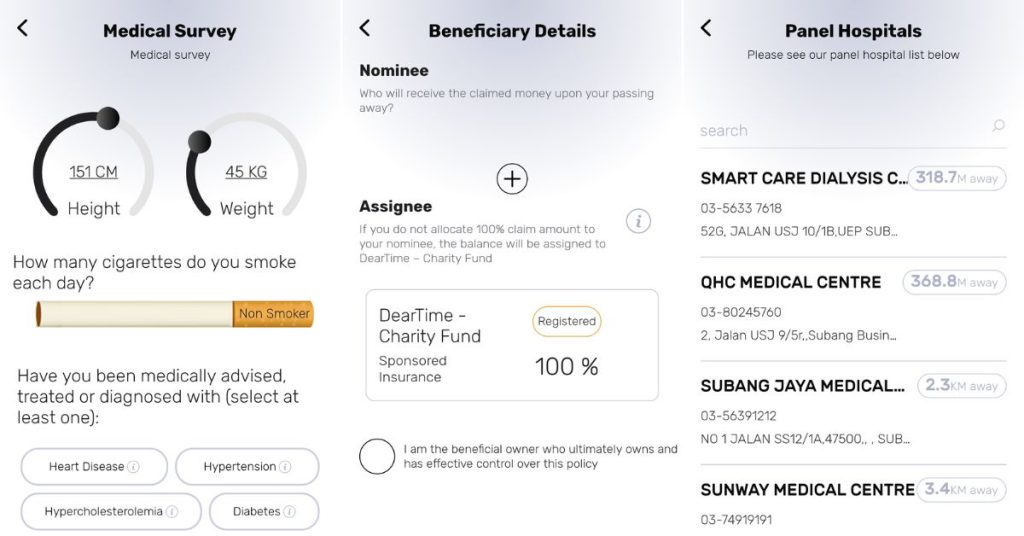 As part of the registration, you'll fill in a simple medical survey in the app to declare your medical conditions and assign nominees, then provide your payment details.
On the claims front, DearTime simplifies and digitalises what would typically be a complicated process involving lots of paperwork.
In the app, you'll select the product from which you're claiming, such as Accident, and provide your consent for DearTime to access your medical reports from the hospital, to validate your claim.
The app will then prompt you to verify your identity by scanning your face, and a claim code will be generated for you to provide to the hospital you're getting treated at.
DearTime pays claims within seven days on average.
If you're getting medical treatment from one of DearTime's 300 panel hospitals, you'll simply have to flash your e-medical card at the counter, and DearTime will pay your medical bill directly to the health facility.
3. It gives you the choice to only pay for what you want
DearTime offers five insurance products: Medical, Death, Disability, Critical Illness, and Personal Accident. It's up to you to decide on the coverage amount you want for each category.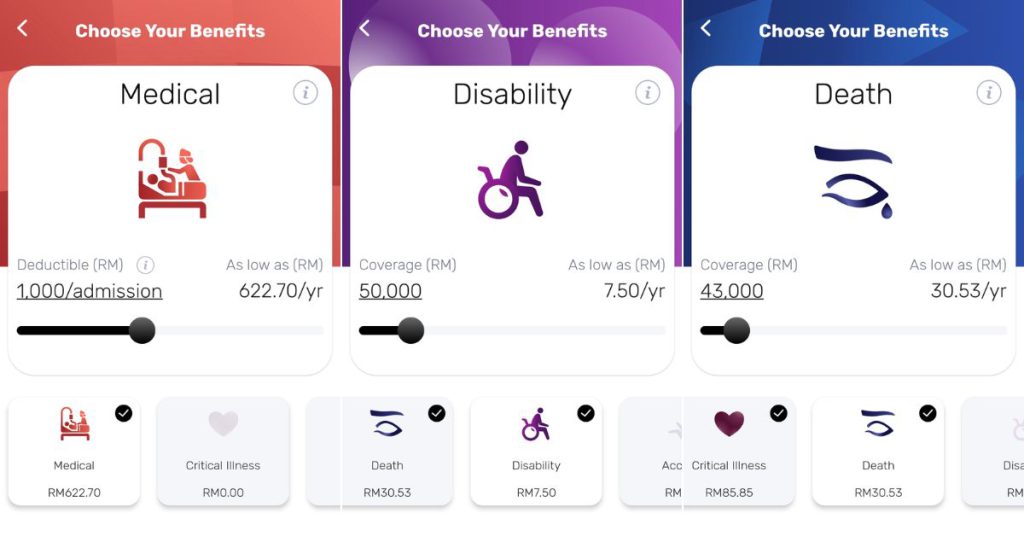 Traditional insurance providers typically bundle Death and Disability products together and only allow policyholders to claim once, but DearTime separates these.
"Especially for the lower-income group, we see the need to separate Death from Disability," Jon explained. "Because when you have a disability, you'd be disabled for life and that requires a lot of financial support."
Furthermore, you have the flexibility to manually turn off and on your coverage anytime. You can also choose to automatically renew your coverage by turning on the auto debit option.
DearTime's products are renewable annually, and the premiums increase every year because you only pay for what you need that year, without paying your distant future's premiums now in advance.
From Jon's perspective, life insurance doesn't need to be a long-term product. "We do not force you to pay for a future risk right now, so [we don't] lock you in," he stated.
4. It lets Malaysians sponsor insurance for B40 individuals
When you get covered by DearTime, you'll also be sponsoring insurance for someone in the B40 group who cannot afford it.
It's all part of DearTime's business model of getting every Malaysian insured, especially those in underserved and unserved communities. The built-in feature means that 10% of all customers' premiums will be allocated to something called Thanksgiving.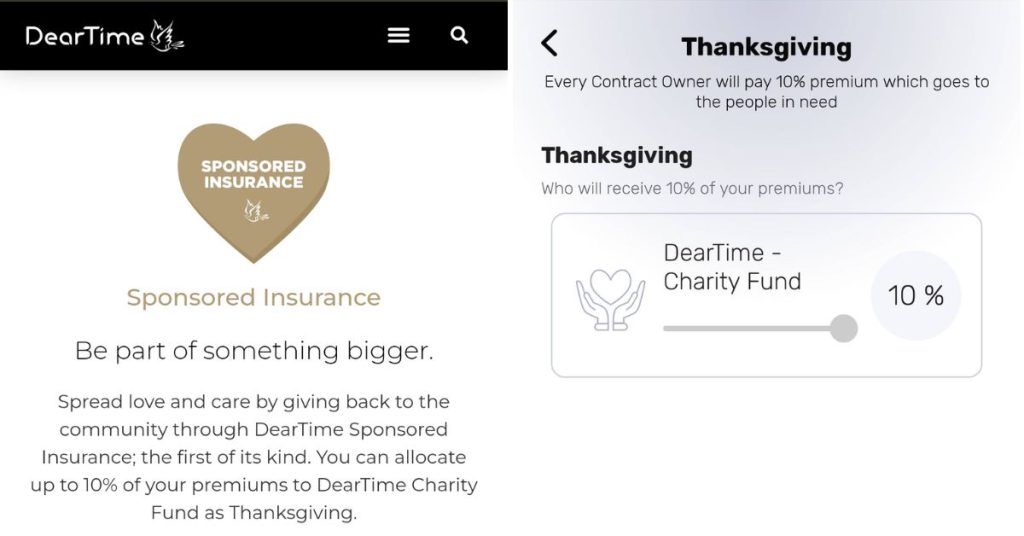 You get the choice of allocating the Thanksgiving amount to either DearTime's Charity Fund, or yourself in the form of a discount if you're in the B40 group and paying for your own premium.
"No matter how you choose to allocate the amount, it does not affect the total claim payout that you receive," he assured. An example of this would be:
| Coverage amount | RM100,000 |
| --- | --- |
| Premium paid | RM100 |
| Thanksgiving | RM10 |
| Claim payout | RM100,000 |
DearTime's Charity Fund sponsors insurance for someone from the B40 group on a first-come, first-served basis. Those who sign up for sponsorship have to show proof that their household income is under RM3,170 per month (at the time of writing).
5. It has a corporate insurance package so companies can protect their staff
DearTime's Corporate Insurance products are identical to the individual ones (Medical, Critical Illness, etc.).
"Companies can choose the coverage amounts and make the payments, [but] the members are the ones who have control over their own policy because they are the policy owners," Jon added.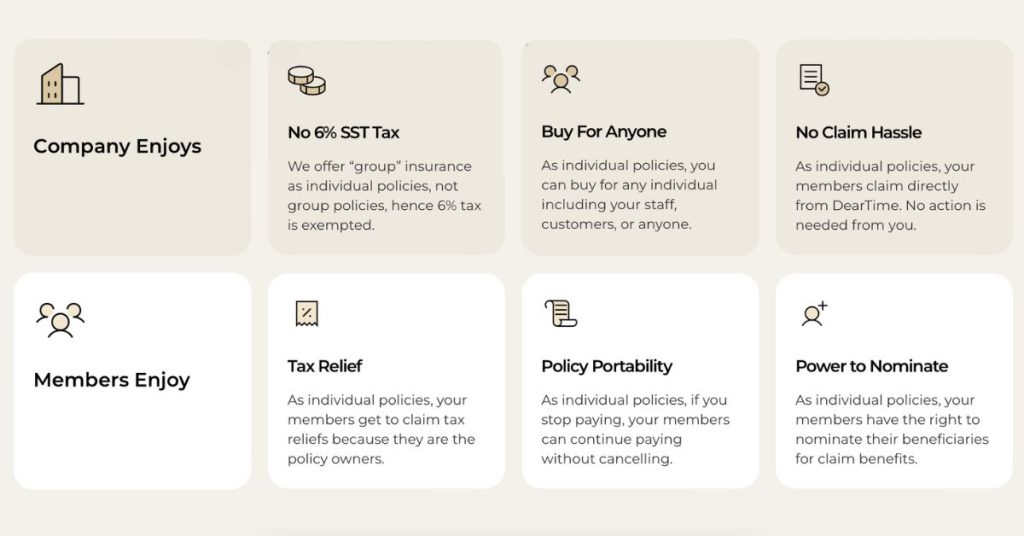 This means that a member under their company's DearTime Corporate Insurance package is able to make claims themselves, and nominate their beneficiaries.
DearTime also allows members the choice of keeping their insurance policy even when they leave the company, and the premium charges will be transferred to the policy owner.
It negates the hassle people would have from finding a new insurance plan after their retirement or a job change.
6. Its corporate insurance plan also lets companies cover their customers or anyone
One thing that stands out about DearTime's corporate insurance, is that it also enables companies to buy insurance for customers or other people.
"Grocers like Mydin, for example, can buy [insurance] for their customers in the rural areas for loyalty programme purposes," Jon illustrated.
For instance, Mydin could bundle DearTime's insurance package under their existing membership cards which require a small renewal fee. This could further promote customer loyalty.
"Another example, a funeral service provider may buy Death insurance for customers who register with the company while they are still alive. So upon [the customer's] death, the funeral charges can be fully paid with the claim payout."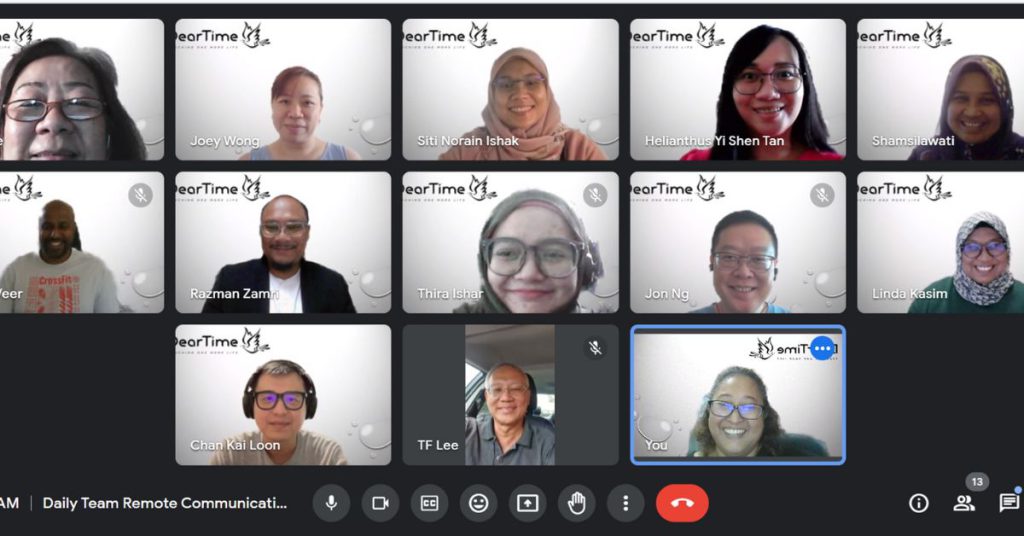 Furthermore, companies could also buy DearTime's insurance for those who aren't able to afford it, as a CSR programme.
-//-
Malaysians can be sceptical about insurance policies in general, and with so many digital scams happening, there may be an increased hesitance to try DearTime.
Jon is confident though, as he believes that the pandemic has increased people's willingness to adopt digital forms of traditional products and services.
To dispel remaining doubts, DearTime plans to launch on-ground activities and webinars to address groups that may still need convincing.
In the near term, DearTime is looking to get licensed as a DITO (digital insurer and Takaful operator) once it graduates from the Sandbox.
If DearTime is awarded the licence, it will be able to conduct life insurance and family Takaful businesses permanently and perpetually.
Featured Image Credit: Vulcan Post