Technological devices like mobile phones, laptops, and electrical household appliances have become a daily necessity used for communicating, working, and making a house feel like home.
When these electronics lose their appeal or use, though, our first instinct is to throw them away. 
But why throw them away when you can actually sell these still usable devices? Not only are you getting some money back, but you're also helping to alleviate Malaysia's e-waste problem.
Here are four companies in Malaysia that let you trade in your secondhand electronics.
1. Takumiko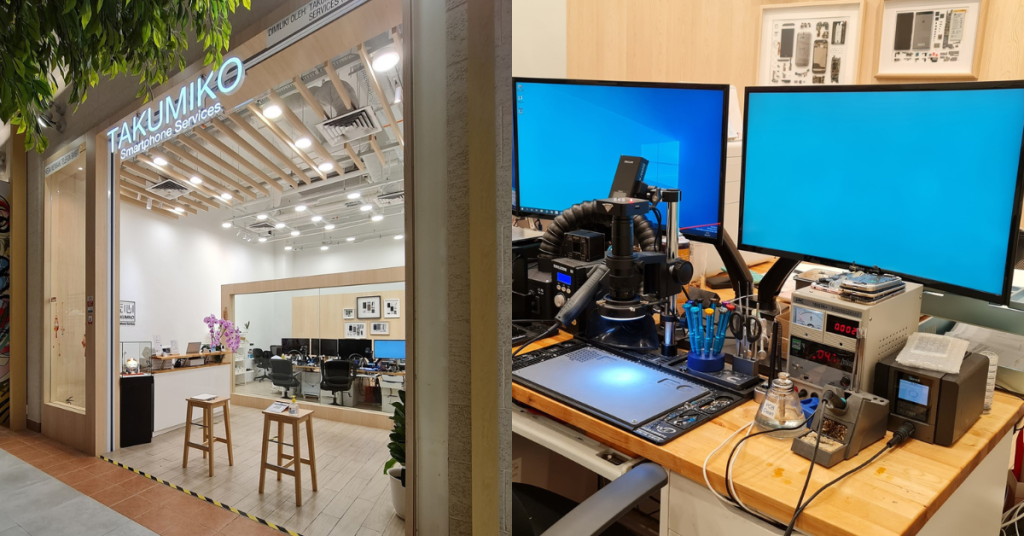 Known as a business specialising in smartphone services, Takumiko provides repairing services for electronic devices. It serves as quite a comprehensive centre and has received high ratings by past customers on Google Reviews. 
But aside from fixing up devices, the store also buys used electronics to be recycled. The secondhand items are either sent to an e-waste centre or resold at a lower price, depending on its condition.
Speaking to Vulcan Post, Siow from Takumiko shared that the buying price for trade-in generally depends on the device's brand, conditions, storage size, battery health, and market demand.
Products that they take in:
Mobile phone
Tablet
Macbook
Smartwatch
The device condition that's accepted: According to its website, the store accepts devices under most conditions. So if you have a broken or damaged device, you could still try to trade it in.
The reselling process: Interested individuals can contact the team on WhatsApp, where you can schedule an appointment to visit Takumiko's service centre.
There, your device will undergo inspection by its in-house technician. If no issues are found, an agreement can be made, and you may choose to be paid via cash or bank transfer. 
Location(s):
Cheras Leisure Mall
Aeon Maluri
2. Cash Converters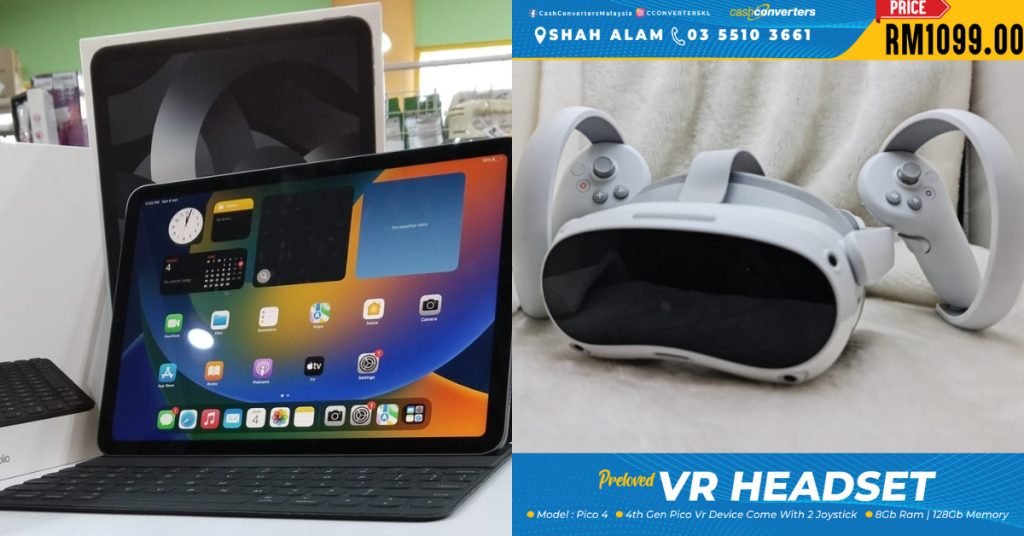 Contrary to what you might believe, Cash Converters is not a Malaysian store. Its retail operations actually began in Perth, Australia in 1984. It only entered the Malaysian scene in 2001 and has franchises across the globe.
The store currently has eight outlets around Malaysia, all of which are in the Klang Valley. Its website states that Cash Converters will buy "almost any products", but here's a non-exhaustive list below.
Products that they take in:
Televisions
Hi-Fi systems
Computers
Home kitchen appliances
Photography devices
Electrical power tools
For bulkier electronics, you can discuss a transportation plan with Cash Converters to make the necessary housecall arrangements.
The device condition that's accepted: The devices need to be in working condition and have a resale value. The product testing can be done at its outlets.
The reselling process: Upon inspection of the items you wish to let go, you'll be able to discuss and negotiate the final price with Cash Converters.
But do note that they don't provide price estimates over the phone as the store needs to look at the product in "its actual state" to give a fair price estimate.
Once an agreement is reached, you'll be paid in cash on the spot.
Location(s):
Damansara Utama
Shah Alam
Sunway Mentari
Sungai Besi
Bandar Bukit Tinggi
Ampang
Setapak
Bandar Tun Hussein Onn
3. ITrecycle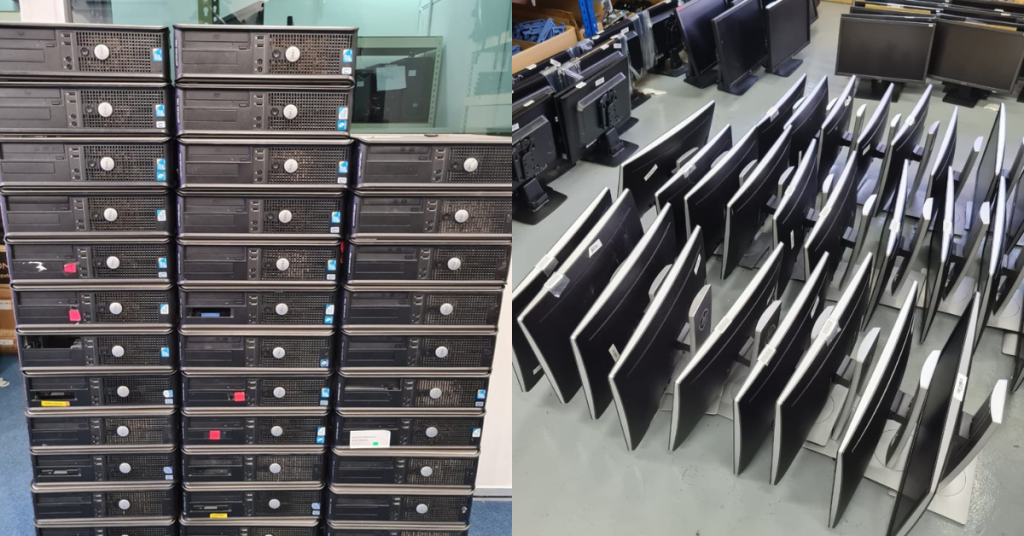 Established in 2018, ITrecycle collects secondhand computer-related parts. The brand acts as the middleman between users who trade in unwanted devices and e-waste recycling centres.
But they're not just collectors. The brand also helps the recycling process by sorting out, grading, and occasionally dismantling the items.
Products that they take in:
Laptop
Desktop
Monitor
Computer accessories and parts
The device condition that's accepted: Similar to Takumiko, ITrecycle accepts laptops that are not in the best conditions. Devices that have cracks or faulty functionings with no resale value will be taken in as scrap material.
And yes, you still get monetary compensation.
The reselling process: Prior to booking an appointment, you could check out the brand's latest estimated trade-in value on its website.
Inspections will be done at either one of your preferred ITrecycle branches. Once an agreed upon quotation is made, the brand states that customers will receive the cash in eight working hours.
Location(s):
Jalan Ipoh, KL
Petaling Jaya
4. InstaCash by CompAsia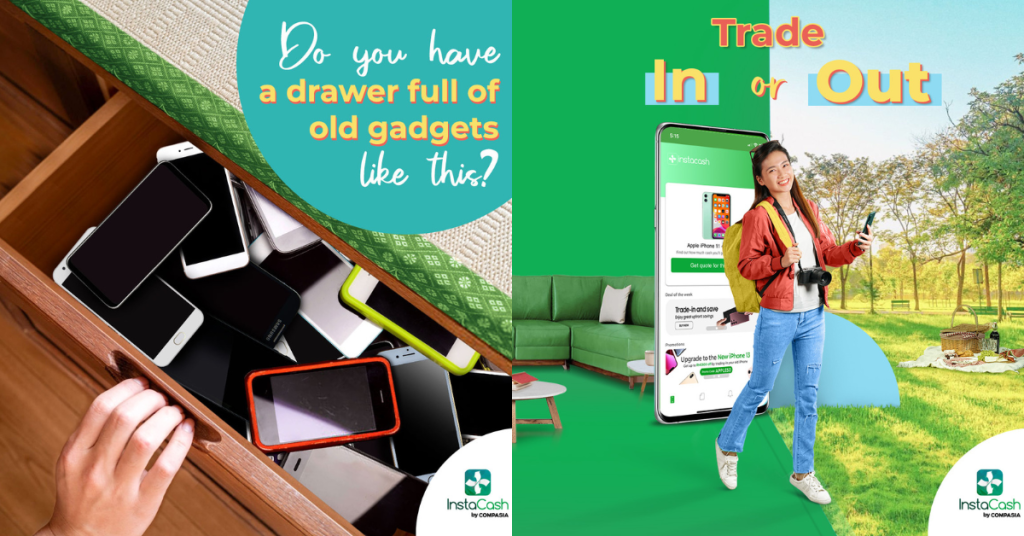 The only app in the list, InstaCash lets Malaysians sell their device in a more convenient way. The whole trade-in process is done remotely from the comfort of your own home.
Though you can also go to their store if an in-person inspection and negotiation is preferred. Eligible traded-in devices will then be resold at CompAsia's secondhand smartphone store.
Products that they take in: Only smartphones are accepted.
The device condition that's accepted: InstaCash generally accepts most smartphones, even defective ones. But the price quotation would differ depending on the defects of the phone.
The reselling process: If your phone can be switched on, then downloading the InstaCash app would be the first step. You're then able to run a device diagnostic with it as its website states.
Sellers are asked to share the physical condition of the device, after which a price will be quoted. The store will get in touch afterwards to arrange the pick-up and reimburse you. 
Location(s): Petaling Jaya
-//-
These four stores aren't the only ways you can trade-in your electronics, of course. There are other parties who are dedicated to tackling Malaysia's e-waste problem too, such as ERTH, which does pick-ups and pays you for your traded-in devices like InstaCash, though it doesn't have an app.
If your device is still repairable though, but you're not keen on paying for repairs specifically, it might be worthwhile to join the KakiRepair by KakiDIY community.
There, community members enthusiastically share their repair tips, and the KakiRepair team also hosts workshops and repair sessions around the Klang Valley, enabling anyone to repair their devices independently.
With a multitude of options out there (including simply recycling, for those who aren't interested in earning some money back or whose devices are too far gone), it's easier than ever to ensure that our pre-loved tech and e-waste is handled properly.
Read other articles we've written about Malaysian startups here.
Featured Image Credit: Flickr / Cash Converters