Malaysian startup Carsome Sdn Bhd (Carsome) has closed its latest fundraising round, bringing its liquidity position to around US$200 million, announced a June 19 press release.
The full amount raised has yet to be disclosed.
The funding round comprised existing supporters like 65 Equity Partners, Seatown Private Capital Master Fund, Qatar Investment Authority, Gobi Partners, and Asia Partners.
This news comes shortly after rumours circulated online that the used car operator sent a letter petitioning the Malaysian government in a bid to raise US$55 million before IPO.
However, Carsome released a statement denouncing the claim on that same day (June 8, 2023).
The startup clarified that the letter was in response to an engagement session with the Ministry of Finance, "To encourage and welcome the participation of Malaysian institutional investors in the company's growth journey."
It explained that the company frequently engages in discussions with various stakeholders on ecosystem building and driving institutional engagements.
"As part of these routine engagements, Carsome has always championed growth for the local startup ecosystem which can positively contribute towards the nation's economy and enhance the nation's digital talent pool," the letter was reported as saying.  
A few days later, Carsome's Chief of Staff, Aaron Kee, took to Twitter and said the claims were "categorically untrue and badly mis-represented". He also said that the alleged petition was "an offer" and not a request.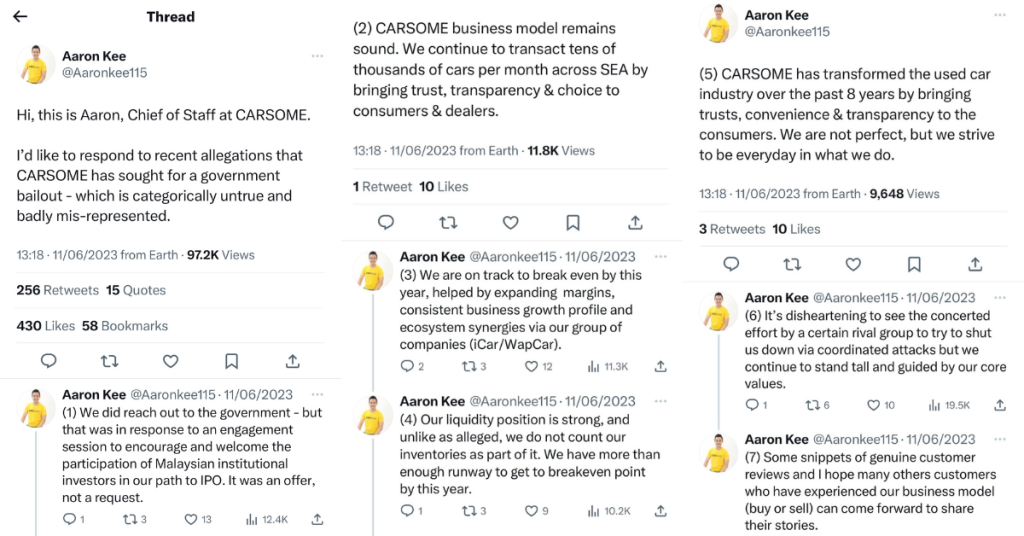 He added that Carsome is on track to break even by this year, helped by expanding margins, consistent business growth profile, and ecosystem synergies via its group of companies (iCar Asia and WapCar). 
That didn't do much to quash the rumours, though. 
It just inflamed more discussions about the unicorn's operations
According to FMT, who claimed to have seen the petition letter, Carsome said it hopes that the government "can strongly recommend" government-linked organisations to participate in an external fundraiser.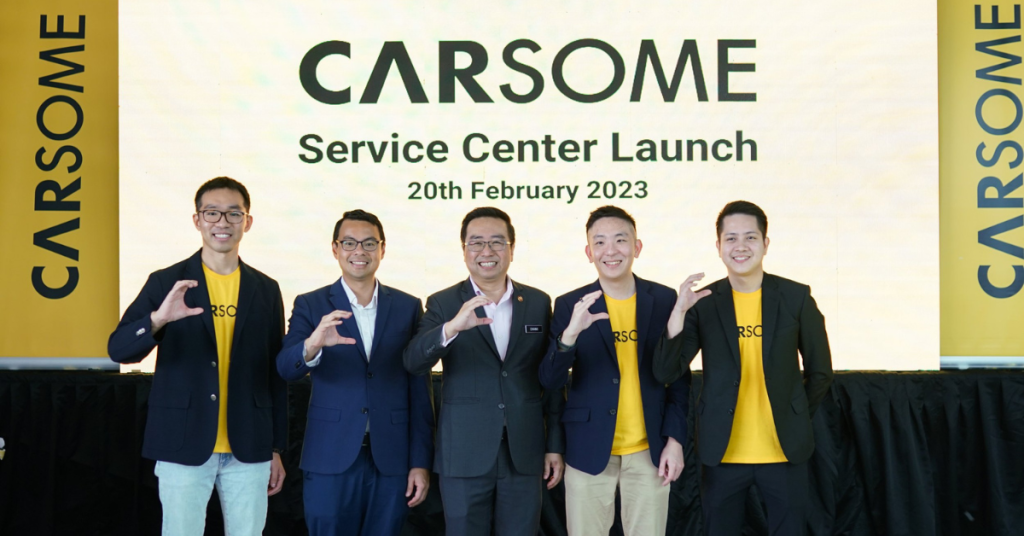 The news site also reported that the letter explicitly named a few organisations, including Permodalan Nasional Bhd (PNB), Khazanah Nasional Bhd, and Employees Provident Fund (EPF) amongst others.
FMT further stated the letter explained that, despite Carsome's unicorn status, currently less than 10% of its "cap table" comprised investment from Malaysian government-linked investors, pointing out that GLCs were being "overshadowed by the enthusiasm and support from foreign-owned funds".
Dictionary time: A cap table, short for capitalisation table, is a document, typically in the format of a spreadsheet or a table, that details who has ownership in a company.

Source: Carta.com
In his Twitter statement, Carsome's Aaron Kee said, "Our liquidity position is strong (reportedly over US$150 million), and unlike as alleged, we do not count our inventories as part of it."
This could be in response to automotive news publication Drive Safe & Fast's report which stated that "well-placed sources shared Carsome's actual cash reserve to be US$30 to US$40 million only".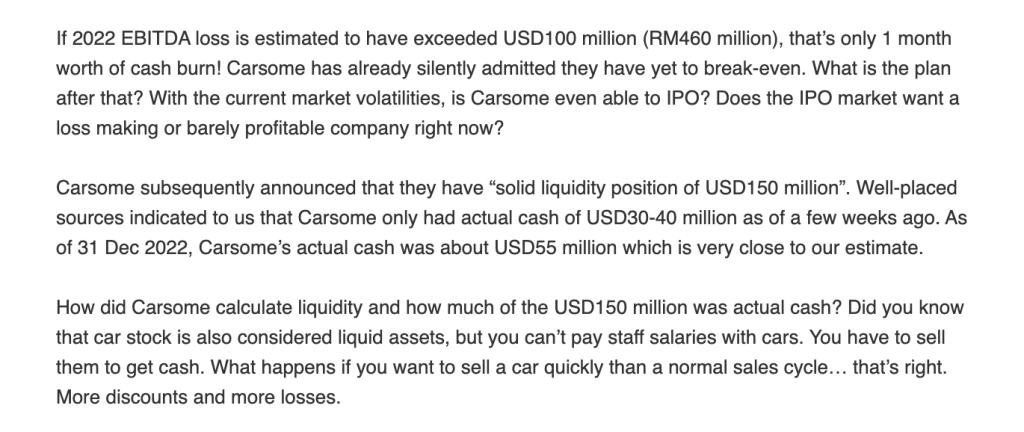 In the same article, the automotive news site also analysed Carsome's business and said it doesn't seem to make "any business sense", explaining that the used car brand provides too many subsidies to dealers.
The site reported separately that investors speculated this was a major factor in the brand's negative contribution margins. This could explain why Carsome has not broken even, despite making a revenue of US$1.5 billion in 2022.
Not to mention, the possible losses exacerbated by syndicates who capitalise on the brand's growth ambitions. The analysis cited the case where Carsome unknowingly sold a stolen vehicle as just one example of this.
All of this begs the question—how sustainable is Carsome's business model?
And even more importantly, should the government continue pumping money into the nation's first tech unicorn?
There's no clear answer as of yet because the global used car industry has been facing challenging times.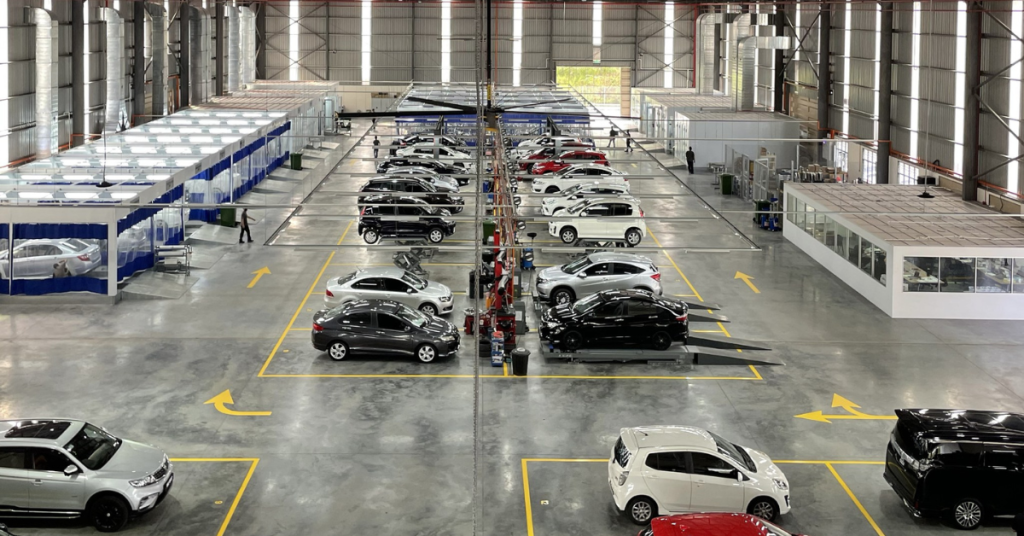 Tech in Asia reported that Cars24, an Indian company in the used-car marketplace, pulled out of Indonesia and Saudi Arabia last year. The brand had expanded to Indonesia and Thailand in March 2022, but retrenched 600 employees just two months later.
On the same note, Moladin in Indonesia slashed 11% of its workforce in March 2022, while OLX Autos laid off 15,000 of its global employees.
It should come as no real surprise that Carsome also went through an "optimisation of workforce" in September 2022, where its executive team forwent their salaries for the rest of the year, and about 10% of its staff were laid off.
A few months before that, it was reported that the Malaysian unicorn will be delaying the company's IPO plans in Singapore and the US. The reasons given were due to concerns that deteriorating macroeconomic conditions could dent its valuation.
About a year has passed since the IPO was delayed, but there haven't been many updates about it aside from the brand's CEO, Eric Cheng, telling BFM that Carsome is working to better its position for the listing.
With the recent spectacle, many will definitely be keeping their eyes on Carsome's every move, and the unicorn will have its work cut out trying to reassure the public of its competence and potential.
Reach other articles we've written about Carsome here.
Read articles we've written about Malaysian startups here.
Featured Image Credit: Carsome Sdn Bhd