One thing that's been the talk of the town (read: internet) for millennials and Gen Zs lately is "house fever". It's like baby fever, where you feel compelled to have a child of your own because the idea is beginning to look attractive.
Instead of babies, though, house fever is all about the yearning to decorate your own house. As a 24-year-old myself, I too fell into this rabbit hole.
And it was while researching and daydreaming about my "maybe someday" home that I found Sango Wood Company, a local brand making heirloom furniture.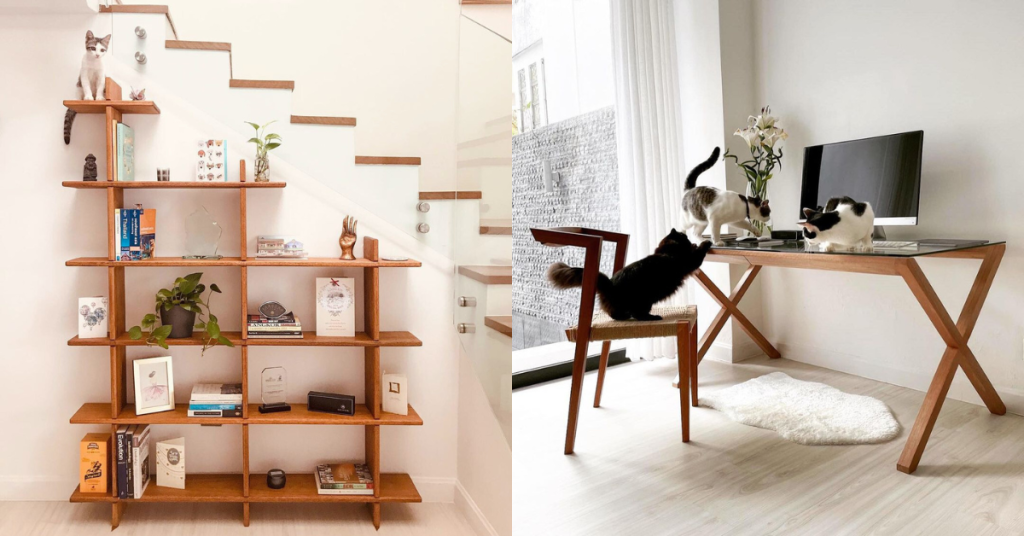 From strong roots in crafting
Launched during the pandemic, Sango Wood Company was initially a means for couple Daren and Mei Shields to "stay sane" during uncertain times.
Furniture-making is a craft that Daren grew up with. His father and grandfather were both builders and made most of the furniture in his childhood home back in Canada.
So he went back to his roots and began creating decor by hand in his backyard. 
The couple would post the finished creations online, which led to the inevitable "how much?" or "PM price" comments.
Realising the potential there, Sango Wood Company officially opened for business. While Daren was in charge of building the crafts, Mei handled the brand and business side of things.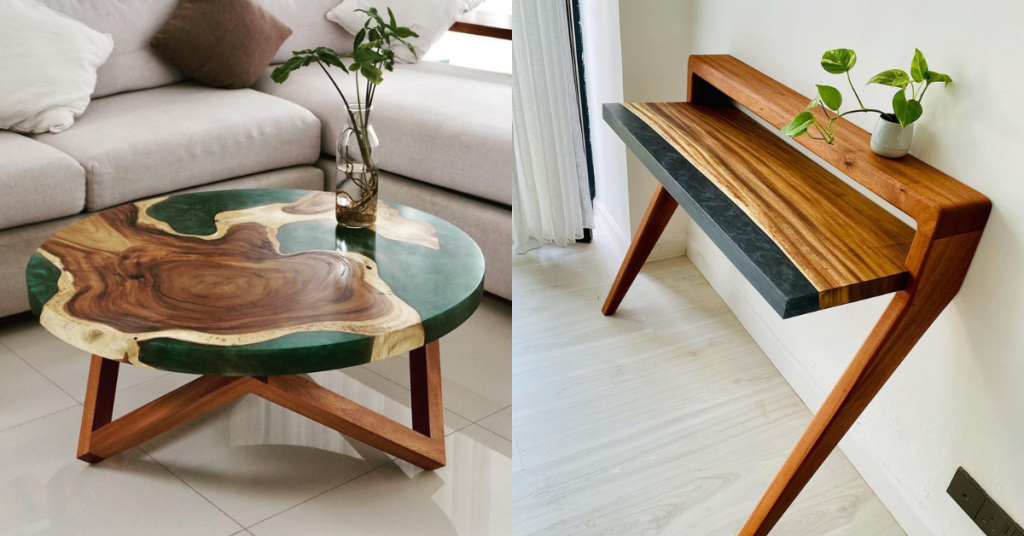 This arrangement made sense as it allowed the couple to leverage their personal strengths. Complementing Daren's hands-on skills were Mei's years of experience as a serial entrepreneur.
Her portfolio includes founding an online fashion brand, a wedding planning company, and a café listing platform. Her most recent venture (prior to Sango Wood Company) was a social media marketing consultancy.
But the pandemic didn't leave anyone unscathed. Although social media marketing was highly sought after, Mei shared that the market competition was tough.
So, Sango Wood Company came at just the right time.
"It was the perfect opportunity to leave the stressful workload of servicing clients to focus on building our own brand. Which also gave Mei more time to focus on raising our child (now children)," Daren shared.
The growth of their family also encouraged the couple to start a sister brand. Named Aden & Ren, it specialises in baby products designed to be heirloom items.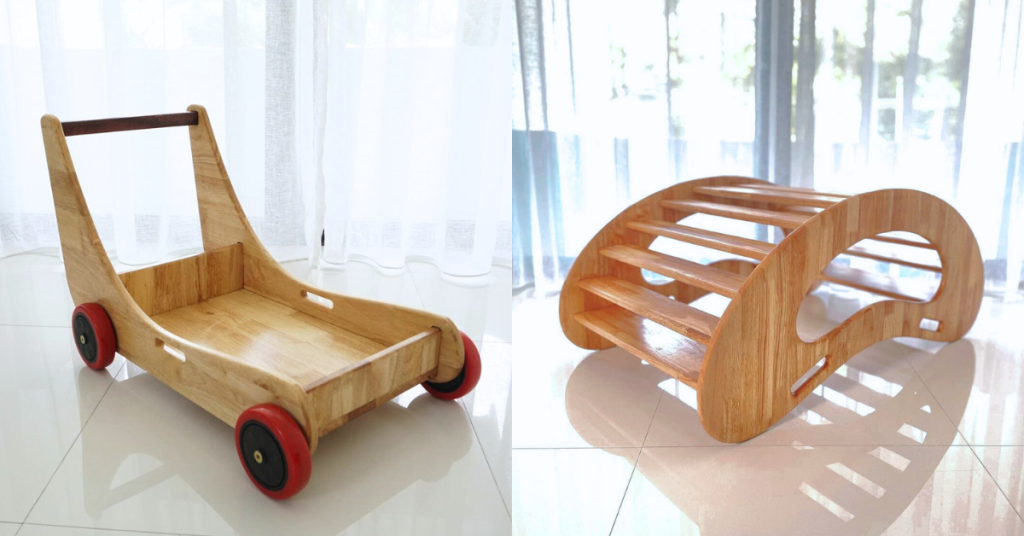 Branching into new fields
In line with the brand's mission of creating heirloom furniture, Sango Wood Company offers bespoke pieces. These are made entirely from scratch based on a custom design created with the clients.
Interested clients can consult the brand on the full process. In general, they'll come up with design sketches, render a 3D computer model of the piece, and create the furniture in four to six weeks.
For customers who prefer more immediate products, the brand carries an inventory of about 15 readily available designs. These can be purchased for instant delivery on its website.
That said, you can also request for several alterations should the catalogue items not entirely meet your liking. The brand lets you customise the size, shape, and colour of existing pieces.
Price-wise, Sango Wood Company's products range from RM150 to RM6,000, though bespoke pieces may differ.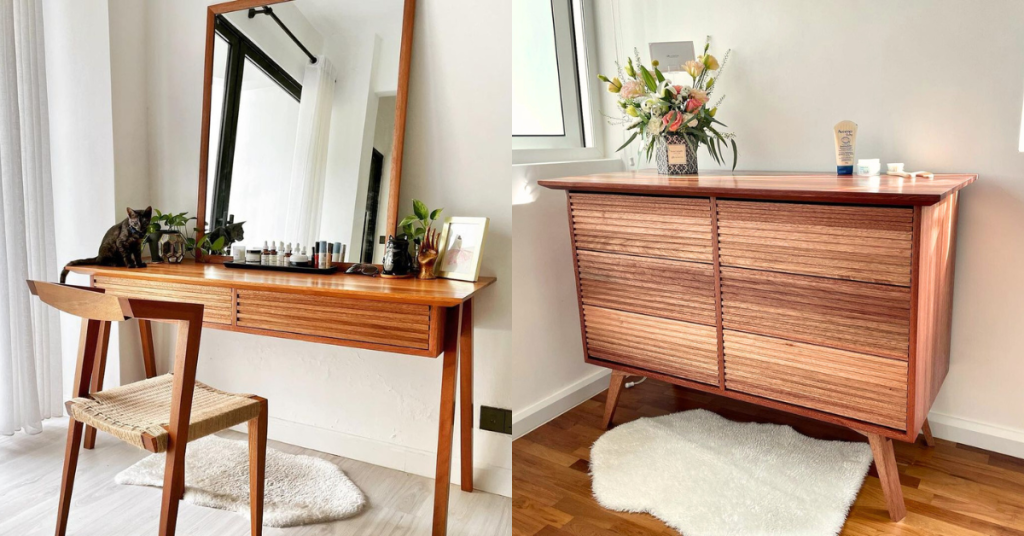 For sustainability reasons, the couple shared that Sango Wood Company only uses timber species which are native to Malaysia.
"Importing hardwoods from abroad increases the carbon footprint of our products. And it's more difficult for us to ensure these materials are ethically sourced."
The most common species the brand uses are Nyatoh, Meranti, Chenggal, and Balau. "These represent a broad range of colours and grain textures for our customers to choose from."
They further explained that Malaysia is blessed with a wide selection of "truly exquisite" tropical hardwoods, which are great for furniture making.
Just take teak wood (kayu jati in Malay) as an example. It's been used for making long-lasting furniture since our grandparents' time. 
May the forest be with you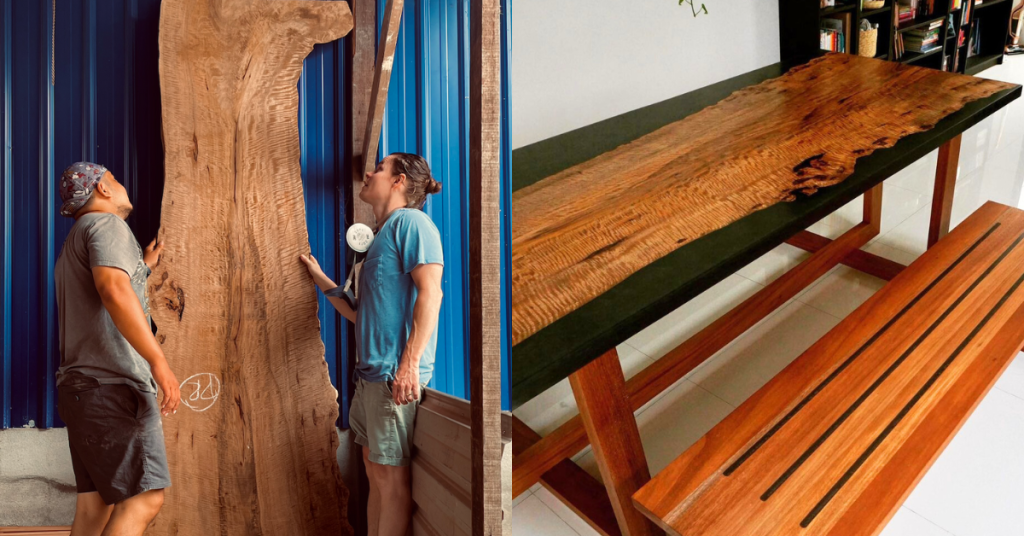 With a mission to remain sustainable, Sango Wood Company takes ethical material sourcing seriously. The brand sources from local suppliers, mostly from sawmills in the Klang Valley and Rawang.
"To ensure our wood is ethically and sustainably sourced, we only buy materials from members of the Malaysian Timber Council."
For its wooden slab furniture, Sango Wood Company makes use of reclaimed and salvaged timbers. These include trees which have fallen in storms, need to be cut to make way for urban projects, or are culled from fruit orchards.  
Resins are naturally occurring, but are now often made synthetically from fossil fuels, which makes them not environmentally-friendly. This is because it takes forever for the material to biodegrade.
Although the founders opt for non-toxic resins, they still acknowledge the dilemma, and shared that it's mostly used for these particular woods. Otherwise, the slabs are rendered useless and would be discarded as waste. 
It's been better than oak-y so far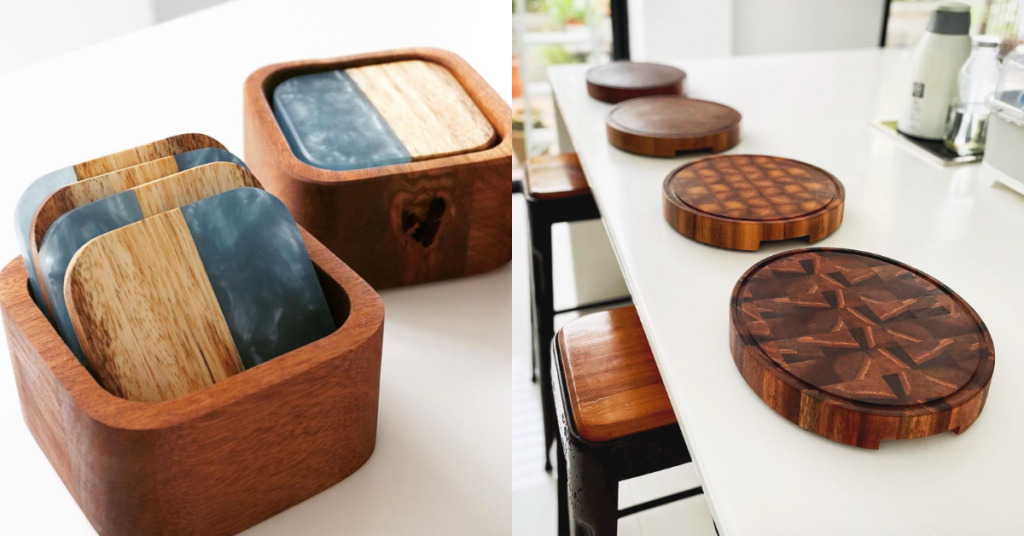 Initially, every piece was handmade by Daren alone. But as the brand grew from a hobby to a business, so did the team. Sango Wood Company is currently manned by a small group of local craftsmen and artists.
And the workplace has moved from their backyard to a workshop in Ampang, KL.
When normalcy was reinstated post-pandemic, Daren returned to his full-time career as an oil & gas engineer, though he still plays a role in the brand on weekends by designing and making prototypes. Meanwhile, Mei runs the day-to-day production and sales aspects of the business.
The brand is currently in its third financial year and has steadily grown since its inception, though the founders joked, "It'd be great if we could actually afford to pay ourselves this year."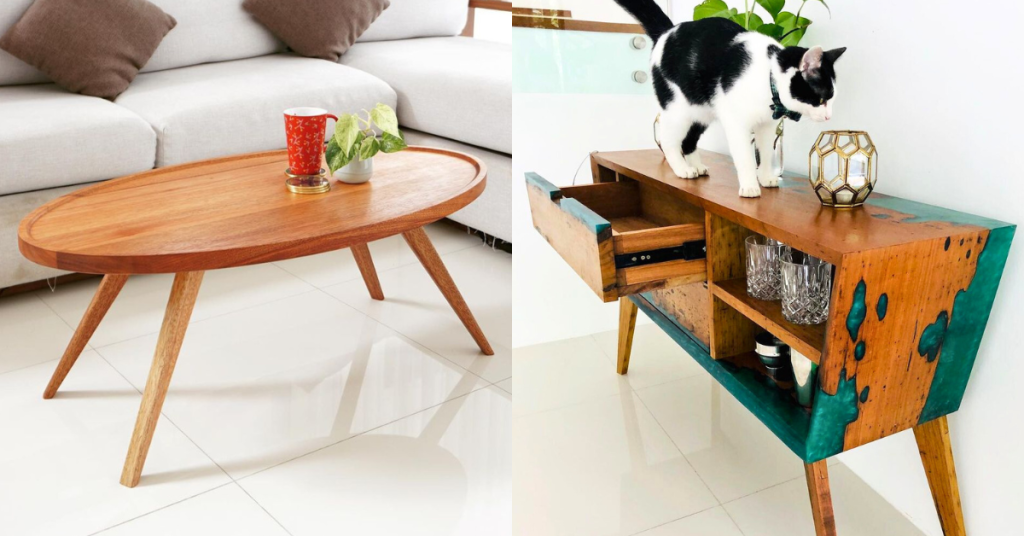 They're hoping to open a physical showroom or design studio, as "furniture is tactile" and customers prefer to see the items in person. It'll also help customers truly appreciate the difference between heirloom quality furniture made of solid hardwood.
"In terms of growth, ironically, the defining principles of our company are also its limiting factor," the couple shared.
So instead of producing on a larger scale, the team is focused on building a small but thriving company.
"One which can sustain our team of Malaysian artisans, and allow us the opportunity to continue to create and share our work," they concluded.
Learn more about Sango Wood Company here.
Read other articles we've written about Malaysian startups here.
Featured Image Credit: Sango Wood Company