When established hospitality group Samadhi Retreats invited the Vulcan Post team for its first private dining experience called Chef's Table, I had my reservations.
Chef's Table is a dining experience featuring "unique ingredients" and "truly Malaysian" flavours, with everything made from sustainable and ethically sourced ingredients.
This appears to be the brand's initiative of providing a slow dining experience, similar to UNPLUG's pop-up dining event earlier this year, but one that is more elevated with a fancier price tag.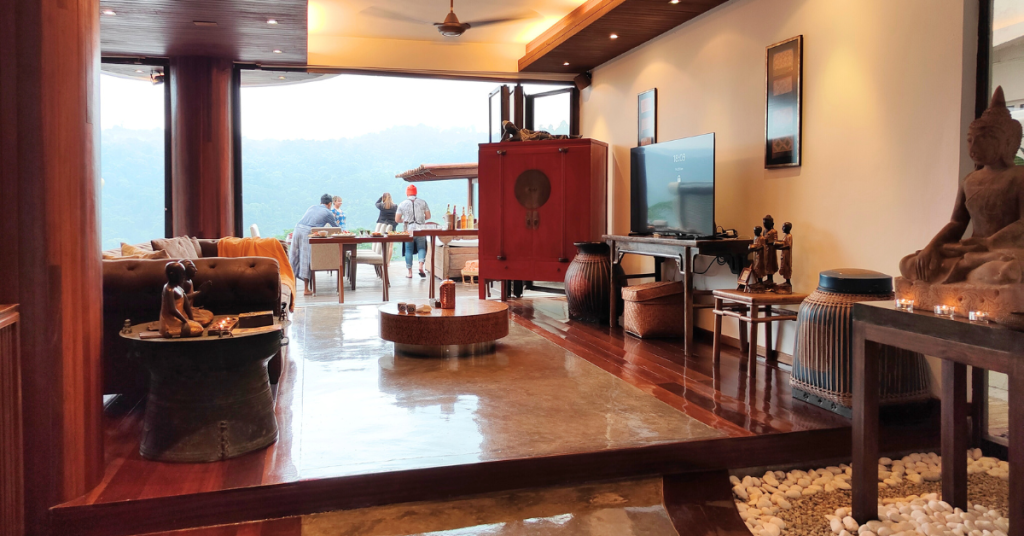 As such, I was sceptical of the "slow food" or "slow dining" concept. Founded in Italy during the 1980s, slow food is a movement that promotes the notion that everyone can access and enjoy food that is good for them, good for those who grow it, and good for the planet.
Although rooted in noble endeavours, I've mainly seen the concept being used locally in rather upscale settings, which is why I had the perception that slow dining is mainly catered to the rich.
Since Samadhi Retreats is a brand that prides itself on luxurious experiences, Chef's Table only reinforced these beliefs of mine at first.
So, I went into this expecting a performative and perhaps even pretentious experience, but alas, I would be proven quite wrong.
Slowing down in style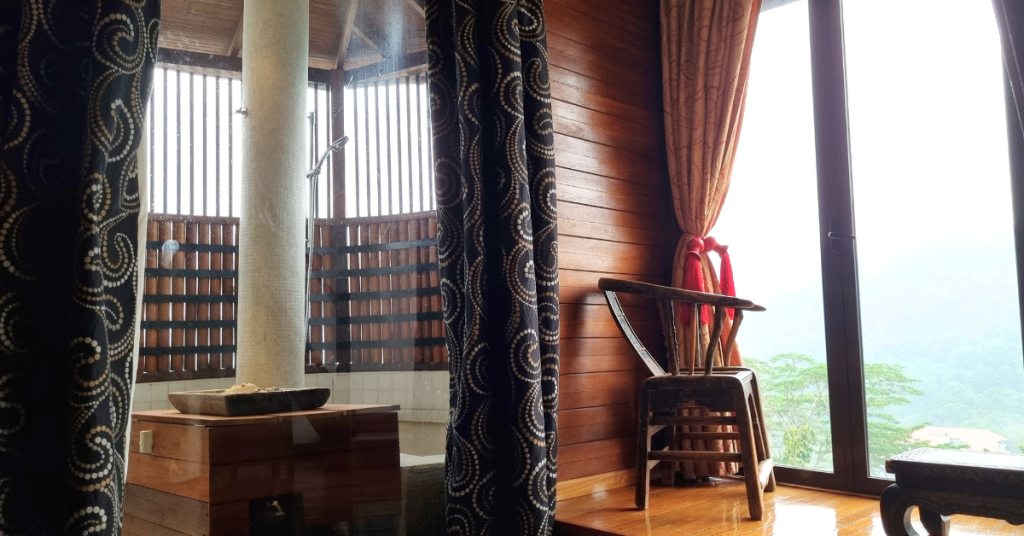 Like Samadhi Retreats' other hotels and resorts, Townhouse by Samadhi is quite a looker. Featuring Balinese designs, the house is located in an upscale neighbourhood and carefully tucked away from the hustle and bustle of KL.
The interior blends contemporary and rustic elements, with carefully curated decor to create a relaxing vibe.
With three bedrooms, an attic library, an outdoor swimming pool, and a fully-equipped kitchen, the four-storey building seems like an urban respite. "A home away from home", as its website states.
All this combined created a luxurious atmosphere, which further solidified my theory that slow food dining is catered to the wealthy.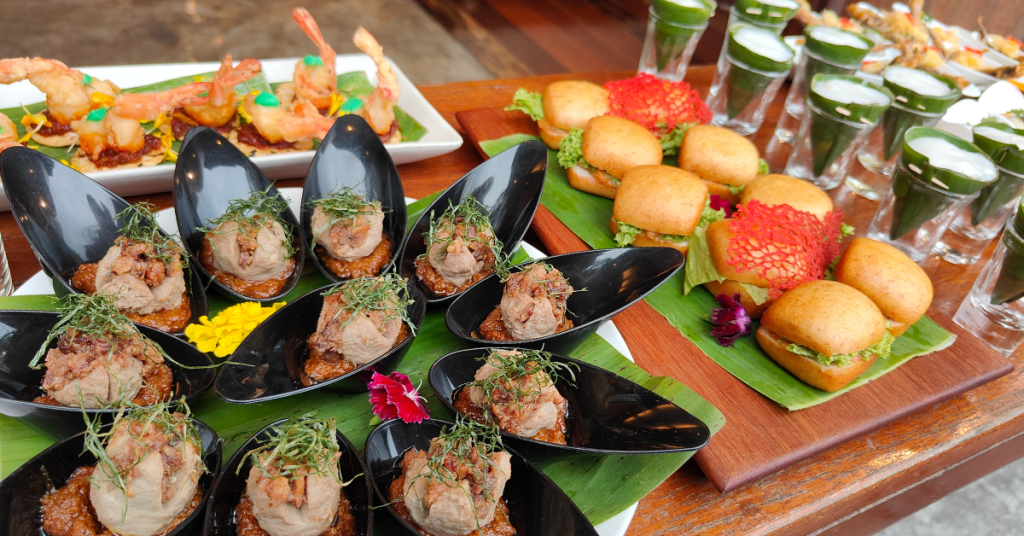 After exploring the townhouse, we were invited to sample some hors d'oeuvres. Set out by the patio was a table filled with bite-sized delectables, including satay, asam fish, and bakso with rendang.
Although they were fancy-looking, the flavours tasted like home and set a precedent for the rest of the dining experience.
A lesson on local offerings
As other guests arrived, we were quickly ushered to the kitchen. There, Michael and See Pin, the founders of the local chocolate confectionery brand Cocoraw, presented four chocolates of different single origins in different forms.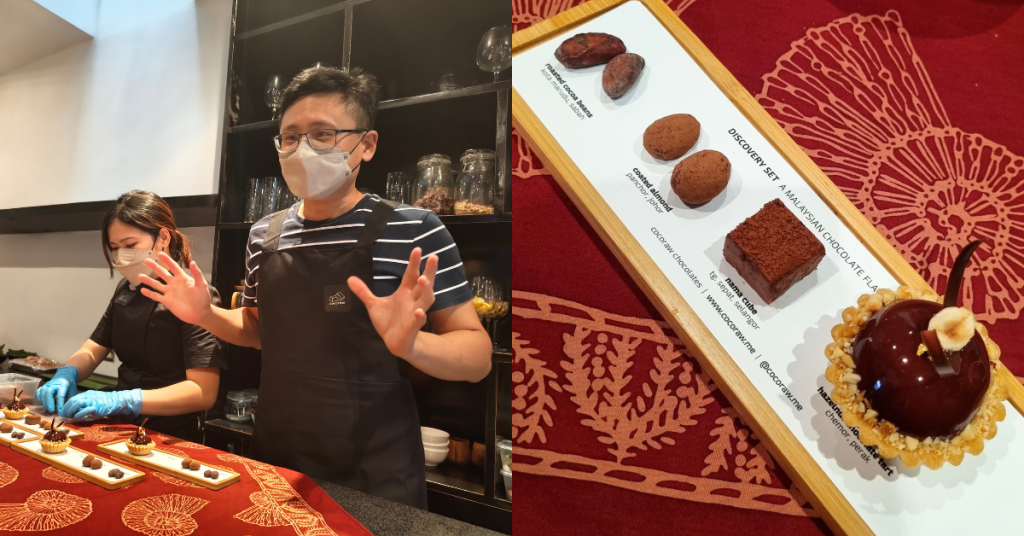 We were then educated on the uniqueness of the local cocoa beans, their distinct tastes, and the interconnected value chains involved in making chocolate.
But really, their main goal is much simpler than that—to promote the variety of local chocolate.
"The whole idea is to ensure that what you're tasting is true to how it should taste. We don't add anything that will disturb the flavour so much that you won't even taste its origins anymore," Michael and See Pin explained.
This reminded us of another startup we previously featured too that does something similar, called Chocolate Concierge, which goes to prove that the concept of slow food might in fact be more commonly practised than we'd think.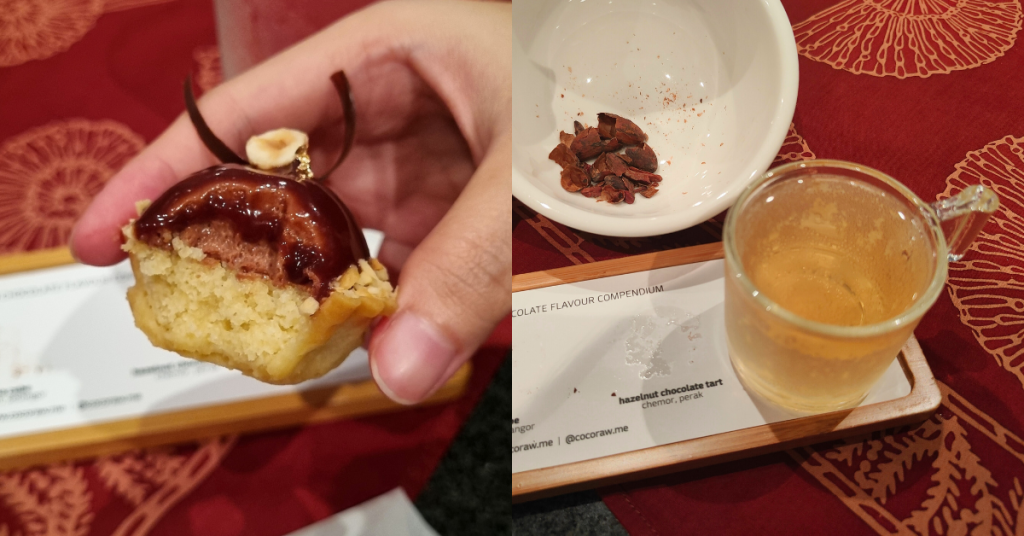 Afterwards, we had a short sharing session with a Sarawakian tuak brewery called Sun Borneo.
While sampling the beverage, the team gave us a brief rundown on how it's made and the different kinds of tuak available.
For example, they shared that tuak has two "genders". Tuak Indu (female) has a softer and sweeter taste, while Tuak Laki (male) has a stronger and more robust flavour.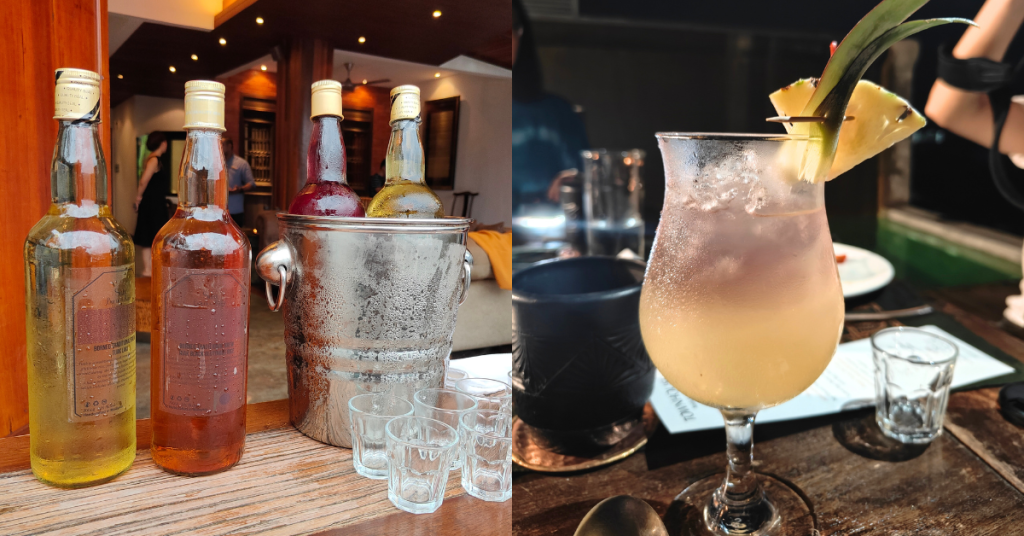 The difference is in its sugar content, which affects the result, and while both of these can be used for cooking (similar to Chinese rice wine), it's more commonly done with Tuak Laki.
It's also known as a heritage drink as people tend to keep it for many years. "Some of them keep it [because] they want to remember what they've done in the past," Tammy, Sun Borneo's branding manager, shared.
Does slow dining only offer elevated food?
Dinner came and went pleasantly with the sociable company of six other guests, and as promised, the menu consisted of familiar Malaysian food with an elevated twist:
Starters: Smoked duck bergedil sumbat with cili kicap, jellyfish kerabu
First mains: Soy glazed tuna with lime pearls, salted egg butter king prawns with egg floss
Second mains: Tandoori lamb foreshank with mint yoghurt, smoky angus striploin with lime leaf sour cream, sambal hijau itik salai
Desserts: Pandan panna cotta with seasonal fruits, coffee brulee, and teh tarik brulee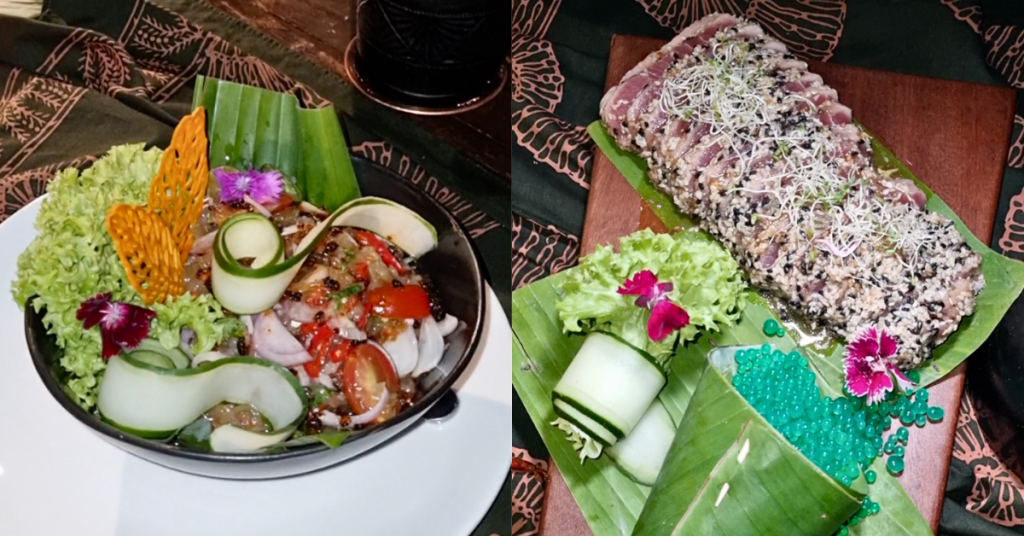 As each course was served, Samadhi's Group Executive Chef, Doul Harun, briefly divulged the ingredients' origins and explained the dishes. "Everything is Malaysian, which is what we're trying to achieve."
Accompanying the meal were beverages specially curated by Sun Borneo, the first being a tuak shot of your choice.
Followed by Sarikei Island Breeze featuring its butterfly pea flower tuak, then Tropical Rainforest, which includes the brand's brew of langkau (described as strong as vodka).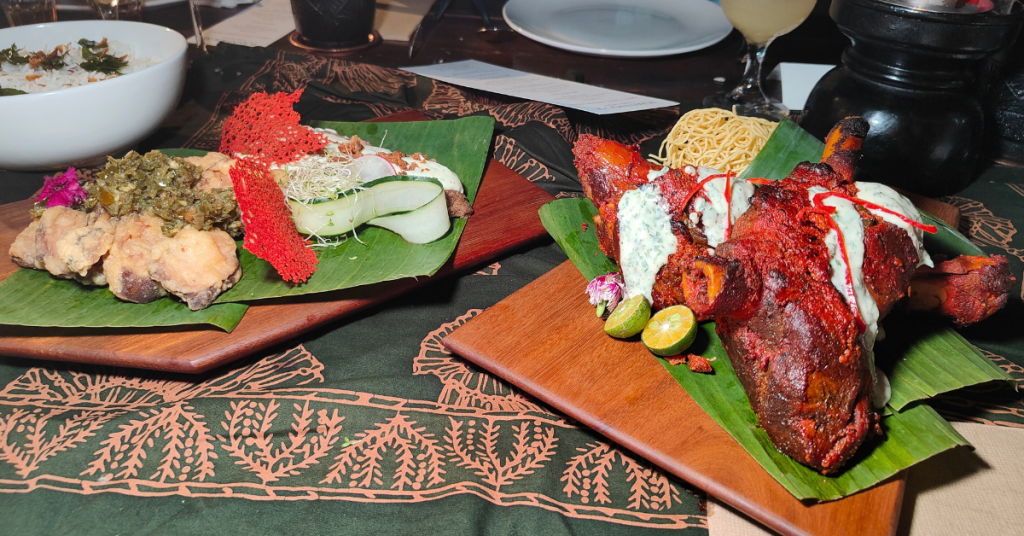 Overall, our time there was quite eye-opening, especially as the partnering brands also gave us an intimate look into the going-ons of their industries.
So is slow dining really only for the uber rich?
Focusing on the slow dining experience, though, the chef's explanation of each dish helped me appreciate what was on my plate and be more attentive to each ingredient used.
Knowing where my food was sourced from also brought a sense of comfort. You don't have to be particularly concerned about ethical food consumption to appreciate that the ingredients were sourced fairly and sustainably.
Plus, slow food can be experienced outside of upscale settings too, since you don't need to be rich to know where your food comes from.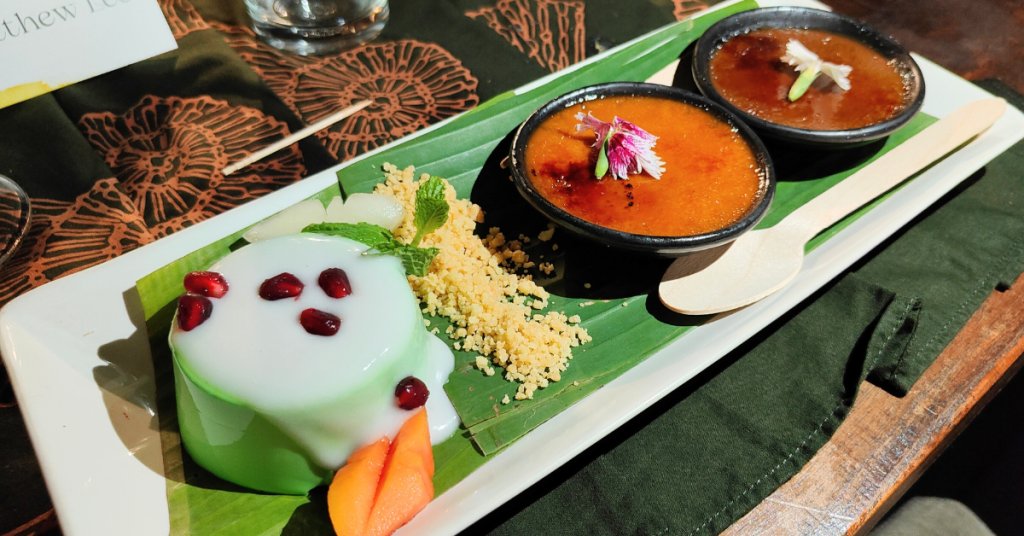 Folks living outside the city's tumultuous pace are already (somewhat) practising slow food dining, especially in rural areas. They grow their own food, thus they know where it comes from. Essentially, that's part of slow dining. They just don't label it as such.
Without the chaos that comes with city living, people there are also able to take their time and savour the smaller aspects of life. They may not necessarily be using luxurious and expensive goods, but it's a testament that this is doable.
Admittedly, I would still argue that it's a privilege for many of us in urban areas. Growing our own food requires time and energy we probably don't have, so we rely on brands who practise traceability.
Fortunately, like most premium experiences and items, there will always be a trickle-down effect.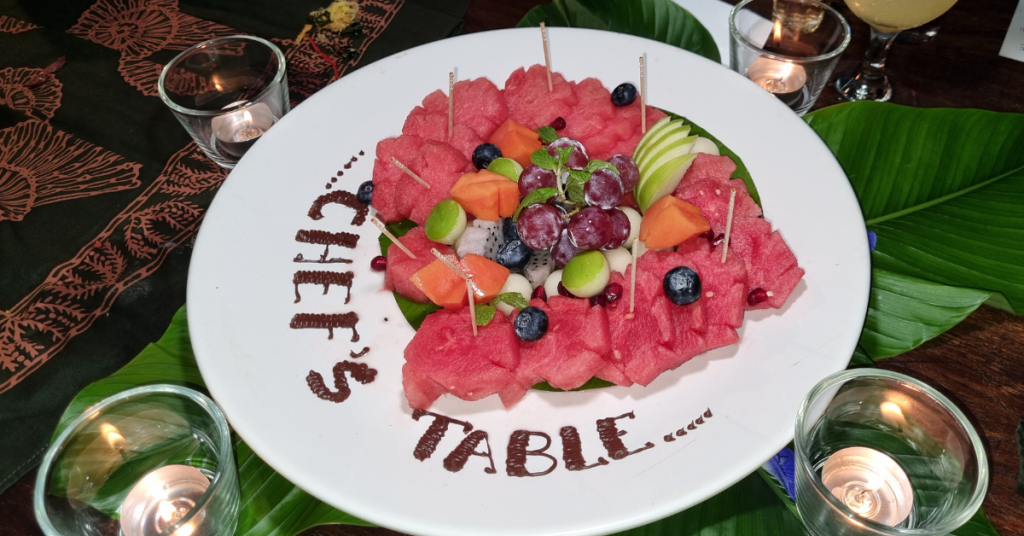 Just look at the rise of traceability in coffee—what once was something only espresso lovers cared for is now a common practice. For example, local brands like Gigi Coffee offer various coffee bean options and are transparent about their origins.
In a way, this again is an example of the slow food concept being present in our daily lives, whether we know it or not.
The difference between this and what Samadhi Retreats is offering with its Chef's Table is that the latter is a more holistic, curated experience. That's something that still seems reserved for the affluent, perhaps understandably so.
But once more companies like everyday brands, cafes, and restaurants practise traceability and ethical sourcing, the masses will eventually get to enjoy slow food as a given.
-//-
The Chef's Table private dining experience is now open to the public, with a promotion period from June 24 to September 24 this year.
Interested parties can choose from one of two options, both requiring a minimum order of four persons per dinner reservation:
A five-course sharing menu of food only (RM288++)
A five-course sharing menu inclusive of beverage pairings, both alcoholic and non-alcoholic drinks are available (RM388++)
Reservations can be made by contacting Samadhi Retreats at +603 2771 2741 or through email via reservations@samadhiretreats.com.my.
Learn more about Samadhi Retreats here.
Read other articles we've written about Malaysian startups here.