A few weeks ago, the Vulcan Post team was given the opportunity to test out OPPO's latest release—the Reno10 Pro+ 5G.
I was intrigued by what it had to offer and figured it was time to step out of my Apple bubble (at least, for a little while), so I made the switch and used it as my daily phone to see how it fared on a regular basis.
And boy, did the experience remind me of what I might have been missing out on in the smartphone space.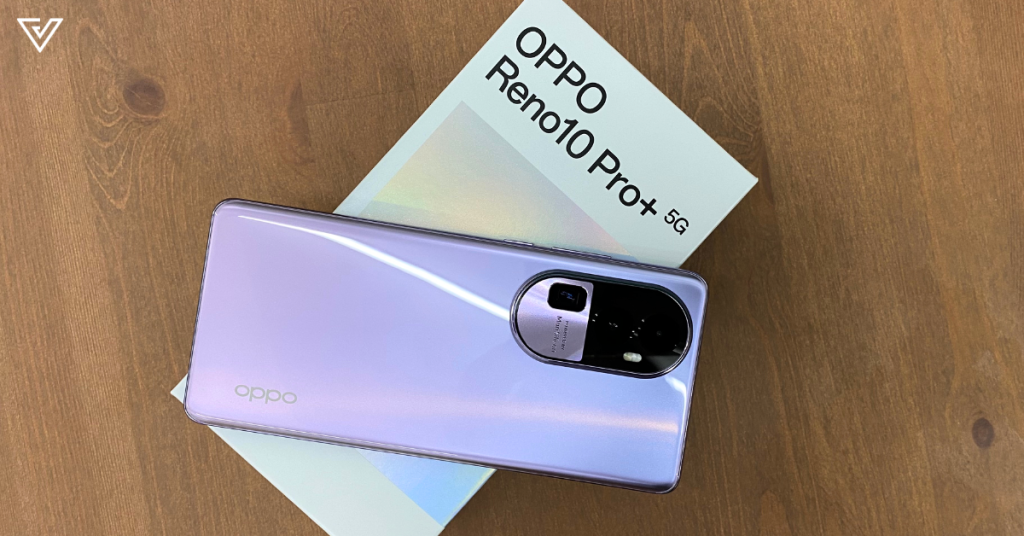 The OPPO Reno10 Pro+ 5G is quite a looker and came in Glossy Purple. Its slim (8.28 mm), long exterior and its custom 6.74-inch AMOLED screen gives it a sleek appearance. The curved edges also made its borderless display pop out.
Even with the clear phone casing provided by OPPO, it felt light and comfortable to hold with its weight of 194g. But I did find myself worrying about it slipping and dropping, as the 3D glass back panel seemed a little delicate, so I was on guard most of the time.
For context, I've been an iPhone user for six years and am currently sporting an iPhone 11 Pro Max. So you can imagine the thickness of my phone covers and how different the Reno10 Pro+ 5G felt like in my palm.
Aside from that, the phone was what you'd expect a new mobile device to look and feel like—smooth, elegant, and sturdy.
Its about the inside that matters
Before diving deeper into the phone's internal performance, here's a quick overview of its specs:
Chipset
Qualcomm SM8475 Snapdragon 8+ Gen 1
RAM
12GB RAM (supports RAM expansion of 4GB, 8GB, 12GB)
Internal storage
256GB
Display
– 6.74'' AMOLED 3D Curved Screen
– HDR 10+
– 120Hz2772×1240 resolution
– ~93.9% screen-to-body ratio
Camera
– Main camera: 50MP, ƒ/1.8, Sony IMX890
– Ultrawide camera: 32MP, f/2.4
– Telephoto portrait: 64MP, f/2.5
– Front camera: 32MP, f/2.4
Battery
– 4,700mAh dual-cells battery
– Up to 100W SuperVOOC flash charge
OPPO's 100W SuperVOOC charger and a type A to type C cable are boxes together with the phone. With this, I tested the phone's fast-charging capabilities and found that it lived up to its promise.
Within 40 minutes, the Reno10 Pro+ 5G was fully charged and ready for another day of usage.
The battery life didn't disappoint, either, and I could use the phone from 9 AM to 10 PM without needing to recharge it in between. The phone was used to take photos and videos and scroll social media (on mobile data) throughout the day.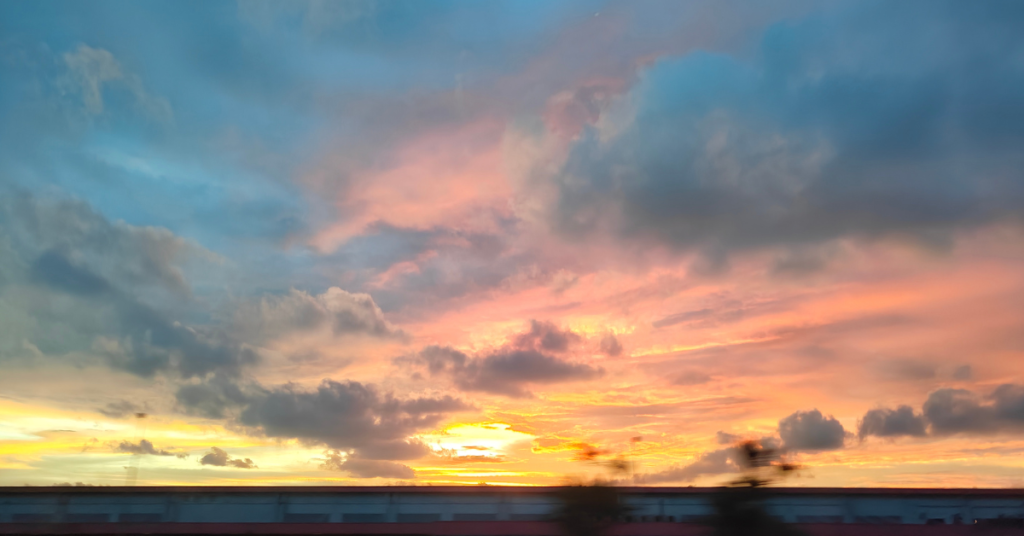 I also noticed that even though the phone heated up from running too many apps while I was in a hot room, it cooled down quickly.
This is probably thanks to OPPO's upgraded Ultra-Conductive Cooling System which claims to be the best-performing one (so far) in the Reno series. The brand also said the cooling surface area is 92% larger than the Reno8 Pro's.
Audio-wise, there was not much difference that I could find between the OPPO and my personal iPhone. But I did not pay much heed to this as earbuds are typically glued on me when listening to music or watching videos.
On that note, it connected seamlessly to my earbuds and paired without delays or difficulties. Whether it was my iPods or Razer earbuds, it was a smooth experience.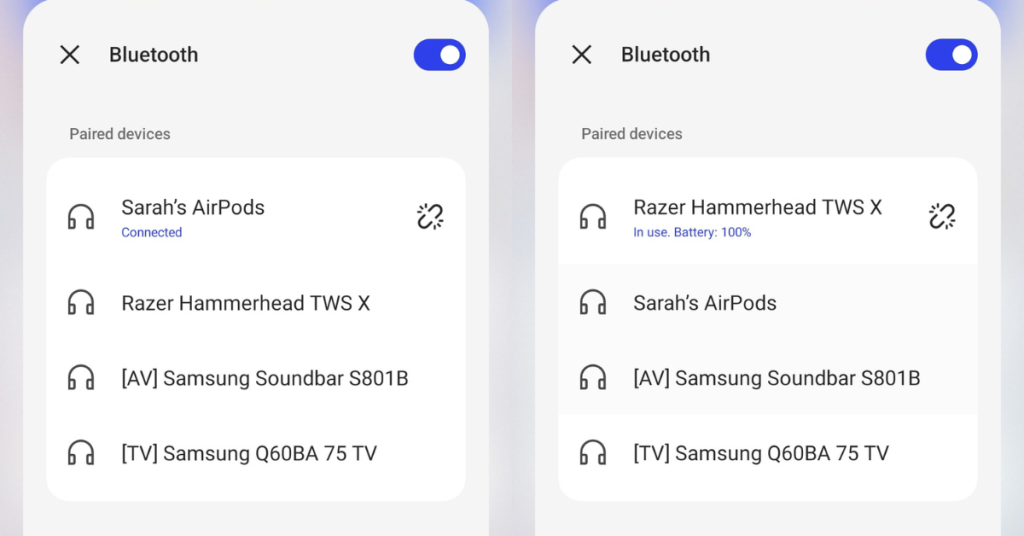 Does the camera live up to its claims?
As with most other OPPO models, the Reno10 Pro+ 5G's camera remains one of its key features, so I was excited to see what all the hype was about.
At first glance, you might assume the photos looked quite standard, especially while snapping a shot. But the general rule of thumb when taking photos with OPPO phones still applies—you have to wait for the images to process.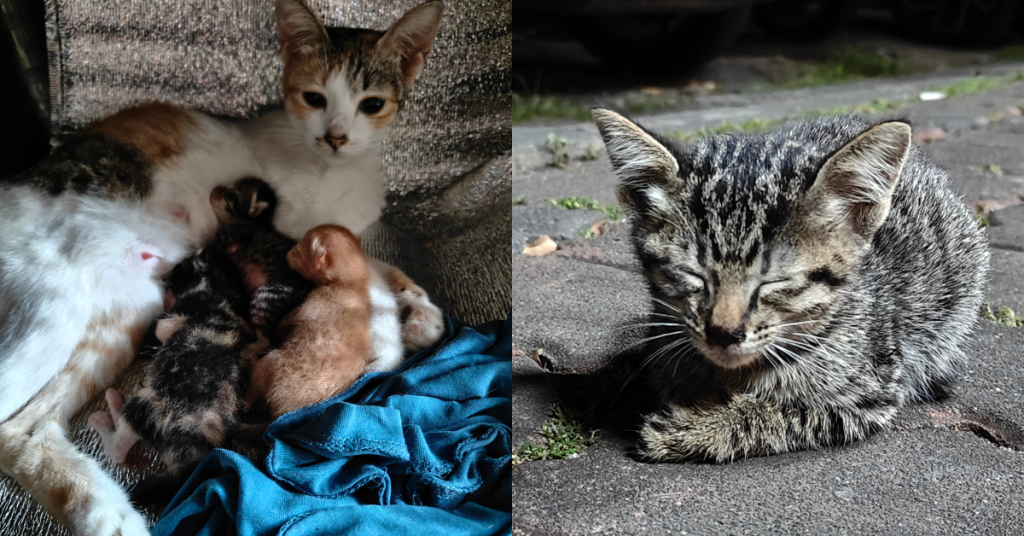 According to OPPO, the Reno10 Pro+ 5G boasts the brand's new image processing architecture to deliver higher-quality images. This was easily seen in how well it captured photos during an indoor awards ceremony.
The venue was quite dark in person, and it was challenging to see clearly beyond five metres, but that didn't stop the phone from performing. The images were crisp and had a good balance of brightness and contrast.
I also put this to the test when attending Samadhi Retreats' slow dining event, where we dined under the night sky. I was able to capture the dishes vividly without the aid of any external lighting.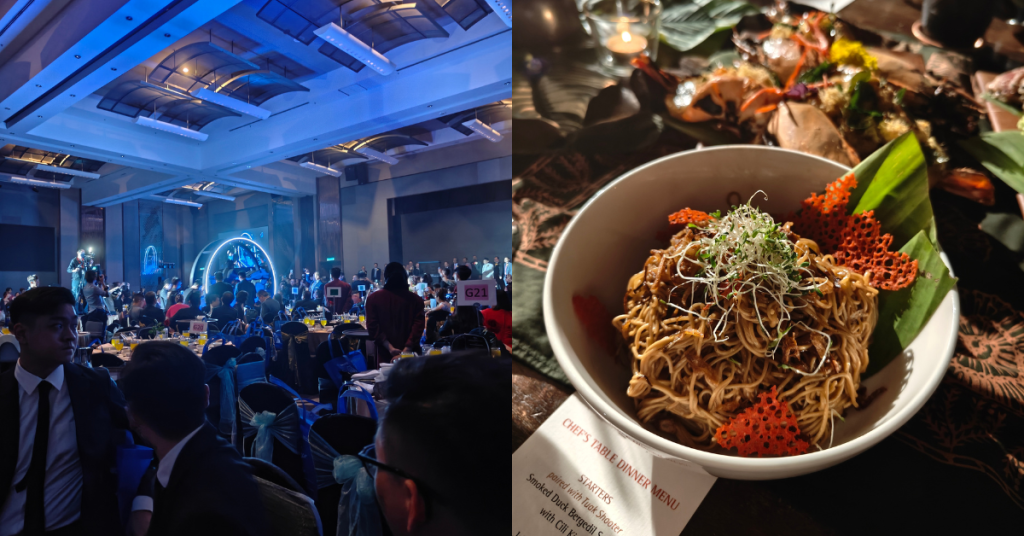 That said, the real star of the phone is its ability to deliver full optical-quality zoom with its f/2.5 maximum aperture and 64MP camera. This puts it in a similar league as Huawei's Mate 50 Pro, though the latter has different focal lengths.
The large 1/2-inch sensor is said to offer exceptional light sensitivity, making it a good tool even in low-light settings. Ideally, the camera does its best at the optimal zoom rate of 3x, but the Reno10 Pro+ 5G also offers 6x zoom rate.
Its claims to be "the highest spec periscope telephoto camera available on any smartphone ever" might just hold some truth. Since I've personally not tried too many phones before, its ability to clearly take in images at high zoom rates was surprising to me.
The camera is able to capture good quality images even at high magnification, as demonstrated above. But smaller details like those in the map of slide 2 are not as clear.
And like past OPPO series, the Reno10 Pro+ 5G also has a built-in beauty filter feature automatically set when using the selfie camera.
You can adjust it to a degree of your preference or just turn it off if that's not your cup of tea. But I found that the overall camera itself was much brighter than what I was used to with my personal iPhone.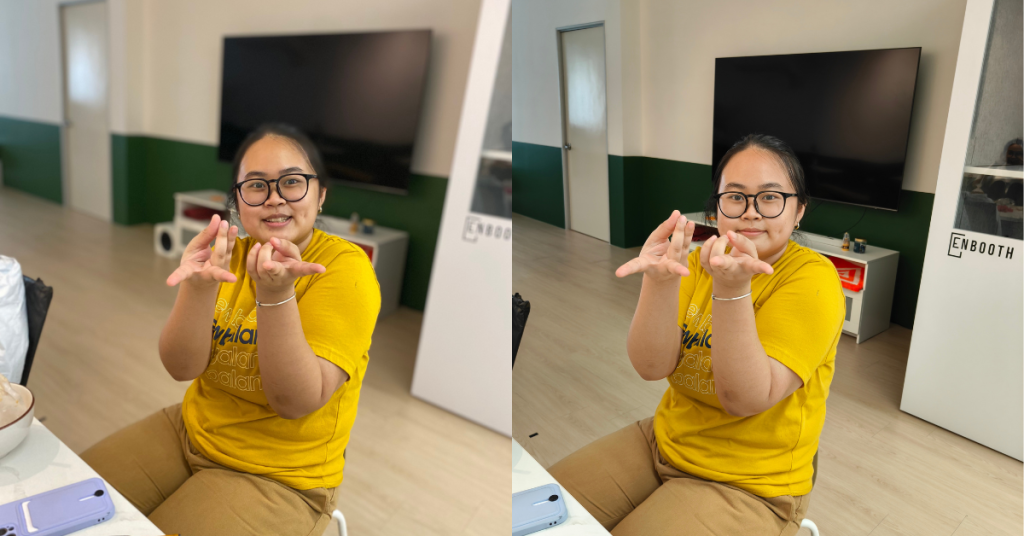 The introduction of a new feature
Another interesting feature of the OPPO Reno10 Pro+ 5G is its super handy Infrared Remote-Control. Basically, you're able to use the phone as a remote control for smart home appliances.
This includes TVs, streaming devices, robot cleaners, AV systems, and air conditioning systems. Using the built-in app, you can choose the kind of smart appliance you have (regardless of brand) and connect to it.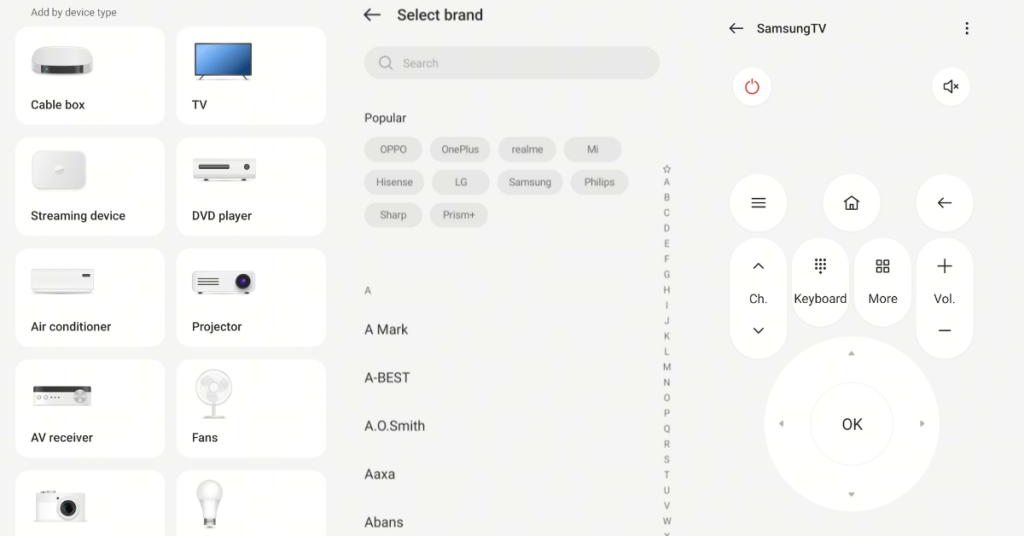 We tested this using the Vulcan Post office's Samsung TV and were pleasantly surprised by how well it worked. It took us just a few tries to understand the process without a manual or instructions.
Do note that you must have the physical remote control to pair the appliance with your phone and that it must be connected via Bluetooth before you can pair it.
Unfortunately, the office space didn't allow us to test its detectability from a long distance. But once paired, it was smooth sailing from there, and I found the Infrared Remote-Control easier to navigate than the universal remote control.
The phone's Multi-Screen Connect feature also made the phone more useful, particularly when an HDMI cable is not on hand to display the laptop to the TV. The connection process takes less than two minutes to achieve.
Did it change my mind?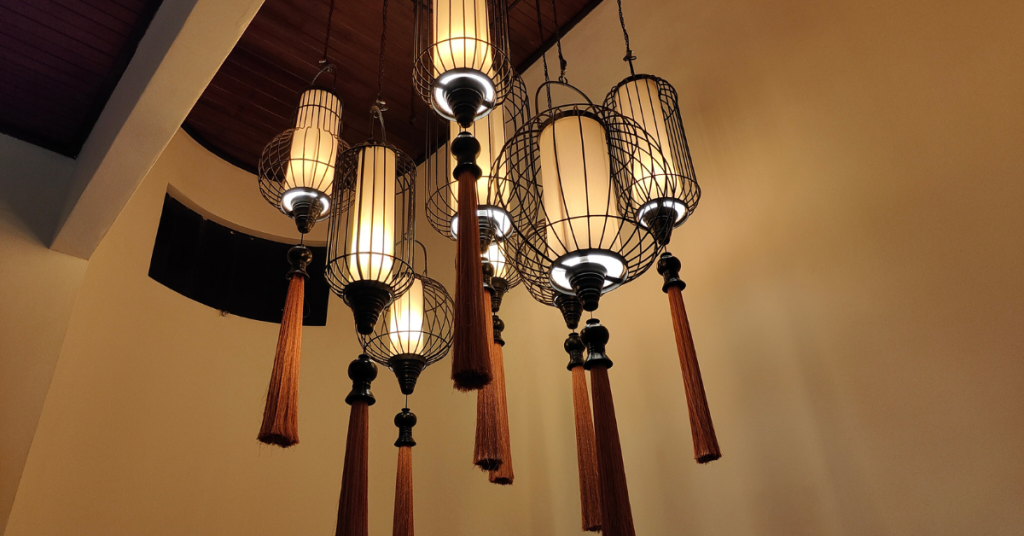 Overall, I felt the OPPO Reno10 Pro+ was a pleasant device that performed well as expected, based on its press materials. The additional features like its Infrared Remote-Control and Multi-Screen Connect certainly impressed me.
But that's probably because I'm accustomed to Apple and its closed ecosystem that doesn't allow much connection with non-Apple devices.
The ColorOS UI took a few days to get used to, but it was not too hard to learn. Meanwhile, the camera quality seemed much better than my iPhone's, especially in low-light settings.
With a starting price of RM3,499 (12GB + 256GB), the OPPO Reno10 Pro+ 5G's is a fair contender for other recently released flagships on the market.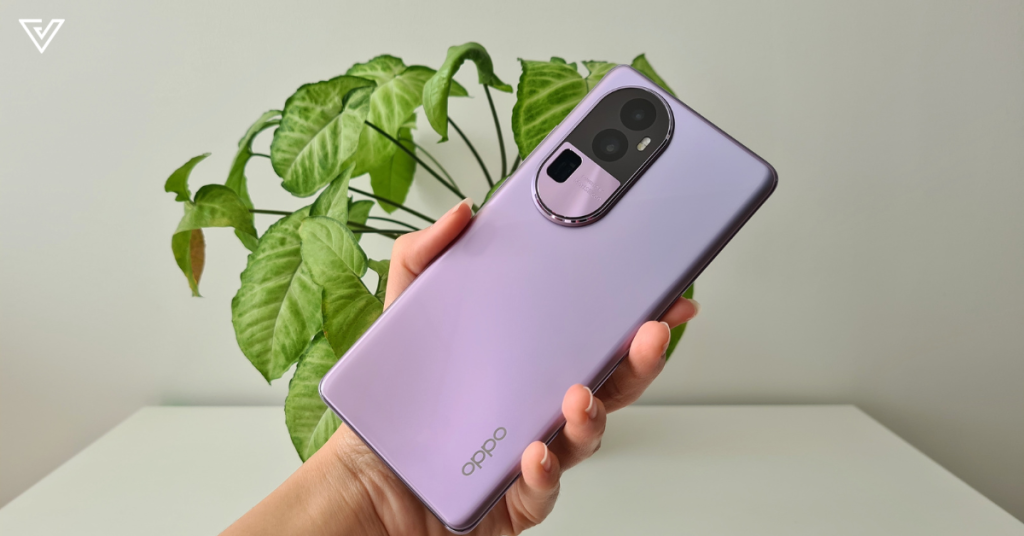 | Pros | Cons |
| --- | --- |
| Impressive and powerful camera suitable for mobile photography | Lacks guide/manual with new apps (i.e. Infrared Remote-Control feature) |
| Long battery life with fast charging capabilities | |
| Light weight and curved sides make for comfortable grip | |
VP Verdict is a series where we personally try and test out products, services, fads, and apps. Want to suggest something else for us to try? Leave a comment here or send the suggestion to our Facebook page.