Batik is something that almost every Malaysian household would have. Whether it's in the form of a sarong, a headband, or even a painting, it's a traditional cultural craft that seems to withstand the test of trends.
Yet, the practice of traditional batik-making itself can be said to be fading out of existence. For one, there aren't as many batik crafters in Malaysia as there used to be because of how labour-intensive the art is.
Plus, not many can truly appreciate the work that goes into creating a handmade batik fabric. Lots of remaining artisans and craftsmen are located in more rural areas, making it harder for us city folk to see their expertise in person.
While her business is not quite focused on directly addressing this issue, Cindy, a Penangite who creates batik painting kits through her North Village Artisan Batik (North Village) brand, is bringing more awareness to the traditional art in her own way.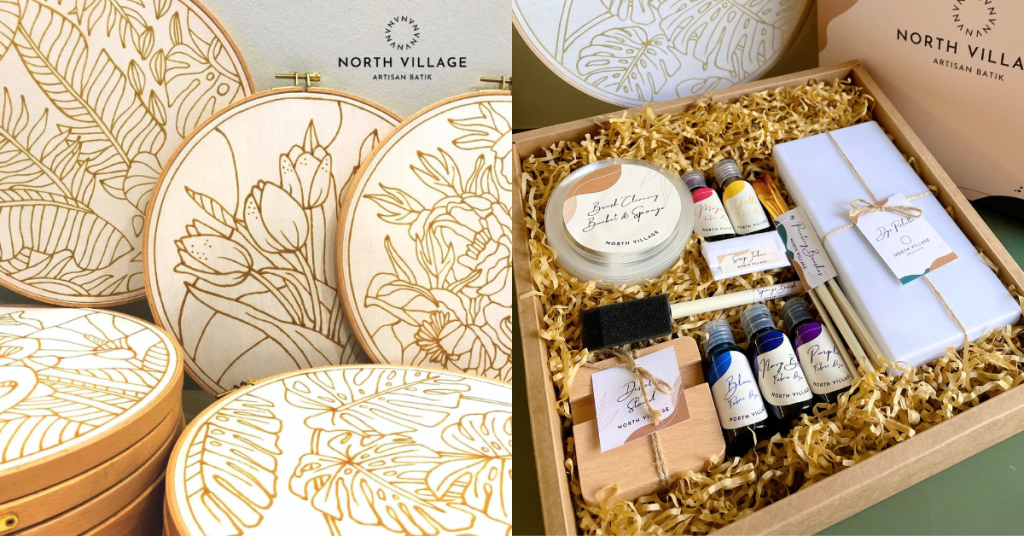 From joining a workshop to starting her home-based shop
Cindy's professional background was in business development, so how did she end up in batik?
Well, to destress and relax, Cindy and her friends would attend a weekend workshop where they learnt the basic concepts of batik making, including the drawing process.
Called canting batik, it's a traditional method of using a pen-like tool filled with hot wax (instead of ink) to draw patterns onto fabric. 
Life went on with her balancing her job and her growing interest in the art… then the pandemic hit. Her company was heavily impacted, and she eventually left her job.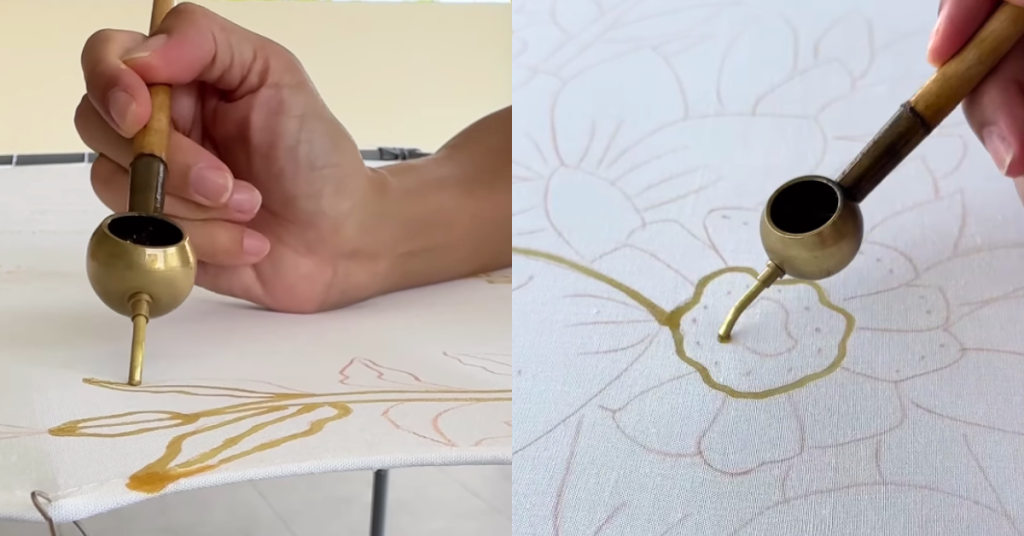 With more free time on her hands, she shared, "I continued learning the craft mainly through my own experimentations as there are limited resources on the web."
Those around her eventually took notice of her drive and interest in the craft. They began asking Cindy to produce batik painting kits so they could share in the enjoyment she got out of batik making.
"Once they experienced it, they loved how relaxing the activity can be, so they thought about gifting this to their loved ones and requested me to produce more of it."
That was how her hobby evolved into a KL-based business to support a dying art.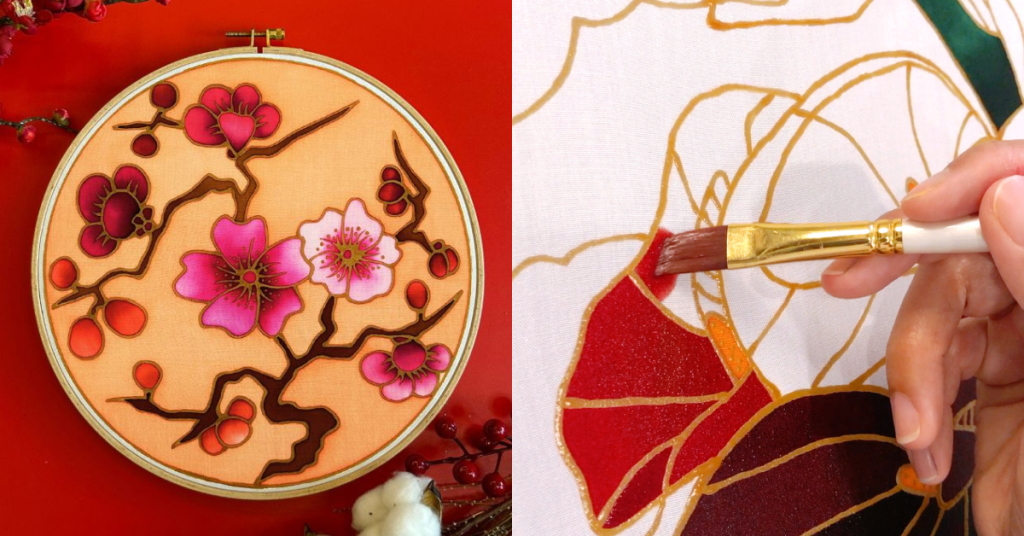 Modernising an old craft for the masses
After setting up the North Village brand (whose name pays homage to her roots in Penang) in 2021, Cindy got to work.
She experimented with building a suitable batik painting kit for about a year, making sure the right fabric and dyes were used. She also made her personal blend of wax concoctions to aid the most crucial part of the craft.
"Every batik artisan has their own recipes so we incorporate what we feel works for us," she said. All the while, she would practise batik making for six to seven hours per day to continue honing her skills.
Despite having no prior professional experience in batik making, Cindy was ready to dive into the business with no regrets.
"To be honest, I did not do market research prior to launching this batik business because I did it purely out of demand for the products from my friends. Things started to evolve from there, so one thing led to another."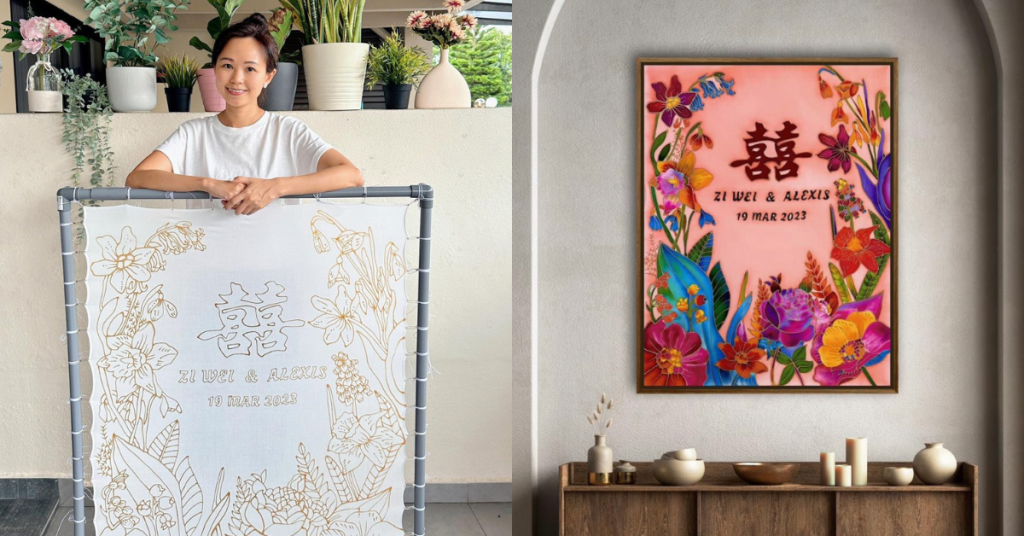 Similar to other batik painting kits in the local market, like those from Batik Boutique, North Village's designs are quite modern.
Many of the kits don't feature the traditional Malaysian batik motifs of flowers and plants (though there are some). Instead, the kits have less conventional designs like landscapes of different cities and mandalas. 
Customers can choose to have the batik framed and with or without a display stand to showcase the artwork. The painting kit also comes fully prepared with an instruction card, batik dyes, nylon paint brushes, a sponge brush, a palette, and a cleaning bucket.
Price-wise, North Village's batik painting kit is slightly pricier (RM158) in comparison to Batik Boutique's (RM89).
But this could be due to North Village's kits being mounted on a solid wood frame, compared to Batik Boutique's use of an embroidery hoop to frame the pieces.
While Cindy shared that the brand's products are targeted towards anyone who wants to relax and enjoy the craft, it does seem like she's appealing to a more modern crowd. 
The drawings are worth it
A one-woman team running the business full-time, Cindy confessed that it hasn't always been easy. She manages nearly everything from producing each batik piece to dealing with the business aspects of the brand.
Except for the designing part. "While I'm rather good at canting, I am not good at designing. Therefore, all the batik designs are done by a designer friend of mine."
With North Village's batik pieces being 100% hand-drawn, there's only a limited amount she can churn out in a day before her hand aches.
"It is challenging because most people are not aware that hand-drawn batik is a laborious, tedious, and time-consuming art form. It takes years of hard work for a batik artist to get the skill he or she has."
But all that doesn't deter her.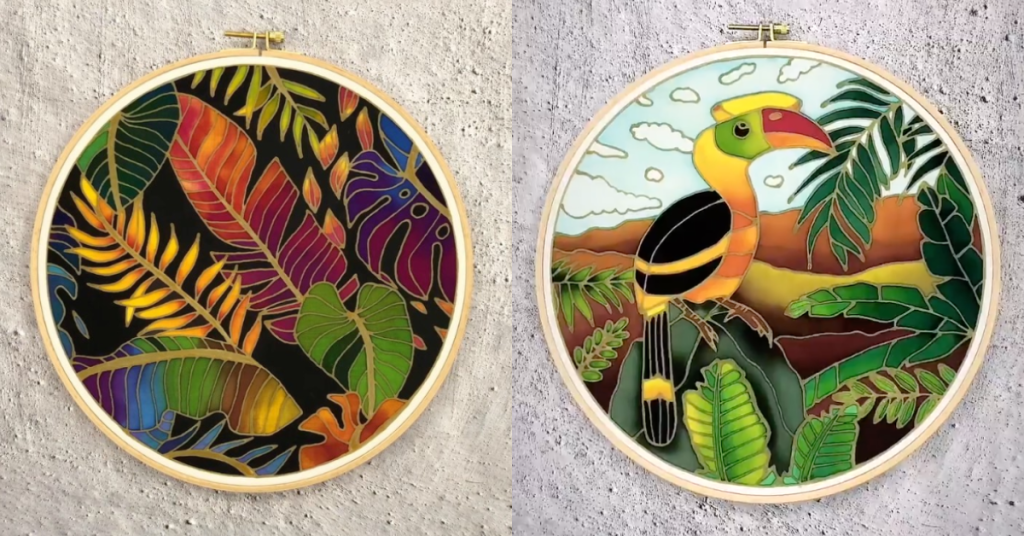 "I love producing batik pieces using the hand-drawn method because each batik piece is one-of-a-kind as there is no way a human's hand can replicate the same piece twice," she exclaimed.
The support she's received from her customers has also reinforced her decision to commit to the business on a full-time basis. 
Occasionally, you may find Cindy in pop-up bazaars to increase brand awareness and educate the public on batik. 
She also offers companies the chance to experience and see the batik-making craft first-hand through a live batik painting activation event. 
While Cindy's efforts to up the appreciation for the batik craft may seem small, it's one step in creating more awareness around the art.
What could help propel North Village's efforts further would be to collaborate with local traditional batik artisans. This would allow both parties to learn from each other, specifically on how to maintain and advance the craft.
Learn more about North Village Artisan Batik here.
Read articles we've written about Malaysian startups here.
Featured Image Credit: North Village Artisan Batik