Frequent gym-goers William Yuen and Celine Chia had a huge personal problem—they had nowhere to put their phones while exercising.
As gym attire typically doesn't have pockets and gym equipment isn't designed to have phone storage spots, they typically resorted to putting their phones on the floor.
"We were forced to put our phones on the floor, and get worried that the dumbbell may crush our phones," William pointed out.
Another problem was that gymgoers often like to record their own workouts, either to monitor themselves or to post as inspiration online. With nowhere to really put the phone, these people also usually put their phones on the floor, once again risking cellular death by dumbbell.
Through pictures that they've shared online, it seems that this has indeed happened in the past.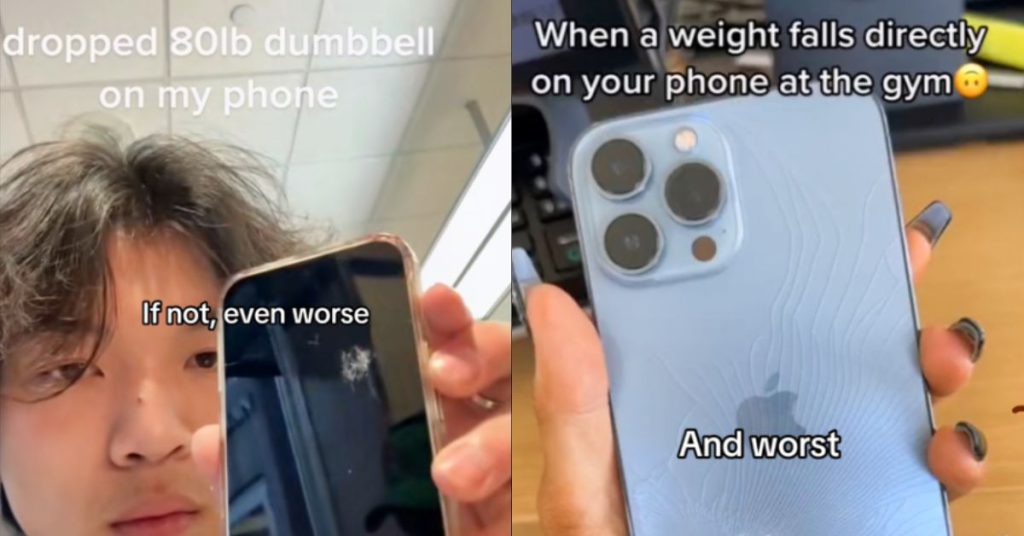 "There are times when I saw that Celine left her phone on the gym floor and I safely kept it," William recalled. "But when she realised her phone is gone, she started to panic. This happened way too often and we realised that this problem needed to be fixed so we started to find a perfect solution."
Using their own personal savings, they decided to bring an innovative solution to the Malaysian market.
Lifting off in a new venture
The solution for William and Celine lay in water bottles. Under their new brand, ONYX, they launched a unique-looking "tripod bottle" that allows users to stick their phones onto one flattened corner.
This allows the user to easily film themselves in the gym or keep their phones out of harm's way.
"The ONYX Bottle is no ordinary water bottle, it is a game-changer in its own right," William insisted.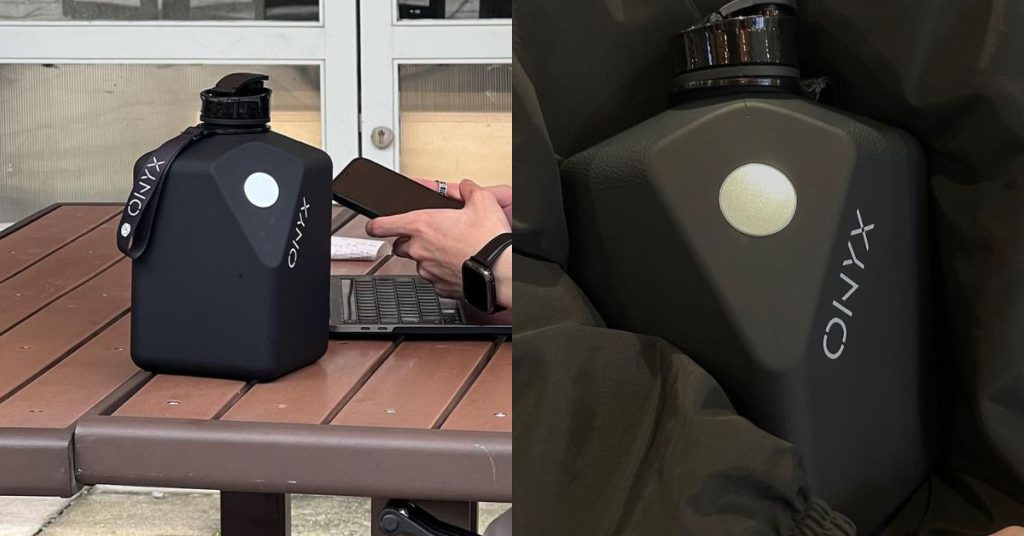 Just a month into the business, ONYX has already amassed a decent number of followers through viral posts on social media.
Interestingly, though, the two shared that marketing was a big challenge of theirs.
"We are totally not a marketing people or a web developer, so hyping up a brand before we launch is extremely difficult. And creating a nicely designed website that echoes our problems can be difficult as well," William expressed.
It took him and Celine many months to learn how to do it before they officially prepared ONYX's launch.
Both hailing from Kuala Lumpur, William and Celine now consider ONYX to be their full-time project. Both still take freelance gigs on the side.
With a background in data analytics, William has experience interpreting data to drive strategic decision-making. On the other hand, Celine is a freelancer, bringing her creative expertise to various projects.
"We make a dynamic team combining analytical thinking and creative flair to build our brand," William shared.
Prior to ONYX, the data analyst dabbled briefly in entrepreneurship, having run an ecommerce business reselling Abercrombie & Fitch T-shirts.
"There weren't any places to get [the T-shirts] in Malaysia other than the official website, but there's a huge shipping fee involved if you only buy one shirt," he explained. "So, I started to create a business where people may get a T-shirt with a cheaper price because I buy it in bulk.
"I think this might [have given me] a small confidence boost in starting up ONYX."
No ordinary bottle?
While the story of the Abercrombie & Fitch T-shirt might seem a little out of nowhere, it actually bears certain similarities to how ONYX got its start.
I initially thought the ONYX water bottle was an original invention from the team itself, perhaps because of the product sketches shared on its social media.
But before ONYX became a business, Celine and William had wanted to buy a similar bottle due to their struggles.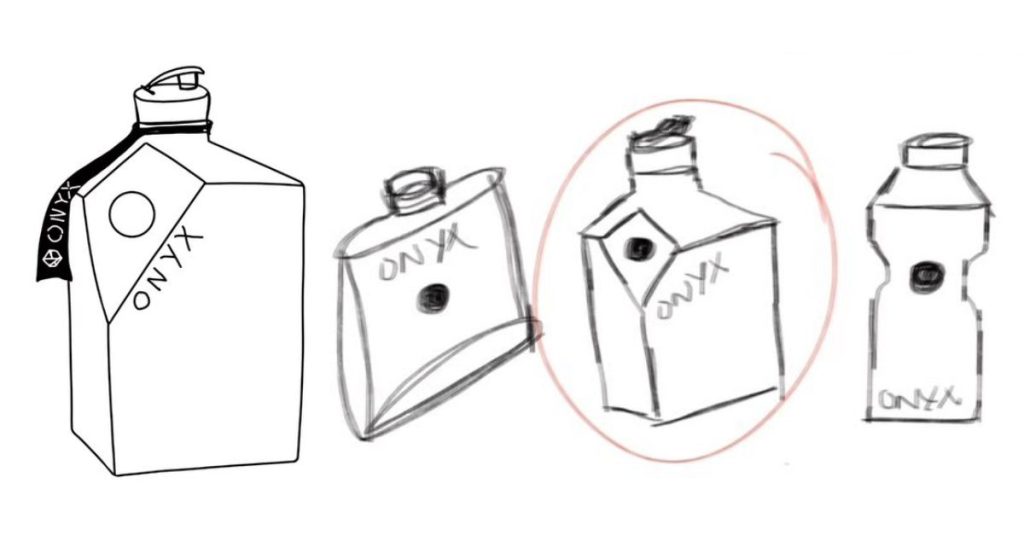 However, like the situation with the T-shirts, they realised that it was difficult to get one in Malaysia.
Thus, they decided to work on an original equipment manufacturer (OEM) product. They worked with a "high-quality bottle manufacturer that goes through vigorous testing and processes" to do so.
In the process, they also strived to make the bottle design "as hipster as possible". Through a dark and chic exterior, the goal was to cater to the younger generation.
Aesthetics aside, what about the functionality? The way that the attachment works is that the bottle features a magnetic metal plate (dubbed the ONYXMAG) that can be attached to the back of any phone.
That perk aside, the ONYX Bottle also fulfils the basic requirements of a gym bottle, with a generous 2,700ml capacity, BPA-free materials, and a keychain attachment.
"It is designed for anyone who desires to securely attach their phone to the bottle, whether it's for enjoying movies, recording workouts at the gym, or using the phone as a second screen while working," William said.
Don't bottle your doubts
When it comes to magnetic products, a concern may be that the magnet may lose its magnetism.
However, William assured that such changes are very slow, so much so that even over the whole of the time you possess the magnet, the release of charge is not likely to be very noticeable.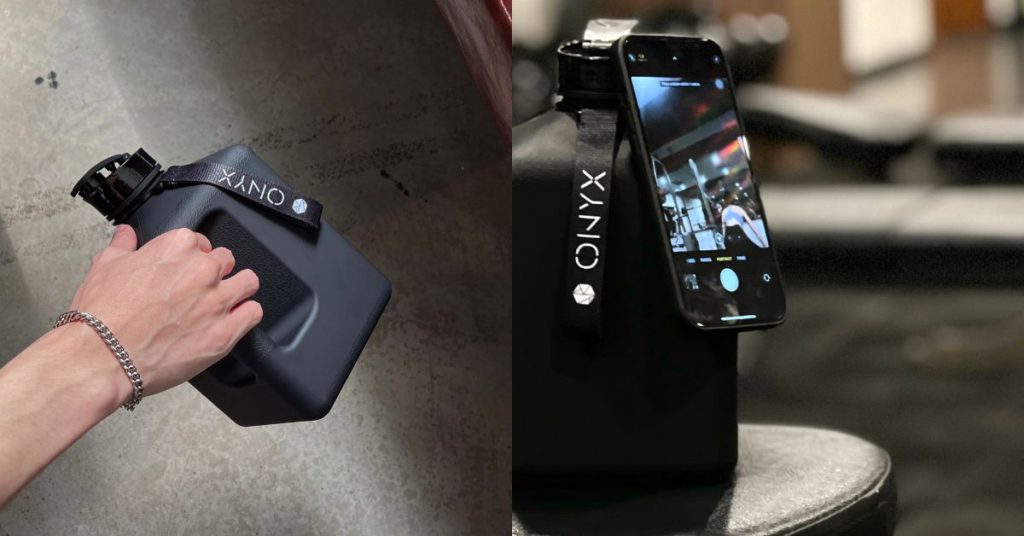 That said, should it happen, the ONYX team doesn't seem to offer any warranties. At the end of the day, it is possible to remagnetise a magnet by bringing it into contact with a strong magnet.
Another issue with the product is its non-adjustable nature. Typically, with tripods, bendy adjustable holders are crucial so that you can adjust the angle of your camera.
With this bottle, though, it can always only be pointed upward at a specific degree, meaning you won't be able to film your feet unless you stand far away.
When asked about whether the team plans to work around this limitation, though, William told us that the information is P&C and that they're not allowed to share.
Could that mean something may be in the works?
Sustaining into the future
A month into their business, William and Celine reported that the reception has been rather positive.  
"We are grateful for the support we have received from our customers and the community, which has allowed us to grow and continue to innovate," William said.
With that, the team is actively seeking opportunities to collaborate with retail stores and showcase ONYX's bottles on their shelves.
For now, ONYX's bottles can be found on their website, Shopee, and TikTok Shop.
While bringing a hard-to-find product to Malaysia through OEM products is great, with active brands such as Nateskin having done so as well, there are also instances when such practices stop being enough, such as with Jujumello.
Hopefully, if the ONYX team is truly innovating to create a new product, this will be able to sustain the young business. It may even propel it to the likes of other mainstay bottle brands in Malaysia, such as OVER Bottle and RGB Commerce's Montigo.
Featured Image Credit: ONYX