It was serendipitous, the fact that Vulcan Post had published an article looking into the history of PappaRich, just days before its founder Rich Tan made his comeback through a new business by the name of Rich Kopitiam.
This serendipity was something I chatted about with Rich himself when we met up at Rich Kopitiam recently, more than a month after the launch of his restaurant.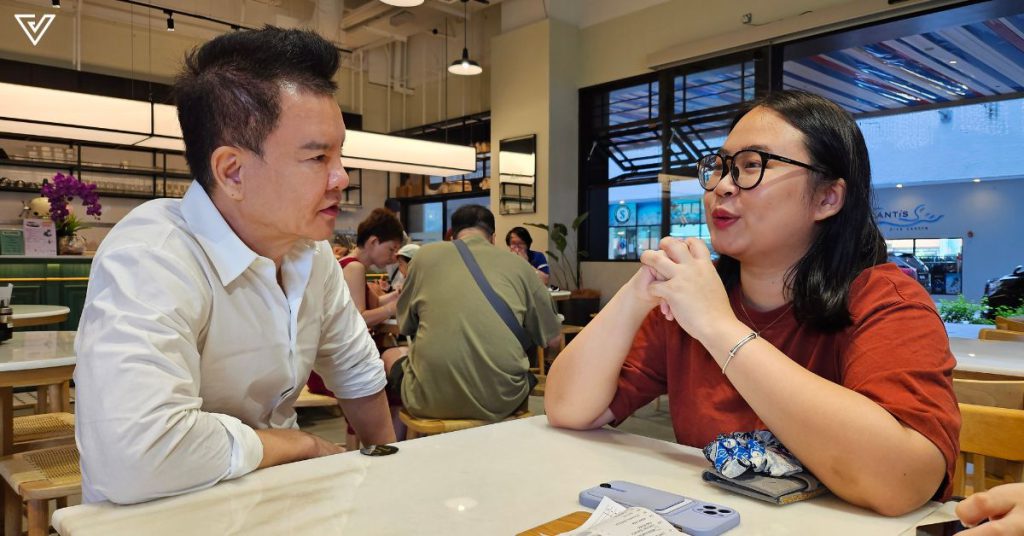 Many things worked in our favour to be able to connect us with the typically elusive businessman for an interview.
While Rich's team had already reached out to us, we ended up getting a direct connection through Utama Farm, which we had recently written about too.
Rich had quipped that it was "上天的安排"—God's arrangement.
Whether you believe that or not, the Vulcan Post team made our own arrangements to visit Rich Kopitiam on August 11, keen on learning just how the new kopitiam-styled eatery is doing.
Strolling into the store
Having been tipped off that the restaurant would be too busy in the afternoon, we arrived at the mall before the lunch rush.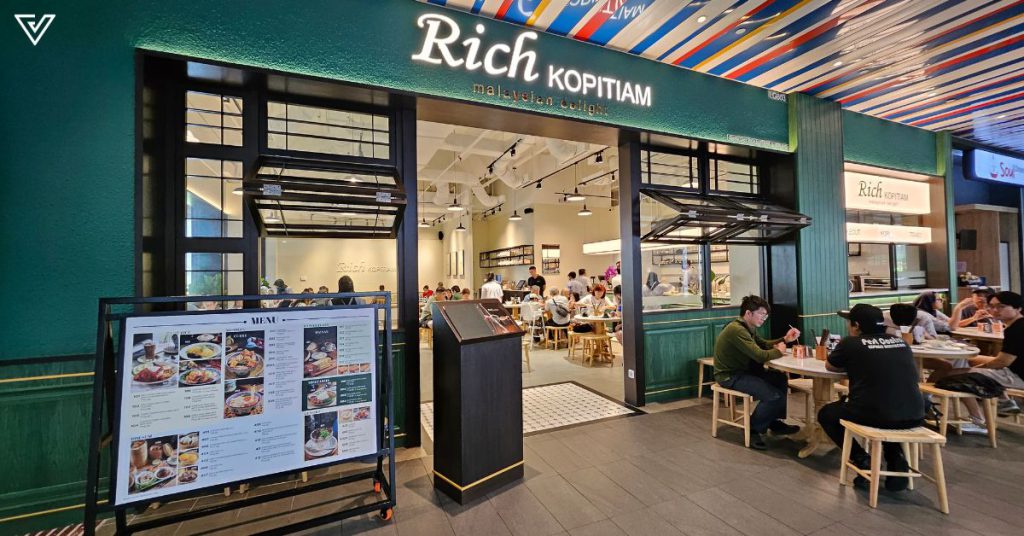 It was a bit of a challenge for us to find Rich Kopitiam, though, as it's actually located outside, near the FlowRider area.
By the time we made it to the eatery, the place was already 80% full so the five of us took up a four-pax table, which was still rather comfortable.
Observing the crowd, it seemed like there were a lot of middle-aged people, there to chit-chat amongst friends or perhaps business partners.
The patrons were pretty diverse. While the restaurant hasn't been halal-certified yet, it does use halal ingredients.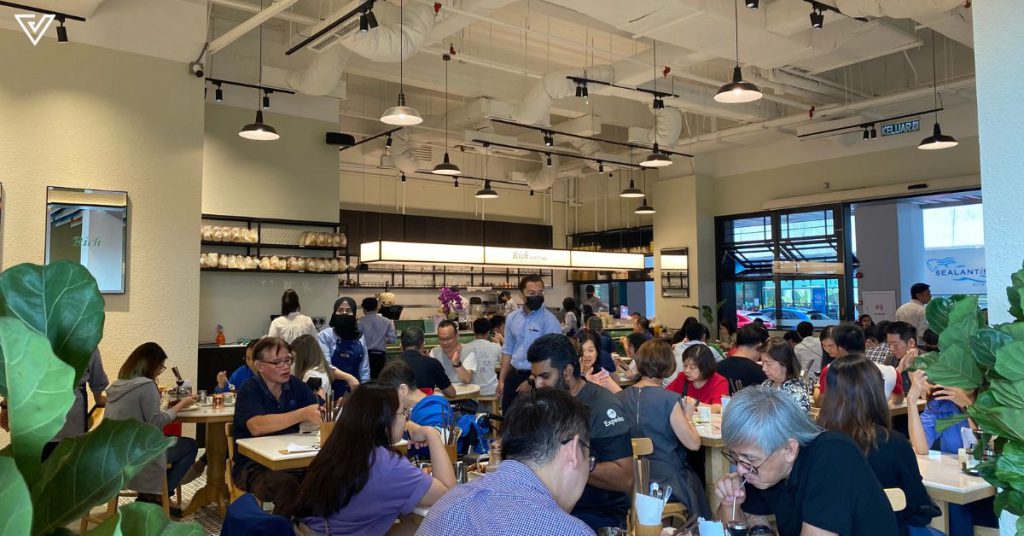 As lunch went on, a queue started to form outside. That said, things seemed to remain under control.
Everything operated like a well-oiled machine still, perhaps the result of an owner who has had plenty of past experience in the industry?
Time to chow down
Flipping open the menu, I was surprised to find PappaRich named on the introductory page.
The rest of the book was chock-full of local delights, from Penang prawn mee and Hainanese chicken rice to white coffee and cendol.
Based on recommendations given by staff, we ordered five mains—Char Kway Teow, Assam Laksa, Curry Mee, Rich Signature Nasi Lemak With Ayam Berempah, and Kampung Fried Rice With Ayam Berempah.
Rich, ever-so generous, also added a plate of toast and half-boiled eggs, and two sets of butter and kaya toast despite us insisting on just one.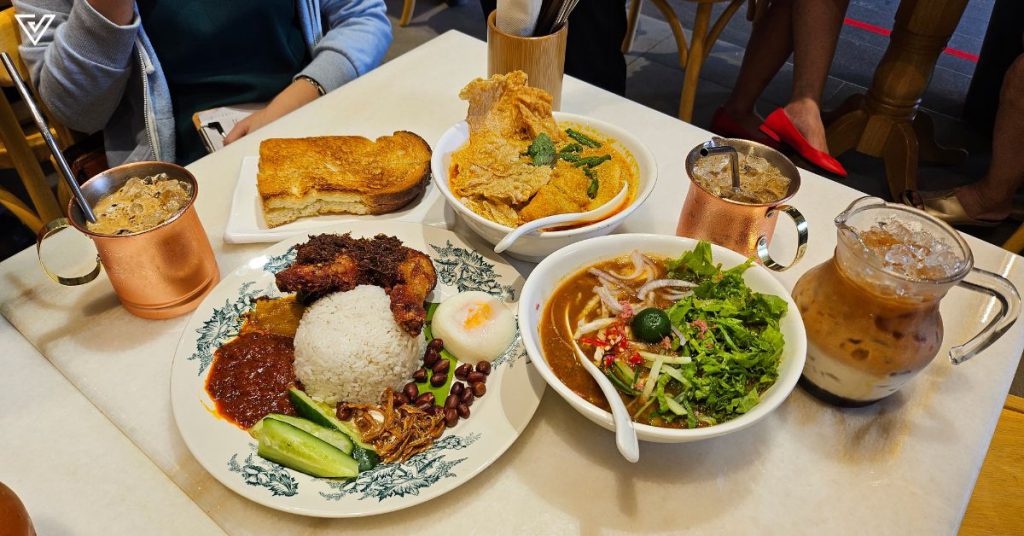 The dishes arrived fast—but to be transparent, that could just also be an outlier considering we were media representatives. We spent some time taking photos of the food, but perhaps it would've been better to dig in while the plates were still steaming hot.
That's not to say they weren't delicious even after we spent a good 10 minutes snapping away pictures, though.
Featuring fresh and juicy prawns, the Char Kway Teow (RM16.90 with a poached egg) was a huge hit amongst us, with its noticeable wok hei aroma. I also really enjoyed the Assam Laksa (RM15.90), though it is on the sweeter side, which might not be everyone's cup of tea.
The kampung fried rice (RM17.90) and the nasi lemak (RM17.90) both featured the same ayam goreng berempah. While the chicken was super crispy on the outside and tender on the inside, we found the sambal to be a tad too spicy, even for the best spice-eater in our group.
Even our team's least favourite dish that day, the Curry Mee (RM14.90) with its more prominent santan flavour, had been pretty great to me.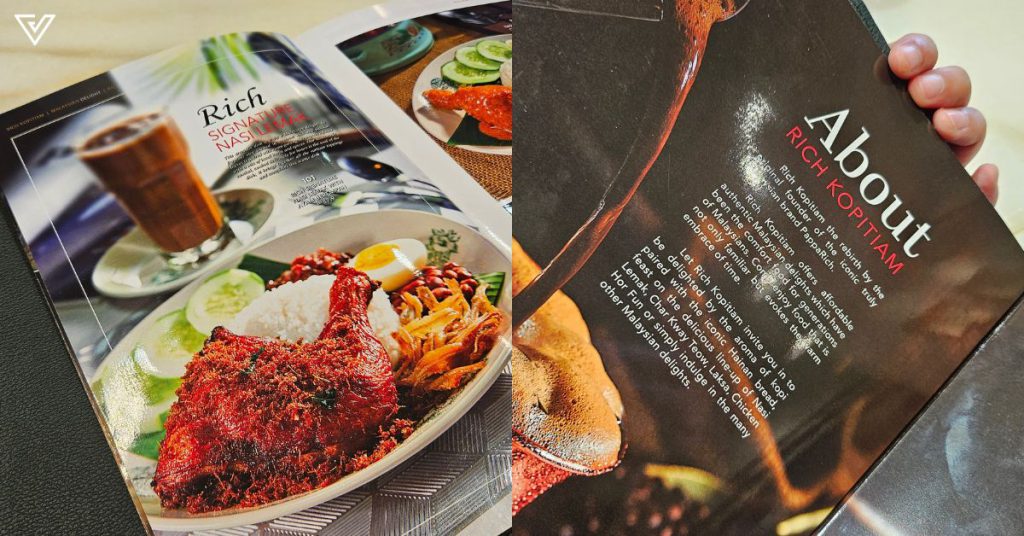 My colleagues felt like all the dishes had a charred and smoky depth to them, in the best way possible.
Another thing I enjoyed about the dishes was the poached egg they featured. Instead of the usual fried or boiled egg, it added a touch of fanciness while making the dish more unique.
Food aside, the drinks, to me, were must-orders. The iced coffees (Rich White Coffee [RM7.80] and Kopi Ice [RM6.80]), 3 Layer Tea (RM7.80), and Barley drink (RM4.80) were all delicious.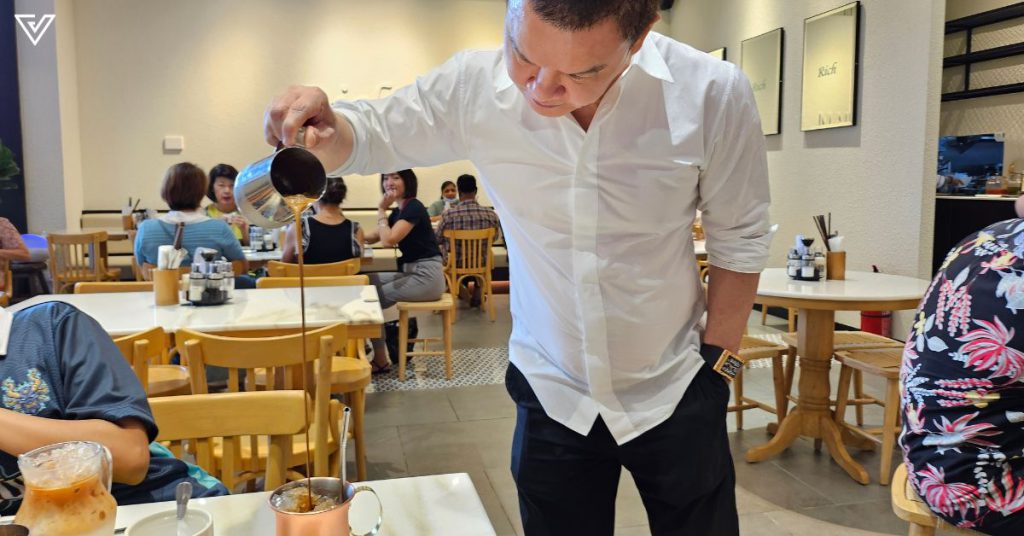 Despite feeling full, we managed to take on a final bowl of cendol (RM7.80). The saying "there's always room for dessert" has never felt truer.
The pricing also seemed pretty fair, maybe even on the affordable side to some, for the quality and freshness that you get.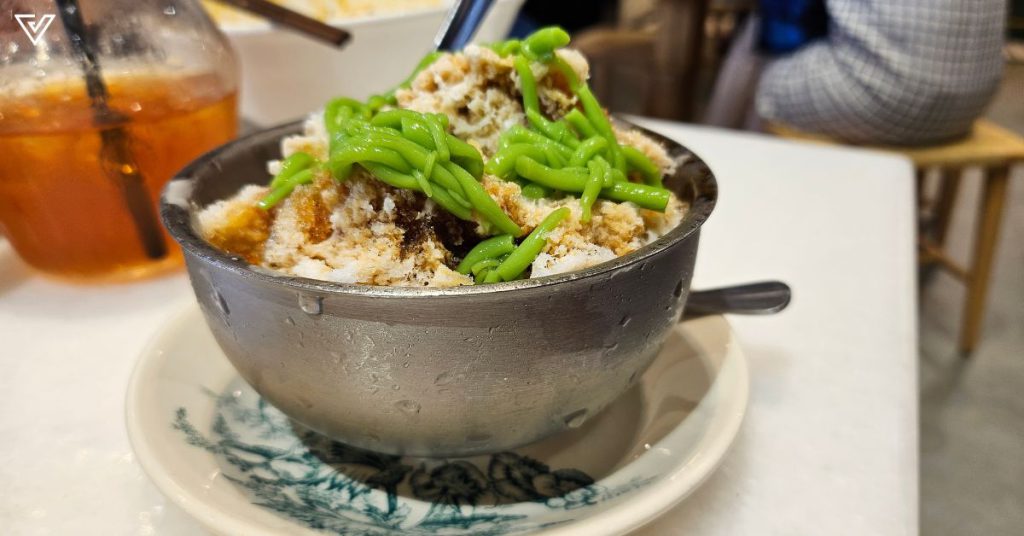 Certainly, it's pricier than what you'd find at neighbourhood kopitiams, but at kopitiam-style spots like this, you pay for more than just the food. There's the comfort, location, service, air-conditioning, and more, to consider.
A brand to keep an eye on
As much as I enjoyed the food, I feel like it was the overall ambiance and the delivery of the cuisine that truly sold the experience to me.
Like Rich, I love kopitiam food. Our office is literally next to not one, but two kopitiams.
Of course, the market is quite saturated right now, with other kopitiam-styled restaurants out there such as Oriental Kopi, Nanyang Cafe, and Old Town White Coffee available.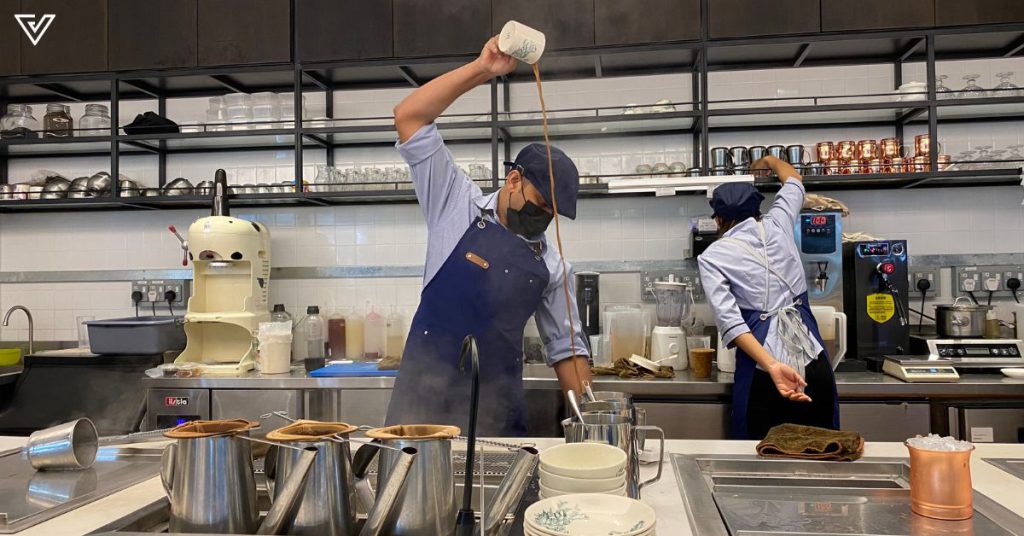 While I can't compare all of those businesses, as food is also a subjective thing after all, I would say that I believe Rich Kopitiam will be a strong contender in the scene.
Rich reiterated during the lunch that the brand will be growing slowly and steadily, rather than rapidly expanding, to better control the quality.
With this strategy in place, Rich Kopitiam might truly be one that'll fulfil the founder's ambitions to solidify his legacy in the local F&B scene.