MAD Foods (MAD) officially launched its debut line of 100% plant-based and dairy-free ready-to-drink (RTD) cold brew coffee called MAD Coffee in Malaysia today (September 14, 2023).
The Vulcan Post team was invited to the launch event at 7-Eleven Cafe Puchong. There, we met with the couple behind MAD, Angelique Teo (Chief Branding Officer) and Bobby Randhawa (CEO).
Founded in 2019 by Angelique, a Singaporean media and radio personality, and Bobby, who has over 20 years of experience in the FMCG beverage industry, MAD aims to create beverages that give people the choice to consume conveniently, healthily, and sustainably.
The brand's R&D journey started about two years ago, as they want to ensure their products hits the "top spot for taste and indulgence".
Some of you may have noticed MAD Coffee's products already available in 7-Eleven outlets around Peninsular Malaysia before this launch. Bobby shared that their coffee was introduced to the West Malaysian market in late June this year.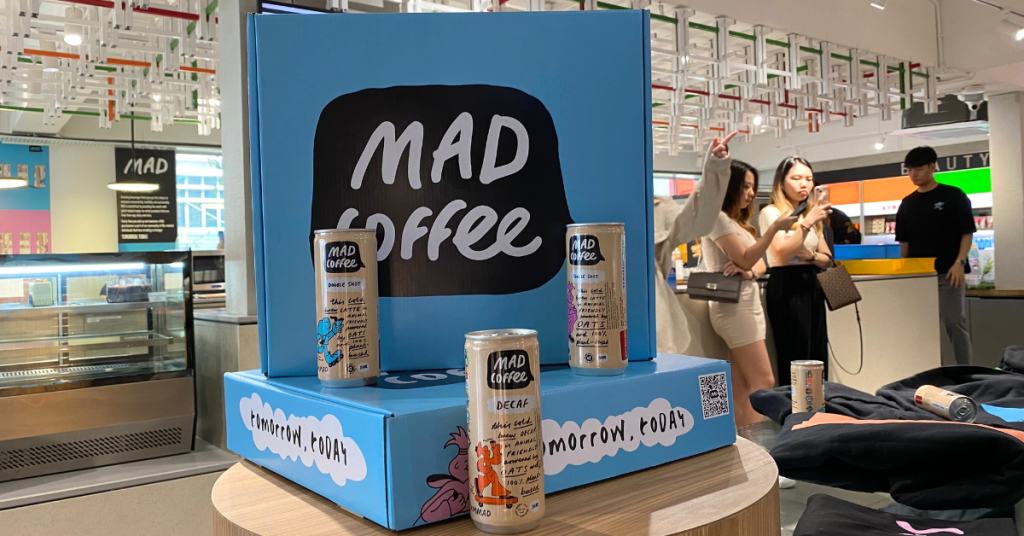 He also explained that having the official launch later was a tactical approach by the brand to establish a presence and stable supply chain here beforehand, and to also ensure their offerings are readily available to consumers.
"We take great care in sourcing and curating our ingredients, meticulously selecting them from regions across Asia and Australia with our oat milk coming from Europe," they told us.
Gearing up to ride the new wave
Regarding the market for plant-based options in Malaysia, the co-founders shared that their research found a growing interest for it here. "People are increasingly looking for sustainable, tasty choices. Now, when you compare it to Singapore, the markets are a bit different."
"Singaporeans are already quite hip to the plant-based scene, and they've embraced MAD Coffee with open arms. In Malaysia, we see a similar trend emerging, but it's still on the rise. So, we're gearing up to ride the wave of interest in plant-based coffee here too!"
They further elaborated that this local interest in plant-based coffee could be pinned down to the rise in consumers' awareness of health and the environment following the pandemic. In turn, this is leading to a greater demand for sustainable and wholesome choices.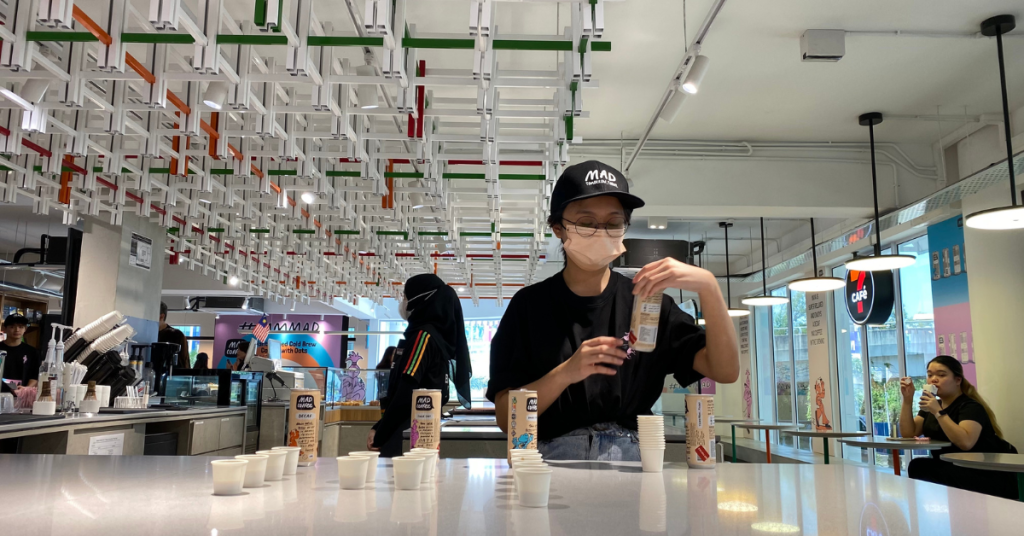 Since introducing MAD Coffee to the Malaysian market, the brand reported that they've been receiving overwhelmingly positive reception, leading to frequent sell-outs and round-the-clock restocking efforts.
Speaking to Vulcan Post, Angelique and Bobby stated that MAD's expansion plans include reaching out to markets in Australia, New Zealand, Hong Kong, and eventually, the United States.
Getting the word out there
Currently, all three of MAD's debut products can be found exclusively at 7-Eleven outlets throughout Peninsular Malaysia. Each can (240ml) of MAD Coffee is priced at RM4.90. The three options are Decaf, Single Shot, and Double Shot.
"We chose to work with 7-Eleven because their values align with our mission of making MAD Coffee easily accessible to a wide audience. With their extensive network of stores throughout Peninsular Malaysia, we ensure that coffee enthusiasts can conveniently pick up a can of MAD whenever they crave that plant-based caffeine boost," the couple shared.
The brand is now preparing to launch on various ecommerce platforms too. This means that consumers will have the option of ordering MAD Coffee individually or through subscription services in the near future.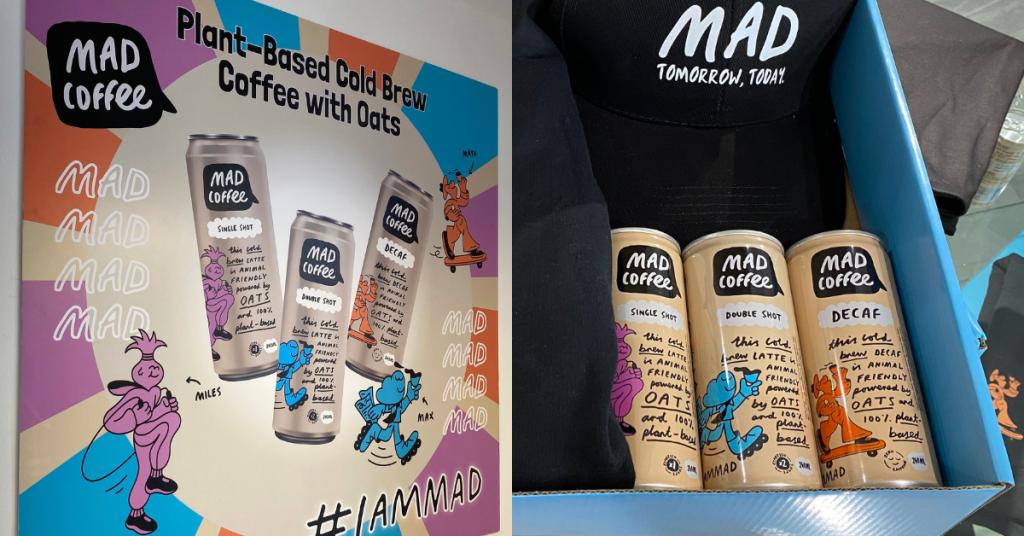 To commemorate the launch, MAD and 7-Eleven are having a #GetMAD contest with a grand total of RM15,000 to be won. To participate, you need to purchase a can of MAD from any 7-Eleven store in Malaysia, take a picture, share it on Instagram and/or TikTok and tag @iammad.co.
According to the press release, the caption for the post must include the hashtag #IAMMAD and tag three friends you'd like to #GetMAD with. One winner will be chosen every day for 30 days with each winner receiving a RM500 cash prize.
In total, 30 winners will be chosen over the duration of the contest.
As for its near-future plans, the couple confided to us that they will be introducing MAD M.LK (its own range of plant-based milk) to the Malaysian market in two variants. This is estimated to take place between three to six months from now. 
Featured Image Credit: Vulcan Post / MAD Foods