They say the apple doesn't usually fall far from the tree. In Tianna Avis Rajendra's case, watching her parents run their own businesses left a deep impression on her.
Growing up, she would take part in fundraisers for school or charities by selling her own handmade goods. Between the ages of ten to fourteen, she had even set up two small businesses selling handmade slime and digital art, respectively.
Realising her passion for entrepreneurship, Tianna decided some time ago that after finishing high school, she wouldn't further her studies.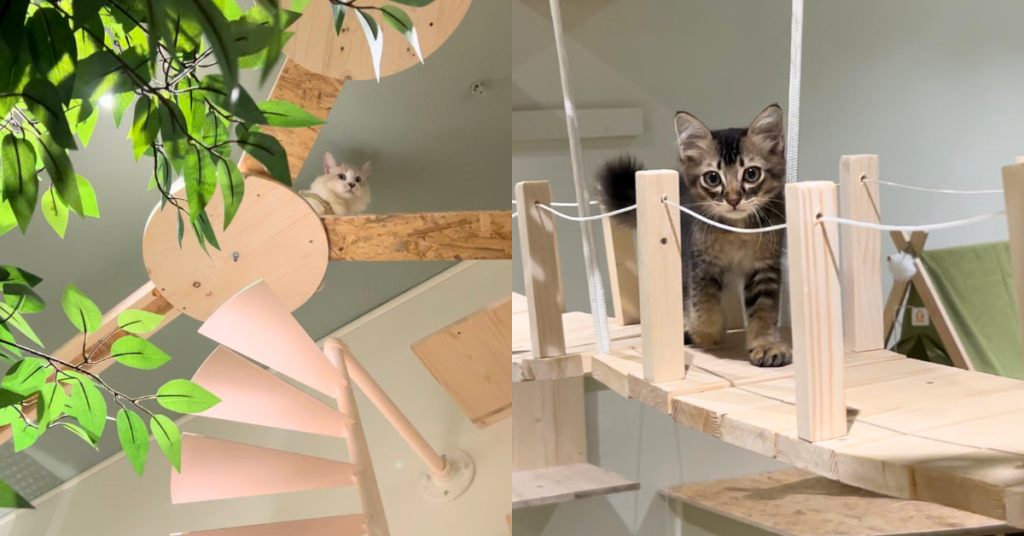 Instead, she wanted to focus on growing manjapot, her home-based business selling aesthetically pleasing pet cakes. And as luck would have it, her dreams of expanding the business into a cat theme park came to fruition just recently in August 2023.
Quite a furry affair
Contrary to what you might be thinking, manjapot isn't a feline-themed amusement area for people, and neither is it a cat cafe.
Here, the priority guests are actually your cats. This means you'll find plenty of catwalks (pun intended), wall-mounted cat perches, and scratching posts in the space.
Speaking to Vulcan Post, Tianna shared that she noticed a lack of places to bring her first cat two years ago. "I kept searching everywhere, high and low, because I really wanted to bring Coraline (her cat) out of the house and let her get some exercise and fun."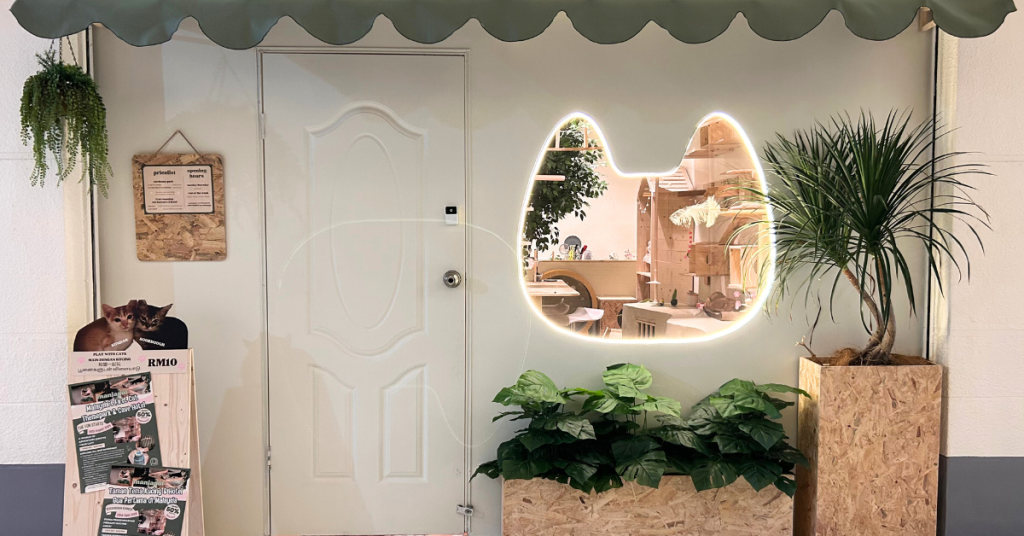 "But every time I searched, the only thing I found was cat cafes, where you aren't (usually) allowed to bring your cat. Or pet friendly cafes, but they don't have much catered to cats." This was in terms of both food and activities.
So not long afterwards, she had the idea to make a place just for cats, and to expand her business beyond just pet cakes.
A place to unwind
Despite not being labelled a cat cafe, manjapot has a couple of resident feline friends that visitors can play with.
You're also welcomed to bring over your own cats to the theme park for some fun time. But do note that all cats need to be fully vaccinated. Pets also need to be free of contagious diseases, as well as ticks and fleas.
Cat owners who want to bring along their cats to the theme park are charged a rate of RM18 for each hour. If you're planning to hang around the place longer, you could also opt for its half-day package (RM30) or full-day daycare (RM40). A night stay after daycare is also available for an additional RM20.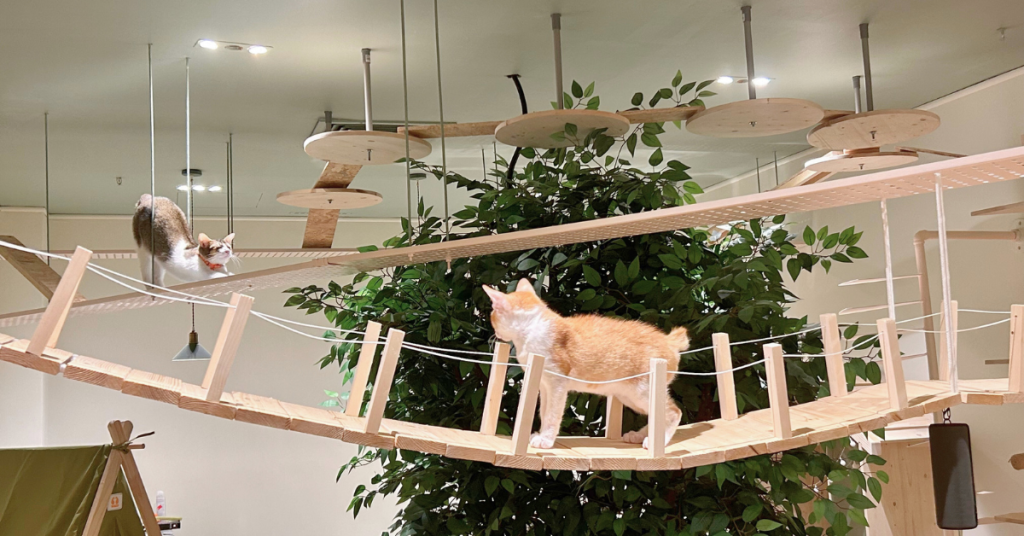 The brand also allows customers to book the whole venue if you're interested in hosting private parties. This would be an ideal option for cats who are sick at the time of booking, or just don't do well around others.
All in all, her goal with manjapot is for cats to play and have fun and to improve upon their mental and physical health.
Keeping cats and their habits in mind, manjapot's space is decked out with various cat-focused facilities. Aside from the aforementioned catwalks, wall-mounted cat perches, and scratching posts, there's also suspended bridges, staircases, and also cat beds.
And of course, manjapot has a litter box that's frequently cleaned and two fresh water fountains in the space.
Giving back to the cat community
Recently, manjapot has also collaborated with Little Paws Cat Shelter for a free-roaming cat adoption drive.
To give these furry friends a higher chance at finding new forever homes, Tianna hosts some of them at manjapot. "Since most adoption drives have the cats in cages, it's hard to see their personality or how they interact with you or other cats."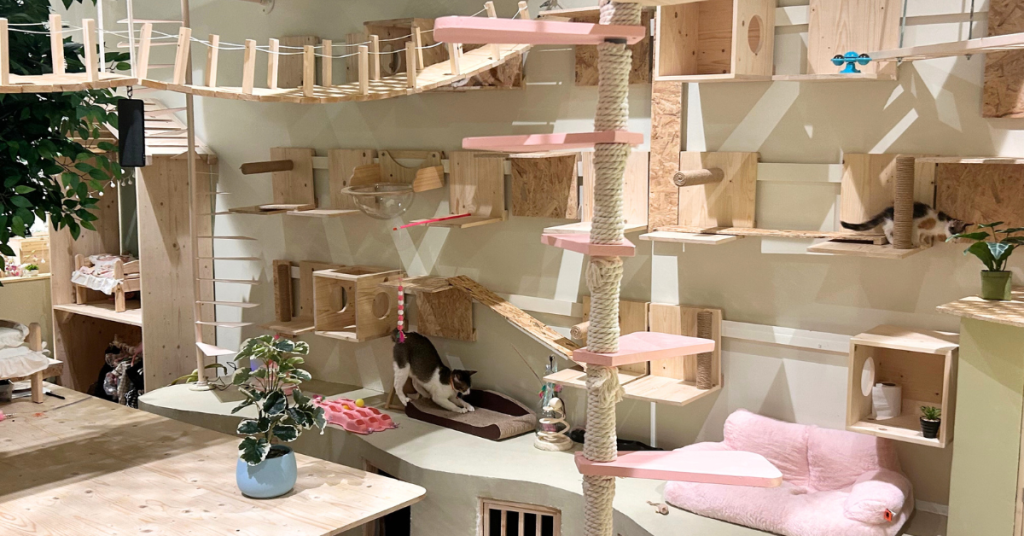 "So having the cats in manjapot where they have so many things to play and roam around freely is really great! I think it's one of the first ones (free-roaming adoption drives) out there and you can see if they like cuddling, or [if] they're more hyper, or if they're more vocal," the founder explained.
Stating that the first one went really great, Tianna plans to make such cat adoption drives at manjapot a monthly affair. Not just with Little Paws Cat Shelter but also others in the field as well.
Not forgetting her roots
As for the brand's pet cakes, the founder continues to bake them all by herself. She makes the cakes fresh on the day of or the night before, depending on when the customers want them. As such, interested parties need to pre-book at least three days in advance.
Tianna recommends pet parents to make use of manjapot's custom cake services as well by looking up inspiration online. As she believes that the options for customising our pet cakes are endless, manjapot rarely does available in-store cakes.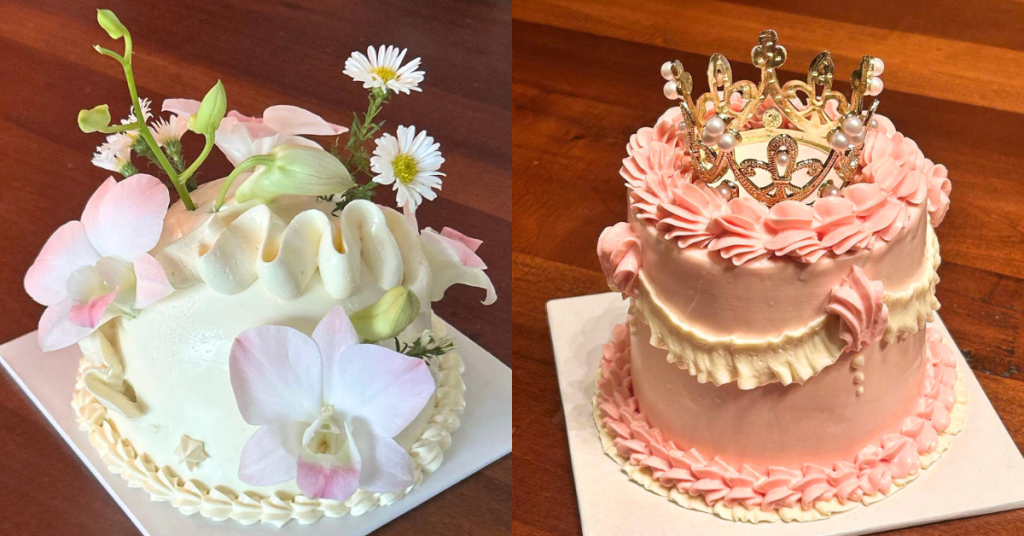 In lieu of that, manjapot offers pet-friendly snacks like cupcakes, tarts, jelly, doughnuts, and sushi for furry guests.
The brand is also expanding its menu to include pet-friendly drinks, like "matcha lattes". "Dog owners can come to manjapot to tapao treats for their dogs, and cat owners can bring their cats to dine in!"
A tribute to a friend
It took around four months to refine all the concepts and ideas Tianna had for manjapot's physical store. And another three months of working on the renovation, of which she shared 95% was done by her family.
"We didn't hire much [help]. I did the interior and exterior design, [like] where I wanted everything in the store, the catwalks and the walls," she explained.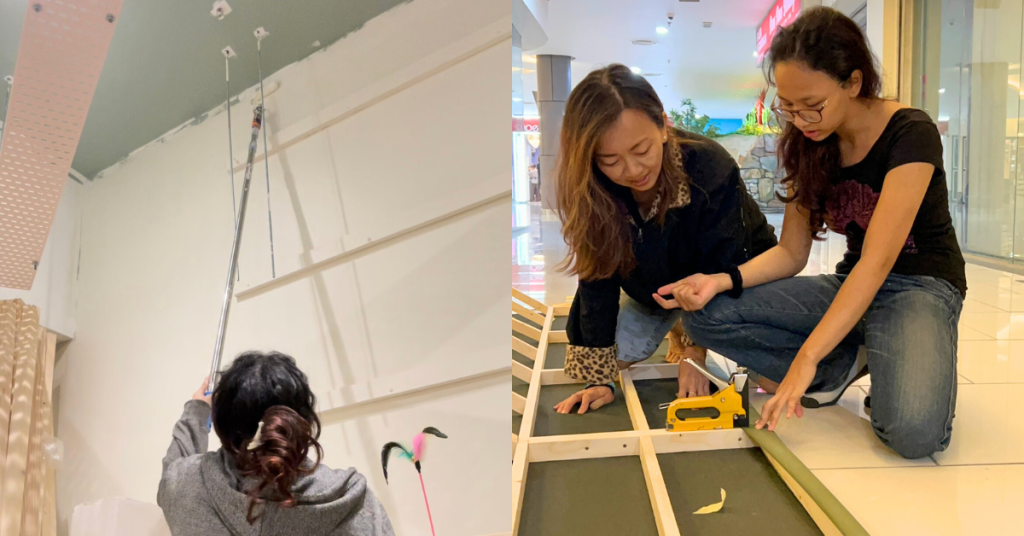 For example, she designed and did the picturesque cat window herself. Whereas her father set up the catwalks and cat perches, and her mother helped to paint the place and install the flooring.
One thing that she wished she could change, though, is Coraline's presence.
"Since starting manjapot in 2021, I always envisioned that she'll come to work with me every day. And it'll be amazing, as I'll never have to leave her. She'll be the resident cat and she can have so much fun," Tianna exclaimed.
"But she sadly passed away unexpectedly three weeks before we were set to open. It was really sad, and me doing all this was only because of her. I wouldn't have thought about it or had the will or drive if it wasn't for her. So I'll forever remember her, and manjapot cat theme park will always be in honour of her."
Although Coraline is no longer with us, her presence can be felt throughout the space at manjapot. And thanks to her, other cats now have more cat-friendly places to play and visit the place in her honour.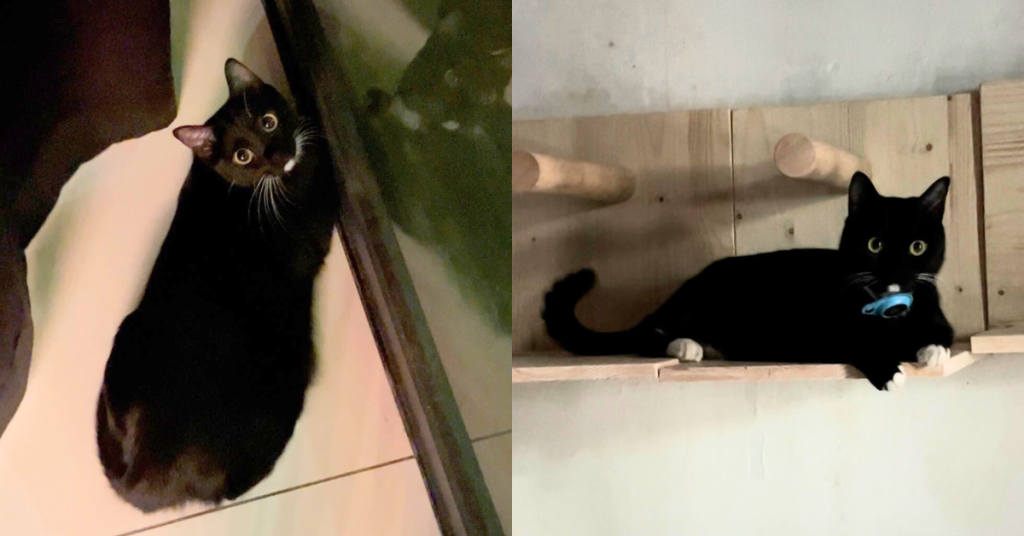 Featured Image Credit: manjapot