When Yee Ying Hou first launched TeenyHands, it was with the core purpose of empowering parents to nurture happy children. How so, you may ask?
By producing handmade wooden miniatures intended to brighten up one's day.
"We (TeenyHands) believe that happy children are healthier. They learn and socialise better. Most of them would grow up to be happy adults. Frankly, the world needs more of them. There's just too much angst, unhappiness, and gloom," the father of one shared.
It's not just a cute plaything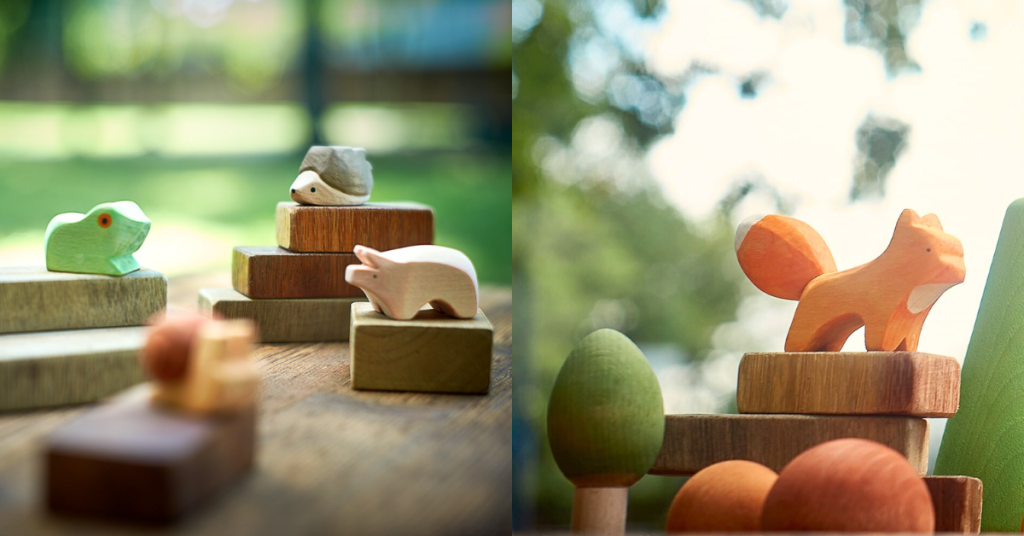 It all started in 2021 and a major factor was his daughter. "You see, we enrolled our daughter in a Waldorf education, and it opened up a whole new world to all of us," Ying Hou shared with us.
"Waldorf Education does not use plastic toys of any type, and all their toys are hand-made from wood, wool, or cloth. Naturally, I was fascinated and drawn to the beauty of handmade products more and more."
This led him to chance upon a whittling video on YouTube when looking for some wood carving videos. And the more he researched it, the more he became interested in the craft.
For those unfamiliar with the craft, whittling simply refers to a form of wood carving using a small knife. The most common wooden whittles are animals, such as bears, beavers, and dogs.
Such is the case at TeenyHands, where you'll find creatures like snails, octopuses, turtles, rabbits, and foxes. Most of them were made with the intention of being playthings for children, and their price ranges from RM50 to RM350 depending on the size and design intricacies.
"Use these for storytelling or free play", Ying Hou would caption the brand's Instagram posts in earlier days. "Set your child's imagination free and see those happy smiles on their faces."
It's all about the right timing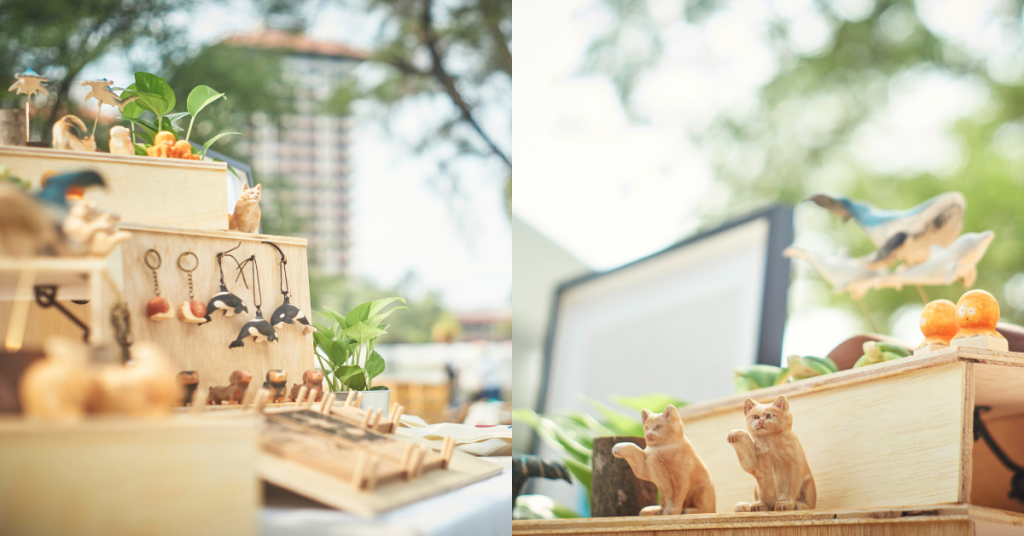 The idea to launch the whittling business came down primarily to timing and circumstances. Ying Hou explained that he and his spouse had decided from the beginning to have a more hands-on approach at raising their one and only daughter.
"We believe a strong family foundation is crucial for our child," he confided.
"I won't say that I had dedicated myself to being a full-time father, but the family would take up much of my time, especially during the early stage of my daughter's life. As such, my photography and graphic design business naturally took a back seat."
At the same time, Ying Hou found the process of whittling to be very therapeutic, once he got through the initial hump of fingers and joint pain. Not only did it serve as a distraction from the noise and chaos of the world, he enjoyed the process of communicating with a piece of wood through his blade.
With wood being a living thing, he explained that their grain has an effect on a whittler's work. Carving along the grain is smooth and easy while carving against the grain is the opposite. It's this intricate challenge that attracted him to the craft.
And unlike machine-made products that are manufactured down to minute precisions, Ying Hou found the beauty in whittling handmade products, where imperfection which gives them their uniqueness.
A new avenue for craft enthusiasts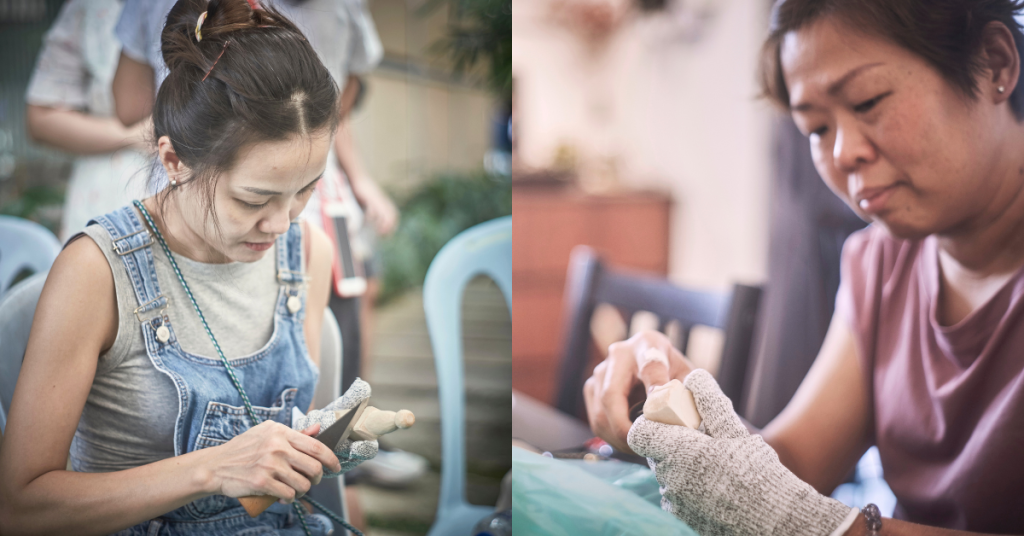 While attending a pop-up event called YouNi Market, Ying Hou soon realised that the wood carvings also brought joy to adults. Some of the visitors at his booth would remark on how TeenyHand's creations were therapeutic and soothed their souls.
Hence, he's since expanded the brand's wood carving collection to include household decor, keychains, and car charms.
In September 2022, Ying Hou began conducting whittling workshops for those interested in crafting their own wooden token.
It's usually composed of a small group of participants, all of whom need to be 16 years old and above. The reason being that whittling requires sharp tools and some fine motor skills.
Each workshop session can last for up to six hours, depending on how fast the participants can finish their carvings. "I had a student who started about 9AM in the morning and ended around 6PM," Ying Hou shared. It might seem long for a session, but you can't rush art.
For his own creations, the founder explained that it generally takes him between one to three days to complete just one piece. This includes whittling the wood, sanding it, and painting the miniature.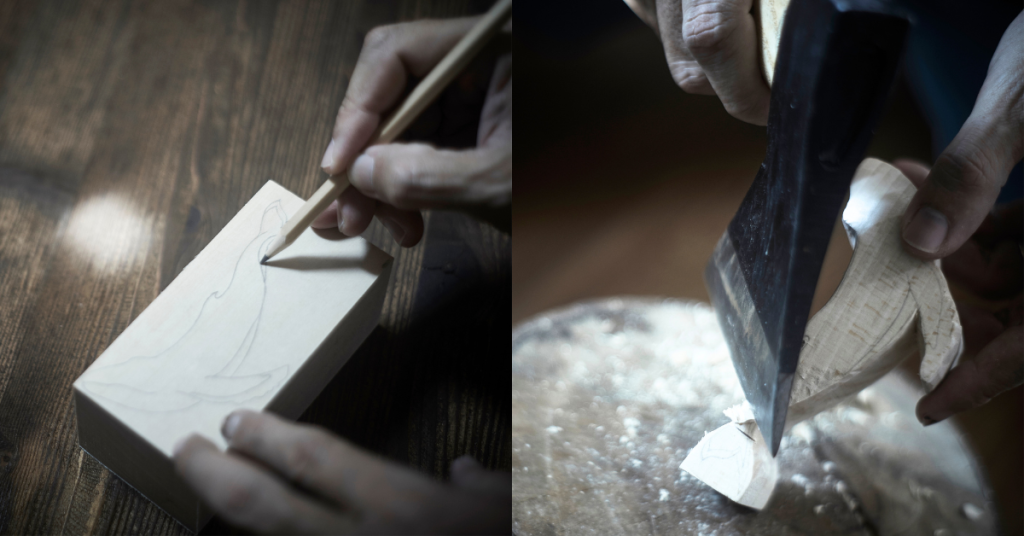 In terms of his process, like any artist, Ying Hou starts with research. It helps him to determine the look and shape of the wood carving, before he digitalises the drawing for future use.
After that's done, he transfers the drawing onto wood and begins carving, sanding, and applying colour.
Carving out a niche for himself
Surprisingly, TeenyHands does not have a product catalogue.
But interested customers can check out the brand's Instagram page to view its portfolio. In each caption, there will also be details such as the product's sizing and material composition.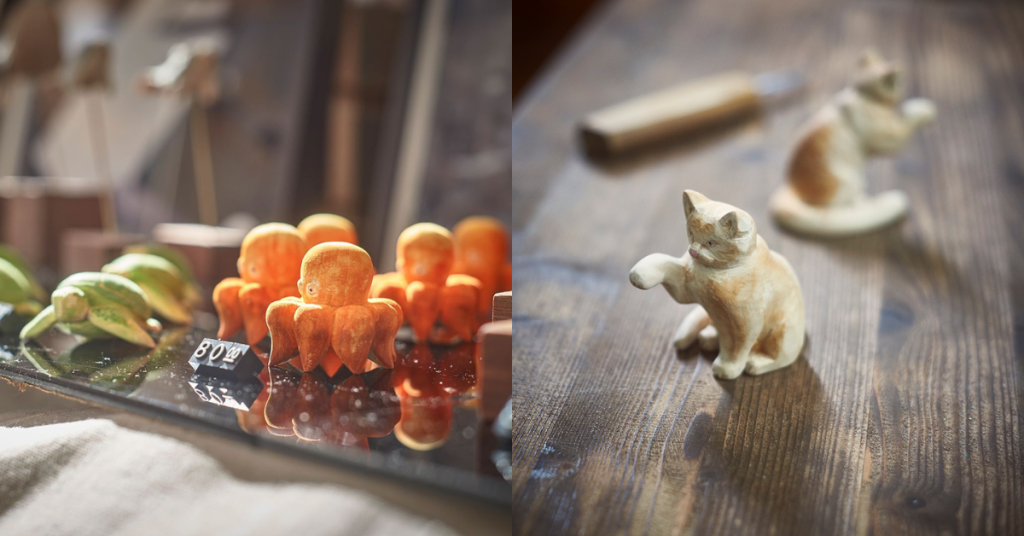 If you come across any that meet your fancy, all you have to do is slide into TeenyHand's DMs and chat directly with Ying Hou for enquiries. Though, do note that the brand does not accept custom-made orders for now.
Aside from its social media pages, you can also find its products on Pinkoi, an ecommerce platform for original design products from Asia's independent designers. And in the future, he might consider expanding onto Etsy as well.
"I'm very selective as some platforms are too generic," he explained. "Since I'm a one-man show, I need to be stringent as time is a major consideration. I just don't want to take up more than I can handle."
Seeing as all of the products are handmade by himself, it's not hard to understand why Ying Hou prefers to take the slow and steady route.
Growing the brand at his own pace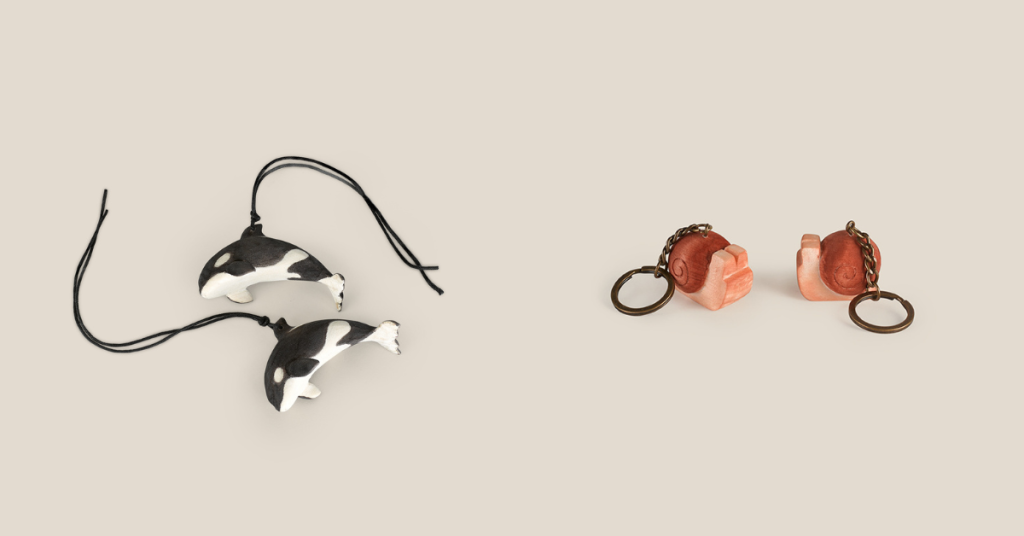 It's been about two years since Ying Hou started his whittling journey. But as with most things in life, he shared that it's still a learning experience.
For instance, apart from the creation process, the founder shared that the greater challenges lie in the business side of things.
This includes matters of sales, marketing, and finance. "At the moment, I try to learn as much as I can." So despite the brand being a "lost-making bootstrap startup", the founder is hopeful for the future.
"My immediate plan is to refine my overall workflow, both in the creation and business management side, to increase efficiency." Only then will he look into enlarging the team as the brand could leverage on more talents at the right time.
At the same time, his goal is to improve brand awareness by attending more pop-up events and running more whittling workshops.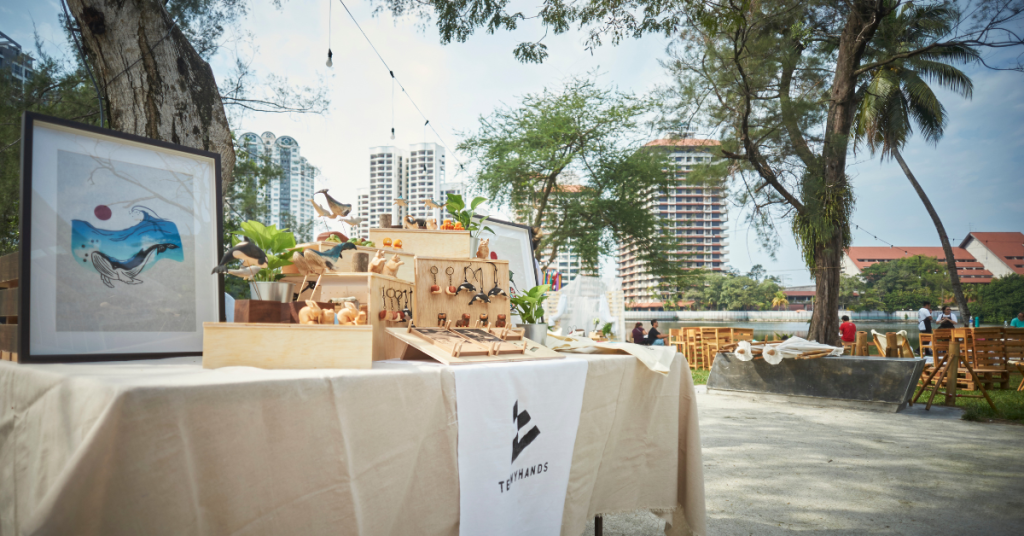 If you're curious to see the entrepreneur's crafts in person, the next pop-up event that TeenyHands will be attending is YouNi Market 12.0 happening at MyTOWN Shopping Centre in KL. It will be held during the first two weekends of November, but Ying Hou will only be there for the first weekend.
As for whittling workshops, if you're interested in trying your hand at the craft, you can sign up for his course on November 26, 2023, at Cite Book Garden, Sri Petaling.
Featured Image Credit: TeenyHands