Living in Malaysia, Noor Neelofa Mohd Noor (Neelofa) is a popular celebrity that you've probably heard of. She's an actress, TV host, commercial model, and an entrepreneur.
Arguably the most notable company under her belt is Naelofar, a local modest-wear brand that's gone international. But one of her other, more recent businesses, is TheNoor—a lifestyle Muslim app created with her co-founders, Mohd Izzairi Yamin (Izzairi) and Ahmad Tajuddin Idris (Tajuddin).
It has been going international, with locations in Turkey, Indonesia, and soon, Saudi Arabia. The brand has recently opened its Series A fundraising for US$2.5 million too, according to Izzairi.
Not to mention that it's also popular amongst local users, ranking Number 28 in the Lifestyle category of the Apple App Store at the time of writing.
But here are seven other interesting fun facts that you probably didn't know about the brand, based on what they shared at the recent Entrepreneurs Summit IV hosted by NEXEA.
1. The idea started after witnessing an embarrassing moment in a mosque
A few years ago, Izzairi was waiting for the next prayer time in a mosque. He noticed an elderly man sitting in front of him doing the same, while opening up a Muslim app.
It was then that an intrusive ad popped up featuring a bikini-clad woman, the kind that would not go away for about 10 seconds. "He was quite ashamed," Izzairi relayed. "He hid his phone, but I was behind him so I saw everything."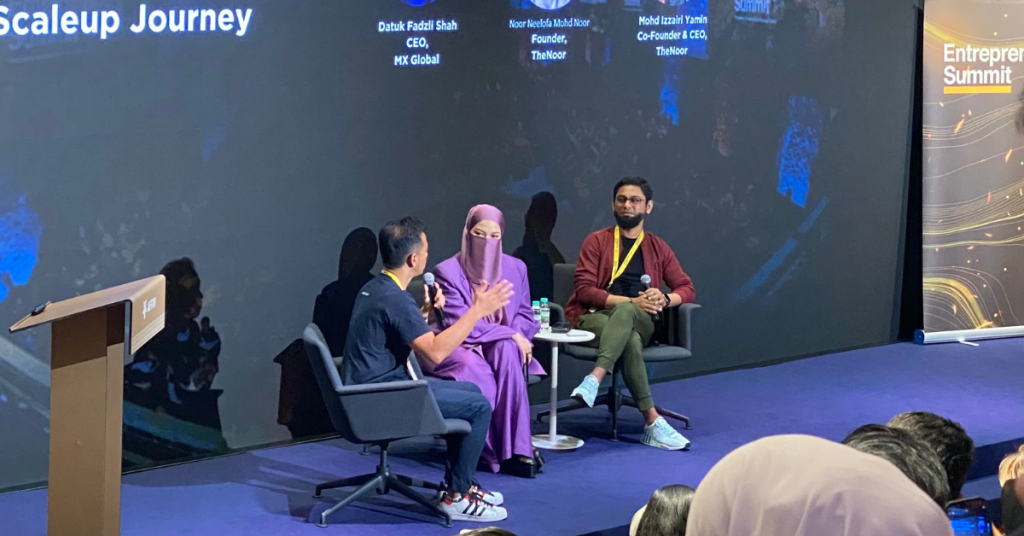 This left Izzairi wondering, "Why is this happening to this elderly man?" Then he realised that it was probably a result of not subscribing to the app.
The subscription fee for that app is around RM5 a month, which may not seem like much. But for some folks, that money could be better spent elsewhere.
That's when it hit him—he needed to create a premium Muslim app that's given out for free. So, he first roped in Tajuddin to kick things off.
2. The co-founders had to wait half a year for an appointment with Neelofa
Fast forward to a few months later in 2019, Izzairi had a problem with user acquisition. He brought this up to Tajuddin, who happened to be a close friend of Neelofa.
Tajuddin told Izzairi, "Let's form a team and propose this to her." That's exactly what they did, and the rest is history.
But Izzairi openly shared that the period between this idea forming and actually meeting her to pitch the app was a long one. With Neelofa's busy schedule as a celebrity and businesswoman, they had to wait in line for about half a year, and the pandemic didn't help.
It was only in May 2020 that they finally proposed TheNoor to her. And fortunately for everyone involved, the wait was worth it because Neelofa was eager to join.
3. TheNoor received 160,000 downloads on its first day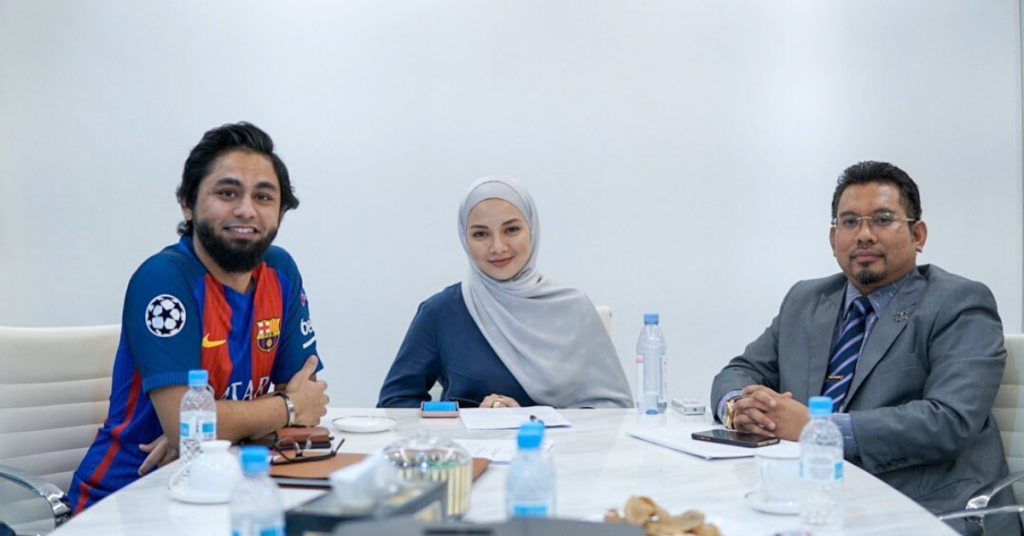 When Izzairi and Tajuddin met Neelofa, they presented the vision and mission of TheNoor. This included what they were planning to do and what they're building.
"She got interested and excited. She said, 'Yes, I'm in it and let's do this'," Izzairi recalled. "'We're doing something good, something different than what's already on the shelf'. When she said that, I was really happy."
So they all got to work and the app was successfully launched in January 2021. According to Izzairi, it was quite a hit on the first day itself, garnering 160,000 downloads on the Apple App Store.
At the same time, they were the number one app for at least seven days and were in the Top 10 of categories for approximately three and a half months, Izzairi shared.
4. A prince of Saudi Arabia is helping TheNoor expand to Madinah
Izzairi said that while they were planning for expansion, Khailee Ng from 500 Global introduced him to Prince Saud bin Khalid Al-Faisal of Saudi Arabia, who is also the deputy governor of Madinah.
And it was this introduction that accelerated TheNoor's expansion plans into Saudi Arabia.
Khailee made the call and told the prince about Izzairi and TheNoor, and the prince invited Izzairi to his house in Jeddah, Saudi Arabia to discuss it further.
"I told him about the expansion plan and what we're going to do in Saudi, and what's the bigger plan and vision for this app," Izzairi said. "The prince listened for one and a half hours. He was impressed and happy with the progress we've made."
The prince then assisted in connecting them with local business partners in Madinah, and even offered to pay for TheNoor's office in Saudi Arabia.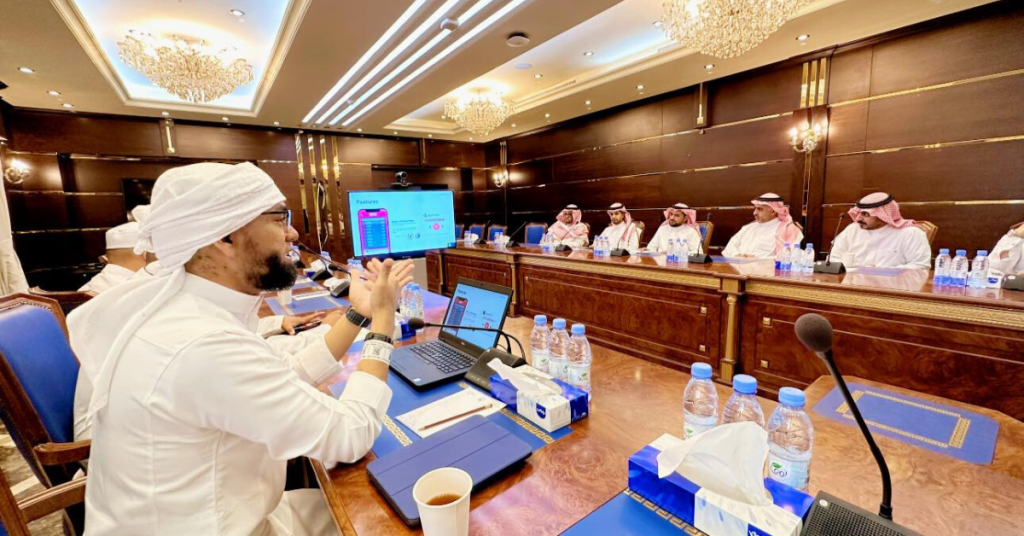 5. Partnering with Neelofa wasn't just because of her celebrity status
Very early on during the talk, Izzairi credited a large part of TheNoor's success to Neelofa. Yes, she's a businesswoman and has a large amount of public influence. But Izzairi explained that more than that, she was their right product-market fit.
Neelofa has a strong presence in the local market, and it's not merely due to her celebrity status. For a number of years now, he shared that Neelofa has been actively embracing and promoting her Islamic faith to her followers.
Therefore, partnering with her was more impactful compared to onboarding someone famous who didn't have a strong connection to their beliefs.
Had they done the alternative instead, "In terms of growth and direction, it would not be working as it is right now," Izzairi confided. This is also because Neelofa contributes ideas, like what the brand should do and how they should penetrate the market, and isn't just a spokesperson.
6. TheNoor is so much more than an app to check prayer times
"I wanted to create something that could positively impact Muslim lives around the world," Neelofa stated.
Sharing this mission, the team behind TheNoor found ways to provide more tangible benefits to users. This includes coming up with strategic and unique partnerships with other brands.
For example, TheNoor team reached out to Zurich Malaysia, an insurance and takaful solutions provider, to come up with its own personal accident coverage (called Nurani Takaful). At RM12 a year, applicants of the takaful plan gain a maximum coverage of RM15,000.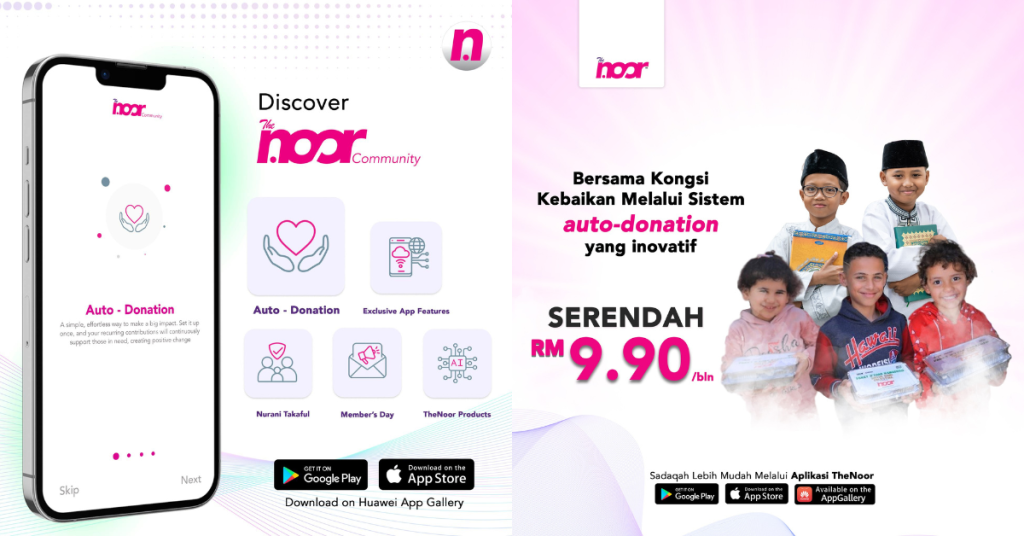 "This is something that Zurich has specially crafted for TheNoor," Izzairi shared. Besides that, users can easily perform zakat and donations to partnering NGOs from across the world. There are also services to help with worldwide money transfers, will writing, and even an ecommerce platform.
7. But its goal is still to enhance the Muslim experience through innovation
Nonetheless, TheNoor remains steadfast in its goal of being an app to ease the daily lives of Muslims. This is what the brand has identified to be the core of TheNoor.
"People don't buy TheNoor just to pay takaful or zakat. That's not the main intention of users when they download the app," Izzairi reiterated.
Hence, they've invested time and money into the more spiritual aspects of the app as well. Which is why the app offers features like a digital Quran, daily hadiths and prayers, Islamic lectures, and a Qibla locator.
Under TheNoorTV Collections, users can also learn Arabic and increase their Islamic knowledge through recorded talks.
Izzairi shared that they've even built an AI checker to detect and correct a user's recitations of the Quranic verses. "Right now, we're in the process of building other AI features in the app." He teased that the next AI feature is the hadith section, which will probably be realised by Q1 next year.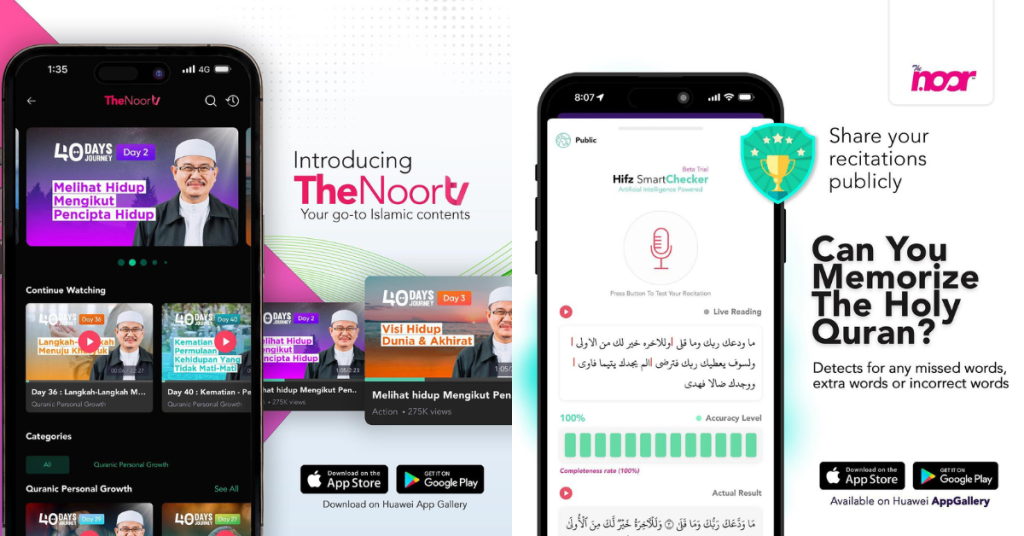 Read articles we've written about Malaysian startups here.
Featured Image Credit: Neelofa / Vulcan Post