Ida Farini Binti Othman is no stranger to entrepreneurship.
Aside from 15 years of experience in marketing and promotions within the media and broadcasting industry, the woman also boasts 10 years of experience as a business owner of several types of businesses.
This includes a health and wellness spa by the name of Jentayu Spa by Sheila Majid, an online health food delivery called Good Grub, a kid's party planning brand named Marvel Factory, and Kudsia + Co, a training company.
"I've always had the desire to own my own business," Ida said to Vulcan Post. "I knew from early on I was not meant to have a career in the corporate world."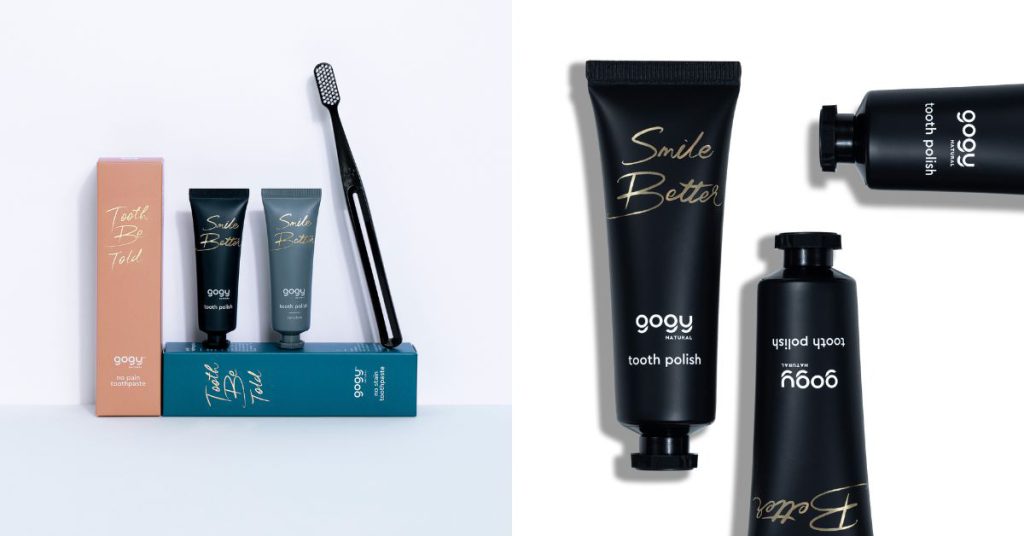 Ida took cues from her family as well—both her parents were business owners, and so are her siblings.
In fact, Ida is running a business together with one of those siblings, her sister Dilla. Specifically, they're running a toothpaste business together by the name of Gogy Natural (Gogy), though some readers might be more familiar with their previous name, Chacology.
It started with one good product
Before Chacology though, there was an even earlier iteration of the name—CHACO. The name was a portmanteau of two key ingredients in the product it sold, which was charcoal and coconut oil.
The product was a strong, concentrated paste that acted like a mask or scrub to remove stubborn stains on the teeth, designed to be used three to four times a week, which Ida launched in 2017.
The inspiration from the product stemmed from Ida's own experiences. In her 40s, she began feeling worried and embarrassed about her teeth, which had become yellow over the years. She wanted a solution, but one that wasn't chemical-based, so she created a paste herself.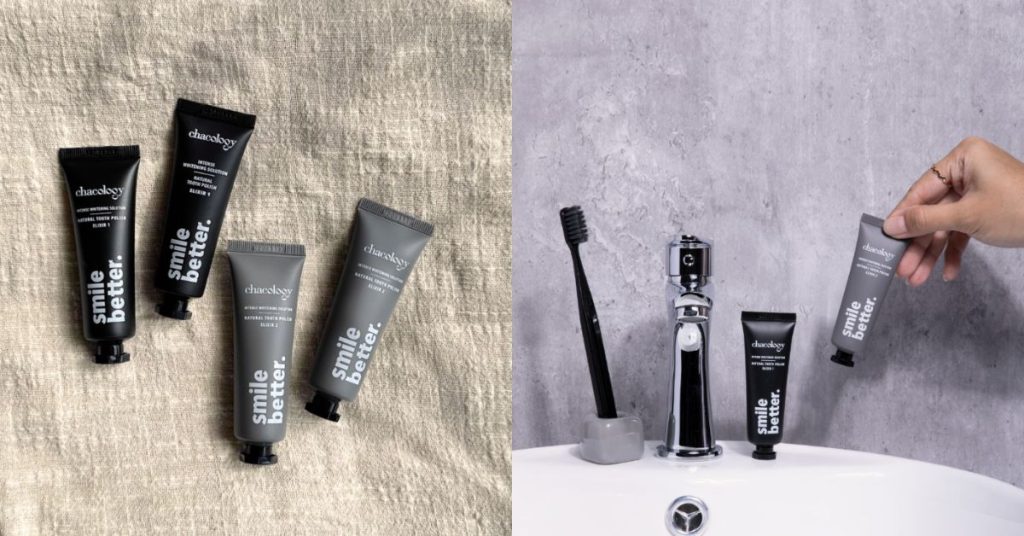 In those early days, Ida packed the product in tubs because it had the lowest minimum order quantity (MOQ) of 100 units.
"If it were packed in a tube, the MOQ was 5,000 units which I couldn't afford," she elaborated.
But after a year of selling her scrub at weekend bazaars around Klang Valley, she was able to change from her tub packaging to a tube format. At this point, she had to change her brand name from CHACO as it had been trademarked by a flipflop business in Brazil, and switched to Chacology.
"Again, had no forward thinking about brand growth," she commented with a laugh regarding the name, referring to the fact that it limited her brand being associated with charcoal-based products only.
Having seen success with bazaars, she continued with those efforts, bringing Chacology to markets around the Klang Valley as well as Penang and Singapore.
By early 2020, she decided to turn her attention to ecommerce and online marketing, which proved to be a great decision considering the MCOs that ensued.
"By FYE 2020, safe to say we were profitable selling just one good product," Ida shared.
With the success of said product, Ida decided to create two new ones in 2021.
Rebranding to grow the business
In between MCO restrictions, Ida developed two new toothpastes under the Chacology brand. These were created with feedback from her pool of customers, who shared they wanted more products to help with their oral care concerns.
With how well they seemed to be doing, it might be puzzling that Chacology turned into Gogy in 2023.
The reason for this, which was foreshadowed earlier, was because Ida wanted the brand to be more than just a charcoal-based toothpaste brand. Since they had created new charcoal-less products, it made sense to change the brand name.
However, Ida shared that despite Gogy's ads, emails, and posts on Instagram, many customers are still unaware that Gogy and Chacology are the same people with the same products.
"It's like starting a brand-building exercise from scratch," she shared. "But we had to re-brand. After six years, the brand needed a refresh and [we had to look] at the bigger picture, in order to scale."
Multi-step oral care
Today, Gogy offers four products that claim to not only help whiten teeth naturally, but also to help with other mouth issues. This includes two tooth polishes and two toothpastes.
The way Gogy approaches oral care is akin to how some may approach skincare. For example, for the "morning cleanse", Gogy recommends its No Pain toothpaste that reduces plaque build-up.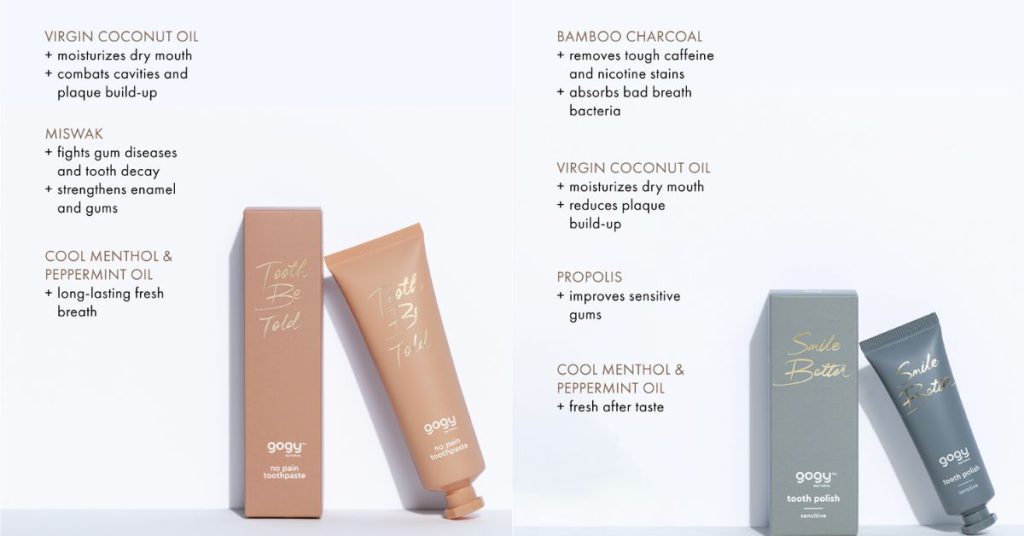 As for the night cleanse, that is taken care of by the No Stain toothpaste that is designed to remove food colouring stains and bad breath bacteria.
To be used three times a week, the "night exfoliate" (tooth polish) will help remove tough stains from coffee, tea, or tobacco for a brighter smile. There are two variations of the polish, a regular one and one for sensitive teeth.
The toothpastes are RM28 each, while the polish is RM50. Gogy also offers bundles and kits at discounted prices.
Compared to your usual toothpaste brands, Gogy's products certainly seem to be more expensive.
However, Ida said she doesn't really look at competition, especially the big brands.
"I see them in a different category," she said.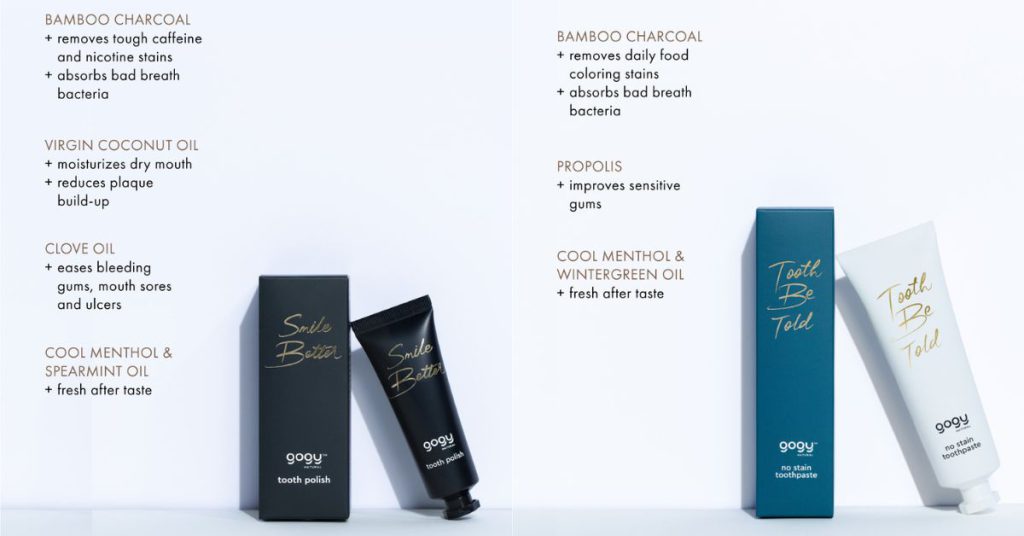 She pointed out, "Some of these big brands still use harmful chemicals in the products like Sodium Lauryl Sulfate (SLS) which is a common foaming agent that has been identified to be harmful to our body and banned in some countries. But because it's the cheapest foaming agent, it is still being used it in their products."
So, although she believes that competition will always be there, she's not too worried.
"My focus is creating high-quality products and making sure that the ingredients used are natural, safe, food-grade with effective results of course."
But how safe is her safe?
As an oral care product, Ida had to register her products with the Ministry of Health (MOH), which she said was quite an easy and straightforward process considering all her ingredients were natural, clean, and safe.
She also shared that her manufacturer is certified and registered with MOH.
Beyond that, Ida also got dentists to try the products, reaching out to friends and family members who were dentists or knew dentists.
"They tried it, liked/approved it and even recommended to their customers to try," she said.
Aside from whitening, the products also help treat bleeding gums and mouth ulcers. Other healing ingredients like clove oil, vitamin C, organic propolis, miswak (Kayu Sugi) are added to promote gum care.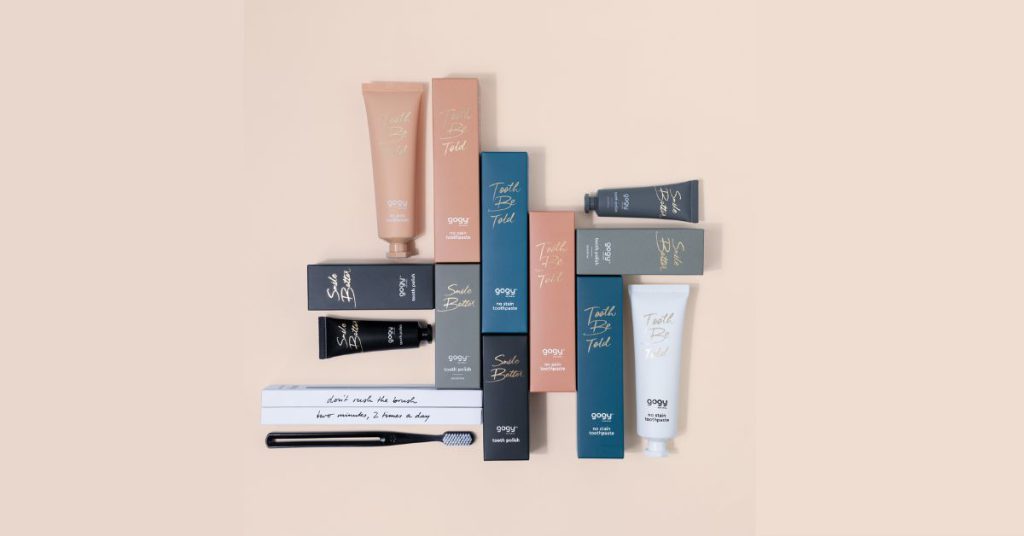 While some ingredients are sourced globally, Gogy's oral care products are Malaysian-crafted, meaning they're formulated and manufactured locally.
A small team with big plans
Despite having grown and sustained the Gogy brand, Ida keeps her inhouse team quite small with just her formulating products and doing business development, along with her sister Dilla, who left her full-time job in 2021. Dilla now designs the logo and packaging for Gogy, as well as handles branding and social media.
Moving forward, Ida hopes to change the way people look at oral care. With that, she aims to establish Gogy as a lifestyle brand. That's why you'll find that her products feature classy and aesthetically pleasing packaging.
With a steady customer base in Malaysia and Singapore, Ida's next goal is to become internationally known and recognised as a trustworthy homegrown brand for innovative and, more importantly, effective natural oral care products.
Learn more about Gogy Natural here.
Read other articles we've written about Malaysian startups here.
Featured Image Credit: Gogy Natural